Best Wealth Management Blogs:
Top Investing Experts
Ad Disclosure: This article contains references to products from our partners. We may receive compensation if you apply or shop through links in our content. You help support CreditDonkey by using our links.
(read more)
Winners of the CreditDonkey Best Wealth Management Blogs have been announced. These blogs and resources will keep you on course as you build wealth.

Best Wealth Management Blog

© CreditDonkey
Top Wealth Management Blogs and Resources
Building up wealth takes time, planning, and lots and lots of know-how. You do not need to be investment genius - but you do need to know where to look for information.
With so many blogs out there claiming to know what you should do with your hard-earned money, finding the right advice can stall any progress you've made. CreditDonkey, a online broker comparison website, did the searching for you and have nailed down the very best wealth management sites you need to follow.
Read these smart blogs below as you figure out how to react to changes in the market, as you plan out how you'll reach your retirement goals, and as you try to understand the many terms and trends that pop up as you perfect your wealth-building strategy.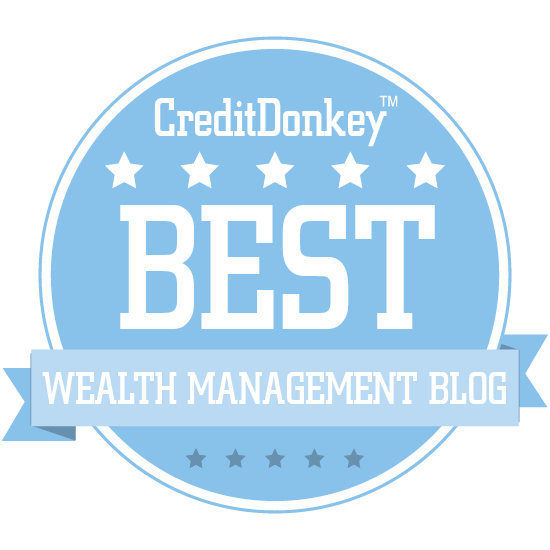 Best Wealth Management Blog

© CreditDonkey
Investing involves risk, and any and all information or ideas should be discussed in detail with a qualified financial advisor in your locale. CreditDonkey does not know your individual circumstances or locale. This is not a substitute for, and should not be used as, professional investment, tax or legal advice. CreditDonkey does not endorse products or services of any specific blog. We cannot guarantee the accuracy, suitability, or validity of third-party websites.

Note: This website is made possible through financial relationships with some of the products and services mentioned on this site. We may receive compensation if you shop through links in our content. You do not have to use our links, but you help support CreditDonkey if you do.
Read Next: