Survey: Social Media in the Workplace Statistics
Half Use Social Networking at Work, But Not for Work Reasons
---
Just over 60% of respondents use social networking at work, according to a recent CreditDonkey.com survey, but they might not be getting any work done. Only 2% of the respondents who use social networking said they are on the sites solely for business purposes.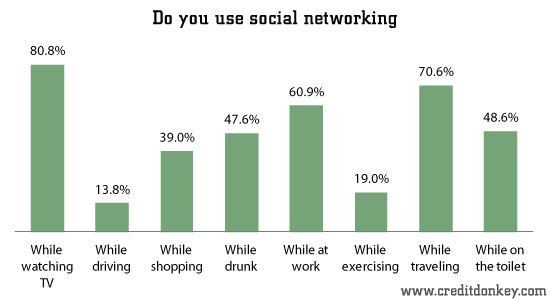 Do you use social networking while...

© CreditDonkey
The finding falls in line with other research on the topic. According to a Bolt Insurance infographic on how employees spend their day, more than 6 in 10 employees spend an hour or more of work time per week visiting non-work related websites such as Facebook, Google+, Twitter, and Pinterest. The insurance agency calculated a financial drain of $130 billion from employees not performing work-related tasks at work…but it could actually be much higher.
Our survey, which asked respondents to fill in exactly how many hours overall they spend on social networking per week, found an average of 7.6 hours goes toward the activity every week, with 70.4% of the social-media users admitting they visit the sites only for personal purposes.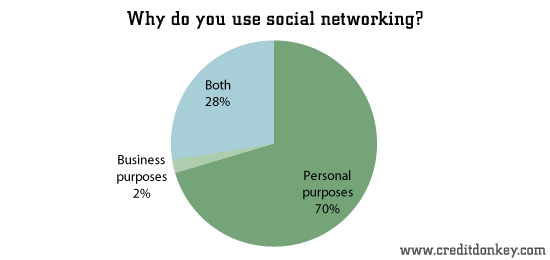 Why do you use social networking?

© CreditDonkey
What social media sites are being used most while at work?
Facebook: 65.1%

Twitter: 53.5%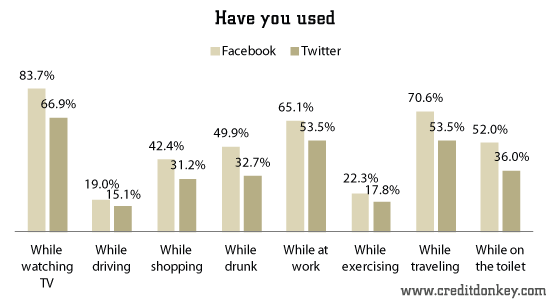 Have you used Facebook/Twitter while...

© CreditDonkey
LinkedIn use lagging…
Interestingly, even though most of the respondents use social media while at work, they are unlikely to get caught using LinkedIn while at their desks. Only 24.5% of respondents use it, and 30.5% are "not comfortable" using LinkedIn, even though it's the social media site created specifically for work and professional networking. Instead, 90.9% of respondents say they use Facebook, perhaps because they are comfortable using it. Nearly 80% feel comfortable using Facebook, and 43.4% feel comfortable using Twitter.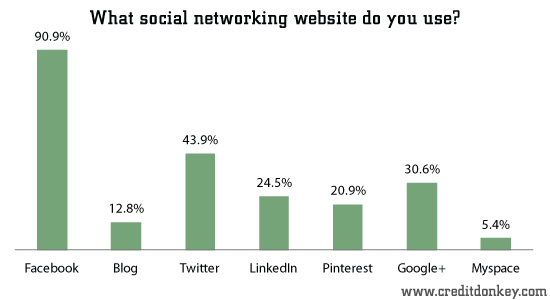 What social networking website do you use?

© CreditDonkey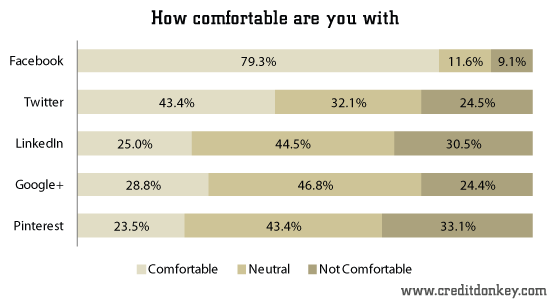 How comfortable are you with ...

© CreditDonkey
Why engage in personal social networking at work?
There's been a lot of research, well-rounded up in this article by Susan Adams, about how a little break here and there improves work productivity, including surfing around on social media. Another reason not to come down on those who visit the sites during work hours: We're not taking into account how many hours employees spend working…while not at work. How often have you answered or sent work emails outside of work or worked on company projects or documents after hours? Perhaps the extra time spent goofing off while at work balances out with the time taken away from our personal lives to check in on business.
What we do know for sure is our survey found that social networking has a positive effect: Respondents believe it has improved their personal lives (66.3%), their communication skills (55.2%), and social skills (55.3%).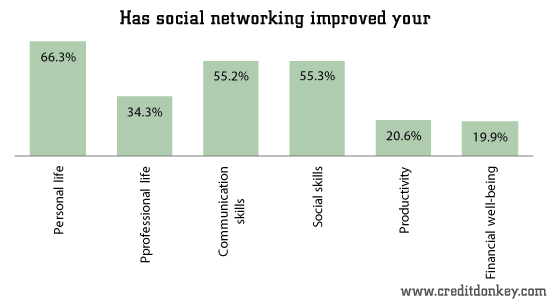 Has social networking improved your...

© CreditDonkey
What do you think about your own social media use: Is it a productivity tool or time waster?
CreditDonkey.com surveyed 1,250 Americans, age 18 and over between February 19, 2013 and March 6, 2013 on their use of technology. CreditDonkey.com conducted the survey online using a multiple-choice and short-answer questionnaire.
Editor's Note: 1192 respondents answered the question on "Do you use social networking while…", 1129 respondents answered the question on "Have you used Facebook while…", and 657 respondents answered the question on "Have you used Twitter while…". Respondents were instructed to skip questions on specific social media websites if they did not use the specific social media website.
Naomi Mannino is a contributing writer at CreditDonkey, a credit card comparison and reviews website. Write to Naomi Mannino at naomi@creditdonkey.com. Follow us on Twitter and Facebook for our latest posts.
Note: This website is made possible through financial relationships with some of the products and services mentioned on this site. We may receive compensation if you shop through links in our content. You do not have to use our links, but you help support CreditDonkey if you do.