Survey: Who's Telling the Truth
The lies we tell. Men and women gave us the straight answers
---
76 percent of people said it's OK to lie sometimes (even on Facebook profiles), but the subjects of those fibs tend to depend on your gender, according to a new CreditDonkey poll of over 1,200 Americans.
Assuming most survey respondents were honest about their propensity for falsehoods, more than three-quarters of the participants in the survey believe lying is acceptable in some cases. Behind this astonishing figure is the fact that what respondents lie about varies by gender.
Men More Likely to Lie about Achievements; Women Tend to Lie About Their Health and Beauty
CreditDonkey.com, a credit card comparison and financial education site, conducted the survey to find out who is telling the truth and why people lie. When respondents were asked to identify the topics they most often lied about, men revealed they prefer to bluff about money and their accomplishments while women are more likely to be less than truthful about their health and appearance.
Money and Accomplishments:
When asked if they have ever lied about their accomplishments, 27.7 percent of men admitted they had, compared with 16.8 percent of women.
24.1 percent of men have lied on their Facebook profile versus 16.6 percent of women.
21.7 percent of men have lied on a resume, compared with 16.3 percent of women.
42.1 percent of men have lied about their financial well-being versus 37.6 percent of women.
Health and Beauty:
Women are more likely to lie to their doctors, with 25.6 percent saying they had done so, compared with just 17.4 percent of men.
34.9 percent of women have lied about their diets versus 24.8 percent of men.
31.1 percent of women have lied about their exercise regimens, compared with 24.5 percent of men.
A whopping 51.7 percent of women have lied about their weight, while just 28 percent of men have fudged that number.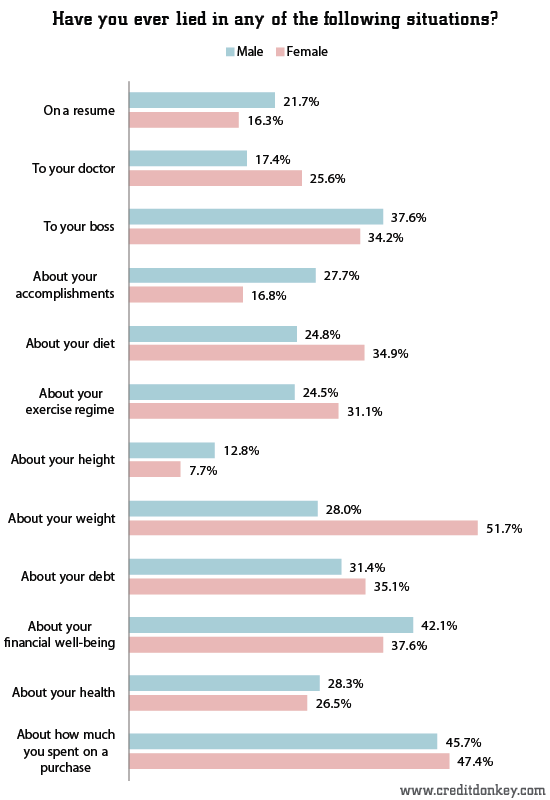 Have you ever lied in any of the following situations

© CreditDonkey
In addition to what people lie about, it's interesting to note who they try to deceive. Women are more likely to often tell "tall tales" to their parents than men (43.6 percent vs. 37.4 percent), but men more often fib to friends (44.1 percent vs. 38.3 percent). One of the few things men and women both do in equal amounts is lying to those who probably know them better than anyone. Less than a quarter of all respondents said they "often" lie to their brothers, sisters and significant others.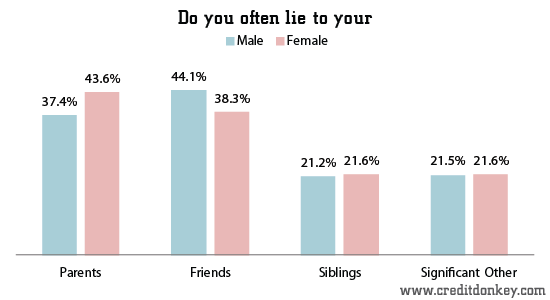 Do you often lie to your

© CreditDonkey
Despite this, remember: there's little reason to believe that we live in a society awash in alibis and disinformation. Overall, just 3 percent of those polled said they lie "often," whereas more than 66 percent of respondents said they are "seldom" or "never" dishonest.
On the other hand, 90 percent of survey participants think everyone lies, so at any given moment, it may be impossible to know who's telling the truth.
(CreditDonkey conducted the online survey of 1,254 Americans, age 18 and over, between August 8 and August 12, 2014.)
Read Next: