Survey: Attention Span Statistics
The first step toward recovering from multitasking: admit there's a problem
---
Just how crazy conflicted are people's attention span? Are people checking their Facebook page, watching television and talking on the phone at the same time?
CreditDonkey set out to find the answer by asking more than 1,200 survey participants to grade their attention spans when performing different activities. And these respondents were apparently pretty honest, acknowledging that their ability to focus has been spread thin.
Admitting There Is a Problem
About 4 in 10 respondents said they use multiple electronic devices simultaneously every single day. And 11% admitted to doing so every waking hour. From texting while doing a Google search on your laptop to scheduling a recording on your DVR while reading Twitter updates, you have so many options for gadgets and so many opportunities to lose your focus on any one thing.
In our survey, respondents told us they are more likely to pay better attention when texting than when they talk on the phone. This wasn't even a question we would have asked a decade ago.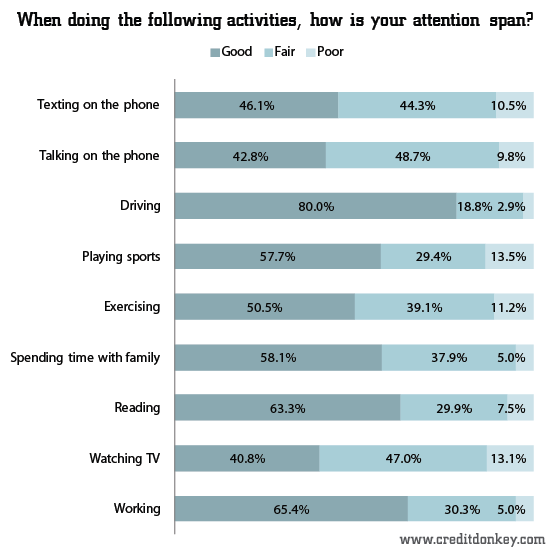 How is your attention span?

© CreditDonkey
Nearly half of all respondents said their ability to remember short-term information has declined over the past five years. Though some may attribute this to getting older, we have a hunch that technology's more dominant role in everyday life has something to do with it. Only a third said their long-term memory has been affected in the same way.
Dodging the Details
Given the many different avenues for how information can find its way to us, many people have adjusted by overlooking details and focusing mostly on the bigger picture. For instance, two-thirds of respondents said they do not fully read contracts but rather skim through before signing. However, 12% actually admitted they don't read contracts at all before providing their signature.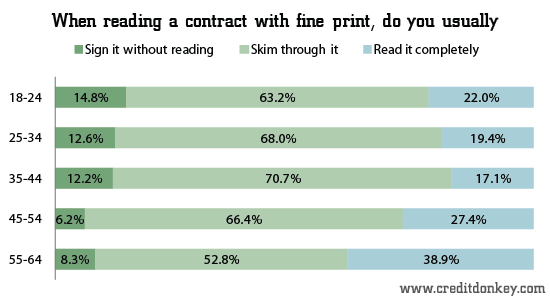 When reading a contract with fine print, do you usually

© CreditDonkey
When asked about their reading habits, about a third of respondents said they stop reading an online article by the time they're halfway through it. Whether they become uninterested or feel they get the gist of the article, they call it quits before getting to the end of it. In fact, 12% said they don't even get halfway and, instead, stop after the first paragraph. It's no wonder the advertisement industry has had to evolve so much in the past few years. With so many ways to shrink our attention spans in recent years, there's a limited amount of time to capture anyone's interest and share information with them.
Men vs. Women
Apparently gender also plays a role in how people view their attention spans. Men rated themselves higher when asked about their level of focus while watching TV and playing sports.
67% of women said their attention spans are "good" while working, compared with 63% of men.

67% of women graded their attention spans as "good" while reading, compared with 59% of men.

51% of women said their attention spans are "good" while texting, compared with 41% of men.
By contrast, men reported better attention spans while: watching TV (43% for men vs. 37% percent for women); exercising (54% vs. 46%); and playing sports (67% vs. 45%).
Almost 49% of women said their ability to remember short-term information declined in the past five years, and 38% said their ability to remember long-term information also declined during that period. By comparison, 41% of men said their short-term memory declined, and 3% said their long-term memory worsened.
How Your Attention Span Is Affected By Age
When looking at how age affected responses, we saw that the younger respondents rated themselves lower when asked about their attention span while working, reading, spending time with family and driving. As age increased, so did people's ratings for themselves in these areas.
Younger respondents also admitted to having buyer's remorse more frequently, as well as more often forgetting details about close friends and family, such as birthdays. Unsurprisingly, more of the older respondents reported experiencing short-term memory loss in the past five year, and fewer of them said they use multiple electronic devices at once. However, more of those older folks said they finish reading online articles once they've started and fully read through contracts before signing them.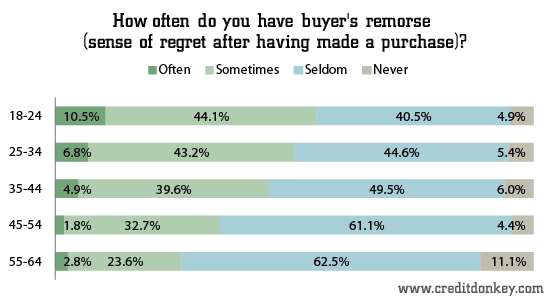 How often do you have buyer's remorse

© CreditDonkey
Focus Your Attention on These Things, If Nothing Else
Speeding through an article or listening to music while checking your email isn't that big of a deal, but there are some times when having a shorter attention span or choosing to overlook details doesn't work in your favor. When reading contracts, for example, it's never a great idea to sign something you haven't read or have only partially read. Interestingly, 20% of respondents admitted they're not the most focused while they are driving. This is one time you definitely don't want to lose concentration.
In comparing themselves to others, just over a third of all respondents think everyone else has a longer attention span than they have. Thankfully, only a small few, 1.7%, feel they have attention spans shorter than a goldfish. It's easy to get bombarded with information given how much of it surrounds us at a time. Sometimes it can be a bit overwhelming. In fact, as many as 6% claim they've forgotten their own birthday! Though most of us can't attest to that, we can all confirm that the excess of information and ways to consume it have dwindled our attention spans in recent times.
(CreditDonkey conducted the online survey of 1,254 Americans, age 18 and over between August 8 and August 12, 2014. Percentage may not add to 100 due to rounding.)
Jasmine Williams is a contributing writer at CreditDonkey, a credit card comparison and reviews website. Write to Jasmine Williams at jasmine@creditdonkey.com. Follow us on Twitter and Facebook for our latest posts.