Easy Ways to Get Free Amazon Gift Cards
Ad Disclosure: This article contains references to products from our partners. We may receive compensation if you apply or shop through links in our content. You help support CreditDonkey by using our links.
(read more)
With the sheer number of things you can buy, Amazon gift cards might as well be cash. Check out this list of ways to earn free Amazon gift cards.

© CreditDonkey
We know you work hard every day. You spend what you can afford and save the rest.
Because you're responsible.
Now you deserve to treat yourself. All you need is a little side money.
With this list of the best sites to earn free Amazon gift cards, you can treat yourself. And since Amazon carries everything from cat clothes to giant gummy bears, whatever it is that makes you smile, you'll find it there.
1. Swagbucks: Make $100 a month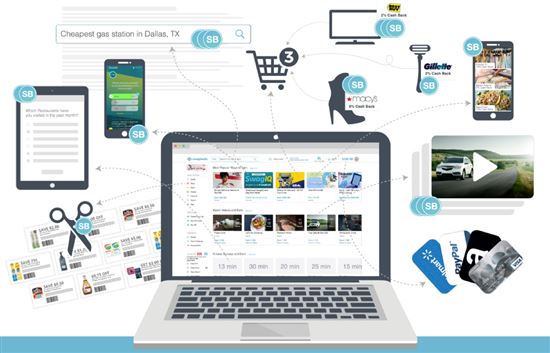 screenshot of swagbucks
If you haven't heard of Swagbucks yet, then you're in for a treat. It's easily one of the most popular places to earn side money on the net, with plenty of options to choose from.
It's not just a survey site. You can get paid for playing games, testing products, watching videos, searching the web—even shopping. In other words, get paid to do all the stuff you already do.
What you can earn
Frequent users can expect to earn between $50 and $100 a month on Swagbucks.

Get free gift cards when you answer surveys
Get coupons and cash back offers from top stores
Screenshot of Survey Junkie
You've got opinions—who doesn't? But did you know that you could get paid to share them? With Survey Junkie, you can. Sign up and create a profile to start sharing your ideas with brands that value them.
Earn points by completing surveys and exchange those points for gift cards for Amazon, Target, and more.
What you can earn
You could easily earn 500 points ($5) at a casual pace on Survey Junkie.

Take surveys and earn points
Redeem points for PayPal or e-Giftcards
3. PrizeRebel: Make $12 an hour
Signing up with PrizeRebel is simple. Once your account is registered, you can start taking surveys to earn points that you can redeem for cash.
You can also earn points by referring friends, trying out new products, and even watching ads.
Maximize your earnings by taking high-paying surveys. You might earn 50 points for a 15-minute survey—or 500 points for a 30-minute one. It really does pay to pick and choose.
What you can earn
PrizeRebel points are worth about 1 cent. If you choose carefully, you can earn as much as $12 an hour, which is a great rate for a survey site.
4. Toluna: Become an influencer
Earn rewards, make friends, and influence public opinion with Toluna. Using a bit of personal information, they try to assign you relevant surveys so that you can make an impact with the brands that are relevant to you.
You earn rewards points just for signing up, and from there you can earn more by taking surveys, answering polls, and more.
On average, surveys take between 5 and 20 minutes and pay between 1,000 and 2,000 points to complete.
What you can earn
A $10 gift card costs 30,000 points on Toluna, which means you'll probably need to complete between 15 and 20 surveys to earn one.
Review sites like Toluna are a great opportunity to learn the skills it takes to become an influencer—which is a real career with plenty of perks. Write honest, compelling reviews on blogs and social media, grow a following, and this side hustle could just turn into a main one.

5. InboxDollars: Earn cash, not points

Screenshot of InboxDollars
Get $5 just for signing up with InboxDollars. Once you're signed up, you can get paid for taking surveys, watching videos, shopping, and participating in cash offers.
One of their more attractive features is that you get paid in cash, not points.
You can get surveys via email, or check their website for opportunities. Surveys can pay anywhere from $.50 to $10, though the higher-paying ones are not as common.
What you can earn
A regular user can make around $25 to $30 a month with InboxDollars.
Learn More: InboxDollars Review

Get paid to take surveys, play video games, watch videos
Cash out to PayPal or gift cards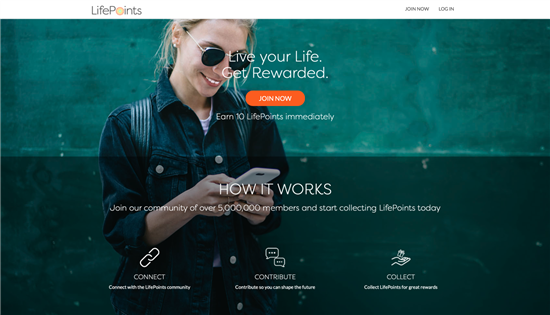 screenshot of lifepoints
LifePoints wants to know what you think: What brands do you buy? Where do you do your grocery shopping? What are you planning for your next vacation?
These are the kinds of questions you can get paid to answer. What's more, it's also available outside the U.S.
On average, earn 75 points for a 10-minute survey, or 125 for 20 minutes. Perfect for earning from the passenger seat or the waiting room at the doctor's office.
What you can earn
550 points will get you a $5 Amazon gift card. You can earn this much between 1 and 1.5 hours on LifePoints.
Another online survey-taking option is Opinion Outpost. Since most of their surveys take less than 10 minutes to complete, they're a great option when you're waiting for a 15-minute oil change.
Once they know a little about you, they email you surveys to take, sometimes as many as 9 a day. Compensation for each survey ranges between 50 cents and $3.
What you can earn
50 points on Opinion Outpost can get you a $5 Amazon gift card. Regular users can expect to earn as much as $10 a week on Opinion Outpost.
8. YouGov: Important topics
If you want to get paid for your opinion about important political topics, YouGov is where you should look. You'll find polls about policy, health, education, and more.
With endorsements from well-respected groups like the Pew Research Center, the Wall Street Journal, and the Washington Post, YouGov can get your opinions to the people who matter.
What you can earn
$25 costs 5,000 points on YouGov, and most surveys pay between 300 and 500 points
9. Ipsos I-Say: Fun surveys for cash
Like Survey Junkie, Ipsos I-Say is a survey site that will pay you for answering surveys. The payouts tend not to be as high, but if you're looking to diversify your options, it isn't a bad place to look.
Some of their breezy topics include: "What's your favorite kind of cookie dough?" and "What's your favorite relaxing summertime activity?"
You can also earn points by testing products and entering free contests, where you can win points, prizes, even checks for thousands of dollars.
What you can earn
You can earn anywhere from 45 cents to $1.50 per survey with Ipsos.
10. Harris Poll: Earn $10 in 2 months
Earn points for taking surveys with Harris Poll, one of the longest-standing consumer opinion research companies out there.
Plus, while many survey sites require you to be 18 or older, Harris Poll lets younger teens participate as well.
Your answers could influence politicians, big companies, and nonprofit organizations around the country.
Earn 1,250 points to get a $10 Amazon gift card with Harris Poll
What you can earn
Users of Harris Poll get an average of 3 to 5 surveys per month, and with some disqualifications, it can take up to 2 months to earn that $10 gift card. But since you aren't working all that time, it can be a nice supplement to your other earnings.
With Amazon Trade-In, you can declutter your space and get paid all at the same time. Now, this isn't an online garage sale. They don't want your old clothes or handbags. But here are some of the things you can get paid for, regardless of where you bought them:

Kindle e-readers

Tablets

Streaming media players

Echo, Bluetooth speakers, and headphones

Home security devices

Wireless routers

Cellphones

Games and gaming devices
For some of your trade-ins, they'll give you the option to upgrade to a newer version, such as with the Amazon Kindle, and they may even throw in a bit of extra cash on top!
What you can earn
How much you'll earn with Amazon Trade-In completely depends on what you have to trade. Demand and initial value will both be factored into the price you get.
Amazon will sometimes incentivize the purchase of a specific item with the offer of Amazon gift cards, usually when purchasing beauty, health, or grocery items.
You can find the coupons in the drop-down panel when you search by category. Where better to go for Amazon gift cards than Amazon itself?
What you can earn
Most Amazon coupons are worth 5% to 30%, or between $2 and $5.
If you're looking for a different way to earn Amazon gift cards, there are a ton of options for easy tasks to do on Amazon Mturk.
Most of the tasks just take a couple of minutes, so you can do them in your downtime. Take a look at all of the ways you can earn:

Tag objects in images

Help companies choose product photos

Moderate image and video content

Classify objects found in satellite imagery

Remove duplicate content from business listings

Verify restaurant details (e.g., phone numbers or hours of operation)

Convert unstructured location data into well-formed addresses

Fill out surveys

Write content for websites

Search through legal and government documents

Edit and transcribe audio content

Translate content from one language to another

Rate the accuracy of search results

Categorize information based on instructions
And best of all, you get paid in Amazon gift cards.
What you can earn
Earnings on Mturk average out to about $2 an hour, though it's possible to make more.
It's possible to get a bonus from Amazon just for reloading the balance on your gift card. This is basically free money.
You must add at least $100 in one transaction, and it will only work once per gift card.
What you can earn
Get a one-time bonus of $10 for reloading your Amazon gift cards.
15. MyPoints: Earn $1 an hour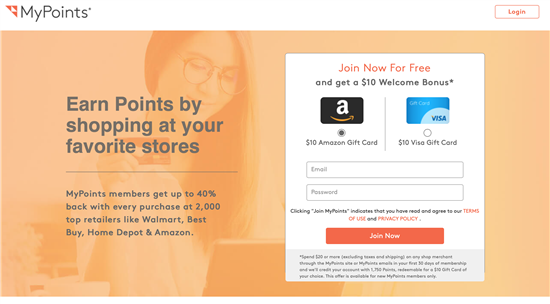 Screenshot of Mypoints
Earn points that you can redeem for Amazon gift cards with MyPoints. Like several other sites on this list, you can earn points by answering surveys, shopping online, watching videos, and more.
On average, a 10-minute survey will earn you about 50 points. This is considered to be one of the lower-paid survey sites, with each point worth $0.006.
What you can earn
Expect to earn around $1 an hour with MyPoints.
16. instaGC: Low cash out
The GC in the name stands for gift card, so it's no surprise that you can earn gift cards with instaGC.
Earn by taking surveys, watching videos, playing games, and opening emails. You can also get paid for listening to music.
One of the nice parts about instaGC is that you can cash out with as low as $1, which is relatively rare among these sites.
What you can earn
According to instaGC, their members can earn between $5 and $20 a day.
Microsoft wants your searches—so much that they're willing to pay you for making Bing your default search engine.
Earn 5 points every time you search with Bing. 5,000 points (that's 1,000 searches) will net you a $5 Amazon gift card.
It might take a little time, but since you're going to be doing it anyway, why not get paid for it?
You can earn extra points by installing their browser extension, where you can take daily quizzes and participate in other activities.
What you can earn
According to Microsoft: "Level 1 members earn up to 5 points a day, 150 points a month" and "Level 2 members earn up to 20 points a day, 600 points a month" with Microsoft Rewards.
18. AppNana: Best for gaming apps
You can get paid for trying out new mobile apps with AppNana. If you're already a smartphone gamer, it's definitely worth checking out.
Get between 2,000 and 15,000 Nanas (those are points) for downloading each app, and an additional 400 for checking in throughout the day.
What you can earn
A $1 Amazon gift card costs 30,000 Nanas on AppNana. How much you earn will depend on how many apps you can download in a day.
19. Bananatic: Earn with STEAM
Bananatic is another game testing app which has the potential to earn you Amazon gift cards as well as in-game prizes, if that's what you're after.
Bananatic is great for those who use STEAM's gaming platform, with dozens, if not hundreds, of options to choose from.
Game developers use the insights you provide in order to make better games, so you win both ways.
What you can earn
An Amazon gift card will cost you 2,500 Bananas on Bananatic. Most activities will net you 100 Bananas.
Earn points by completing simple tasks on your phone with Gift Wallet. For the most part, these tasks just require that you download a free app—it's that easy to earn coins.
Every new user gets 100 coins just for signing up, and most tasks are worth between 30 and 50 points.
A $3 Amazon gift card costs 1,500 coins.
What you can earn
On average, a user can earn around 200 coins per hour with Gift Wallet, which means it would take roughly 7 to 8 hours to earn a $3 Amazon gift card.
21. Honey: Find the best deals
Honey is one of the most popular cash-back apps on the market today. By shopping with Honey Gold, you can receive up to 15% cash back with your purchases online. That means Amazon gift cards in your inbox.
Their most notable feature is when you have Honey installed, it will show you the cheapest available price for the item you're searching for on Amazon.
No more shopping around—just go straight to the best deal and save. It will even apply coupons and discount codes when you shop online. No effort required.
What you can earn
How much you earn with Honey depends entirely on how much you shop, but whatever the amount, 15% cash back is a great deal.
If you thought 15% was generous, check this out: TopCashback offers up to 40% cash back at over 4,400 stores. Here are some of the many, varied things that will earn you cash back:

Airport parking and car hire

Home insurance

Mobile phones

Fashion

Homeware brands
What you can earn
According to their site, TopCashback members earn an average of $345 cash back every year.
Nielsen is one of the most recognizable names in consumer opinions and statistics in the country, so it's not surprising that they're willing to pay for your opinions.
You earn points by scanning products you purchase and listing the price. Increase your points by taking opinion surveys on the products too.
Scan weekly to earn rewards points that can be redeemed for prizes (including Amazon gift cards) and get entered into sweepstakes for larger prizes.
What you can earn
1000 Reward points are worth $10, but most reviews agree that it will take a significant amount of time to earn much with Nielsen National Consumer Panel.

Sign up your computers, smartphones and tablets to earn:
Up to $60 in points for gift cards
Monthly $10,000 sweepstakes entries
Instant win game tokens
24. Ibotta: Save $20 a month
Don't throw away that receipt—it could be worth something. Earn cash back for your everyday shopping with Ibotta. Just scan your receipt and earn, especially when it comes to the necessities.
Grocery stores, pharmacies, and restaurants are popular places to use this app, as well as retailers, like Target, Walgreens, and Best Buy.
This is one of the few apps where you have the option to earn by shopping in person as well as online, and if that wasn't enough, you'll get a $10 bonus just for signing up.
What you can earn
The average Ibotta user saves $20 a month.
25. Shopkick: Make $50 a month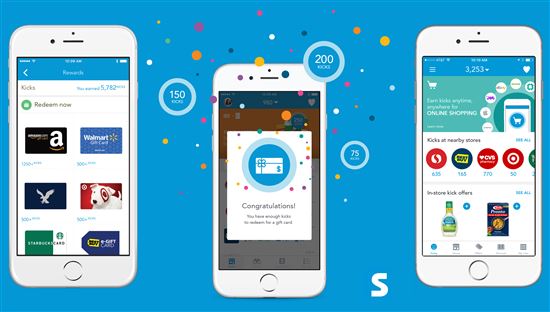 Courtesy of Shopkick
Earn free Amazon gift cards for shopping in-store and online with Shopkick.
Collect points by scanning barcodes of items on the shelves (it's a bit like a scavenger hunt), by shopping online with their partners, or simply viewing offers.
They offer rewards in the form of Amazon, Target, and Starbucks gift cards, among others. Download their app on the iOS App Store or the Google Play Store.
A $25 Amazon gift card will cost you 6,250 Kicks.
What you can earn
If you use it regularly and strategize, you might be able to earn as much as $50 a month with Shopkick.
26. Mobee: Be a secret shopper
If you've ever wanted to be a spy, Mobee is a great app to try it out.
Earn points by completing undercover missions as a secret shopper, answering surveys about local businesses, or taking photos of the store interior.
It's a fun job that will get you out of the house, and on top of earning points, you might just get assigned a task for your new favorite store.
What you can earn
500 points will earn you a $5 Amazon gift card. Missions on Mobee will probably earn you between $1.50 and $5.00.
27. Receipt Hog: Save $2.50 a week
Get paid to shop with Receipt Hog, where your receipts will earn you coins that you can redeem for Amazon gift cards.
And it works with pretty much everything.
Just snap your receipt, wherever you're shopping, and upload it to the app. You can earn between 10 and 25 coins per receipt, up to 20 receipts a week.
1,800 coins will net you a $10 Amazon gift card—better than the $5 card you'll get for 1,000.
What you can earn
With the upload limits, you'll max out at 500 coins a week with Receipt Hog, which means you could earn $2.50 a week or a little more if you save up and cash out at a higher value.
28. Drop: Earn 1% to 2% cash back
Link your credit or debit card to the Drop app and earn rewards—like Amazon gift cards—when you shop with Drop partners. Some of the big names that Drop will reward you for doing business with include Walmart, Adidas, and Lyft.
What you can earn
On average, Drop users will earn 1% to 2% when they shop.
29. Recyclebank: Think green and save
In a green mood? Check out Recyclebank, where they'll reward you for learning how to clean up. Take a look at some of the topics that will earn you points:

25 points to learn how to reduce restaurant waste

25 points to learn more about recycling

25 points to learn 8 ways to reuse wine corks
What you can earn
Many of Recyclebank's rewards offer 10% to 20% off with fun brands, and average 50 to 100 points each.
30. Rakuten: Get up to 40% cash back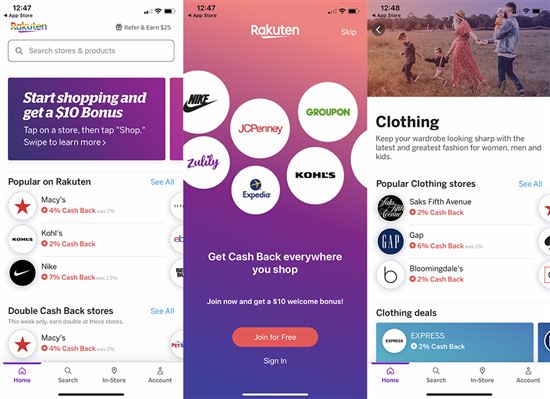 Screenshot of Rakuten
You'll get a $10 credit with Rakuten (which can be used to get an Amazon gift card) just for signing up and making a qualified purchase. But that's not all.
Rakuten is a cash-back affiliate marketing site, offering between 1% and 40% for you to shop with lots of your favorite brands.
What you can earn
You'll get a $10 gift card for signing up with Rakuten and making a qualified purchase, and 1% to 40% cash back when you shop.

Get Cash Back from 3500+ stores all in one app
Join Rakuten for free and get a $10 Welcome Bonus. To qualify for $10 Welcome Bonus, you must be a new member and make minimum qualifying purchases totaling at least $25 within 90 days of becoming a member.
31. Listia: Bid for prizes
Listia is a lot like Craigslist, if Craigslist gave you points for selling your stuff.
Their rewards points, called Ink (or sometimes XNK) can be used to bid on rewards like Amazon gift cards of various values.
What you can earn
Since rewards are bid for, it's nearly impossible to say how much you'll earn on Listia.
The bidding feature on sites like Listia has pros and cons. There's a chance you'll get lucky. You might end up with a $10 gift card for as little as 105 Ink. Or you might end up in a bidding war and spend thousands. Typically, features such as this favor the site over the consumer, and while you may get a few great deals, in the long term it will probably not work out.

Other Ways to Earn Free Amazon Gift Cards
By now you've probably got a whole list of ways to earn free Amazon gift cards, but just in case you're still curious, here are a number of other options:

Product Report Card
Like many of the other survey sites, with Product Report Card you can earn rewards for completing surveys and other tasks.
Appdown
Appdown is another gaming app, like AppNana and Bananatic, that pays to play, watch videos, and download apps.
Become an Amazon Affiliate
If you like writing reviews or blogging about things you buy, try putting your skills to work as an Amazon Affiliate. You can get paid when people shop through your links.
Use Amazon Visa Card
By signing up for an Amazon Visa card, you can get paid whenever you shop, whether it's on Amazon or not.
Idle Empire
Earn rewards by answering surveys, watching videos, and playing games with Idle Empire. It's easy to sign up with email or existing social media accounts.
SurveyMonkey
Answer surveys in 5 minutes or less—that's the promise at SurveyMonkey. Then cash out for as little as $5.
iPoll
Let companies know what you think with iPoll. In addition to their rewards, you have the chance to win a $5,000 prize every quarter.
Bottom Line
With dozens of ways to get free Amazon gift cards in those little patches of downtime throughout your week, you can score some spending money without breaking a sweat.
Then the weekend comes. There's a knock at your door. And what's there waiting on the welcome mat when you open it?
A little brown box with a smile on it.
Jeremy Harshman is a creative assistant at CreditDonkey, a personal finance comparison and reviews website. Write to Jeremy Harshman at jeremy.harshman@creditdonkey.com. Follow us on Twitter and Facebook for our latest posts.
Note: This website is made possible through financial relationships with some of the products and services mentioned on this site. We may receive compensation if you shop through links in our content. You do not have to use our links, but you help support CreditDonkey if you do.