How This App Helps Kids Earn Money for Chores
---
Gregg Murset knew he was doing something right when his son Spencer approached him for advice. The 14-year-old boy ran an idea by his dad: Spencer planned on selling the Disney stock he had bought with his own hard-earned allowance money.

© CreditDonkey
"He went and earned the money and then bought Disney stock," Murset said. "He bought it at $100 a share and now it's $140. So he's like 'That's a lot of money, I want to cash out.'"
Murset, a certified financial planner, thought it was a smart move.
"I love the fact that he even knows what that stock is and what it does," he said. "It went up. It went up 40% and to sell something after it's had a 40% run is actually a good idea. This is a very meaningful thing for a kid who's 14 to start grasping."
Spencer wasn't born with an understanding the equity market. He, like the rest of Murset's children and now 30,000 other children across the U.S., learned personal finance through his dad's smartphone app.
Murset is the co-founder and CEO of BusyKid. The app's name is appropriate—the kids who use it stay busy both physically by doing chores to earn money and mentally by learning basic financial skills that will stick with them throughout their lives.
From Busy Origins
The initial idea for BusyKid came to Murset during his time working as a financial planner.
Murset started to see a pattern among all of the successful business owners he managed. There were two defining factors: the owners were all hard workers and they were smart with their money.
Work and life collided when Murset realized those were the things he wanted to instill into his six children. When he couldn't find a technological tool that he liked in order to help him manage all of his kids, he did what any diligent parent would do—he created his own.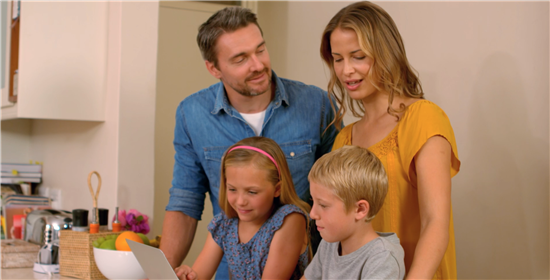 courtesy of busykid
Murset launched My Job Chart, the first iteration of BusyKid, in 2011. The app tracked chores across devices, assigning "points" for each one completed.
Looking to make things more "real," Murset and his technological team retooled the app to use money once technology had evolved enough for them to safely do so. The app rebranded and BusyKid was born.
Even Busy Kids Have Growing Pains
The app makes Murset and his team very busy adults.
One of most difficult parts of building the app was finding people who could actually do it. Murset has no background in software development. The financial planner said that finding a team of the right people to code the app has been a worthwhile challenge.
Once he found those people, however, challenges arose on the other end of the spectrum. Murset has found continual innovation to be both a blessing and curse. The app's developers try to stay on top of the latest technological trends while still keeping it simple enough to stay accessible and, even more challenging, interesting to children.
"Holding true to our philosophy of kids learning to earn and then learning to manage has been our primary north star, I guess you could say. To keep our app simple enough for ordinary people to use and to make an impact," Murset said.
Keeping Kids Busy, One Chore at a Time
BusyKid is designed to function like a child's "first job with direct deposit," according to Murset. Parents fill the role of the children's bosses, determining if their work is satisfying enough to earn their allowance.
How BusyKid Works
Here's how it works:

Once parents set up BusyKid profiles for their children within the app, they assign children weekly chores, each with a cash payout value.
As children complete the chores, they mark them as finished.
Every Thursday, parents choose to authorize or decline a payment through the app based on the finished chores.
Just like at a real job, BusyKids are then paid on Fridays.
The money goes through an automatic filter before children can even access it. The filter divides the payment into "save," "share," and "spend" categories.
Those categories are designed to teach children the basics of personal finance. Parents can adjust the allotments, but no matter what, a percentage of every paycheck a child earns goes toward their personal savings account, and another percentage gets donated to a charity of their choice.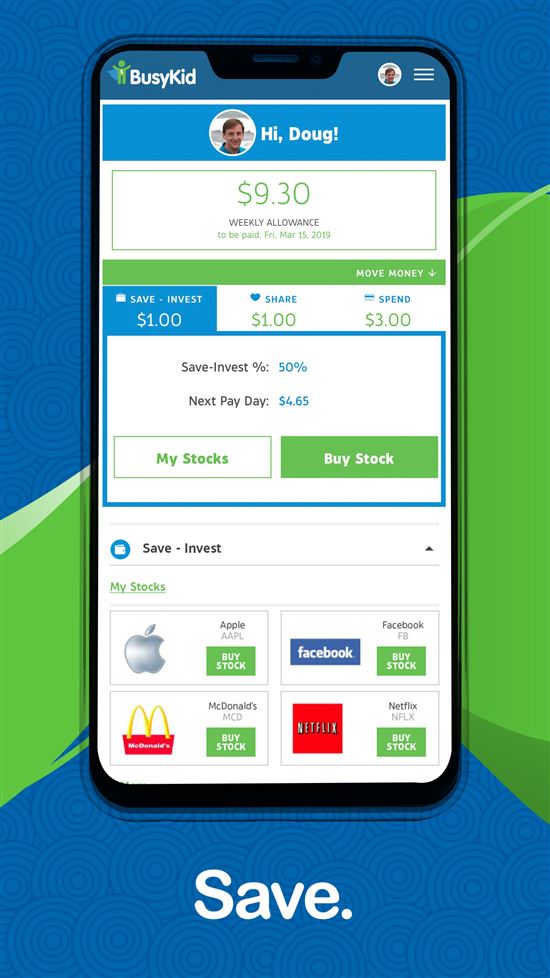 courtesy of busykid
Parents can remove chores from the weekly payout if children did not complete them. They can also add chores and send bonuses for jobs well done. All of the money deposited into a BusyKid account is held in an FDIC-insured bank.
Kids can spend their money by:

Investing in stocks via a linked custodial Stockpile account.
"Cashing out" and sending the money back to their parent's account to give them in cash.
Using a BusyKid-specific debit card to buy anything they'd like.
Parents pay $24.99 per year to use BusyKid. Each BusyKid debit card costs an additional $7.99 per child each year.
Parenting a Busy Kid
BusyKid changed not only Murset's life, but also the lives of all of his children. Two of his kids went to college with over $10,000 saved up. One used the money to travel for a year.
Those benefits extend to other BusyKid families too, according to Murset.
He said he's heard testimonials about children finally finding motivation to work and kids engaging with their money in meaningful ways after spending anything they earned mindlessly. He specifically recalled the pride he felt when a mother of a child with autism wrote to say how much the app's structure helped her son.
Teaching kids to get started on their financial journey isn't easy, though, Murset said.
One of the most important things he's found to work is positive reinforcement. Through BusyKid, that equates to paying children every week their fair due instead of promising the money sometime in the future. According to Murset, as long as parents are "fairly consistent" with letting the app do the heavy lifting of holding their kids accountable for their work, those kids will learn as they grow.
When busy kids become busy adults
The goal is for those busy kids to grow into financially aware adults who can manage their own money. With personal finance rarely being taught in U.S. K-12 schools, Murset sees BusyKid as more important than ever before.
According to a 2017 study by Next Gen Personal Finance, only 16.4% of U.S. students are required to take a personal finance class to graduate from high school.

He's hopeful that the next wave of adults will be able to use the practical skills they learned from BusyKid to break out of a vicious cycle. That cycle starts when people spend all of their money, continues as they borrow more money, and seals their fate as more and more debt is added to their lives.
"What we really want is for somebody to grow up and learn these fundamental things so that they can ditch [BusyKid] one day," Murset said. "We want somebody to be so proficient at this that they don't need us anymore. They can go off and make good decisions when they get into college, when they get their first job, all that stuff. We're laying the groundwork that's going to really propel them to a successful future. That's our goal."
A Busy and Bright Future
The app's next feature will allow outside family members to pay via BusyKid. So any money for birthdays and holidays will go through BusyKid's automatic filter, building the child's savings with every deposit.
Murset is proud of everything BusyKid has accomplished so far but knows there are still plenty of families to reach. He said that even though it can be hard for parents to get their children to that place of financial understanding, it's worth it in the end.
"If you're fairly consistent with it, it's going to work," he said. "You're really setting your kid up for success with a life skills that they're not going to learn anywhere else. That's what you're really trying to accomplish."
Just don't be surprised in a year if the majority of Disney shareholders haven't yet completed high school—or even middle school. They're busy kids, after all.
Write to Anna Johnson at feedback@creditdonkey.com. Follow us on Twitter and Facebook for our latest posts.
Read Next: