Ad Disclosure: This article contains references to products from our partners. We may receive compensation if you apply or shop through links in our content. You help support CreditDonkey by using our links.
(read more)
Copper Banking is a new banking platform to teach teens financial literacy. Discover the features, pros, and cons of Copper Banking in this review.
Get $5 After You Complete the Registration Process

Overall Score

4.1

---

Savings

2.5

Minimum Deposit

5.0

Checking

3.5

Price

4.5

Customer Service

3.0

Mobile App

4.0

Ease of Use

5.0

Education

5.0
5-point scale (the higher, the better)
---
Pros and Cons
No fees
No minimum deposit required
Earn rewards with quizzes
Low savings interest rate
Limited customer service
No foreign transactions
---
Bottom Line
Teaches teens responsible saving and spending
Copper Banking is an online-only bank and digital payments platform designed for teens and parents.
Copper gives teens firsthand experience in banking and debit card usage. Parents also get peace of mind (and ability to monitor their teen's account).
But is Copper Banking the safest and best banking option available for your teenager?
Find out below.
What is Copper Banking
Based in Seattle, WA, Copper began with $4.3 million in seed funding from PSL Ventures, Western Technology Investment, Mana Ventures, and Snap creator Jack Brody.
It was created in 2019 by co-founders Eddie Behringer and Stefan Berglund. The pair saw an opportunity where traditional education systems fail many teens — financial literacy, smart spending, and budgeting for the future.
Copper is not an independently operated bank, but is actually a fintech company powered by SynapseFi, a partner of Evolve Bank & Trust.
The app uses behavioral psychology to help teens build smart financial habits, like saving, and incentivizes them to learn about how banks and money function.
For example, once you download and open the app, you can take a short quiz about checking accounts. Once completed, you receive a $2.00 reward.
How Copper Works
Teens must receive permission from their parents before opening an account and receiving a debit card. Parents can set up recurring allowances, monitor spending, and send instant money transfers to their teen's account.
Can I earn rewards with Copper?
Copper offers cash rewards for inviting friends (
$3.00 for each referral
) and completing quizzes and educational videos. Teens will also receive 0.001% interest on their checking account balance, compounded daily and added to their account at the end of each month.
Besides the parental supervision aspect, Copper Banking functions like many digital-only banks/non-banks, such as Chime or Ally. Customers can use the encrypted app to view balances and transfer money to family and friends directly from their account, similar to Venmo or PayPal.
Teens receive a debit card just like any other checking account, which can be used anywhere Mastercard is accepted. Plus, Copper allows teens to use Apple Pay at participating locations.

Engaging educational content, monitor spending, fast transfers
Age: 13 years and older
Fees: None
Copper has partnered with Evolve Bank & Trust, which is FDIC insured up to $250,000.
Copper Features
Copper integrates digital banking with financial education. Get to know the features of Copper Banking below.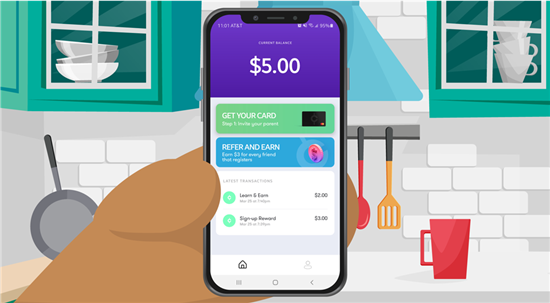 Screenshot of Copper
Parental Control

Set up alerts to be notified when your teen makes a purchase
Monitor account activity in the app
Send and request funds between your teen's Copper account and your linked checking account
Create recurring deposits to your teen's account for monthly allowance, chore payments, etc.
Purchases Made Easy

Use the debit card anywhere Mastercard is accepted
Purchase goods and services online or at retail locations
Enjoy Apple Pay for convenient one-click purchases
Withdraw cash with zero fees at over 55,000 MoneyPass and Allpoint ATM locations
Keep Spending Under Control[1]

$500 daily ATM withdrawal limit
$2,000 daily spending limit
$2,000 monthly load limit
Copper Customer Support
Email: support@getcopper.com
In-app: under "Support"

How to Open a Copper Account
Teens 13 years old and over are eligible to open a Copper account. However, the account must be activated by a parent or guardian at least 18 years of age, with a valid Social Security number or tax identification number.
Both parties must also be U.S. citizens, permanent residents, or hold valid long-term visas. Lastly, parents must have an existing checking account to link to Copper.
Your teen can sign up for a Copper account using the following steps:

Download the Copper app and enter their phone number
Enter the unique verification code
Invite a parent or guardian, who will grant permission
Enter the address where their debit card should be delivered and the SSN for identity verification
Use a virtual card on the Copper App to make purchases while you wait for your debit card to arrive
Is Copper banking safe?
Yes. Copper Banking's partner, Evolve Bank & Trust, has been in business for over 95 years. All deposits are fully insured by the FDIC up to $250,000. Plus, Copper uses encryption technology to keep all of your personal information secure.


Set your kids up for financial success (and never worry about having cash on hand).
The Pros and Cons of Copper Banking
Like all banks and credit unions, Copper comes with its own unique set of pros and cons.
Pros:

Financial education via quizzes and short videos
Zero fees, no minimum balance requirements, or overdraft charges
Instant transfers from the parent's linked checking account
Earn rewards by inviting friends and completing objectives
Parental supervision — use the app to monitor and review account activity
Fraud protection using Mastercard Zero Liability Protection
Is Copper Free?
Yes. Copper does not charge any monthly maintenance fees, service fees, or ATM fees, and there is no minimum deposit required to open an account. If they ever begin charging fees, those who sign up now
will not incur those fees
and can continue to use Copper for free.
Cons:

Low interest rate — while teens do earn interest on balances, the APY of 0.001% leaves something to be desired
Customer service — the contact number on Copper's website connects you with SynapseFi, which may or may not be able to answer Copper-specific questions; a chat box is also currently unavailable
No foreign transactions are allowed, so many online retailers will be unavailable
Fees to Watch Out For
While Copper does not charge any fees, there are two external fees to keep your eye on.

Out-of-network ATM fees — ATM withdrawals can be made at any Allpoint or MoneyPass ATM location free of charge, but these may be difficult to find in some areas and you may be charged a fee by out-of-network operators
Cash deposit fees — Copper does not charge cash deposit fees; however, processors such as GreenDot will likely charge a fee of up to $4.95 per deposit (granted, this will rarely, if ever, be encountered since direct deposits can be made from the parent's linked checking account)

Real-time spend notifications.
Block and unblock cards easily.
Teach financial independence safely.
GoHenry card is issued by Community Federal Savings Bank, member FDIC

Flexible controls, spending notifications, in-app chore list
Age: No minimum age
Fees: Starts at $4.99/month, per family (up to 5 kids). $7.98/month for Greenlight + Invest
Your funds will be held at Community Federal Savings Bank, an FDIC-insured institution.
How to Contact Customer Service
Teens and parents can contact Copper Banking customer service by emailing support@getcopper.com or within the app under "Support" in the settings menu.
Copper's website also hosts an FAQ page, where you can access answers to common questions regarding security and privacy, adding and transferring funds, managing your account, using the card, and getting started.
Competitor Comparison
Bank
Minimum Deposit
APY
Out-of-Network ATM Fee
Debit Card
Monthly Fee
Transaction Limits
Copper
$0
0.001%
$0
Yes
$0
$2,000 debit
$500 ATM
Step Bank
$0
N/A
N/A
Yes
$0
$1,000 debit
$500 Google Pay / Apple Pay
$250 ATM
Axos Bank First Checking
$50
0.1%
$0
Yes
$0
$500 debit
$100 ATM
While Axos Bank First Checking offers a higher APY, it has much lower transaction limits and a higher minimum deposit.
Step, a popular competitor, currently does not allow funding an account through an ATM, although teens can still use their cards to make ATM withdrawals, make online purchases, do POS transactions, and use Google Pay and Apple Pay.
Copper offers minimal APY, no monthly fees or ATM fees, and can be used anywhere Mastercard is accepted.
The Bottom Line
Copper offers a competitive suite of features compared to other banking options tailored for teenagers.
The financial literacy education package is a fantastic addition to the world of banking and education for America's youth, whose surveys show have an alarming lack of financial literacy as they graduate from high school.
If you have a teenager who struggles with the concept of money or is simply ready for the adult world of finances, Copper Banking is worth a try.
References
Write to Justin Barnard at feedback@creditdonkey.com. Follow us on Twitter and Facebook for our latest posts.
Note: This website is made possible through financial relationships with some of the products and services mentioned on this site. We may receive compensation if you shop through links in our content. You do not have to use our links, but you help support CreditDonkey if you do.
Read Next:
Compare: