Survey: Freelance Statistics
Thinking About Going Freelance? You'll Have to Embrace Uncertainty
---
Freelancing to earn income is a way of life and work that has many pros and cons. If you are contemplating a move to become self-employed and risk the ups and downs of self-employment, consider the experiences of current freelancers. Chief among the cons is the constant uncertainty of income, according to 56.4% of respondents of a recent CreditDonkey.com survey of more than 400 self-employed workers. However, most freelancers believe the tradeoff is worth it.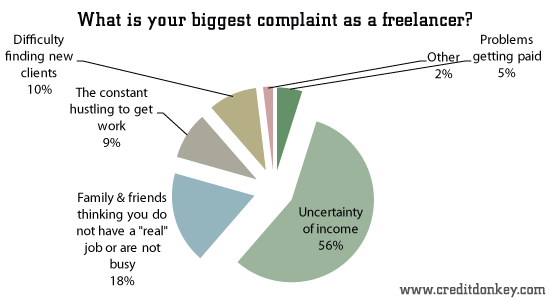 What is your biggest complaint as a freelancer?

© CreditDonkey
Dan Nainan, a comedian who just recently performed for President Obama says "it's really important to save as much money as possible, because one never knows when the phone will stop ringing."
They don't mind…much
The words freelancer, independent contractor, and self-employed are all interchangeable, as they describe a person who does not just work as an employee for one company but instead has the freedom to work their own schedule with as many, or as few, companies they want. Our survey found that freelancers value this freedom greatly.
92% answered they are happy with their choice of freelancing. They listed the flexible schedule as the biggest plus (33.6%), followed by being their own boss, their feeling of freedom, and the flexible work environment.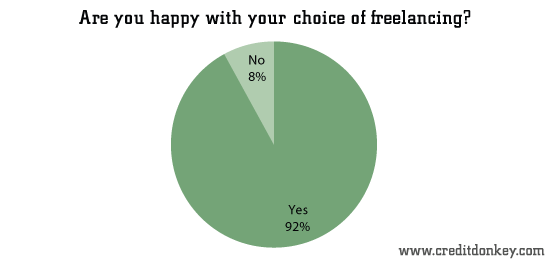 Are you happy with your choice of freelancing?

© CreditDonkey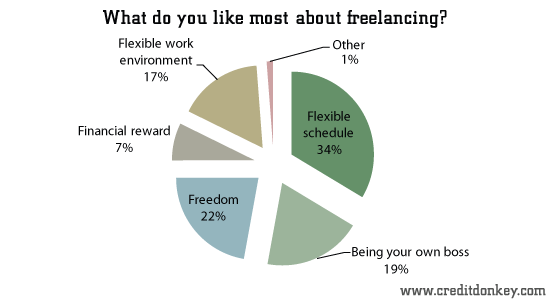 What do you like most about freelancing?

© CreditDonkey
Freelancers tend to be creative types.
Almost half (42.3%) of all freelancers provide some type of creative service, such as writing, design, photography, or graphics. 30.5% of freelancers offer operational support such as data entry or administrative assistance. One common theme in these popular freelance professions is that they all revolve around using a computer. Other freelancing jobs mentioned were childcare, tutoring, fitness instruction, crowdsourcing, real estate, and professional or trade services, such as carpenter or painter. In other words, the options for freelancers run the gamut, and, if you 're not one yourself, you probably know someone who freelances!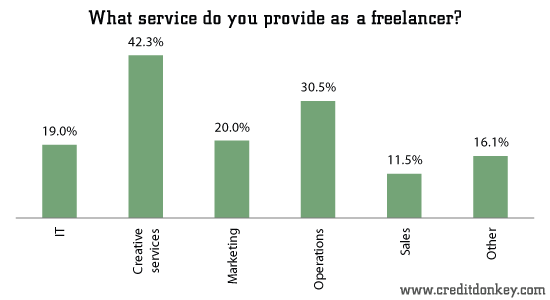 What service do you provide as a freelancer?

© CreditDonkey
And creative types chose freelancing for creative reasons:
30.2% wanted to start their own business.

20.9% started freelancing their skills when they were laid off or fired.

19.2% wanted to change careers.

24.8% gave "other" reasons, such as they needed extra cash or they were already unemployed.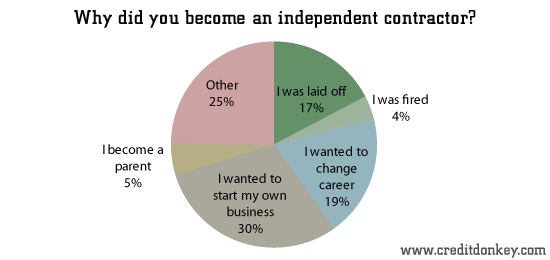 Why did you become an independent contractor?

© CreditDonkey
Speaking of unemployment, layoffs and firings, most freelancers have been self-employed for 2-5 years. Could the economic crash of 2008 have something to do with that timing? As companies continue to find their footing during the economic recovery, which includes favoring independent contractors over full-time employees (who require health care and other benefits), you may find yourself contemplating – or being forced to – freelance. Consider whether you can handle the uncertainty over your income and projects before you make the plunge.
Tony Wilkins, Small Business Forum radio host and author of Surviving the economy says "don't go into freelancing with big expectations," instead "go in with an open mind. Be flexible and you're almost guaranteed to land more work."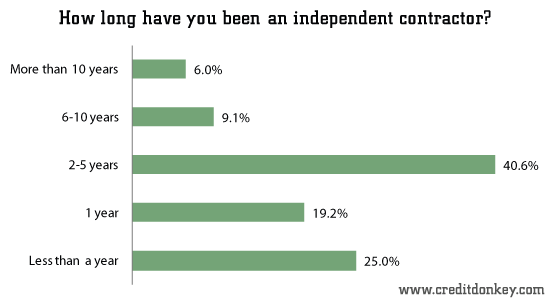 How long have you been an independent contractor?

© CreditDonkey
(From November 5 to November 27, 2012 CreditDonkey.com surveyed 424 independent contractors in the U.S., age 18 and over using a multiple-choice and short-answer online questionnaire.)
Naomi Mannino is a contributing writer at CreditDonkey, a credit card comparison and reviews website. Write to Naomi Mannino at naomi@creditdonkey.com. Follow us on Twitter and Facebook for our latest posts.
Note: This website is made possible through financial relationships with some of the products and services mentioned on this site. We may receive compensation if you shop through links in our content. You do not have to use our links, but you help support CreditDonkey if you do.