Survey: Saving Money Statistics
54% Have No Strategy for Saving Money
---
Over a thousand people were asked if they have any specific savings strategy, such as saving a certain percentage of income. Over 54% replied that they did not have any strategy at all. More worryingly, 61.5% said that they are not saving for retirement.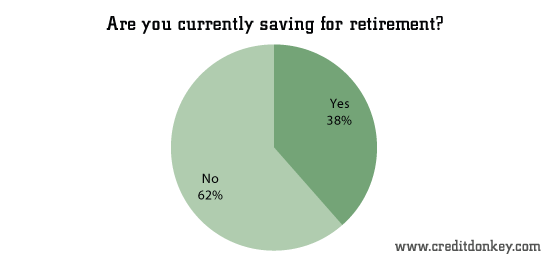 Are you currently saving for retirement?

© CreditDonkey
This lack of strategy is not due to a lack of awareness of the different types of investments available. Nearly three-fourths (73%) of respondents said that they were familiar with stocks, bonds, mutual funds, and cash accounts, and 65% said that they knew where they should be putting their savings. However, respondents are finding it difficult to translate their knowledge into action.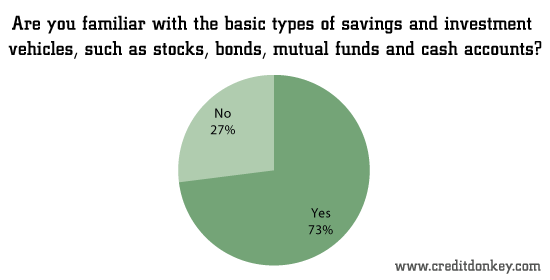 Are you familiar with the basic types of savings and investment vehicles?

© CreditDonkey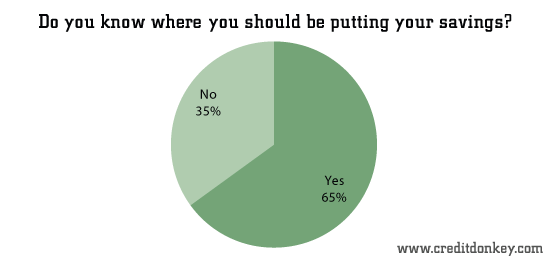 Do you know where you should be putting your savings?

© CreditDonkey
"One of the biggest problems with personal finance is that costs keep rising," said Charles Tran of CreditDonkey.com. "Over half of the respondents to this survey make less than $50,000 per year. After taxes, the high cost of oil, food, health insurance, and college tuition means that saving money is harder than ever."
Health insurance premiums have more than doubled since 2000, according to the non-profit group Keaiser Family Foundation. Whereas a family spent just $6,438 for health insurance premiums in 2000, that figure ballooned to $15,745 in 2012. Meanwhile, workers' wages grew just 19% to $41,673, according to the Social Security Administration.
"High costs and low wages mean saving is harder than ever before," said Tran. "Americans are finding that they need to make more and more sacrifices just to make ends meet, and one of the first things to go is saving for the future. While this is a national crisis for several reasons, there is no reason to expect it to stop anytime soon."
(CreditDonkey.com polled 1,105 Americans between September 17 and September 25, 2012.)
Mike Foster is a contributing writer at CreditDonkey, a credit card comparison and reviews website. Write to Mike Foster at mike@creditdonkey.com. Follow us on Twitter and Facebook for our latest posts.