Survey: Freelance Mistakes
Many Freelancers Are Making Basic Financial Mistakes
---
Nearly 70 percent of freelancers claim to have the financial expertise needed to successfully run a business, according to a recent poll by credit-card comparison site CreditDonkey.com. However, their responses to several key questions seem to contradict this assertion, suggesting that many independent contractors are making basic mistakes when it comes to managing their company's finances.
Only 22.3 percent of the freelancers surveyed have a credit card dedicated solely to business expenses, meaning most are mingling their business and personal finances. According to small business experts, this common mistake can cause confusion at tax time and increase business owners' personal exposure to legal liability.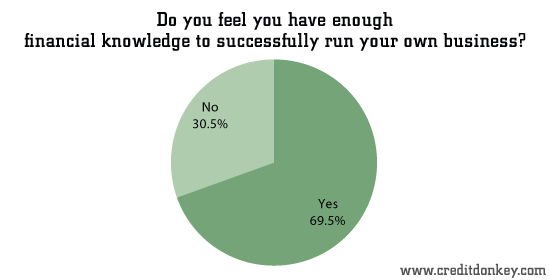 Do you feel you have enough financial knowledge to successfully run your own business?

© CreditDonkey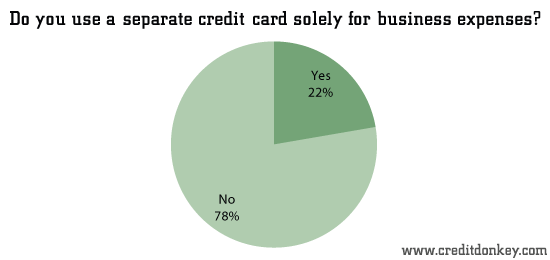 Do you use a separate credit card solely for business expenses?

© CreditDonkey
One-fifth of the people surveyed began freelancing only after losing their jobs, so it's not surprising that some didn't do enough homework on running a successful business. And 51 percent are either planning to quit freelancing the moment they find a 'regular job' or haven't decided how long they want to run the business. This lack of commitment is probably driving some short-sighted decisions.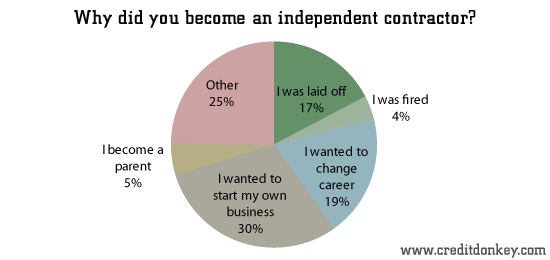 Why did you become an independent contractor?

© CreditDonkey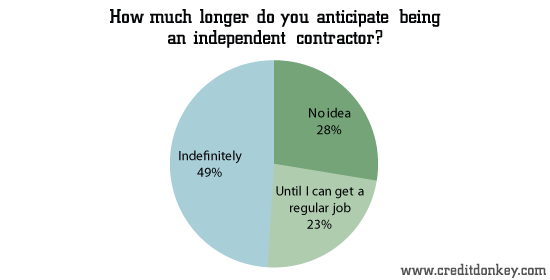 How much longer do you anticipate being an independent contractor?

© CreditDonkey
As owners of a small business, freelancers tend to use credit cards as tools to help them keep their business afloat in between their payments, which can occur sporadically and infrequently, depending on their clients' payment schedules. In fact, more than 60 percent of the surveyed freelancers said they use credit cards mainly to control cash flow.
However, some are having a hard time making ends meet. Twenty-seven percent said they couldn't afford basic living expenses at some point since becoming freelancers, and 16.1 percent said they couldn't afford to pay taxes at some point.
Among the survey's other findings:
15.9 percent of freelancers reported working less than 10 hours per week, with 36.1 percent working 10-20 hours per week; 19.5 percent working 21-30 hours, and 28.6 percent logging more than 30 hours.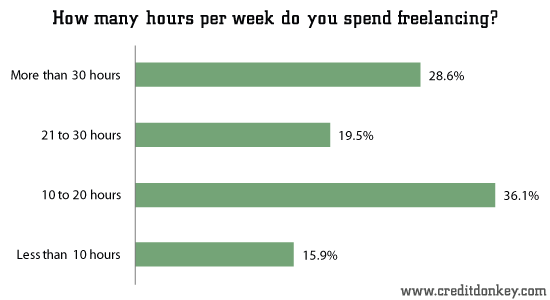 How many hours per week do you spend freelancing?

© CreditDonkey
42.3 percent of freelancers provide creative services, such as writing and graphics design; 19 percent offer IT services, such as web programming; 20 percent provide marketing support; 30.5 percent provide administrative services; and 11.5 offer sales-related services.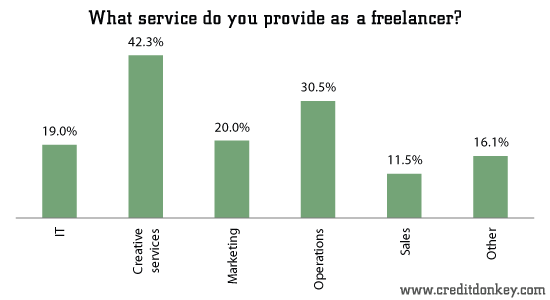 What service do you provide as a freelancer?

© CreditDonkey
31.4 percent of freelancers have a bachelor's degree, and 36.3 percent have attended college but not earn a degree.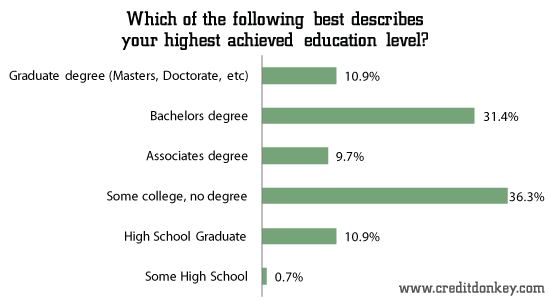 Which of the following best describes your highest achieved education level?

© CreditDonkey
Whether you're a full-time or part-time freelancer, it's a good idea to hire an accountant to help you set up the company and manage the finances. In the business world, what you don't know will eventually hurt you.
(From November 5 to November 27, 2012 CreditDonkey surveyed over 400 self-employed Americans, age 18 and over, for information and opinions on their companies, lifestyles, credit card use, and spending habits with 45 multiple-choice and yes/no questions.)

Charles Tran is the founder of CreditDonkey, a credit card comparison and reviews website. Write to Charles Tran at charles@creditdonkey.com. Follow us on Twitter and Facebook for our latest posts.