---
Have you been hankering for a new pair of skis, or are you tired of plunking down rental fees every time you go to the slopes?
Here are some tips on the best time to buy a pair that suits your lifestyle, along with ways to avoid paying full price and regretting your purchase:
When is the Best Time to Buy Skis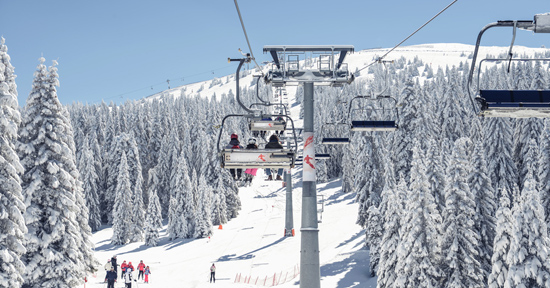 Shop in February
Just as skiing season begins to come to a close, be on the lookout for clearance sales. During the month of February, retailers are interested in clearing out excess inventory to make room for summer gear. They may need the space they've been using for skis for bikes or other equipment that's popular in the warmer months. President's Day sales usher in deals of up to 60 percent off select ski gear. And once the holiday weekend has passed, you can find even steeper discounts.
Search for Your New Skis During the Off-Season
If you can stand to get through another ski season without a new pair, you will be rewarded for your patience. Starting in April, when the snow is beginning to melt, pay a visit to your local ski or mountain shop to take advantage of great deals on any remaining inventory. The selection will more than likely be limited, but the prices will be much easier to swallow. And some retailers may even be willing to negotiate.

"The key is to be at the shop when few other people are there and when the store is motivated to move stock they either don't want to carry, or need to move cause the new stuff is coming in," says Scott Gile, who owns the Brewster House Bed & Breakfast in Freeport, Maine. "That would be at the end of a ski season, or before the next one really begins."

In particular, be sure to check out Labor Day sales. Retailers use the first weekend in September to free up last year's inventory for the latest models. You may be able to save between 50 to 70 percent off older models.
How to Save Money Buying Skis
Decide if buying is really the way to go
If you tend to hit the slopes only once a year or you're trying to outfit your kids with skis (kids who are likely to outgrow them year over year), you may find those rental fees are actually worth it. Take time to do the math. It's something that Diana Sugiuchi, a sports nutritionist and ski enthusiast, does for her family members. "For my growing daughters, I do seasonal rentals," she tells us. "There is no point in shelling out a thousand dollars for equipment that will only be used for a season. Seasonal rentals let me get them the better gear than we could get used, and they are very economical, especially if you do a lot of skiing."
Shop local
Ditch the chain sporting goods store for the local ski shop that has knowledgeable representatives who can help you find a pair of skis tailored to your needs and budget. The more experience the sales staff has, the better the recommendations. Even if they seem to push you toward a certain set of skis, always ask what type they own and what they think of it.

Another benefit to buying local is the ability to test out the gear. Be on the lookout for demonstration days at resorts in your area. They are the perfect opportunity to test out your options.

Online stores
Shopping online can save you a nice amount of money. Just be sure to confirm the return policy and only purchase skis with a warranty, just on the off chance you purchase some duds (but do avoid paying extra for an extended warranty and see if the credit card you use for your purchase offers added protection against manufacturer defects).
Don't shop during the holiday season
Ski gear may seem like the perfect gift for your loved ones, but refrain from purchasing it during this window since demand is high and so are the prices. Plus, skiers can be mighty particular about their gear, so opt for a gift certificate instead and let them choose what they want for their favorite sport.
Look for a ski swap
You may find one as part of an event in your town or at a resort. "Not only are these great ways to save money, but they are great ways to meet and support the ski community as well," says Alex Birkett, a marketing manager at Arctica Race, which sells ski-racing gear.
Allison Martin is a contributing writer at CreditDonkey, a credit card comparison and reviews website. Write to Allison Martin at allison@creditdonkey.com. Follow us on Twitter and Facebook for our latest posts.
Note: This website is made possible through financial relationships with some of the products and services mentioned on this site. We may receive compensation if you shop through links in our content. You do not have to use our links, but you help support CreditDonkey if you do.
Read Next: