Best Hotel Booking Site for Cheapest Price
---
You've got plenty of options when booking hotels for your next trip. But which websites offer the best deals? Read this for the pros and cons you should know before booking.
© CreditDonkey
Who doesn't love a great hotel stay?
But when and where should you book? Should you book early - or wait until the last minute? Should you book direct or an online site for the cheapest rates?
Booking a hotel doesn't have to be work.
With this list of the hotel booking sites, planning will be a breeze. No more overpaying for hotel rooms.
Here are the best hotel booking sites to compare prices
:
Is It Better to Book Directly With the Hotel?
Even considering all online booking options, you may still get the best deal on a hotel room by contacting the hotel directly. Many major brands offer prices and deals to compete with OTAs (online travel agencies) and search engines.
Depending on the hotel, you'll also earn points through their reward programs. You won't typically qualify for these when booking through other sites.
If you find a good deal through an OTA, call the hotel directly before booking. They may match the price or even offer a lower price. Plus, you'll be eligible to earn loyalty points with the hotel brand. These points can be used toward future stays or special promotions.
Even if they don't drop their price, they might give you other perks like free breakfast, Wi-Fi, or complimentary late checkout.
Which booking method do you prefer the most?
Are hotel booking sites reliable?
You can book with confidence through well-known online travel agencies and search engines (including all the ones on our list). However, you may want to do some research before reserving a room with an unfamiliar website. Regardless of where you book, always call the hotel 24–48 hours after making your reservation to confirm.

Top Hotel Booking Sites

© CreditDonkey
We've compiled a list of the best booking sites for your next business trip or vacation. Many of these OTAs and travel search engines have similar features.
We've listed our favorites in order below. That being said, the best booking site for you will ultimately depend on your individual needs and travel plans.
Keep reading to learn more.
Which website gives you the best hotel deals?
Best for Las Vegas: Hotwire or Priceline

Best for Asia: Agoda or Trivago

Best for Europe: Booking.com

Best for Last Minute Travel: HotelTonight
Booking.com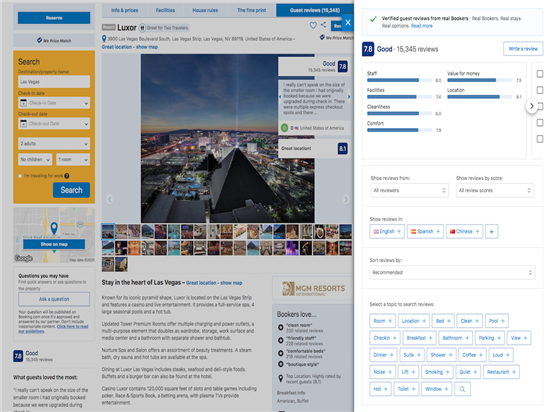 Screenshot of Booking.com
Booking.com has a lot of things going for it. The OTA offers bookings on accommodations, flights, bundles and more.
Of the major hotel booking sites, its low-price guarantee is especially forgiving. Customers who find the exact same accommodations online for a lower price after booking can get refunded the difference up to 24 hours before their check-in date.
Another huge plus is the site's range of accommodations. Travelers can choose to stay at hotels, hostels, bed and breakfasts and even farms. If you're looking exclusively for one type of accommodation, you can narrow down your search results by filtering based on destinations and other factors.
The final thing that sets Booking.com apart is its "Verified Reviews." Only customers who have booked through the site can leave reviews on accommodations. These typically give a more accurate opinion of the place than reviews on other sites, which can be easily faked.
Pros
Offers a variety of properties, including bed and breakfasts, vacation rentals, hostels, etc.

Book flights, car rentals, airport taxis, and hotels

Lots of search filters and clear descriptions of rooms

24/7 customer service
Cons
Guests can't earn brand-specific loyalty rewards

Requires filtering if just searching for one type of property
Best for Paris and Rome
For cheap deals on hotel brands and franchises, start with Booking.com. But European cities in France, Italy, and Spain are also home to a lot of independent hotels. Travel search engines like
Trivago
or HotelsCombined let you look for hotels as well as hostels, inns, vacation rentals, and bed and breakfasts.
KAYAK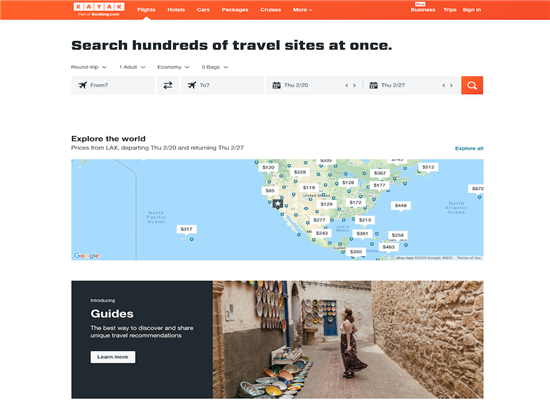 Screenshot of Kayak
KAYAK is a metasearch site, not an OTA, which means that Kayak doesn't directly handle your booking.
Instead, Kayak compiles results directly from the accommodation providers and other online travel sites. When you choose your flight or hotel, you're forwarded to and book directly with the hotel or airline's website. That way, you can earn loyalty points, which you usually can't get through an OTA.
One of the best parts of Kayak's site is the explore map. The map allows you to enter a departure airport and then view rates for destinations and cities all over the world within a 6-month period. It's a great way to save on a more flexible vacation.
Kayak also has split-reservations for hotels known as its "Hacker Stays." By booking two consecutive stays at the same hotel, Kayak claims travelers can save more money.
Pros
Excellent filtering options

View all restaurants, shopping, attractions and hotels based on the city

Search for flights, cars, cruises, packages, and special deals

Guests can earn brand-specific loyalty points

Best prices for a European destination
Cons

Can't book directly through the site

Hacker Fares and Stays can cause extra work on the traveler's part
What's the difference between an online travel agent (OTA) and a travel search engine?
An OTA, like TripAdvisor or Agoda, compiles available hotel rooms so users can compare prices and other features. You can book your trip directly through an OTA.
A travel search engine, like KAYAK, displays results from several OTAs and the travel providers themselves to help users find the best price. If you opt for a price or deal offered by another OTA, you'll get redirected to that site. If you choose a deal offered by the hotel or airline itself, you'll book directly with that travel provider.

Expedia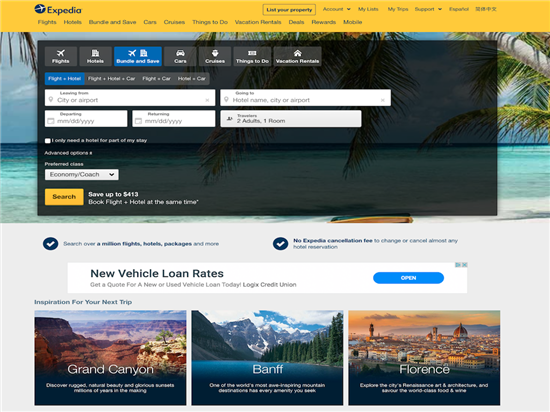 Screenshot of Expedia
The Expedia Group owns multiple OTAs, including some of the others mentioned in this list. Expedia searches across all of those platforms, saving travelers time and giving them the best opportunity to find a deal.
However, booking through an OTA like Expedia often means you'll lose out on any hotel-specific loyalty points. Expedia makes up for that with one of the best rewards systems of any OTA. It offers luxurious benefits, such as:

Bonus points

Exclusive offers

No blackout dates for reward redemption
Guests earn two Expedia points for every $1 they spend on the site. This can get you a great deal, especially if you're also using a travel credit card that earns cashback on each purchase.
Expedia also offers split-rate bookings, which can help you save by creating two reservations at the same hotel. If you find a booking you made on Expedia on another site for a cheaper rate, you can submit a low-price guarantee claim up to 24 hours before your reservation to receive a refund of the difference.
Pros
Easy-to-earn rewards program with three tiers

Benefits for higher tiers

Split-rate bookings

Extended low-price guarantee
Cons
Booking through an OTA keeps customers from earning brand loyalty points

Same prices as other OTAs in the Expedia Group
What to know about Split-Rate offers
:
Kayak and Expedia offer split-rates on hotels, which are multiple-night stays broken into two separate reservations to maximize savings.
They can be a hassle since you'll have to check out and check back in between reservations. The hotel also may not guarantee you'll have the same room for both reservations.
But if you ask nicely, the front desk staff at your hotel may be able to combine the reservations so you don't have to change rooms.

Hotels.com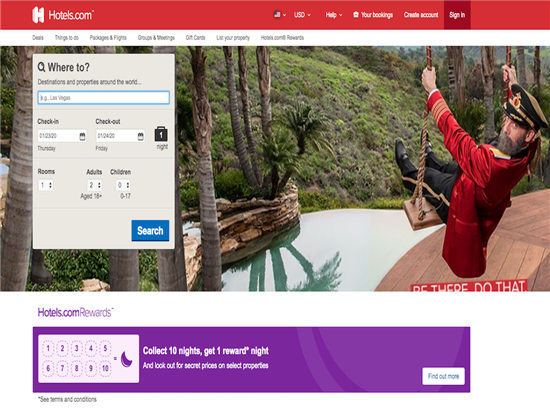 Screenshot of Hotels.com
Hotels.com sticks to the basics by offering hotels, flights, hotel & flight bundles, and vacation activities. This has worked out in its favor - the site is one of the easiest OTAs to use.
The two distinguishing parts of Hotels.com are its:

Secret Prices

Valuable rewards program
Customers who sign up for the Hotels.com newsletter and/or create an account gain access to "Secret Prices." These are hotel bookings with additionally discounted rates.
Secret Price savings range widely. For a 3-night trip in Las Vegas, three-star hotels typically saw Secret Price savings of $5 - $8 per night vs. the regular Hotels.com rates. However, more expensive 4 and 5-star hotels with Secret Prices returned per-night savings of $40 and up.
Booking any hotel with Hotels.com earns customers loyalty points through a punch card-like system. Every 10 nights booked through the site earns 1 free night at any hotel equivalent to the average value of all of the 10 nights.
Flights, vacation packages and activities don't earn points. To redeem a free night, you will have to pay applicable taxes and fees and a $5 redemption fee. Waiving that fee is simple, though - just book through the Hotels.com app instead of on the site itself.
Pros
Has own loyalty program—earn 1 night for every 10 you book

"Secret Prices" only available to members

Frequent sales on hotel rooms
Cons
Can't earn loyalty rewards

Secret price savings range in value
HotelsCombined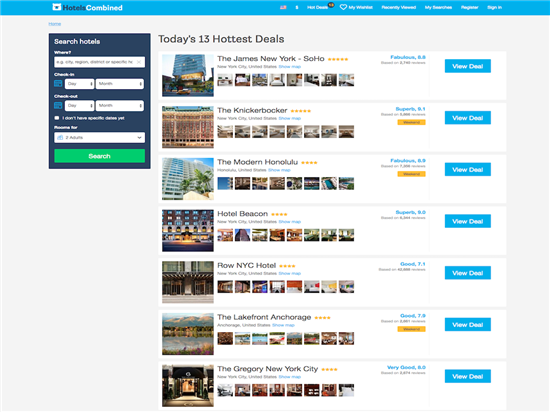 Screenshot of Hotelscombined
Just like Kayak, HotelsCombined is a metasearch site that searches and compiles results from OTAs and individual hotel sites. The site also lists non-hotel accommodations to include properties like bed and breakfasts and hostels.
Their search function can provide a list of hotels based on your needs. Guests looking for a family hotel can filter for properties that offer babysitting services, while those booking a luxury trip can choose to only see results with onsite spas, among many other filters.
The HotelsCombined "Hot Deals" are best for last-minute bookings. The prices can change daily and offer significant savings on hotels around the world. They also offer exclusive "member rates," and guests can likely earn brand-loyalty points if they book directly through a hotel's site.
The only glaring issue with the service is its sometimes-inaccurate prices. When redirecting from HotelsCombined to the actual booking site, there can be a discrepancy between the two listings.
That price difference can range from a few dollars to over $100 per night. Just make sure to check multiple listings to find the cheapest rates.
Pros
Hot Deals offer significant discounts

Search for hostels, B&Bs, and other types of accommodations

Can earn hotel brand loyalty points
Cons
Price per night sometimes inaccurate

No loyalty system
Agoda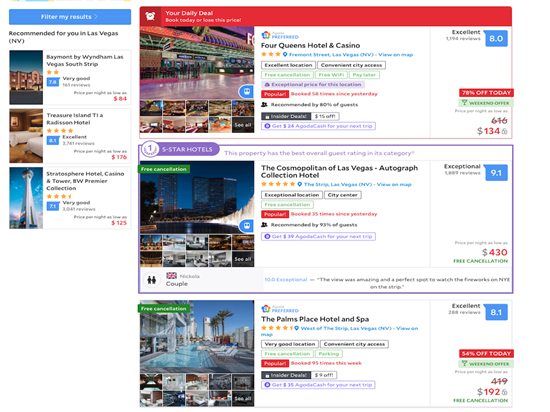 Screenshot of Agoda
Agoda was created to primarily serve as a hotel booking site for Asia. While they now include hotels from all over the world, their listings are still the most comprehensive in Asian cities. The site offers common features of other OTAs, such as the option to pay now or later, as well as advanced search filters.
Each Agoda listing is labeled with the hotel's perks, which can include complimentary breakfast or free cancellation. This helps travelers narrow down their searches without having to click through to each individual page. Agoda also includes non-traditional accommodations in its results.
Users who create accounts (by clicking the "Create Account" button at the top right of the homepage) get access to Agoda's Insider Deals, which can discount the hotel price. These savings can range in value from less than $10 over $50 per night, depending on the overall price of the trip.
Booking specifically labeled accommodations through the site will also earn you rewards points in the form of AgodaCash. These points are credited to your account after you complete the booking.
There's no minimum spending limit with AgodaCash, meaning you can redeem as little or as much as you want at a time to pay for a new booking.
Pros
Pay now or later options

Free cancellations

Rewards program

Easy-to-access Insider Deals

Ideal for an Asian destination
Cons
Not as comprehensive in western countries
Best for Travel to Japan
Rakuten is one of the largest online shopping portals in Japan, offering travelers hundreds of hotel options. Trivago is also worth checking out, with over 12,000 hotels in Tokyo alone.

Priceline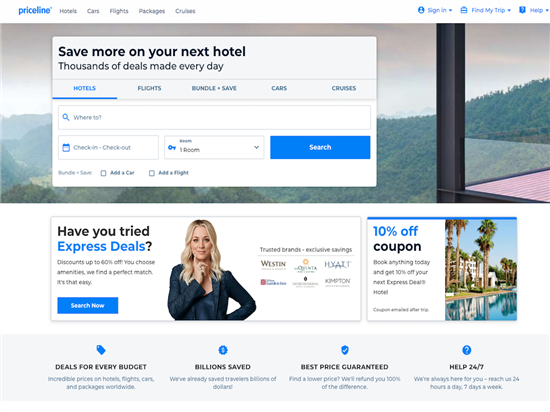 Screenshot of Priceline
Priceline is a great option if you're not particular about staying in any specific brand of hotel. Through the site, you can book flights, hotels, rental cars, vacation packages and cruises.
There's not much that distinguishes Priceline from other OTAs in terms of functionality. You can search based on your travel destination and then filter results.
What does set Priceline apart is their opaque bookings, known as "Express Deals." These results show only a hotel's rating, neighborhood, and amenities but not the name of the hotel itself.
Travelers only find out which hotel they're staying at after they purchase the room. It's not too difficult to figure out the hotel you're booking beforehand, though.
Priceline also has a low-price guarantee that ensures a 100% refund of the price difference if you find a booking you already made for a lower price elsewhere. If you find a lower price for an Express Deal, you'll get a 200% refund. Both refunds are only applicable if you find the new prices within 24 hours of booking on Priceline.
Pros
Low-price guarantee

24/7 customer service

Significant price savings on Express Deals
Cons
No loyalty rewards

Same prices as most other OTAs
Orbitz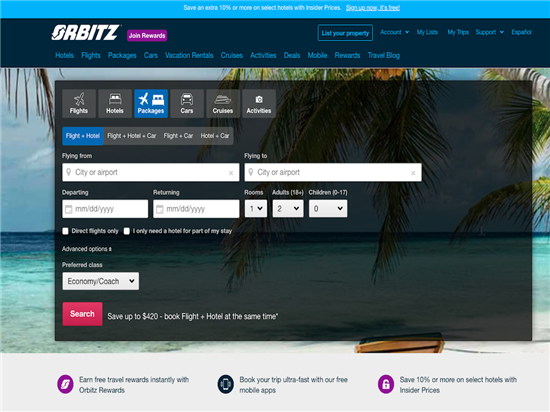 Screenshot of Orbitz
If you're not loyal to a specific hotel brand, Orbitz allows you to build loyalty points no matter what hotel chain you book. Of all the OTAs, Orbitz has one of the widest range of travel accommodations.
Through Orbitz, you can book:

Hotels

Flights

Vacation packages

Rental cars

Vacation rentals

Cruises

Activities
Orbitz is owned by Expedia, so many of their deals are similar to or exactly the same as those on Expedia, Hotwire and Travelocity, among others. The listings themselves aren't as notable as the site's rewards program.
The program has three loyalty levels: Silver, Gold, and Platinum, with exclusive higher-tier rewards like priority access, upgrades, and freebies (Wi-Fi, breakfast, etc.) at VIP hotels. Reward points are distributed in the form of Orbucks, which are earned at different rates for every booking through Orbitz.
The company also has a rewards dining program that allows you to register a debit or credit card and start earning points just for eating at restaurants. If you're clever, it's very easy to build up rewards points through Orbitz that you can then use to pay for travel.
Pros
Generous loyalty program with three loyalty levels

Earn rewards at restaurants through Orbitz Rewards Dining

Booking bonuses—3% in Orbucks when you book hotels on a web browser and 5% through the app
Cons
Orbucks can only be used for hotel stays

Same offerings as Expedia
Hotwire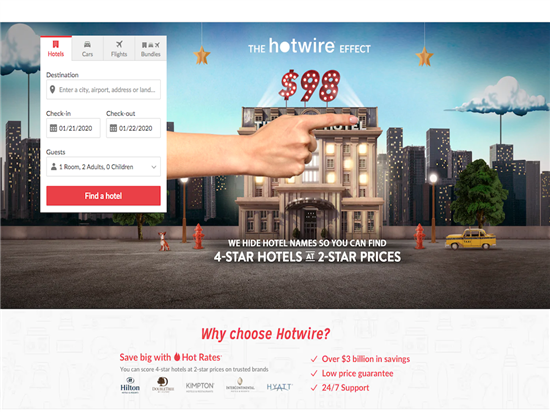 Screenshot of Hotwire
Like Priceline, Hotwire offers opaque booking deals on hotels. Other than that, it works similarly to most other OTAs.
The opaque "Hot Rates" feature lets you search by city and destination. When you find a Hot Rate hotel, you will be able to see its amenities, rating, and general location in the city but not the hotel's name until after you book.
Hotwire's general prices sometimes run slightly higher than other OTAs, so Hot Rates are the way to go to save money. The site does have a low price guarantee up to 24 hours after booking. If you find the exact same accommodations online for a lower price, Hotwire will refund the difference.
Pros
Book vacation packages with flights to save more

Low price guarantee
Cons
Slightly more expensive than other OTAs
Las Vegas Hotels: Hotwire vs Priceline
Both websites offer great deals on rooms, especially if you're flexible with your travel dates on destination. Either provide deals where you pick the general area and rating but not the specific hotel until after you book.
Recently, Hotwire was offering Hot Rate rooms at a 4-star hotel in the central Strip area of Las Vegas for $23 a night. Priceline's Express Deals showed a 3-star Strip hotel for $48 a night.

TripAdvisor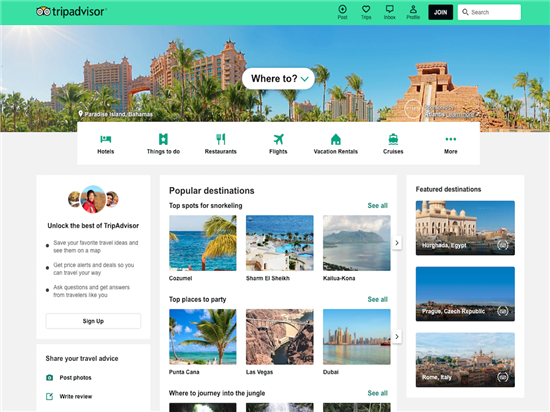 Screenshot of Tripadvisor
Like KAYAK, you don't book directly through TripAdvisor. When you search for a hotel, it will list each option and show the prices on several OTAs with links to each.
The nice thing about TripAdvisor is that it offers ratings for nearly every hotel, as well as photos from previous guests. Always be skeptical of the ratings and reviews, because fake reviews are easy to create. That being said, the real ones give a good idea of what the property is like that a regular booking site can't always convey.
Since TripAdvisor is a review site first, sometimes the prices aren't accurate after you've clicked through to the actual accommodation site to book. The listed prices also often don't include any possible extra fees and taxes you may have to pay.
When's the best time to book a hotel or flight?
In general, you'll get the best price for your hotel or flight by booking in January, with February following close behind. If you're planning your trip on a budget, start planning at the beginning of the year and search multiple comparison sites to find the best deal.

Pros
Lots of reviews for every listing

Can earn brand-specific loyalty points
Cons
Price doesn't always show extra fees and taxes

Prices can be inaccurate
Always read the fine print
Each website's policy is different and sometimes the cancellation policies can even differ on the same website depending on the hotel. The booking website or the hotel may also charge additional taxes, resort fees, and other surcharges that mitigate the deal you initially found.

Other Hotel Booking Site Options

© CreditDonkey
HotelTonight
This simple, user-friendly app can help you find awesome deals on last-minute stays because it sells rooms in sold-out hotels.
You can also book several days ahead of time in certain hotels. HotelTonight also shows rooms that normally have a minimum night stay requirement that you can book for only one night.
American Express Travel
Don't let the name fool you—anyone can access American Express Travel, though AMEX Membership Reward members benefit the most. Simply create an account for this booking portal to see the final pricing.
Don't use Membership Reward points through the travel portal. Instead, transfer those points to travel partners to make your points go farther.

Google Hotel Finder
From the Google homepage, type in "hotels in (fill in the blank)" to see all available rooms near that destination.
You can't book directly through Google, but you can follow the links to other OTAs. The filtering options aren't as strong as other websites, but you can still narrow down your choices to find some great deals. Google also allows you to set up price tracking.
Travelocity
As with other online travel agencies, you can search for hotels, flights, cars, and cruises all on Travelocity.
Trivago
More of a travel search engine than an online travel agency, Trivago compiles hotel deals from all the major websites. It offers lots of information, including rankings, customer reviews, and photos.
Best for Thailand
Trivago is a great option for Thailand (and overseas travel in general), featuring nearly 100,000 Thai hotels.
Skyscanner
Better known for their flight deals, Skyscanner does offer hotel bookings. Be aware, however, that the price listed is for the entire trip, not for one night.
GetARoom
A little old-school, GetARoom has a website where you can search for hotel deals. To get an even better discount, you have to call their 1-800 number and speak to a customer service rep. The website also charges a service fee.
Hotel Booking Tips

© CreditDonkey
Use a Travel Rewards Credit Card
Regardless of where you choose to book, always use a travel credit card to pay for your stay. You'll earn extra points or miles on top of getting a great deal.
Book Early to Get the Best Deals
Hotel prices usually rise as you get closer to your trip dates. You may find low-priced, last-minute deals, but it's usually best to reserve your room well in advance.
Trust, but Verify
After booking through an OTA, verify with the hotel that your reservation is in their system.
Bottom Line
You've got plenty of options for booking hotels online. Online Travel Agencies purchase blocks of hotel rooms they sell at a cheaper rate, but watch out for hidden fees and strict cancellation policies.
Travel search engines help you narrow down choices but don't allow you to book directly. If you have elite status with a hotel brand, book directly with them to earn rewards points and stays that will help you maintain your elite status.
Write to Lindsey Thompson at feedback@creditdonkey.com. Follow us on Twitter and Facebook for our latest posts.
Note: This website is made possible through financial relationships with some of the products and services mentioned on this site. We may receive compensation if you shop through links in our content. You do not have to use our links, but you help support CreditDonkey if you do.
Read Next: