Mastercard Black Card Review: Is $495 Worth It?
Editorial Note: This content is not provided by the card issuer. Opinions expressed here are author's alone, not those of the issuer, and have not been reviewed, approved or otherwise endorsed by the issuer.
Ad Disclosure: This article contains references to products from our partners. We receive compensation if you apply or shop through links in our content. You help support CreditDonkey by using our links.
(read more)
Want to know if the Mastercard® Black Card™ is worth its cost? Discover the privileges and requirements in this in-depth review.
Overall Score

4.1

---

Rewards

3.5

Fees

3.0

Benefits

5.0

Concierge

5.0
5-point scale (the higher, the better)
---
Pros and Cons
Stainless steel and carbon card
Concierge service
Travel benefits
$495 annual fee
No signup bonus
---
Bottom Line
Stainless steel and carbon card with luxury benefits
If you're looking for a luxury credit card, the Mastercard Black Card offers some great perks.
The card comes with 24/7 concierge service, 2% cash back on airfare redemptions, lounge access at airports, and more. Plus, the sleek, stainless-steel card will definitely turn a few heads.
But with no sign-up bonus or transfer partners, is it actually worth the $495 annual fee?
Find out if the benefits make up for the hefty fees, and see how it compares to other premium travel cards.
Who the Mastercard Black Card Is Good For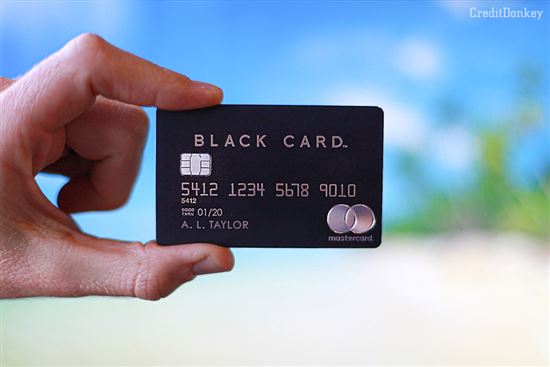 © CreditDonkey
First, let's get something straight. The Mastercard Black Card is definitely not designed for everyone.
So who is this card for?
Frequent Travelers: With perks like Global Entry application credit, airport lounge access, and more value on airfare redemptions, the Black Card is intended for those who travel often. However, where it really shines is its concierge service. Specialists are available 24/7 to assist with ANY travel need or desire.
Big Spenders: With a high $495 annual fee and mediocre rewards (more later), this card is aimed at those who do not want to juggle multiple credit card reward programs and are capable of spending enough to take full advantage of the luxury perks.
The card's value is based more on the benefits than its actual monetary card rewards structure.
That said, it's still important to understand what you get, and what similar cards offer.
How to qualify and get a Mastercard Black Card:
Mastercard Black Card is not an invitation-only card. But it does require excellent credit. This usually means a credit score of 720 or more. There is no income requirement to qualify, though a higher income will be more favorable.

Pros & Cons of Mastercard Black Card
PROS:
24/7 Luxury Card Concierge by phone & live chat

Very heavy luxurious stainless steel and carbon card

Up to $100 annual airline fee credit

1.5% redemption value for cashback and 2% for airfare

Premium travel perks, such as airport lounge access

Travel and cell phone protections

No foreign transaction fee

Reward points never expire
CONS:
No welcome bonus

No bonus categories

No airline transfer partners

$495 annual fee, not waived the first year
What is the Mastercard Black Card Credit Limit?
Mastercard Black Card is a high-limit credit card. Users with high incomes report credit limits of $20,000 to $25,000 or even more. The lowest reported credit limit is $5,000.

Earning and Redeeming Rewards

© CreditDonkey
The Mastercard Black Card has no sign-up bonus to help offset the annual fee for the first year.
The reward rate is 1 point for every $1 spent on purchases. There are no bonus categories.
The redemption value is:
2% when redeemed for airfare. Redeem through Luxury Card's travel portal for airfare with no blackout dates or seat restrictions.
1.5% when redeemed for cash back. Can be applied as statement credit or direct deposit into your bank.
1% when redeemed for hotel and car rentals. This option is even worse than just straight up cash back.
This means the most you'll get is equivalent to 2% back. This may not be the best (when compared to similar cards), but it's actually a pretty decent redemption rate. Keep in mind, no other elite cards offer a 1.5% cash back rate on everyday purchases.
You can redeem your points at myluxurycard.com or by calling the number on the back of your card.

Premium Benefits & Luxury Perks

© CreditDonkey
The Black Card is meant to be more about the benefits than the card rewards. So let's take a look at what kind of benefits it offers. We'll also offer some comparisons so you can make your own choice.
Concierge Service
This is one of the most valuable perks of the MasterCard Black Card, though maybe not in the monetary sense.
The Luxury Card Concierge provides perhaps the highest caliber of service offered by premium credit card concierges. A dedicated team is available 24/7 around the world to help with both travel and personal requests - no matter how outlandish (as long as it's legal). Services can include:
Helping you research and plan trips

Booking complicated travel itineraries for large groups

Making restaurant reservations in a foreign country

Finding tickets to a sold-out show

Arranging for items left at home (or a hotel) to be picked up

Arranging for a rep to be at your home to sign for a delivery

Helping plan the perfect proposal
This benefit can be invaluable for busy people who don't have time to deal with the little things. All services are free of charge, but you'd have to pay for anything you purchase through them, of course.
Luxury Card Concierge can be reached at any time at (844) 724-2500. Or contact them 24/7 via live chat on the Luxury Card app. For less urgent requests, you can write through email.

Lounge Access Through Priority Pass Select

© CreditDonkey
You get complimentary Priority Pass Select membership. This gives you access to over 1,300 airport lounges across the world.
For very frequent travelers, this membership can be worth a great deal. The Mastercard Black Card also allows you to bring in unlimited guests at no extra cost (though individual lounges may have their own rules).
This is a little better than similar cards, as Chase Sapphire Reserve and Platinum Card from American Express (a CreditDonkey partner) only allow 2 guests at no charge.
This is the equivalent of the Priority Pass Prestige membership, which costs $469/year. The benefit is even better, as you can bring in unlimited guests at no extra cost.

$100 annual airline fee credit
Every calendar year, you'll receive up to $100 air travel credit toward flight-related purchases, such as:
Airline tickets

Baggage fees

Seat upgrades

Lounge access

Certain in-flight purchases
This credit can be used for any airline. It will be automatically applied to your account. This credit effectively reduces the annual fee by $100.
$100 Global Entry Application Fee Credit
Every 5 years, you get up to a $100 application fee credit to Global Entry. Global Entry pre-approves you for expedited entry upon returning to the US by allowing you to use automated kiosks.
It's not an automatic enrollment in the program, as you'll still have to pass the screening. You're credited back the fee when you use the card to pay for the application.
Once you get the Global Entry membership, it also includes access to the TSA Pre-Check program with no additional application or fee required.
Hotel Benefits

© CreditDonkey
When you book eligible hotel stays with Luxury Card Travel, you get competitive rates and complimentary benefits such as:
Late checkout and early check-in

Room upgrades when available

Complimentary breakfast for two

Resort and dining credits

Welcome amenities
Mastercard Black Card claims that the average total value of benefits is about $500 per stay (based on a booking of 3 nights).
Luxury Travel Services
The Mastercard Black Card offers some services to reduce your hassle on travel days. These include:
Global luggage delivery: Send your luggage ahead of time so you don't have to deal with baggage claim.
Airport meet and greet: Have someone assist you through the airport process to avoid crowds.
Chauffeured transportation: Hire a professional driver to shuttle you around.
However, these services are NOT free. You still have to pay. It's just that the Mastercard Black Card reps can help assist you with the arrangements.
Exclusive Luxury Benefits
Some perks just for the Luxury Card include:
Mastercard Priceless events: Get access to invitation-only events, such as sporting events and shows.
Luxury gifts: As a thank you to cardmembers, you'll receive gifts during the year from some of the world's most recognized brand names - though it's not clear what those are.
LUXURY MAGAZINE: You'll receive the exclusive biannual publication covering travel, fashion, real estate, vehicles, technology, etc.
Lifestyle Discounts & Benefits

© CreditDonkey
You also get these benefits for Luxury Card World Elite MasterCard cardholders. These provide some extra rewards for common day-to-day use.
ShopRunner membership: Shoprunner provides free 2-day shipping, free returns, and deals with hundreds of brand-name stores. Receive a complimentary membership with your Luxury Card (normally $79/year).
Lyft credit: Get a $5 Lyft credit when you take 3 eligible rides in a month using your Luxury Card.
Fandango rewards: Receive a $5 Fandango Reward every time you spend $20 on movie tickets with Fandango or stream movies or TV shows on Fandango's home entertainment streaming service using your Luxury Card.
DoorDash: DoorDash provides food delivery from your favorite local restaurants right to your doorstep. Use your Luxury Card to sign up for DashPass as a new member to get three (3) complimentary months of membership. After the DashPass trial period ends, new members will automatically be charged the current monthly DashPass rate, plus any applicable fees. Cardmembers who sign up for DashPass with an eligible Luxury Card will also receive a $5 discount each month until September 30, 2023. See full DashPass terms and conditions at www.doordash.com/terms.
Travel & Purchase Protections
Mastercard Black Card also offers these travel and purchase benefits:
Cell phone protection: If you charge your monthly cell phone bill to your Luxury Card, you are eligible for protection against covered cell phone theft or damage. You can receive up to $800 per claim, for a maximum of 2 claims for up to $1,000 per 12-month period. Each claim is subject to a $50 deductible.
Car rental insurance waiver: You are covered against theft and damage when you rent an eligible car and decline the rental company's collision insurance. Coverage is secondary when you rent a car within the U.S. and primary when you rent a car abroad.
Trip cancellation/trip interruption: You can be reimbursed up to $5,000 per trip (up to $10,000 per 12-month period) when your eligible trip is canceled or interrupted due to covered reasons. Coverage is secondary.
Baggage delay: If your checked baggage is delayed in transit, you will be reimbursed for replacing essential personal or business items up to $100/day for up to 3 days.
Travel accident insurance: You and your family are insured up to $250,000 in cases of accidental death or dismemberment when riding in a common carrier.
Mastercard ID theft protection: Should you become the victim of Identity theft, you get 24/7 assistance with replacement of your card and notifying the credit bureau.
Requirements and How to Qualify

© CreditDonkey
While marketed as a prestigious card, the MasterCard Black Card is not by invitation-only. Anyone can apply online.
For your best chances of approval, it's best if you:
Have an excellent credit

Have higher income and a stable job history

Keep balances on your other credit cards low (ideally under 30% credit utilization)

Have at least 1 year of on-time payments

Have at least 2-3 years of credit history

Don't have too many new accounts and inquiries
There is no official credit or income requirement, though cardholders generally have excellent credit and high income in the 6 digits. A higher income will definitely help, especially if your credit score is not quite excellent. Or visa versa, a very high credit score will help if your income is lower.
Downsides of Black Card
Mastercard Black Card is NOT aimed towards miles collectors and value seekers. If you're all about gaming the airline miles system, it will not appeal to you.
The Mastercard Black Card has:
No signup bonus. Welcome bonuses are one of the best things about credit card offers, and the Mastercard Black Card offers none. There's nothing to help offset that huge annual fee.
No bonus categories. You only get 1 point per $1. This makes it hard to rack up points fast. Other cards offer more points in bonus categories (like the Reserve's 3x points on travel and dining).
No transfer partners. There are no travel partners. You will not be able to squeeze in more value by transferring points to airlines and hotels.
If you're a miles collector, look into cards like Chase Sapphire Reserve and AMEX Platinum instead.
How Mastercard Black Card Compares
Compared to AMEX Platinum:



AMEX Platinum has a higher annual fee of $695 (See Rates & Fees), but it is loaded with benefits with monetary value. These include:
$200 airline fee credit (though you have to select one airline).

Up to $200 annual Uber credit.

Up to $100 annual Saks Fifth Avenue credit.

Complimentary access to 5 airport lounge networks, include Priority Pass lounges, Centurion Lounges, and Delta SkyClub.
In addition, you get automatic elite status at Marriott, Hilton, and certain car rental companies. You also get hotel and shipboard credit on qualifying hotel and cruise bookings.
You can transfer points to over 20 transfer partners, including Delta, Hawaiian, Air France, and Air Canada.
Compared to Chase Sapphire Reserve:



Chase Sapphire Reserve offers 3x points on travel and dining purchases worldwide. The points are worth 50% more value when you book travel on the Chase travel portal. They can also be transferred to airline and hotel partners for even more value (including United, Southwest, and JetBlue).
Despite the $550 annual fee, the Reserve offers a $300 annual travel credit. This can be used for any eligible travel purchase, like airfare, hotels, Uber, trains, and even parking garages.
Bottom Line: Is Luxury Black Card Worth It?

© CreditDonkey
This is a difficult question to answer.
Is a Gucci handbag worth it? Is a Bentley worth it? If you're asking the right demographic, then yes. If you're asking discount shoppers, then no way.
Those who can afford it will love how impressive it looks. And the rewards are still better than average, with some luxury perks thrown in. It also makes a good alternative black card for those who aren't quite qualify for the iconic AMEX Centurion Card (also known as American Express Black Card).
If we're purely talking from a value standpoint, other cards, such as the Chase Sapphire Reserve and AMEX Platinum offer more travel rewards. But they tend to be more complicated to use.
Remember - the Mastercard Black Card is not for those concerned with getting maximum value. It's a luxury product aimed to impress while delivering solid perks and a premium time saving user experience. Terms and conditions apply.
Next Step: View the issuer's official application, terms, and details
Write to Anna G at feedback@creditdonkey.com. Follow us on Twitter and Facebook for our latest posts.
Editorial Note: Any opinions, analyses, reviews or recommendations expressed in this article are those of the author's alone, and have not been reviewed, approved or otherwise endorsed by any card issuer. This site may be compensated through the Advertiser's affiliate programs.
For rates and fees of the American Express Platinum card, please click here.