Ad Disclosure: This article contains references to products from our partners. We may receive compensation if you apply or shop through links in our content. You help support CreditDonkey by using our links.
(read more)
Banks are part of our everyday life, but how do they work? Take a look at how they function and what they do with your money.
You deposit your money into your checking or savings account. What happens next? Do they lock your money away in a vault somewhere?
It doesn't just sit there. Actually, they lend your money out to other people. That's how they "create money."
Find out more about the banking system and how you get your money back.
What Does a Bank Actually Do?
Banks pay customers to deposit money with interest rates. They lend this money to other customers through personal and business loans. The borrower pays interest on their loan to the bank. Banks keeps the difference as profit to pay for maintenance costs.
What Is a Savings Account?
Savings accounts are called "non-transaction accounts" because you don't use them for everyday expenses. Instead, people use savings accounts to store money for a longer period of time.
In fact, most banks charge a fee if your withdrawals and/or transfers from a savings account exceed six in a month. This fee is usually around $10.
Keep in mind that banks reserve the right to close a savings account if you're penalized for frequent withdrawals too often.

Savings accounts do:

Pay interest

Charge a monthly fee (typically)
Savings accounts do not:

Provide debit cards or checks

Allow unlimited withdrawals and transfers
People usually agree to these terms and conditions because of the main perk that savings accounts offer: In return for your deposit, banks pay monthly interest on your account balance.
Some savings accounts may offer different perks or rules. Consider the following banks to open a savings account:

What Is a Checking Account?
Checking accounts are also called "transaction accounts" because they are typically used for daily expenses.
For example, many checking accounts include a feature to automate bill pay directly from your account.
Unlike savings accounts, most checking accounts do not pay interest. If they do, it's usually less than that of a savings account. They also will not limit withdrawals or deposits.
Checking accounts do:

Come with a debit card

Allow you to write checks
Checking accounts do not:

Pay interest

Limit withdrawals or deposits
However, some checking accounts are an exception to the rule. Check out the following banks to find the right account for you.

You may have noticed that many banks advertise free checking and savings accounts. If they give these accounts away for free, how do banks make money?
Good question. There's a lot that goes on that we never see. Read on to find out.
Do banks insure my money?
Bank accounts are guaranteed insurance by the FDIC (Federal Deposit Insurance Corporation). FDIC insurance protects your money in the event of a bank failure. Coverage typically protects bank accounts up to $250,000 and comes with the backing of the federal government.

How Do Banks Make Money?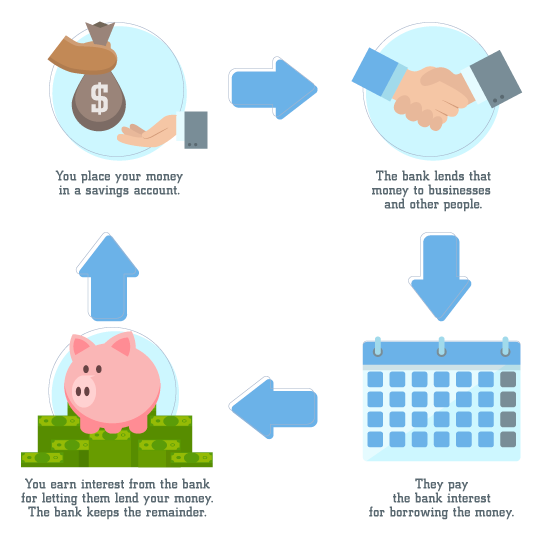 © CreditDonkey
Banks mainly earn money by charging interest on loans. Interest amounts will vary depending on the loan balance and what type of loan it is. Some loans, like mortgages, typically have lower interest rates while credit cards usually charge a higher interest rate.
In general, the interest rate on any type of loan or credit card is higher than what the banks pay on a savings account. For example, a bank may charge a 4% rate on a mortgage, but only pay at a 1% rate on its savings accounts.
In addition to charging interest, banks also collect fees from customers. Potential fees range from non-sufficient funds (NSF) fees, which occur when an account is overdrawn, to ATM fees. Some banks even charge a monthly fee for accounts that do not meet specific balance requirements.
Plus, your bank receives an "interchange fee" every time you swipe your debit or credit card. This fee usually ranges anywhere from 1% to 3% of the total transaction.
Where Do Banks Keep Their Money?
While Hollywood likes to conjure up images of giant bank vaults stuffed with cash, this is certainly not how modern banks store their money.
Banks are required to keep a specific percentage of their total deposits kept on hand, or on reserve. This is to accommodate any withdrawals that customers make. The required reserve amount depends on how much money the bank has on deposit.
Banks with more than $124.4 million on deposit must keep 10% on reserve. Banks with less than $124.2 million but more than $16.3 million must have 3% on reserve.

So what do they do with the rest of the money? Banks often use a majority of their money for investments, and sometimes keep accounts with other banks.
History of Banking
Historical records show the first banks beginning in ancient Mesopotamia. Instead of money, these banks accepted deposits and issued loans in the form of grains or seeds.
During the medieval period, banks began to distribute loans to those in the farming industry because society was centered around agriculture.
Banking as we know it today really started taking off in England during the 1800s. The Bank of England issued the very first banknotes during this time period. Customers deposited their money with the bank and received "notes" as a confirmation that the bank had their cash.
The Great Depression of the 1930s wreaked havoc on the American financial system.
Thousands of banks failed. In response, Congress created the FDIC in 1934 as a way to restore faith in America's banks and protect it from future crises.
After World War II, modern-day bank branches began popping up everywhere. This, combined with the introduction of FDIC insurance, allowed the average American to easily open bank accounts and obtain credit.
Credit unions are also insured, but not by the FDIC. The National Credit Union Administration, founded in 1970, protects accounts at credit unions in case the credit union fails.

What Makes a Bank a Bank?
Whether you bank with a community bank that's been around for 100 years or you go with a flashy new online bank, all banks generally fall under the same rules and regulations. Some banks offer only the most basic products, like checking and savings accounts. Others have more lucrative or complex products, such as rewards credit cards and retirement accounts.
What can differ from bank to bank is the agency that directly regulates a specific bank. Four separate agencies currently carry the task of regulating the country's banks:

Office of the Comptroller of the Currency (OCC): Controls national banks

National Credit Union Administration (NCUA): Regulates credit unions

Federal Deposit Insurance Corporation (FDIC): Oversees state banks not part of Federal Reserve

Federal Reserve Board: Manages state banks part of Federal Reserve system
If you're curious about which agency regulates your bank, you can check with the
federal government
.
What the Experts Say
CreditDonkey asked industry experts to answer readers' most pressing questions about banking.
Here's what they said:
Bottom Line
When deciding which bank to do business with, it's important that you take a close look at their fees, services, and requirements to make sure your financial needs will be met.
Understanding how banks work will give you an advantage in financial planning. You may even decide to open multiple accounts with several banks in order to create a system that works best for you.

Write to Jeffrey B at feedback@creditdonkey.com. Follow us on Twitter and Facebook for our latest posts.
Note: This website is made possible through financial relationships with some of the products and services mentioned on this site. We may receive compensation if you shop through links in our content. You do not have to use our links, but you help support CreditDonkey if you do.
Subscribe to CreditDonkey
Get updates on the latest deals and keep up with the best money moves.