Ad Disclosure: This article contains references to products from our partners. We may receive compensation if you apply or shop through links in our content. You help support CreditDonkey by using our links.
(read more)
GoHenry vs Greenlight: Which is the best debit card for kids? Find out the pros, cons, and differences between GoHenry and Greenlight.
Which is Better: GoHenry or Greenlight?
GoHenry and Greenlight both offer an educational app and debit card for kids and teenagers. The biggest difference between the two is that Greenlight packs a lot more features in its app. But, as you might expect, Greenlight also comes with a bigger price tag.
In this comparison review, GoHenry and Greenlight battle it out for the title of best debit card for kids. Find out which kid's banking app is worth it for your family.
| | GoHenry | Greenlight |
| --- | --- | --- |
| Card Type | Mastercard debit card | Mastercard debit card |
| Monthly Fee | $4.99/child or $9.98/family for up to 4 children | $4.99/ $9.98/ $14.98 for up to 5 children |
| Minimum Age | 6 years old | None |
| Interest Rate | None | Up to 5% savings reward |
| ATM Fee | $1.50 | None |
| Best For | Simple money management and quick money lessons | Comprehensive financial literacy app + investing |
Pros and Cons
First, let's take a quick look at the pros, cons, and similarities of GoHenry and Greenlight.
With both platforms, you'll get:

Mastercard debit card

Easy money transfers

Educational app

Savings goals

Chore assignment and allowance

Customizable spending limits

Direct deposit

Charity donations

free trial for 30 days
GoHenry Pros & Cons
Game-like money lessons
Easy to co-parent
Free replacement cards (of the same design)
30-day free trial

Family plan only supports up to 4 children
Only supports up to 4 kids per family
No investment services
Greenlight Pros & Cons
Excellent parental controls
Can earn savings reward
Cash-back rewards available
Invest with as little as $1

Relatively high fees
No cash deposits
Best features only available with most expensive tier
For a more in-depth breakdown of each app, check out our GoHenry review and Greenlight review.
GoHenry vs Greenlight: Head to Head Comparison
The right app for your kids will depend on which features you value the most. Review the comparisons below to see which app comes out on top for best debit card, fees, security and more.
Best Debit Card for Kids
Winner: Greenlight
Greenlight and GoHenry are both solid options for a prepaid debit card for kids. It can be difficult finding cards for kids under 13, and you can't go wrong with either of these options.
But, if you want the card with the most perks, Greenlight wins. With the Greenlight Max plan, your kid can earn 1% cash back each time they use the card. The cash-back rewards automatically go to your kid's savings.[1]
Greenlight is one of the few kid's banking products that offers this kind of reward. It's a great introduction to how rewards cards work in the real world. Plus, you can customize the card with a photo of your choice.
With that said, the GoHenry card is also a strong contender. The card supports contactless payments, and there are more than 45 fun designs to choose from. But since the card doesn't offer any rewards, Greenlight wins out.
Best Features
Winner: Greenlight
You might notice a trend here. Greenlight wins for being the kid's banking app with the most unique and helpful features.
Greenlight offers a wide range of features, including:

Investing platform for parents and kids

High savings reward

Cash-back rewards

Identity theft protection

Cell phone protection

Purchase protection

Charity donations
All these features can give your kid a head start in learning important financial concepts. It's rare to find a children's app that offers investing, money management, and educational content all in one.
In comparison, GoHenry is more stripped down. Its features include:

Gamified money lessons

Chore assignment and allowances

Savings goals

Give to charity
Many of these features are also found in the Greenlight app. But GoHenry does take a bit of a unique approach to its educational content.
GoHenry's Money Missions take your kid on a fun financial journey. Kids can earn experience points and level up by completing short money lessons. If your kid already likes to play mobile games, this could be a good way to connect the dots.
Best Pricing and Fees
Winner: Greenlight
When it comes to cost, Greenlight wins. Both services start at $4.99/per month. However, Greenlight's pricing plans cover up to 5 children per family even at the base plan. GoHenry's base account which is $4.99 per month is only for the individual child, and the family pricing of $9.98 per month only covers up to four kids.
If you need a debit card for several children, Greenlight could be cheaper.
GoHenry also charges a few other fees:

ATM withdrawals: $1.50/transaction

Custom card upgrade: $4.99

Replacement card with different design: $4.99
Greenlight has three pricing plans:

Greenlight Core costs $4.99/month

Greenlight Max costs $9.98/month

Greenlight Infinity costs $14.98/month
Features like cash back and higher savings rewards are only available with Greenlight Max and Infinity.[2][3]
Greenlight also charges fees for:

Custom card upgrade: $9.99

Card replacements (first replacement is free): $3.50

Express delivery: $24.99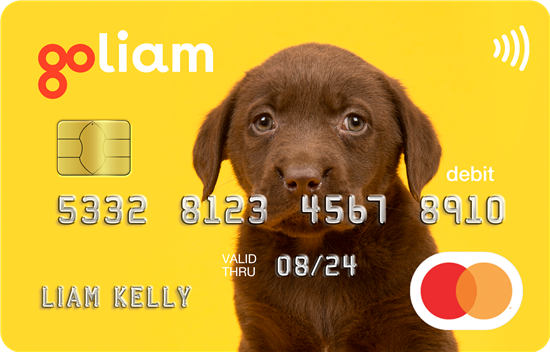 Real-time spend notifications.
Block and unblock cards easily.
Teach financial independence safely.
GoHenry card is issued by Community Federal Savings Bank, member FDIC
Best Safety and Security
Winner: Tie
With any app geared toward minors, safety and security should be top priorities. Greenlight and GoHenry use similar security features to keep you and your child's account safe. Both apps offer:

FDIC insurance. Money in your account is protected up to $250,000 by the FDIC.
Data encryption. Bank-level data encryption keeps your private information private.
Mastercard Zero Liability Protection. You are not responsible for any fraud or unauthorized transactions on your debit card.
Real-time notifications. Catch suspicious activity when it happens, before more damage is done.
Easily freeze/unfreeze card. Quickly lock and unlock your kid's debit cards from the parent app.
Unsafe spending categories are automatically blocked. Your kid's card can't be used at places like casinos and massage parlors.
Greenlight offers additional security features—but they're only available with higher tier plans. These include phone protection, purchase protection, and identity protection. Safety protection features like location sharing, crash detection, and SOS alert are only available with the most expensive Greenlight Infinity option.
Although these are great perks, the security features that come with all Greenlight tiers are pretty much the same as GoHenry's.
Best Parental Controls
Winner: Greenlight
GoHenry and Greenlight both offer flexible parental limits. But Greenlight offers a bit more control over your child's spending.
Greenlight lets you set limits for specific spending categories and stores. For instance, if your kid eats out too frequently, you could set a limit on restaurant spending. GoHenry doesn't offer this level of control, but you can still set a general spending limit.
Both apps give you complete insight into your child's spending. Parents get a comprehensive view of all transactions, savings goals, and balances. You can also set up real-time spending notifications with both apps.
In terms of parental transparency and controls, you really can't go wrong with either app. But if you want to be able to set store-specific limits, Greenlight is the way to go.
Customer Complaints
GoHenry and Greenlight are both trustworthy banking platforms for teenagers and kids. Still, no app is perfect. Customers of both platforms have complaints about the app.
GoHenry and Greenlight have issues with syncing funds and bank accounts. These issues aren't extremely common. But it's pretty inconvenient for apps that are meant to streamline money management.
There's no easy way to transfer money from GoHenry or Greenlight back to your personal bank account. In both cases, you have to reach out to customer service to do so. But Greenlight at least offers more ways to contact them, including phone, email, and online form.
GoHenry has slightly better reviews on Trustpilot. Greenlight has a rating of 3.9 on Trustpilot vs. GoHenry's rating of 4.2.
Greenlight also has a B rating from the Better Business Bureau. GoHenry isn't accredited with the BBB at this time.
How to Pick the Best Prepaid Debit Card for Your Kids
GoHenry and Greenlight are both great banking apps for children. The best one for you depends on your family's needs.
Here are a few factors to consider before you pick a prepaid debit card for your kid:
Number of Children
Think about how many cards you need for your kids. Greenlight allows up to 5 kids per family, while GoHenry allows up to 4. Also, Greenlight's monthly fee covers all 5 kids. GoHenry's base account fee covers just one child, and the family plan fee only covers up to 4 kids.
Pricing
Greenlight and GoHenry fees are quite high, especially with the $9.98 per month Greenlight Max plan and GoHenry's Family plan. But if you have many children, the price isn't too bad.
Investing and Other Features
Greenlight offers helpful features you won't find in GoHenry. If you want an app that offers investing, cash-back rewards, and high savings rewards, you'll want to go with Greenlight.
Security
Ensure the app you choose will protect your account. Look for features like FDIC insurance, data encryption, and an easy way to lock/unlock your card. Greenlight also offers identity theft protection (but at a higher price).
Parental Controls
Setting limits and monitoring your kid's spending can give you peace of mind while your kid spends their money. Choose the app that offers enough flexibility for you to set healthy boundaries with your child.
Educational Content
Understand which type of educational content is best for your kid's learning style. Check out GoHenry if you think your kid would benefit most from game-like lessons. Greenlight offers a range of lesson styles, including quizzes, videos, and short articles.
Bottom Line
GoHenry and Greenlight offer many of the same features. Both offer chores, allowances, savings goals, and educational content. The biggest difference is that Greenlight offers many more features with its higher pricing tiers.
Overall, Greenlight is one of the best choices for a debit card for kids. It offers a lot of perks you won't find in other banking apps for teens and kids. Greenlight offers investing services, high savings rewards, and identity theft protection, all in one app.
These features come with a high monthly fee, but the price covers up to 5 children per family. If you want to open an account for several children, the fee becomes much more reasonable.
References
Donna Tang is a content associate at CreditDonkey, a credit card comparison and reviews website. Write to Donna Tang at donna.tang@creditdonkey.com. Follow us on Twitter and Facebook for our latest posts.
Note: This website is made possible through financial relationships with some of the products and services mentioned on this site. We may receive compensation if you shop through links in our content. You do not have to use our links, but you help support CreditDonkey if you do.
Compare: