How to Start a Berry Farm
Step by Step Guide for Entrepreneurs to Start a Business
This article contains references to products from our partners. We may receive compensation if you apply or shop through links in our content. You help support CreditDonkey by reading our website and using our links.
(read more)
Starting your own berry farm is more doable than you think. Ditch the 9-to-5 life and run a successful, sustainable berry farm in these 15 steps.
Want to join the ranks of vendors at your local farmers' market?
Or maybe you're ready to take the plunge into more commercial farming.
No matter your goal, this step-by-step guide will teach you how to turn your dream berry farm into a reality.
Before you start, learn the ins and outs of starting a berry farm, from picking crops to choosing a business structure and how to set yourself up for long-term success.
What You Need to Start a Successful Berry Farm
Here's a snapshot of what you cant expect in the road ahead:
Roughly $25,000 per acre in upfront costs.

An additional $50,000+ per year in ongoing expenses.

A sharp business plan, necessary permits and licenses, and a solid marketing strategy.
1. Choose Which Type of Farm You'll Have

© CreditDonkey
Narrowing down the type of farm you want is the first step to building your farm. Most berry farms use one of the following business models:

A pick-your-own farm, where guests come onto your land, pick their own berries, and (typically) pay by weight
You can sell your berries to external distributors, like grocery stores or at farmers markets
Consider how either model fits into your long-term goal for the farm. Of course, you can always decide to do both.
What are your goals for your berry farm?
Before starting a new business venture, think about the long-term goals that will help guide you. Maybe you want to...
Create a family business that spans generations

Run a pasture-based farm

Run a farm with diverse, all-season crops

Hit a specific revenue goal

Retire early on a homestead
2. Determine Your Crops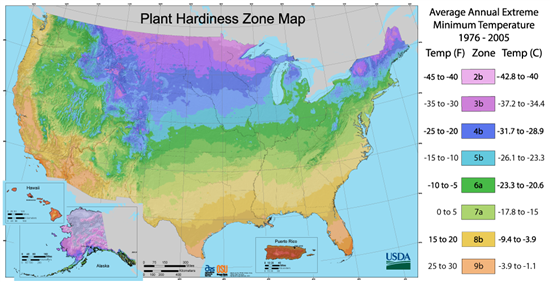 USDA Plant Hardiness Zone Map
Not sure what to grow? Drop by your local farmers market to see what other farmers are growing. This will give you an idea of what works for your climate.
Choose berries that have high demand in your area and can thrive in your Hardiness Zone and Chill Hours. Think about the weather of each season. Will your berries be happy with winter snow and sizzling summer sun?
Here's a brief cheat sheet to get you started:

Strawberries: Viable in most climates, as long as you choose the right variety

Blueberries: Different types good for zones 3-10; need acidic soil and full sun

Blackberries: Best for zone 5+ with a long growing season; need fertile soil with good drainage

Raspberries: Best for climate zones 3-9; need full sun and good air circulation
3. Find Your Planting Location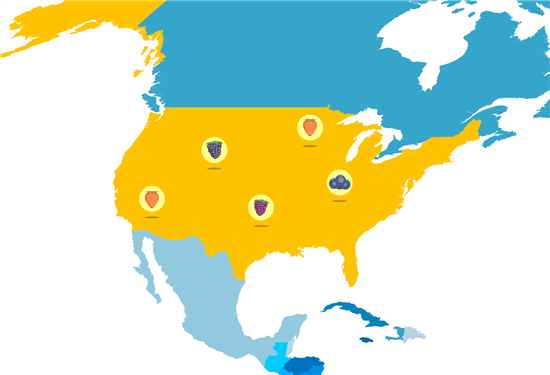 © CreditDonkey
Luckily, you don't need a massive plot of land to have a thriving berry farm. In fact, 2-5 acres can be great for a small family business. If you want a more commercial farm, aim for 15-30 acres.
The other factor to consider is the land itself. If possible, plant your crops on a low-degree slope (yes, really).
During the summertime, the sun will hit your soil from directly above, giving them the full sun they crave. In the winter, the sun will hit your land at a slant, providing more time to warm your crops.
4. Settle the Upfront and Ongoing Costs
Opening a farm will involve several significant upfront costs and a number of ongoing costs to keep the business going. Here's some of what you can expect:
Upfront Costs

Seed and plants: ~$5,000/acre

Fertilizer: $130/acre

Herbicides: $30/acre

Field fuel costs: $50/acre

Repair and maintenance: $240/acre

Miscellaneous costs: $320/acre

Land taxes: $10/acre

Interest: $60/acre

Land: $10,000/acre

Machinery: $8,000/acre

Storage: $160/acre

Labor: $1,000/acre
Total Upfront Cost: Roughly $25,000 per acre
Ongoing Costs

Additional seed and plants: $1,900/acre

Crop upkeep (including insecticides, fungicides, and more): $260/acre

Land lease: $300/acre

Irrigation costs: $240/acre

Additional machinery and trailers: $2,000/acre
Total Ongoing Costs: $50K - $150K per year
Grants and loans available to new farmers
There are a number of
grants and loans
available for farmers in the U.S. The U.S. Department of Agriculture offers several options for new farmers, rural development, and more. Find the full list
here
.
5. Finalize Your Business Plan

© CreditDonkey
A business plan is the essential roadmap for your berry farm, and should include:

Your company goals

The organization of your management team

Finances and revenue projections

Market research and target audience(s)
Take into account any startup costs as well as fixed, ongoing costs, and how long it may take you to break even.
How much does it cost to start a small farm?
Starting a small berry farm is not cheap. Once you take into account all the expenses, you are looking at spending at least $100,000 with all factors considered. Keep reading for a full breakdown of all the expenses associated with starting your berry farm!

6. Name Your Business and Secure Your Domain

© CreditDonkey
The name of your berry farm serves as the customer's first impression of your business. Ask yourself these questions when thinking of a name:

Is it unique, or meaningful to you?

Is it easy to say and read?

Is it already registered to a high-profile business?
Once you've chosen, be sure to secure a website domain with the same name (consistency is key for branding).
Don't forget: A professional email address ties your branding together and increases credibility. Here's how to get yours set up.
7. Determine Your Business Structure
Establishing your business as a legal entity allows you certain perks, like protecting your personal assets, the ability to build business credit, and access to tax benefits.
Not sure which business entity to adopt? Here are the main differences:
Corporation: Legal entity meant to conduct business; no personal liability, but detailed record-keeping required
Limited liability company (LLC): Hybrid of corporation and partnership; profits can be passed tax-free to owners with no personal liability
Partnership: Business involves two or more people who agree to share in profits
Sole proprietorship: No employees; the owner is personally liable for the business' finances
DBA: aka "Doing Business As"; needed if you're an unregistered business operating under a name that is not your own legal name
Do I need insurance to start a farm?
Insurance can help protect your assets from any risk you may face as a business owner. General liability insurance, one of the most common insurance types for businesses, will cover bodily injury, property damage, medical payments, and more.
If you plan to hire workers, you may need workers' compensation insurance as a legal necessity. Check the requirements for insurance in your state.

8. Get Necessary Permits & Licenses
Without the proper permits and licenses, your berry farm could face heavy fines or even be shut down.
Federal Permits: The FDA regulates what can (and can't) be grown, sold, and distributed. Before you start growing anything, you'll need to register with the FDA and comply with federal regulations here.
State and Local Licenses: Check with your city clerk's office about the licenses you'll need. Then, check with the Small Business Association (SBA) to see if you need additional state licenses.
Certificate of Occupancy: Any businesses that operate on a plot of land require a Certificate of Occupancy, or CO. The CO tells authorities that you meet the building codes, zoning laws, and other government regulations that may apply.

Leasing the land? The landowner is responsible for getting the CO. Make sure your landowner is able to do this.
Own the land? You're responsible for getting the CO, plus meeting the building codes and zoning requirements.
The cost for your CO will vary by city. In Dallas, for example, a CO will cost $215 plus a $65 code compliance fee. In Denver, the cost is $200.

9. File for an EIN

© CreditDonkey
An EIN, or employer identification number, is a unique, nine-digit number that lets the IRS identify you as a taxpayer and keep track of your business' tax reporting.
To get an EIN, you'll need to complete a form on the IRS website, which asks about:

Your type of business entity (LLC, partnership, etc.)

How many owners your business has

The state your business operates in

Who is responsible for your business, i.e., the principal officer
After filling out the form, you'll immediately be assigned your EIN.
In addition to being recognized as a taxpayer, your EIN enables you to hire employees, open a business banking account (more on this below), and even prevent identity theft.
Does my business need an EIN?
Do you have employees?

Do you operate as a corporation or partnership?

Do you withhold on income to a non-resident alien?

Will you be involved in a farmers' cooperative?
If you answer yes to any of the above questions, you'll need to file for an EIN. Luckily, you can get one free of charge (and fast) from the
IRS website
.
10. Set Up Business Accounts

© CreditDonkey
A business bank account is essential to keep track of all business expenses. It also keeps business costs separate from personal costs so any personal assets (like a car or home) are protected if you get sued.
In addition, having a business account will make filing your taxes much easier and faster. Many banks offer affordable business accounts for business owners, even with added perks and sign-up bonuses.
A business account can give your berry farm the leg up it needs to thrive. After you're done reading, explore
our guide on the best banks
for small businesses.
Once your accounts are set up, an accounting software can help you keep track of your business finances. And luckily, these programs are more user-friendly than ever. You can customize invoices, track your accounts, and some even come bundled with payroll features.
11. Hire Labor and Management
If your farm sells to distributors, you'll likely need employees from the start to help with picking, sorting, and packaging.
If you run a pick-your-own farm, you may not need employees until harvest time, or even at all, depending on the size of the farm.
Farm labor may cost $8 to $12 an hour, depending on the state and the minimum wage laws. Keep in mind that if you do plan to hire workers, workers' compensation insurance may be required in your state.
Tip: Multiple employees usually means you need a good payroll software. Find our round-up of payroll programs here.
12. Market your Farm

© CreditDonkey
Marketing will help raise brand awareness and bring new visitors to your farm. Overall, it's essential for the long-term growth of your business.
As a start, you'll need to create accounts on

Yelp (specifically, a business account)

Google Business

Facebook (Facebook ads will take your business even further)
Active social media accounts and an up-to-date website will help your business appear more credible.
Building rapport with customers and buyers will also encourage word-of-mouth advertising, which can be extremely valuable.
In addition, making informational visits to local schools or have schools come to your farm for a field trip can be a good way to reach a larger audience. Consider targeting county fairs or craft shows, as well.
How long until a berry farm is profitable?
Most new businesses report losses in the first few years, and berry farms are no exception. But after about the 6-year mark, you can earn tens of thousands of dollars in profit.
The structure of your business, how in-demand your crops are, and the size of your farm all influence how long it takes to become profitable.

13. Ace the Health Inspections
Passing regular health inspections is crucial to the survival of your business. These inspections aim to prevent food-borne illnesses and ensure your farm is in compliance with local regulations.
Here are some tips to make sure you pass health inspections:
Worker education: Make sure any employees are thoroughly educated on hygiene practices.
Animals on the premises: Food-borne illnesses can also start with animals. Keep them separate from any crops.
Waste: Inspectors will also consider how farmers and workers handle animal waste on the premise.
Contact surfaces: Any surface that comes in contact with the produce should be clean enough to eat off of.
Water cleanliness: The cleanliness of the water used to irrigate and wash the crops will also be considered.
14. Look for Other Opportunities to Make Money on Your Farm
Creating more ways to bring in profit can make your farm successful year-round.
Consider using your own berries to:

Bake and sell seasonal treats

Can into jams or preserves

Dry (or freeze-dry) for a shelf-stable snack

Supply businesses or restaurants
Your land can be repurposed as well. If you have the space, consider using for farm for parties, a petting zoo, school field trips, tours, or corporate events.
You could even grow corn and create a maze for fall-themed fun.
15. Perform Regular Audits/Analyses of Finances
Business accounting will be a crucial part of your business.
Keeping detailed financial records will help you better understand how your business is performing and how it will fare in the years to come.
Plus, well-kept records make filing your taxes much easier.
In most cases, an accounting program is the best (and easiest way) to do all this. Learn why Quickbooks Online is a top choice in our review here.
Good business credit can increase the value of your farm and set it up for long-term success. How can your new farm build business credit fast?
Find out here
.
Starting a Berry Farm: Is It Right for You?
A berry farm can be a costly endeavor with many rewards and, likewise, many failures.
People choose to go into farming for a number of reasons, like fond childhood memories, a need to work with their hands, or the desire for a simpler life.
In order to know if it's right for you, examine your motivations and determine whether a berry farm is the best way to achieve what you're looking for. For example, if you want a job that lets you work with your hands and be outdoors, farming may be a great way to achieve that.
Essential Tips for Starting a Berry Farm
Before starting your berry farm, remember these important tips:

Strawberry plants are some of the easiest berry plants to grow, but their yield is short-lived. They work best for pick-your-own-berry farms in combination with other crops in the off-season.
Consider growing a variety of crops to keep your soil diverse and healthy. Growing the same crop over and over will deteriorate the health of your soil over time.
There are dozens of government resources to help you with capital, planning, and more; the government even allocates billions of dollars to help farmers each year.
Once your crops are growing and producing fruit, add more activities to your farm to keep it profitable in the off-season, such as corn mazes, educational tours, birthday parties, and more.
Hear from an Expert
CreditDonkey asked Carol Ann Sayle from Boggy Creek Farms for her expert opinion on the unexpected challenges of berry farming.
Here's what she had to say about farm location and customers' expectations:
Bottom Line
Berry farming can be a satisfying and profitable industry with the potential to make you happy long term, but it comes with significant upstart costs and a learning curve, especially if you have never farmed before.
However, if you are willing to put in the investment, berry farming can be a great way to turn over a new leaf and start a rewarding business that feeds thousands.
Write to Samantha T at feedback@creditdonkey.com. Follow us on Twitter and Facebook for our latest posts.
Note: This website is made possible through financial relationships with some of the products and services mentioned on this site. We may receive compensation if you shop through links in our content. You do not have to use our links, but you help support CreditDonkey if you do.
Read Next:
---