---
Finding yourself deep in debt can be a discouraging reality. And in the past several years, more and more consumers have found themselves in this situation.
Thankfully, there are some steps that you can take to help get yourself back in the black. The steps you take can change depending upon your situation, so we've put together a couple of common scenarios to help you determine where to start:
If you find yourself living from paycheck to paycheck, follow the tips in step 1

If you find yourself falling behind on bills and are uncertain which bills to pay first, follow the tips in steps 1 and 2

After attempting steps 1 and 2, if you can't manage your money on your own, it may be time for step 3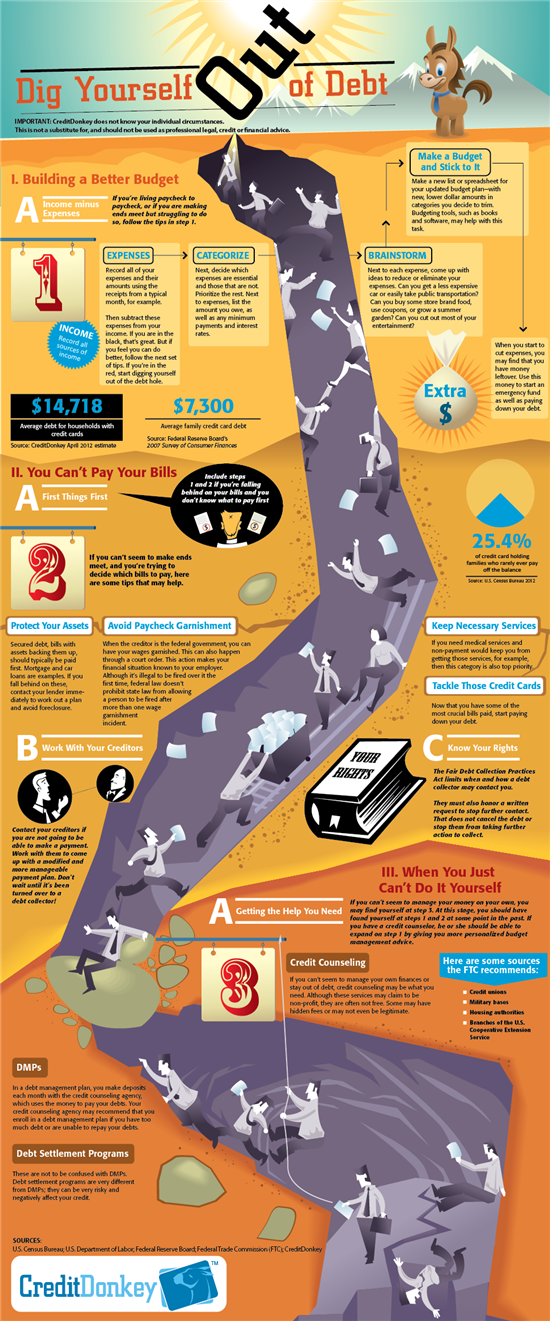 Dig Yourself Out of Debt

© CreditDonkey
When reviewing these steps, please remember that because every situation is unique, these tips are not substitute for, and should not be used as professional legal, credit or financial advice.
1. Building a Better Budget
When creating a budget, you're essentially creating a snapshot of your income and expenses with the goal of having more income than expenses each month. In order for a budget to be successful, you'll want to take into account all sources of income as well as every expense - even if they come at just a quarterly or annual interval.
Here are some steps you can take to build a better budget:
Track your expenses. One way to get a handle on your expenses is to collect all of your receipts and bills over the month. If you have seasonal expenses (like vacations, back to school shopping, presents and taxes), you'll want to remember to include those in your budget, too.
Categorize your expenses. Once you've gathered your receipts and bills, it's time to start assigning them into categories. This will help you get a snapshot of how your money is being spent and then prioritize your spending for future months. You'll also more easily identify which expenses are not essential. If any of your expenses are work-related, look into getting an accounting software. Quickbooks Self-Employed is one of the most popular options for freelancers and small business owners.
Cut your expenses. Now you'll be equipped to brainstorm ways to cut back on your spending. If transportation has gotten expensive, look into carpooling with a work buddy or take public transportation; if you've started spending a lot at restaurants, it's time to cultivate your cooking skills.
Make your budget. It's only after you've gotten a firm handle on your spending that you're able to create a successful budget. Create a plan that will shave off enough charges that you'll have enough left over each month to start building your emergency savings and paying down your existing debt.
2. You Can't Pay Your Bills
If you find yourself having to choose between two bills at the end of the month, there are a couple of exercises you can complete to help decrease the stress.
Build a better budget. First things first - you'll want to visit the tips in step 1 so you have a better understanding of all of the expenses you're paying every month. You may find several areas you can slim down so you don't find yourself having to choose which bills you pay.
Prioritize. There are a couple of different things to keep in mind when prioritizing - protecting your assets (savings accounts and personal property), protecting your wages and protecting your essential services (think medical and utilities). After covering the priorities, you'll then be able to focus on credit cards and other unsecured debts.
Contact your creditors. Be upfront with your creditors if you won't be able to make your payments. Many will work with you to create a modified payment plan that will keep you paying down your debt without overwhelming your budget. Taking a proactive approach often will garner much better results than waiting for a collector to call.
Research your rights. Before you contact your creditors, take some time to review your rights, as outlined by The Fair Debt Collection Practices Act. The Act outlines when and how a debt collector may contact you to help prevent harassment. Keep in mind that while creditors have limitations on their communications, this does not cancel your debt.
3. When You Just Can't Do It Yourself
If you follow steps 1 and 2 and find that you're still struggling to keep up with payments, then there are professionals out there to provide help.
Often that help is in the form of a credit counseling agency. Below is a breakdown of credit counseling and two of the tactics they may present to you:
Credit Counseling. These services often will sit down with you to review your budget and your existing creditors. They will then contact your creditors on your behalf to negotiate payment plans. You'll want to research the credit counseling agency before you agree to service; some have hidden fees and poor reputations.
Debt Management Plans (DMPs). These plans allow you to make a deposit each month with your credit counseling agency so they can make payments on your behalf. This allows them to prioritize your debts. Before agreeing to a DMP, you'll want to ensure that they are handling the debts in a manner that's been agreed upon with your various creditors; otherwise, an account may go unpaid and be sent to collections.
Debt Settlement Programs. Sometimes credit counselors will want to work with your creditors to negotiate a lesser payment to settle the debt. Depending upon how this is handled, it could be notated on your credit report and negatively affect your credit score.
If you do decide to seek out the help of a professional, the FTC recommends you start your search with the following sources: credit unions, military bases, housing authorities and branches of the U.S. Cooperative Extension Service. These institutions are typically consumer friendly and trustworthy.
Have you dug yourself out of debt? Share with us your story.
Estimate How Long It'll Take to Get Out of Debt
Enter information about your current balance
| | |
| --- | --- |
| Current Balance ($): | |
| APR (% Interest Rate): | |
(Optional) To pay off your credit card balance sooner, fill out the fields below. Otherwise leave the fields blank, and we'll estimate how long you'll need to pay it if you only make the minimum payment:
Specific monthly payment ($):
- OR -
Specific number of months:
(includes CreditDonkey® Payoff Chart to show how long it will take to get out of debt)
(Research by Kelly; Graphic Design by Marcelo; Additional Writing by Meghan)
Kelly Teh is a contributing features writer at CreditDonkey, a credit card comparison and reviews website. Write to Kelly Teh at kelly@creditdonkey.com. Follow us on Twitter and Facebook for our latest posts.
Note: This website is made possible through financial relationships with some of the products and services mentioned on this site. We may receive compensation if you shop through links in our content. You do not have to use our links, but you help support CreditDonkey if you do.
Read Next: