Survey: Americans in Debt Statistics
Americans in Debt - and Know It
---
With all the recent hype that Americans are paying off their debt and carrying less debt overall, debt-holders still have the majority rule according to a recent CreditDonkey.com survey. Just over 70% of respondents said they have debt.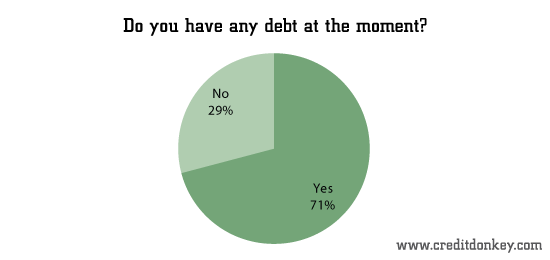 Do you have any debt at the moment?

© CreditDonkey
And when asked if they think they have more debt than others their age, an overwhelming 68.1% said their debt amount was similar to their peers. Clearly people think the norm is a shopper with a credit card, a student with a loan, or a car with a payment. And it's little wonder why: Today's consumer is bombarded with more stimulus to shop than ever before with flash sales, retailers putting deals on social media platforms, and sales and coupons flooding email inboxes all day and all night long.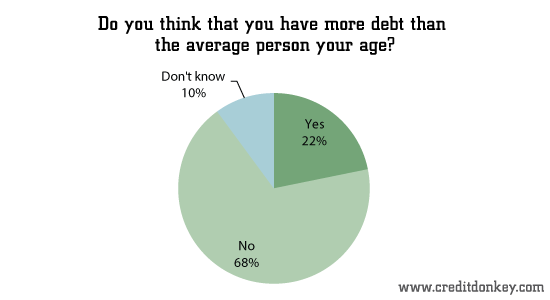 Do you think you have more debt than the average person your age?

© CreditDonkey
But instant gratification and a debt mindset come with a price tag: More than half of respondents, a full 58.6%, said they worry about how they are going to pay off their debt. The stress of making debt-related payments and worrying about paying bills can literally cause headaches and nausea, according to some health research. And finances can be a leading source of stress in a marriage, too.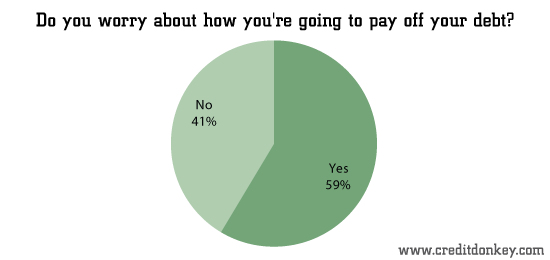 Do you worry about how you're going to pay off your debt?

© CreditDonkey
Luckily, respondents are also focused on getting out of debt, and 65.1% believe they can and will get out of debt in their lifetime. Similarly, 64.5% currently have an actionable plan for doing so. Of those respondents:
• 78.6% will use a budget.
• 52.1% will get an additional job.
• 31.2% will negotiate with creditors.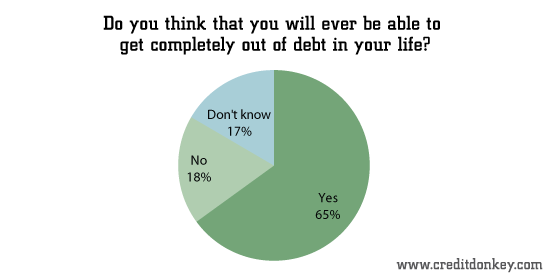 Do you think that you will ever be able to get completely out of debt in your life?

© CreditDonkey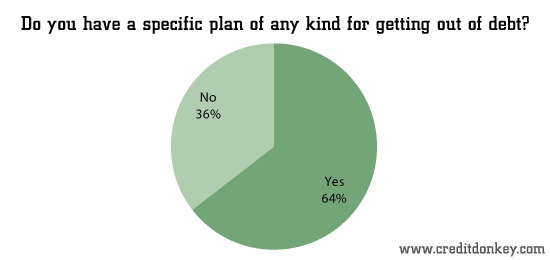 Do you have a specific plan of any kind for getting out of debt?

© CreditDonkey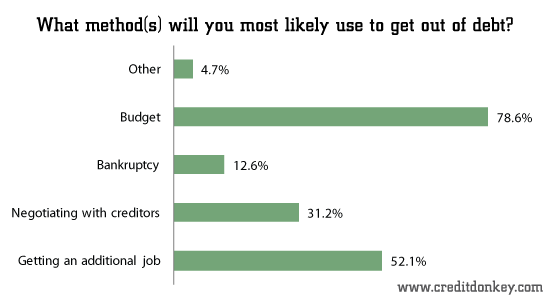 What method(s) will you most likely use to get out of debt?

© CreditDonkey
Another interesting note: 70% of respondents ages 25-34 are plan-makers who may have both the time and the income necessary to enact their plan and get out of debt as quickly as possible.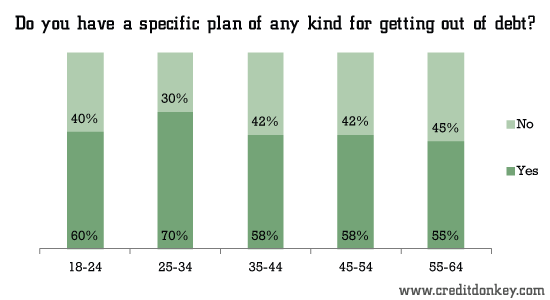 Do you have a specific plan of any kind for getting out of debt?

© CreditDonkey
CreditDonkey.com polled 1,105 Americans between September 17 and September 25, 2012.

Naomi Mannino is a contributing writer at CreditDonkey, a credit card comparison and reviews website. Write to Naomi Mannino at naomi@creditdonkey.com. Follow us on Twitter and Facebook for our latest posts.