If you have fair credit, you can still get a good credit card. Here is our current list of credit cards for people with fair credit.
How to Choose a Credit Card When You Have Fair Credit
This content is not provided by the card issuer. Opinions expressed here are author's alone, not those of the issuer, and have not been reviewed, approved or otherwise endorsed by the issuer. This site may be compensated through the advertiser's affiliate programs.
Your credit score could be an obstacle to getting approved for the credit card you want. Typically, the better rewards a card offers, the higher your credit score needs to be (high 700s is generally considered excellent).
Does your credit score fall under the "fair credit" category? You may not be able to get just any credit card out there, but you can still find a good one.
CreditDonkey has put together a guide to what you can expect when you're applying for a credit card with a less-than-stellar credit score.
Here are the credit cards people with fair credit should not ignore:
Can You Get a Fair Credit Credit Card with No Annual Fee?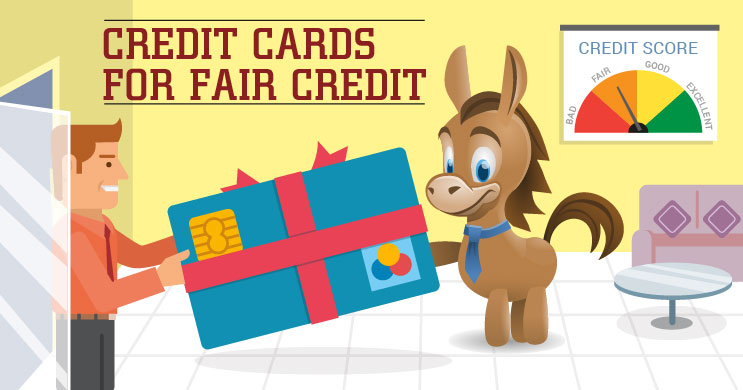 Credit Cards for People with Fair Credit © CreditDonkey
The simple answer to this question is yes.
It is possible to get approved for a credit card with no annual fee when you've got fair credit.
It comes down to which card you're applying for and what the lender's standards are for approval. If you've got your eye on a premium travel rewards card that comes with a big bonus and lots of extra perks, you can bet the credit card company's not just going to hand it out to just anyone.
What You Need to Know About Fair Credit Credit Cards
When you're shopping around for a card, do your homework to find one that fits your spending style and your credit score range. Consider which of these categories you fall under:
If you will likely carry a balance on your new card: You should always aim to pay off your balance every month, especially when you fall into "fair credit" status, as that means you probably don't qualify for the lowest rates.

However, if you just need to keep a balance going forward for whatever reason, then pay careful attention to the APR and focus on getting the best deal. It's possible to find cards that offer a promotional APR for purchases and balance transfers (see list below), but keep in mind, that rate is usually temporary.

You really want rewards: OK, we mentioned people with fair credit can get rewards, so you've come to the right place. Before we go there, however, keep in mind that if you tend to keep a balance, you're probably better off with a credit card with a low interest rate. Interest charges and rewards don't mix — the interest costs will wipe out whatever rewards you are earning.

If you can usually pay off your balance, then keep your eye out for rewards that fit your spending habits (e.g., do you spend a lot on gas and groceries?).

Also pay attention to redemption: there's no point working hard to collect rewards if it's difficult to cash them in or if you're not willing to figure it all out.
What is Fair Credit?
Your ability to get a particular credit card and the terms and conditions that come with it are usually tied to your credit score. There are several different scoring models that lenders use to gauge your financial health, but the most popular one by far is the FICO score, which is based on these five factors:
Your payment history

The age of your accounts

Your total debt load

How often you apply for new credit

The types of credit you have
FICO scores range from 300 to 850, with 850 being considered a perfect score. So what's fair credit?
Generally, it means a score that sits in the middle between good credit and bad credit. Pinning down a specific number range is challenging, however, because the credit industry as a whole tends to differ in its opinion of what's considered fair credit.
Ultimately, when you're applying for a loan or a credit card, it's up to the lender to decide where your score falls along the bad/fair/good credit spectrum.
Fair Credit Vs Average Credit
The terms "fair credit" and "average credit" are sometimes used interchangeably and loosely speaking, they mean the same thing. In a broad sense, average credit refers to a score that falls in between the highest and lowest scores. It doesn't actually mean the average consumer credit score, which is 666, according to Experian.
There are a number of reasons why someone might fall into the fair or average credit category. When you're just starting to use credit, for instance, your score will stay at the lower end of the scale until you build up your payment history. If you've been using credit for a while but you're carrying a lot of debt or you missed a payment or two along the way, that can also keep your score from climbing into "good" or "excellent" territory.
Know Your Rights: Fair Credit Reporting
The Fair Credit Reporting Act governs how information in your credit file is reported and what your rights are. That's important to know if you've got fair credit, especially if you've been denied for a credit card or loan. You have to be informed in writing why you were denied and you're entitled to a free copy of your credit report.
If you take a look at your report and see that there's an error or inaccuracy, the Fair Credit Reporting Act also gives you the right to dispute the information. That's something you want to take advantage of if you do see an error, since the credit reporting bureau would have to either remove or correct the information. Removing an inaccuracy can improve your score, potentially pushing you into the good credit range.
Some of the other protections the FCRA offers include:
Removal of negative information from your report after 7 years, or 10 years in the case of a bankruptcy filing

Limiting access to your file to only those individuals or organizations that have a legitimate need to see it

The ability to opt-out of prescreened offers for credit

A requirement that you consent to let an employer see your credit report
The FCRA also gives you the right to see your credit score when a creditor uses your score to deny your request for credit, or when they use the score to give you a less favorable credit term (risk-based pricing).
You can also purchase your credit score, but there are some credit cards that will give you monthly access to it for free.
What is Good Credit?
Good credit is one step higher on the ladder than fair credit, and the ranges increase accordingly. Keep in mind there's a lot of wiggle room here depending on whose scale you're using.
The important thing to realize if you're trying to move from fair credit to good credit isn't so much the final number, but what you need to be doing to improve your score. Putting these things at the top of your to-do list can go a long way towards adding points to your score.
Paying your bills on time: Your payment history accounts for 35% of your FICO score, so the very worst thing you can do is pay your bills late or miss payments altogether. If you have trouble keeping up with when your bills are due, setting up alerts through your bank is an easy way to keep track.
Keeping your balances low: The amount of debt you have is the second most important factor that influences your score, so you don't want to carry a balance if you can avoid it. If you can't pay your card in full each month, switching to biweekly or weekly payments can help you chip away at the debt faster.
What is Bad Credit?
If you've been stuck with a bad credit label, it usually means your score is scraping the bottom of the barrel. Anything below the 550 mark is typically considered bad credit, and the fastest way to end up here is to rack up multiple late payments and max out your credit cards.
It's important to note that there's a difference between a bad credit score and a score that's low because you're new to using credit. If you're diligent about establishing a payment history and you're not charging up thousands of dollars in debt, you stand a better chance of seeing your score climb more quickly.
If you technically fall into the bad credit category, you don't have to stay stuck there permanently. Aside from doing the things we mentioned above, you can also turn bad credit around by:
Checking your credit report: You're entitled to one free copy of your credit report from Experian, Equifax, and TransUnion each year, and you don't want to miss out on getting yours. Reviewing your report regularly can help you keep an eye out for errors that could be dragging your score down.
Leaning on someone else's good credit: If you know someone who's got great credit like a spouse or a parent, asking them to add you as an authorized user on their credit card account can help your score. As long as they're practicing good credit habits, your score will benefit even if you don't use the card.
Try a secured card: Secured credit cards require you to put up a cash deposit that also doubles as your credit line. If you can't get approved for a regular card, you can work your way up to one by using a secured card responsibly.
One thing you don't want to do when you've got bad credit is get roped into a credit repair scam. Companies that advertise credit repair services aren't always legit, and some may use less than ethical methods to try to raise your score or charge exorbitant fees.
Bottom Line
Fair credit doesn't have to be a barrier to getting a good credit card if you know where to look. Take a look at our current list of credit cards for people with fair credit below.
Editorial Note: Any opinions, analyses, reviews or recommendations expressed in this article are those of the author's alone, and have not been reviewed, approved or otherwise endorsed by any card issuer. This site may be compensated through the Advertiser's affiliate programs.
Disclaimer: The information for the Discover it® Student Cash Back, Capital One® Spark® Classic for Business, Capital One® QuicksilverOne® Cash Rewards Credit Card, Capital One® Platinum Credit Card, and Discover it® Secured has been collected independently by CreditDonkey. The card details on this page have not been reviewed or provided by the card issuer.