Survey: Who Should Pay on a Date
Should men and women take turns paying? Most women say yes, but their actions say otherwise
---
Just over half of women surveyed said both genders should take turns paying for dates, but only 6.5 percent of the female respondents seem to practice that philosophy in a new poll by CreditDonkey.
Through most of the 20th century, men were customarily expected to pay for dates. According to a new poll of over 1,200 adult Americans by CreditDonkey, a credit card comparison and financial education site, only 1 in 3 of men surveyed now believe they should always be responsible for the check, and even fewer women (25.9 percent) surveyed favor the custom.
Of the women polled in the CreditDonkey August 2014 Consumer Survey, 54 percent said each gender should take turns paying, and 47.8 percent of the men agreed with that strategy. Apparently, however, this approach at fairness is easier said than done. When asked how often they actually pay for dates, just 6.5 percent of women said "often," whereas 51.7 percent of men said they usually pay.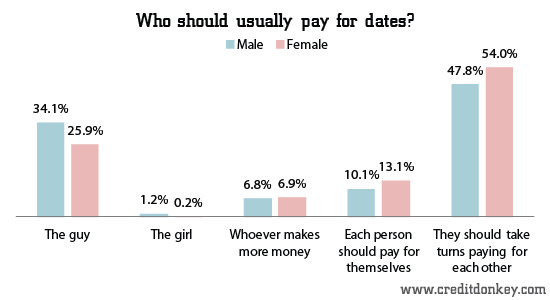 Who should usually pay for dates (by gender)

© CreditDonkey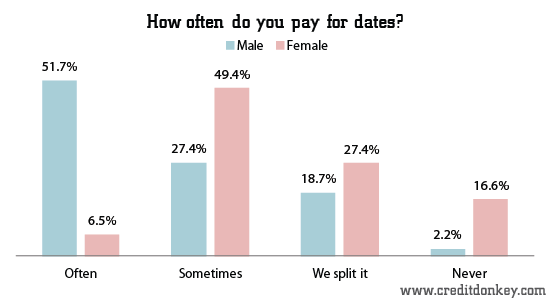 How often do you pay for dates (by gender)

© CreditDonkey
Although 49.4 percent of women surveyed said they "sometimes" pay for dates compared with 27.4 percent of men, the overall survey findings suggest that members of both genders are reluctant to give the "male pays" tradition a final burial.
Our study shows that anyone, no matter what the gender, would appreciate if their date treats them every once in a while.
Perhaps, older people tend to cling to the tradition more than young adults. While 22 percent of respondents age 18-24 believe the man should usually pay for dates, that figure climbs to 46.4 percent among 45- to 54-year-olds before declining to 37.5 percent among people age 55-64.
On the other hand, the notion that men and women should take turns paying enjoys majorities or pluralities among every age group: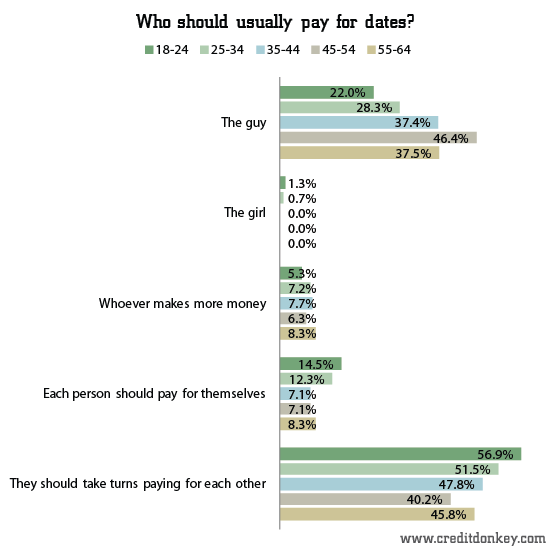 Who should usually pay for dates (by age)

© CreditDonkey
What the vast majority of men and women agree upon is that they don't like alternative solutions to the potential conflict that arises when the check arrives. Only 10.1 percent of men and 13.1 percent of women said each person should pay for themselves by going Dutch, and the percentage of people who think the highest income earner should foot the bill are in the single digits: 6.8 percent for men and 6.9 percent for women.
CreditDonkey conducted the online survey of 1,254 Americans, age 18 and over between August 8 and August 12, 2014.
Read Next: