2 Carat

Diamond Ring: How to Get the Maximum Value
This article contains references to products from our partners. We may receive compensation if you apply or shop through links in our content. You help support CreditDonkey by reading our website and using our links.
(read more)
How much is a 2 carat diamond ring? Are they even worth buying? Learn how to find a good quality 2 carat diamond for the best price.
A 2-carat diamond ring is a true showstopper. It screams, "Look how beautiful and sparkly I am!" It's the centerpiece of her hand and a status symbol that she will want to show off for forever.

© CreditDonkey
Since you're here, we're going to assume that you have the budget for this kind of purchase. But we still want to help you get the best possible diamond for the money.
Ultimate Guide to 2-Carat Diamonds
In this guide, we'll go over what to look for when purchasing a larger diamond. We will be using examples from James Allen, our favorite online diamond retailer.
Tip
:
James Allen
is our top recommended
online diamond retailer
because of their HD 360-degree videos for every single diamond in their collection. You can examine the actual stone you'll be buying from every angle, so you can purchase with confidence.
Read on to learn more about the following:
How Big Is a 2-Carat Diamond?
A 2-carat diamond is guaranteed to stand out while not being so large that it looks garishly huge. Here's an illustration of how different-sized diamonds appear.

Round Diamond Carat Size Chart

© CreditDonkey
A 1-carat round diamond is about 6.5mm across (with a surface area of 33.2mm2), while a 2-carat diamond is about 8.2mm across (a surface area of 52.8mm2). So, a 2-carat diamond is not twice as large as a 1-carat diamond. It's only about 60% larger face-up. The other 40% of the weight is below the surface, which you cannot see.
Did you know? Carat actually refers to weight and not the size of a diamond? Carat comes from the word "carob," a tree with seeds that have a very uniform weight. In ancient Europe and the Middle East, they were used as a weight reference for traders - especially for gemstones where very slight differences in weight needed to be determined. One diamond carat is the same weight as one carob seed.

How Much Does a 2 Carat Diamond Cost?
You'd think that a 2-carat diamond with all the same characteristics of a 1-carat diamond would be double the price. But that's not how it works.
Diamond prices increase exponentially as carat weight increases. It's becoming harder to find larger diamonds. It's rare to find a piece of rough material good enough to be cut into a single, larger-sized diamond.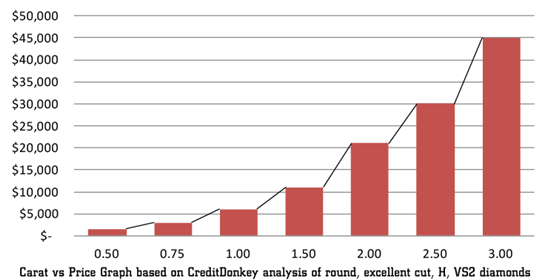 Diamond Price vs Carat

© CreditDonkey
Did you know? Only about 1 in every 15 million stones is good enough to become a 2-carat diamond.

Here's an example of how diamond prices increase (all diamonds in this example have color H, VS2 clarity, and excellent cut):
In the diamond industry, the magic numbers for carat weight are 0.5, 0.7, 1.0, 1.5, 2.0, and every half carat thereafter. These are all the points at which there is a significant jump in the price. You can see that at each point, the price approximately doubles, which makes a 2-carat diamond about 4x the price of a 1-carat.
But the carat weight isn't the only thing that determines price. As you can see below, these two diamonds are both 2-carats, but one costs $7,000 and the other costs $70,000.
This jaw-dropping price difference is due to the other 3Cs (cut, color, and clarity). The 4Cs all work together to determine the final sticker price. The $6,570 diamond has a multitude of visible flaws (I1), while the $72,510 diamond is internally flawless and completely colorless (a super rare diamond!), and has an excellent cut.
Of course, these two examples represent the most extreme cases and we wouldn't recommend either one. We'd say that a reasonable price for a good-looking, 2-carat stone that appears flawless should cost somewhere between $18k and $25k.
Here is a price chart based on an ideal cut, round 2-carat diamond:
| | IF | VVS1 | VVS2 | VS1 | VS2 | SI1 | SI2 |
| --- | --- | --- | --- | --- | --- | --- | --- |
| D | $65-$73k | $45-$60k | $35-$55k | $30-$50k | $25-$40k | $20-$30k | $15-$25k |
| E | $45-50k | $35-$50k | $30-$45k | $23-$43k | $20-$35k | $17-$30k | $14-$23k |
| F | $35-$45k | $30-$40k | $26-$40k | $22-$35k | $20-$32k | $17-25k | $13-$22k |
| G | $30-$40k | $25-$35k | $25-$32k | $22-$32k | $18-$28k | $15-$25k | $12-$20k |
| H | $23-$30k | $20-$30k | $20-$30k | $18-$28k | $17-$25k | $15-$23k | $13-$21k |
| I | $18-$22k | $17-$24k | $16-$22k | $15-$22k | $15-$20k | $13-$20k | $11-$18k |
| J | $15-20k | $13-$18k | $13-$18k | $13-$17k | $12-$16k | $10-$16k | $10-$14k |
The highlighted boxes are where we recommend you stay to get the best value - a diamond that appears white and eye-clean. Also, keep in mind that for fancy shapes, you can knock an extra 10-40% from these prices too.
In the next section, we'll go into a bit more on how to balance all 4Cs and get the best 2-carat diamond for your money.
Tip: If you see an inexpensive, larger diamond and it seems too good to be true, it probably is. Deals on diamonds do not exist. So if you're seriously considering buying a diamond of this size, be prepared to spend accordingly. If you have a smaller budget, we have some tips at the end for
making a diamond appear larger
while staying within budget.
Buying Larger Diamonds for the Best Value
Deciding between a 2 carat and 3 carat diamond? Before you go shopping, check out our guide for 3 carat diamond rings. Buying larger diamonds can be tricky. Because of their larger size, it's easier to see flaws and slight tints. So unfortunately, this means that you'll have to pony up for slightly higher color and clarity than you would for smaller diamonds.
In our opinion, the best setting to show off a beautiful 2-carat diamond is the classic solitaire. This will allow the diamond to be the star of the show. A halo can overwhelm the already large diamond and take it into gaudy territory. If you think solitaires are too plain, there are a number of ways to spruce it up with a stylized band. You can choose a pave band, split shank, twisted band, or one with vintage scroll motifs. There are still lots of ways to make it unique.

We recommend that you stick with these guidelines when shopping for larger diamonds.
Cut: As we stress for diamonds of any size, don't skimp out on cut. This is the most important of the 4Cs, as cut is the main factor that makes a diamond brilliant and beautiful. Yes, an excellent or ideal cut also drives up the cost significantly, but it's better to "go cheap" on the remaining two Cs instead.

In other words, do not sacrifice cut for carat. You do not want to end up with a large but dull diamond.

Color: Larger diamonds reveal tints of color more easily, but it doesn't mean you need a colorless diamond. If you prefer a white look to your jewelry, we recommend that you don't go below a G (or H if you're not too color-sensitive). If you don't mind a warmer look or plan to set the diamond in a yellow gold band, then an I or J could look beautiful in that setting.
Clarity: Larger diamonds also show more flaws as their facet sizes are larger, so it becomes more important to make sure that it's eye-clean. But as most flaws are miniscule and can only be seen under 10x magnification, there is no need to go for flawless or VVS.

If you're buying from an online store without seeing an actual photo and you feel really unsure, stick with VS1 clarity to be on the safe side. But if you are able to see actual photos/videos of the diamond to verify that it's eye-clean (such as on James Allen), you can go down to VS2. Be sure to check out our guide for diamond clarity before you go shopping.

See

:

Why VS2 is the Most Bang for Your Buck

Tip: When purchasing larger sized diamonds online, we really like Whiteflash They label a diamond as eye-clean only if their experts have verified it to be the case, so you don't have to wonder if the inclusions will be noticeable when you receive it.


For an example of a great value 2-carat diamond, here's one from James Allen.

This diamond has a color of H, clarity of VS1, and an excellent cut. It's a good option for those looking for a beautiful 2-carat diamond on a "smaller" budget.

Certification: It is important that your diamond is certified by a reputable lab. For example, the above diamond has a GIA certification. We only recommend certifications from GIA or AGS. Diamonds with these lab certifications tend to be pricier, but they have the highest standards. Another lab that grades a diamond as VS1 may actually be an SI1 if graded by GIA.
Idealscope images: For a statement diamond, you definitely want it to shine. The only way to know exactly how it performs is to request to see Idealscope and/or ASET images (both show the light performance of a diamond). A poorly-cut diamond will leak light and appear dull while a well-cut diamond will return all the light to the viewer.

Here is a quick lesson on how to read Idealscope images. Below, you'll see a super ideal cut diamond on the right. Notice that is all red, which indicates light return. But the diamond on the left, while still an excellent cut, shows some white in the center. This indicates areas of light leakage.

If your vendor claims that the diamond has an excellent cut but refuses to show you the light performance imaging, do not buy from that vendor. Whiteflash (review) provides Idealscope images for all their in-house diamonds, and James Allen (review) will provide up to three for free upon request.
Tip: If you want a 2-carat diamond, searching online will give you a much better selection. For example, James Allen has over 800 diamonds that are exactly 2 carats, ranging from poor quality to totally flawless. I guarantee you that your local store will not have such a huge selection.

What If You Don't Have the Budget for 2-Carats?
If you would really like to get your girl a large rock but just don't have the budget, there are still some tricks you can use.
Set a smaller diamond in a halo. The halo setting has a ring of small diamonds around a larger center diamond. This popular setting gives off serious bling and makes the center diamond look huge. It can add about 2mm of width, which means a 1-carat diamond can look as big as 2 carats.
Get a very thin band. The thinner the band, the larger the center stone looks. A thin pave band (pictured above on the right) will make the center stone pop even more.
Look for a diamond slightly smaller than 2 carats. A diamond just under 2 carats can be as much as 25% less just because it no longer hits the magic whole number mark. But nobody is going to be able to tell the difference between 1.9 carats and 2 carats.
Consider a fancy-shaped diamond. We focused on round diamonds in this article, but fancy-cut diamonds often appear larger than they are (so you could go for a slightly smaller one) and they're cheaper too. Plus, they are more unique and will appeal to the girl who likes to stand out in a crowd.

Check out a variety of different shapes organized by size below.

Asscher Diamond Carat Size Chart

© CreditDonkey

Cushion Diamond Carat Size Chart

© CreditDonkey

Emerald Diamond Carat Size Chart

© CreditDonkey

Heart Diamond Carat Size Chart

© CreditDonkey

Marquise Diamond Carat Size Chart

© CreditDonkey

Oval Diamond Carat Size Chart

© CreditDonkey

Pear Diamond Carat Size Chart

© CreditDonkey

Radiant Diamond Carat Size Chart

© CreditDonkey
Conclusion
Hopefully you now have a better idea of how much you can expect to shell out for a 2-carat diamond and what to look for. Our goal is to give you guidelines so that you get the best value for your money. But at the end of the day, it all comes down to your budget, which areas you're willing to sacrifice on, and what your personal preferences are.
As always, we suggest that you and your beloved talk about it and agree on your expectations. If she really wants a 2-carat diamond but you've considered all the options and genuinely cannot afford it, you've got to discuss it. Remember, you have the rest of your financial future to think about!
Good luck!
Note: This website is made possible through financial relationships with some of the products and services mentioned on this site. We may receive compensation if you shop through links in our content. You do not have to use our links, but you help support CreditDonkey if you do.
More from CreditDonkey: