James Allen vs Blue Nile: Which Is Better?
Ad Disclosure: This article contains references to products from our partners. We may receive compensation if you apply or shop through links in our content. You help support CreditDonkey by using our links.
(read more)
You want to buy an engagement ring online, but which online diamond store can really go the distance: Blue Nile or James Allen? Read this comparison of the 2 top online diamonds retailers.

© CreditDonkey
Which is Better: Blue Nile or James Allen?
The main difference between James Allen and Blue Nile is James Allen offers more setting designs, while Blue Nile has a larger selection of jewelry products. James Allen also has free diamond consultation. Both offer certified diamonds at competitive prices, 360-degree videos, and free returns.
In this comparison review, these two online diamond retailer giants go head-to-head. Read on to see which one is better for you.
Pros & Cons
Before we get into the detailed comparisons, let's quickly summarize what you can expect from both sites and their pros and cons.
Both sites offer:
A huge selection of conflict-free and certified diamonds. Blue Nile only sells GIA certified diamonds. James Allen has GIA, AGS, and IGI certified diamonds.

30-day free returns - no questions asked.

Diamond price match guarantee. If you find a diamond of the same specs for less, they'll match the lower price.

24/7 customer service via phone, email, and live chat. Both also offer free sessions with diamond experts.

1.5% discount if you pay by wire transfer. In addition, both offer several financing options.
Blue Nile Pros & Cons:
Competitive diamond pricing
Free virtual appointments
More physical showrooms
Larger range of fine jewelry

Not all diamonds have 360-degree video
Less yellow gold and rose gold rings
James Allen Pros & Cons:
Competitive diamond pricing
Lab diamonds
Loose gemstones
Instant real-time diamond inspection

Slightly pricier settings
No diamond reservation
No free international returns
You can also read our detailed Blue Nile review and James Allen review.
DIAMOND SELECTION
Winner: James Allen
Blue Nile used to have the largest online diamond inventory, but James Allen has surpassed it in recent years. James Allen has over 520,000 loose diamonds, while Blue Nile carries over 470,000 loose diamonds. Both offer:
Diamonds in 10 different shapes

Conflict free diamonds

A selection of super ideal diamonds (Astor by Blue Nile and James Allen TrueHearts)

A selection of rare fancy colored diamonds

Only lab certified diamonds
James Allen also offers a selection of over 50,000 lab created diamonds. This is a good option for those who want something more eco-friendly, while saving some money at the same time. Blue Nile has only just started selling loose lab-grown diamonds and currently offers fewer selections.
There is a slight difference
. Blue Nile only offers GIA (Gemological Institute of America) certified diamonds, while James Allen has GIA, AGS (American Gem Society), and IGI (International Gemological Institute) certified diamonds.
GIA is typically seen as the standard in diamond certification. AGS is a respected alternative to GIA. But IGI is typically seen as more lax and not as reliable. We only recommend diamonds certified by GIA or AGS. When selecting a diamond, be careful to take notice of which lab the certificate came from.

But Blue Nile's large selection is certainly not lacking either. You can find high quality, certified, conflict free diamonds with both retailers. So you can't go wrong with either choice.
DIAMOND PREVIEW
Winner: James Allen
Buying an engagement ring online sight unseen is scary. Which retailer inspires more confidence?
James Allen is the king when it comes to an unparalleled online shopping experience. While you can't get actual hands-on time with the rock, it provides the next best thing — crystal-clear 360-degree HD videos for every diamond it sells.
This "virtual viewing" can even be better than actually going into a store because you can zoom in and look for flaws from every angle. You can see the actual diamond you're purchasing.
Here's what James Allen's 360-degree videos look like:
But Blue Nile is quickly catching up. It now also provides 360-degree video previews of most diamonds. But some diamonds still only use a stock photo and are sold only by the specs (cut, color, carat and clarity).
And here's what Blue Nile's videos look like:
James Allen still has an edge in this department. Their videos seem to have more natural lighting (instead of super white), so you can see any flaws more accurately. There's even a "super zoom" that lets you examine the diamond as if you're holding a jeweler's loupe.
ENGAGEMENT RING STYLES
Winner: James Allen
Both retailers offer a wide range of ring settings. James Allen offers over 600 setting choices, while Blue Nile has a little bit less.
James Allen has more setting styles. If you're looking for something more specific, you may be able to find it at James Allen. Blue Nile lacks some more unique setting styles like tension and bezel.
James Allen is also better for those looking for yellow gold or rose gold rings. Almost all of their 600+ settings can be made in white gold, yellow gold, rose gold, or platinum. But only a few of Blue Nile's settings are available in rose gold or yellow gold.
Both sites have a selection of designer rings. Blue Nile has rings by Monica Lhuillier and Zac Posen, while James Allen has rings by Verragio, Danhov, Jeff Cooper, and Martin Flyer.
RING DESIGN PROCESS
Winner: Tie
Both sites allow you to design your own ring. Both offer a step-by-step guide. You can either first pick the setting or first pick the stone. Both will provide a final preview of completed design.
But James Allen's website is more user-friendly (in our opinion). We really like that the diamond listing shows large previews of each actual diamond. This makes it easy to zero-in on the best-looking diamonds for a closer look.
Blue Nile's site is comparable but not as clean. The default sorting is a list view, which means you'll need to click into each one individually. Or you can see previews too, but be sure to check the grid "visual" view.
One pretty cool feature on Blue Nile is the diamond comparison. When you're looking at a specific diamond, you'll see a price & spec comparison chart for other similar diamonds. This can be good to quickly see if there's a better value stone.
Both sites have their kinks too. Some of Blue Nile's "special" settings don't have preview at all and have to call a customer service rep to complete your purchase. And James Allen may not have a preview with your chosen shape or metal color.
But both sites do their best to give you a preview of your final design before you commit.
RANGE OF PRODUCTS
Winner: Blue Nile
This one is a toss-up depending on what you're looking for. But we think Blue Nile still offers a bigger selection. Here's how it breaks down:
Fine jewelry: In addition to engagement rings, both also have necklaces, earrings and bracelets. Blue Nile has a much bigger selection at different budget points.
Build your own: Both allow you to build your own diamond earrings or pendant by selecting your own loose diamonds.
Lab diamonds Lab created diamonds have become popular as a more budget-friendly and eco-conscious choice. James Allen has a large selection of loose lab diamonds close to 60,000, while Blue Nile has fewer offerings. As of now, Blue Nile only offers just under 17,000.
Gemstone jewelry: James Allen wins in this. It has a large selection of loose gemstones (emerald, ruby, and blue, pink, and yellow sapphire) that you can set into any setting. Blue Nile only offers preset gemstone rings.
Pearl jewelry: Blue Nile offers pearl earrings, necklaces, and bracelets (freshwater, Akoya, and Tahitian). James Allen recently introduced pearls to their site, so it's not quite as large of a selection yet.
Budget jewelry: If you're on a tight budget, Blue Nile has a nice selection of fine jewelry under $100, which includes pearl, gemstone, and precious metal jewelry in sterling silver and 14k gold.
Read: Blue Nile Review
PREMIUM DIAMOND COLLECTIONS
Winner: James Allen
Both retailers offer their own signature line of high-quality premium diamonds. Blue Nile's is called Astor by Blue Nile™, and James Allen's is called True Hearts™.
For both, these are their special collection of super ideal diamonds. These diamonds are cut to the most ideal proportions, symmetry, and polish - going beyond the GIA "Ideal" rating.
We give this win to James Allen, because they provide Idealscope and hearts & arrows images for their True Hearts diamonds. These images show you the light performance and symmetry of a diamond.
For example, this is the Idealscope image of this diamond. The red represents light that's reflected back (which means the diamond will be sparkly). If there's light leakage, there will be white spots.
The hearts images are used to show the symmetry of a diamond, which impacts the optical beauty. A perfectly symmetrical diamond will show a pattern of 8 uniform hearts.
By examining these images, you can compare different diamonds and see which one is best. This gives you more confidence in your purchase.
Blue Nile does not provide any kind of light performance data for their Astor diamonds. So there's no "proof" of quality. If you really care to, you'll have to examine the specs and make your own judgment.
COST
Winner: Tie
No question, both online retailers offer great pricing compared to brick-and-mortar jewelry stores.
In most instances, both sites offer very similar pricing for diamonds of the same characteristics. But sometimes, James Allen's pricing is lower than Blue Nile's for a comparable diamond.
For example, we searched for a 1-carat, Princess-cut diamond on both sites. We used Clarity: VS1, Color: G, and Cut: Very Good. With these specs, Blue Nile's diamonds started at around $4,500. On James Allen, comparable stones were priced between $500 and $700 less.

Both retailers offer a Diamond Price Match Guarantee. If you find a comparable diamond elsewhere for less, both Blue Nile and James Allen will match the price.
But there are pretty strict guidelines. The competitor diamond must have the exact same characteristics (carat, cut, color, clarity, fluorescence, table & depth percentage, symmetry, etc.). If it's decided that it is a match and is eligible, both retailers will honor the lower price for 48 hours.
In the fine jewelry department, Blue Nile has a slight edge. It makes fine jewelry more available to the masses. It offers many pieces under $100 with free shipping and gift packaging.
Tip
: Do you find that you still need help money-wise with a ring purchase? In that case,
financing a ring could be a good idea
, as long as you're smart about it. Learn about the different financing options you have and what to watch out for.
CUSTOMER SERVICE
Winner: Tie
Both James Allen and Blue Nile offer 24/7 customer service by phone, email, and live chat. Both have certified, on-site diamond experts to answer questions or help you make a decision.
James Allen has a Real Time Diamond Inspection service. Any time you need help, you can start a session - no appointment needed. You can share a screen with an expert and compare diamonds and review the specs and grading report. An expert can walk you through what you're looking at.
In comparison, Blue Nile offers virtual appointments designed to replicate an in-person shopping experience. You can schedule a 1-on-1 virtual session with a personal jeweler. They can show you close-up views of different diamonds and jewelry.
Both have their advantages. James Allen is great if you need help right away, while Blue Nile is good if you want to "see" some jewelry.
RETURN/RESIZING/WARRANTY POLICIES
Winner: Tie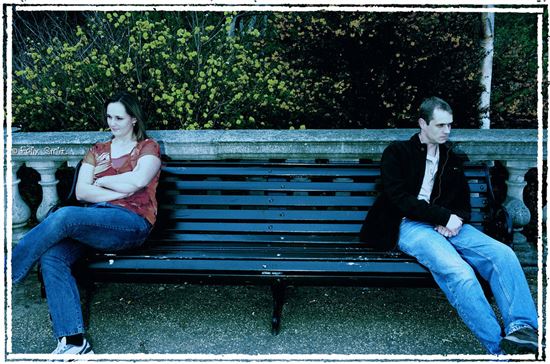 Monica & Quentin © monica & quentin (CC BY 2.0) via Flickr
Both companies offer great policies for peace of mind.
Returns. Both offer a generous 30-day return period. You can return your ring or jewelry for a full refund or exchange if you're not happy with the purchase — no questions asked. Both offer free shipping on returns.
Resizing. If you ordered the wrong size, both offer one complimentary resizing within the first year.
Warranty. Both offer a lifetime warranty. but James Allen's covers more.

Blue Nile's warranty only covers manufacturer defects and complimentary cleaning of diamond rings. It doesn't include damage due to normal wear (like metal discoloration or loose prongs).

James Allen's warranty covers cleaning, polishing, prong tightening, and rhodium plating for maintaining white gold. Plus, it has partnered with Jared, so you can get it serviced at a physical Jared location near you.

Upgrade. Both offer a lifetime diamond upgrade policy. You can exchange your diamond for 100% of the original price, provided that the new diamond is at least twice the price of the original.
Customer Complaints
Blue Nile and James Allen both have some complaints, though the numbers are considered tiny compared to how much sales they make. But on the whole, James Allen has better reviews on BBB and Trustpilot.
A lot of Blue Nile's complaints are about their credit card financing. Customers were surprised when the 0% APR period ended, and they were back-charged interest from Day 1. This adds up to a mountain of interest, even if you were almost done paying it off.
Unfortunately, this is how most store financing works (yes, it's unfair), and it is written in the fine print. To make sure this doesn't happen to you, it's important to pay back your purchase before the promo period ends.
A lot of James Allen's complaints are about delayed delivery. This can easily ruin your proposal plans. To avoid this, it's best to place your order about 4 weeks ahead of time. That should still give you enough time to get the ring, propose, and return if needed.
BOTTOM LINE
Now that Blue Nile introduced the 360 diamond preview, the two sites are extremely comparable. You can buy with confidence from either site. And their prices are very competitive.
However, we'd have to say that James Allen still has the slightest edge for us. The fact that you can request up to 3 Idealscope images for free will give you even more confidence when making a decision. And we love the free Real Time Diamond Consultation service.
Cynthia Cohen is a retail analyst at CreditDonkey, a diamond jeweler comparison and reviews website. Write to Cynthia Cohen at feedback@creditdonkey.com. Follow us on Twitter and Facebook for our latest posts.
Note: This website is made possible through financial relationships with some of the products and services mentioned on this site. We may receive compensation if you shop through links in our content. You do not have to use our links, but you help support CreditDonkey if you do.