Blue Nile Review
Ad Disclosure: This article contains references to products from our partners. We may receive compensation if you apply or shop through links in our content. You help support CreditDonkey by using our links.
(read more)
Blue Nile offers diamonds up to 40% lower, but are they good? Read this review before you buy an engagement ring at this large online jewelry retailer.
Overall Score

4.5

---

Price

5.0

Selection

4.5

Customer Service

4.5

Photos

4.0
5-point scale (the higher, the better)
---
Pros and Cons
Large selection of diamonds online
Low price guarantee
Free returns
---
Bottom Line
Good online diamond retailer with large selection and low prices
Thinking of an Engagement Ring?
Buying an engagement ring can be daunting. It can be especially terrifying if you have no clue about women's jewelry, don't have deep pockets, or you're worried you'll be judged the minute you walk into the jewelry store.
Going online to buy the ring can be quite a pleasant experience. It gives you a chance to design one in peace, from the comfort of your home. And you can also save a lot of money.
If you've considered this, you've probably heard of Blue Nile.
Blue Nile is one of the largest online diamond retailers, offering pricing of up to 40% lower than traditional stores.
But is Blue Nile legit? How can Blue Nile be so affordable?
Keep reading for our in-depth review. We will explain where Blue Nile shines and what is wrong with Blue Nile, including the "invisible price tag" of buying online.
Who Blue Nile is Best For
Blue Nile is a good choice for people:
Looking for the lowest price on a diamond. If saving money is a top concern, Blue Nile's pricing is very competitive. It even has a Price Match Guarantee (more details later).
With a specific budget. Blue Nile has a huge inventory of diamonds, so you have more choices in your price range with your preferred characteristics.
Shopping for other fine jewelry. Blue Nile has a big collection of other fine jewelry with diamonds, gemstones, and pearls.

Counterpoint: If you're looking for a gemstone engagement ring, consider James Allen instead. It allows you to design a ring with a loose gemstone and setting of your choice.
In this Blue Nile review, you'll find:
Overview: What Is Blue Nile?
There's no denying that Blue Nile is a mega online diamond giant. Back in 2004, Forbes reported that Blue Nile sold as many engagement rings in the U.S. as Tiffany and Co., and the company has only continued to grow since then.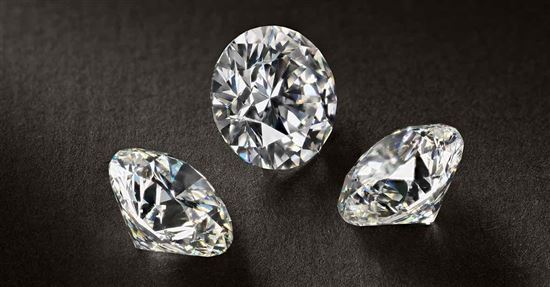 Large online inventory of diamonds: Blue Nile has over 600,000 loose diamonds listed. Costs range from just a couple hundred bucks for a tiny, 1/4 carat stone to over 2 million for 20-carat monster rocks.

Blue Nile gets this large inventory by signing exclusive contracts with diamond wholesalers all over the world.

Price match guarantee: Blue Nile also guarantees to have the lowest diamond prices. In fact, if you see another comparable certified stone for less, Blue Nile will match the price. See price match guarantee terms for details.
Stones inspected in person: The company no longer operates on a drop-ship business model. Every diamond is first inspected by certified gemologists before it's set and sent to you. This offers more confidence that you're receiving the correct stone.
Conflict-free sourcing: All of Blue Nile's diamonds come from conflict-free sources. The company subscribes to the Kimberley Process, an international method for tracking diamonds from the mine to the market, to ensure the authenticity of the diamond.

If you're looking for the most sustainable alternative, check out Brilliant Earth. They go beyond the Kimberley Process in order to source the most ethical and environmentally responsible diamonds.
Is Blue Nile a reputable company?
Despite its low prices, Blue Nile is a completely legit business with
A+ BBB rating
. All Blue Nile diamonds are ethically sourced and graded for quality by GIA, which is the most reputable gemstone laboratory. Plus, customers are protected with free 30-day returns and lifetime guarantees.
We'll examine the pros and cons below.
Blue Nile also has a free email list where you can sign up for exclusive email offers, early access to sales, and more. When you sign up, you'll start off right away with up to $50 discount.

History of Blue Nile
Blue Nile's principle is simple: diamond shopping should be easy.
Frustrated with a bad in-person shopping experience, founder Mark Vadon turned to the web and purchased an engagement ring from internetdiamonds.com - a small site based in Seattle.
A year later in 1999, Vadon had raised the funds necessary to purchase the small company. The name was changed to Blue Nile, and boom—a diamond giant was born.
Vadon parted ways with Blue Nile in 2013, but the company has shown no signs of slowing down. Blue Nile has since expanded its business into non-engagement jewelry by offering pearls, gemstones, and precious metal jewelry.
Blue Nile aims to provide a smooth online diamond shopping experience. It educates people about diamonds so that they can browse from the comfort of their homes. This was rare back in the day. Because of this, Blue Nile has repeatedly won the prestigious Bizrate Circle of Excellence Platinum Award.
Who is Blue Nile owned by?
Signet Jewelers acquired Blue Nile on August 24, 2022 in a $360 million deal. Signet also owns Zales, Kay, Jared, and popular online jeweler
James Allen
.
Products Offered
Here's what you can find in this online jewelry store.
Loose diamonds: Find diamonds in all qualities, shapes and sizes. Every one of Blue Nile's 600,000+ loose diamonds comes with a GIA (Gemological Institute of America)—the most respected gemstone lab in the industry—grading report.

Are Blue Nile real diamonds?
Blue Nile offers both natural diamonds from the earth and lab created diamonds. Lab diamonds are considered real diamonds because they have the exact same properties as those mined from the earth. Blue Nile does not sell diamond simulants.

Engagement ring settings: Pick from over 500 ring settings in platinum, white gold, yellow gold, and rose gold.

For example, if you're shopping for a ring or pendant, you can use the company's 'Build Your Own' tool to design your own setting.

Wedding bands: You can find men's and women's wedding rings in both traditional and unique styles. It even offers men's wedding bands in alternative materials like titanium, tungsten, and cobalt.

See our guide on the difference between an engagement ring and a wedding ring.

Astor By Blue Nile™: This is Blue Nile's signature line of their highest quality diamonds. These super ideal diamonds are cut in the most precise angles and proportions to give off maximum brilliance.
Fancy colored diamonds: Want a little color? All of Blue Niles' fancy colored diamonds are natural, with no artificial enhancements. These beautiful stones are prized for their color and intensity. You can learn more on Blue Nile's education page about what sets these gems apart.

Did you know

: Only 1 in 10,000 diamonds have a fancy color, with yellow being the most common and red being the rarest (so rare that only a handful exists in the world). The intensity can appear different according to how the stone is cut and polished. Colored diamonds are usually cut into

other shapes

(other than round) in order to display the most intense hue.

Pearls: Blue Nile has a collection of pearl jewelry in four different varieties of pearls: Akoya, freshwater, Tahitian and South Sea. The site provides an in-depth analysis of each variety and what sets them apart.
Other diamond jewelry: If you're looking for fine jewelry for other special occasions, you can find rings, pendants, bracelets and earrings. You can even design your own diamond necklaces and stud earrings.

Blue Nile also has fine jewelry with gemstones, pearls, or just plain metal.

Designer rings and jewelry: For something a bit more special, you can choose jewelry created by designers, including popular bridal designer Zac Posen. It also has its own line of Blue Nile Studio designer rings.
Is Blue Nile good quality jewelry?
Blue Nile offers diamonds of the highest quality to more affordable stones with lower cut, color, and clarity. All their diamonds are analyzed and graded for quality by GIA and inspected by Blue Nile's jewelry experts before being shipped to you.
Is Blue Nile Astor Cut Worth It?
Blue Nile recently introduced their premium Astor by Blue Nile™ line. This special collection of super ideal diamonds is a re-brand of Blue Nile's Signature Collection. Is it worth the premium? And is it cheaper than comparable diamonds elsewhere?
Let's do a mini review.
Tip
: Many diamond experts will say that
cut is the most important of the 4C's
. An ideal cut means that the diamond has the most precise proportions for maximum brilliance, symmetry, and light performance. It can make a diamond shinier and appear larger. To understand why this is the most important factor, check out our detailed article
here
.
Here's an overview of the Astor line:
Available in round, princess, heart, oval, radiant, and cushion shapes.
All have an Excellent cut graded by GIA.
All have grades in the "very high" range for brilliance, fire, and sparkle as graded by GemEx (which grades diamonds for light performance). However, GemEx is not an industry standard and their certification is not a guarantee of quality.
360-degree video the actual diamond.
HOWEVER, you do not get Ideal Scope, ASET, or hearts & arrows images. These images are crucial to show the light performance and optical symmetry of the diamond. Without these, there's no way to truly tell the performance of the stone.
If you're looking to buy a super-ideal diamond and want to be confident about the quality, check out
Whiteflash
. Their A CUT ABOVE diamonds are AGS Triple Zero rated and come with light performance and hearts & arrows imagery.
Now, what about pricing? Let's compare Blue Nile's Astor pricing to Whiteflash's A CUT ABOVE® line, as both are touted to be super ideal diamonds.
Super ideal cut stones are pricier due to the level of perfection and the fact that more raw material is used.
This one here is a 1.01 carat, G, VS1 round diamond and cost $9,298. Whiteflash has a 1.007-carat diamond with similar specifications for $8,702—over $500 less.
Among the many comparisons we performed, Whiteflash's A CUT ABOVE diamonds mostly came in at a lower cost. Between the two, we would pick Whiteflash's diamonds. Not only are they better priced, but their diamond quality requirements also go beyond GIA Excellent. Plus, Whiteflash provides detailed light performance imagery so you can feel more confident about the quality.
The upside of Blue Nile is that you have more choices, so you are sure to find something in line with your budget and the characteristics/size you want.
Overall, we have to say that Blue Nile's Astor diamonds offer great quality. You'll get a beautiful diamond. However, the price isn't always the best. And it's also too bad that they don't offer light performance data. If you want to buy a diamond from this line, make sure it's within the ideal proportions.
360 Diamond View
Blue Nile has really made major improvements in this area.
Buying from Blue Nile is no longer the blind purchase experience it used to be. For a long time, Blue Nile only had sample photos for their diamonds. But now they have added a 360° Diamond View feature.
This mini player allows you to get a full 360° view of the actual diamond. You can drag and spin it around to see it from all angles. This gives you an idea of what the diamond will look like in person to the naked eye. This enhances the online shopping experience and allows you to be more confident in what you're buying.
This feature can help you save a lot of money. Without a photo or video, you may feel like you need to buy a more expensive, higher quality diamond. But with the 360-view, you can pick a stone lower in clarity, as long as you can't see obvious flaws. You just need to look for a stone that is eye clean.
Buying a diamond sight unseen is scary. It's nice that Blue Nile has finally addressed this deficiency. This now makes Blue Nile competitive with other online jewelers who long ago had this technology, such as James Allen (see full review).
Is Blue Nile diamonds GIA certified? Yes, Blue Nile diamonds come with a grading report from GIA (Gemological Institute of America). This is an independent nonprofit laboratory that grades diamonds to help protect buyers and sellers.

SHOPPING EXPERIENCE
Designing your own custom engagement ring is straightforward on Blue Nile. The process is pretty intuitive. You can start by either selecting your diamond first or choosing a setting. The website will guide you to the next step.
When searching for a diamond, narrow your search using the filters at the top. You can filter by price, shape, and the 4Cs (and even more specific proportions and characteristics, if you wish).
Make sure you click the "360 View Available" box, so you only see items with real videos.
In a nutshell, a diamond's quality is characterized by the
4Cs
—cut, clarity, color, and carat weight, with the
cut of the diamond
deemed most important. Blue Nile offers
10 shapes
: round, princess, cushion, emerald, radiant, marquise, pear, heart, Asscher and oval.
For example, let's say we select this oval diamond below. Just click "add to ring".
Next, Blue Nile will show you rings that can be set with the diamond. You can filter your search by selecting the style of the engagement ring and type of metal. Let's say we want a white gold vintage ring. There are 15 ring options to choose from.
Also note that Blue Nile will state if there's a matching band, in case you want to look for something in a matching set.
Each setting also has a 360-degree view, so you can see what it looks like all around. You can also see reviews and photos from customers who purchased the product.
After you've selected the ring you want, your design is complete. You can review the rendering and final price.
For a huge online jewelry store, Blue Nile provides a relatively seamless buying process, even for first-timers.
You may want to begin with the site's comprehensive educational page that clarifies what to look for when buying diamonds, including an explanation about settings and how to decide on the right diamond.
Expert money-saving tip: Buy a diamond just shy of 1-carat. You can save as much as 20% by buying a 0.9-carat diamond instead. People will not be able to tell the size difference.

Tips for Shopping at Blue Nile
Filter search results according to budget
If you have a budget in mind, you can put that into the filter so you're only shown diamonds within your budget. For example, let's say my diamond budget is $6,000 max and I'm looking for something around 1-carat, with minimum VS2 clarity and H color.
Compare similar diamonds
Blue Nile recently added a feature to compare other diamond options. When you're looking at a specific diamond, you'll see a price & spec comparison chart for other similar diamonds. This can be a way to quickly see if there's a better value stone.
Browse recently purchased rings
If you need some inspiration, you can browse Blue Nile's gallery of recently purchased engagement rings. You can see what designs others came up with and how much they paid.
Get the ring size right
It's best to get the ring size right the first time. You can get a free plastic ring sizer from Blue Nile or use its printable ring size chart.
(P.S. We also have tricks for finding the ring size and lots of helpful charts.)
WHY YOU MAY LOOK ELSEWHERE
There are a couple downsides of Blue Nile.
Limited setting choices
We also think Blue Niles comes up a bit short in terms of engagement ring setting options. You basically get solitaire, halo, pave, 3-stone, rings with gemstones, or some vintage designs. If you want other specific settings like tension or bezel, you're out of luck.

Blue Nile has around 500 setting options, while James Allen has over 600.

Not a lot of yellow or rose gold options
It also doesn't offer a lot of options for yellow gold or rose gold rings. So if you're looking for any of those metals, you are very short on choices.
Returns, Warranty, and Other Policies
Discount with wire: If you pay by wire transfer, you'll receive a 1.5% discount on your purchase of $750 or more.
Price match: Blue Nile has a lowest price guarantee. If you see another, practically identical, GIA-certified loose diamond at a lower price, Blue Nile will match the cost. But that has to be done before you make your purchase. The 2 stones need to match the 4C's (cut, color, clarity, and carat), and even other criteria like polish, symmetry, and light performance.
Returns: Blue Nile has a 30-day full-refund return policy. This includes a fully insured, free shipping label sent via email. Purchases under $2,000 can be returned fairly easily online, but anything over that amount requires you to contact the company for additional return instructions.

On average, it takes about 4-5 business days to process the return.

Ring resizing: If you ordered the wrong size, you are allowed one complimentary ring resizing within the first year of purchase.
Warranty: Blue Nile offers a lifetime warranty against manufacturer defects. Damages caused by normal wear and tear is not covered. There is also lifetime complimentary cleaning and inspection (you'll have to pay for shipping).
Diamond upgrade: If you want a bigger stone in the future, you can trade in your diamond for 100% credit towards a new one, provided that it's at least twice the price of the original. The old diamond must be in its original condition with the original grading report.
Insurance: No matter how much your diamond cost, it's a good idea to insure your jewelry the way you would any other precious item for peace of mind. Blue Nile is partnered with Jewelers Mutual Insurance Co., the nation's leading jewelry insurer. You can get a free quote and purchase insurance immediately as part of your total purchase price.
Refer a friend: If you refer a buddy, both of you will get a little gift. You'll both save $20 on an order of $100 or more; $50 on an order of $500 or more; and $100 on an order of $1,000 or more. This is a nice little perk if you want to buy more jewelry for your sweetheart down the road.
For more about diamond pricing, see our in-depth guide and find out what you should really spend for a diamond ring.
CUSTOMER SERVICE
Blue Nile provides 24/7 customer service. You can contact them anytime by phone, email, and live chat. Blue Nile claims that a diamond expert will answer your call in 10 seconds or less.
Blue Nile also offers virtual appointments designed to replicate an in-person shopping experience. You can book a 1-on-1 virtual session with a personal jeweler. They can show you close-up views of different diamonds and jewelry.
Their jewelry consultants don't work on commission, so there's no hard-sale or pressure to buy.
You can reach customer service here:
Diamond Questions:
1-888-565-7641 / diamondexpert@bluenile.com
Jewelry Questions:
1-800-242-2728 / jewelryspecialist@bluenile.com
General Policy Questions:
1-800-242-2728 / service@bluenile.com
Blue Nile reviews have split opinions when it comes to their customer service. Some people have had great experiences, while others had complaints about the delivery time, problems with returns and repairs, and financing plan.
Blue Nile will provide an estimated shipping date for your ring. Usually, this is in 4-5 business days.
Some customers do report shipping delays, so we suggest ordering your ring a little ahead of time (about 3 weeks before your planned proposal date). This way, you have plenty of time to receive the ring, pop the question, and return within 30 days if need be.

Blue Nile vs James Allen
While Blue Nile beats physical retailers when it comes to cost, they are up against more difficult competition when it comes to fellow online jewelry sites. James Allen is Blue Nile's biggest competitor.
Both offer competitive pricing. But we'd say James Allen offers more options. It also has a large selection of loose lab diamonds and gemstones to design your own ring, while Blue Nile has fewer selections.
James Allen's photos and videos are a little better too. Blue Nile doesn't offer a 360-degree video for every diamond yet. James Allen's lighting seems more natural, so you can see flaws more accurately. You can also zoom in closer.
James Allen's customer service is also a little better. If you have questions, you can start a live chat with a diamond expert right on the screen. The expert can screenshare with you and help you compare diamonds and their specs. You can also request up to 3 Ideal Scope images for free, so you can judge which diamond has the best light performance.
Both offer 30-day full returns if you're not happy with the ring.
Let's take a look at how the sites compare:
Blue Nile

Benefits and Features

Selection

Natural and lab created diamonds

Natural and lab created diamonds

Customer Service

24/7 customer service via phone, email, and live chat; Free 1-on-1 virtual appointment

24/7 customer service via phone, email, and live chat; Free instant real-time diamond inspection

Photos

360 degree videos for most of the diamonds; Grading report

360-degree HD video for all diamonds; Super zoom; Grading report

Return Policy

30-day money back guarantee. Blue Nile will send you a fully insured free shipping label via email. Items must be in their original purchase condition, including all product documentation.

If you are not 100% satisfied with your purchase, you may return it in its original, unworn condition within 30 days for a full refund or exchange. Free return shipping only applies to U.S customers and is limited to three per customer.
Warranty

Lifetime manufacturer warranty. Terms and exclusions apply.

James Allen warrant that all items will be free from any manufacturing defects at time of delivery. James Allen will repair and maintain your jewelry for a lifetime. Lifetime warranty offers free prong tightening, re-polishing, rhodium plating and cleaning services.

Buyback

Diamond buyback program through CIRCA based on current market value.

Not Available

Certification

GIA

GIA, AGS, IGI

Packaging

Silvery-white presentation box containing diamond certification and documents. Ring box is an elegant light grey fabric covered box

Large elegant white and silver presentation box with pull-out drawer containing diamond documents and cleaning cloth; Ring box is a glossy red plastic lacquered box.

Price Match

Yes

Yes; if accepted, the price will be honored for 48 hours.

Resizing

Blue Nile provides complimentary resizing to most engagement rings and wedding bands when within the manufacturer's recommended sizing range, during the first year.

All engagement rings and wedding bands, excluding eternity bands and alternative metals, may be resized once for free within the first year of purchase.

Upgrade Policy

Lifetime diamond upgrade program on all GIA and AGSL graded diamonds. You will receive credit equal to 100% of the original price toward the purchase of a new diamond. The price of your new diamond must be at least twice the price of your original diamond. Your diamond must be in its original condition with the original diamond grading report.

Any loose diamond purchased from James Allen can be exchanged at 100% credit for any replacement diamond of at least 2X or greater value. The diamond that is being upgraded must be in original condition and accompanied by the original laboratory grading document.

Price
Selection
Customer Service
Photos
Blue Nile vs Traditional Jewelers
In our opinion, Blue Nile has the edge over traditional retailers. Here are some reasons why:
Wider Selection: Blue Nile's huge inventory means that you have more choices within your budget and specs. Your local jeweler will not have nearly as many options, which may cause you to compromise on quality and/or budget.
Cheaper prices: By being an online store, Blue Nile has less overhead and thus can offer better pricing to customers. In our research, we've found that Blue Nile's prices are as much as 40% cheaper than physical stores.
Magnified videos: Blue Nile provides 360-degree videos for most of their diamonds. In many ways, this is even better than viewing diamonds at your local jeweler. If you can't see flaws in a magnified video, you won't see flaws with the naked eye.
Browse in peace: Shopping from the comfort of your own home means you can spend days browsing at your leisure. No pressure to buy, no pushy salespeople, no up-selling.
How much does Blue Nile markup their diamonds? Blue Nile markup their diamonds around 19.6%. In comparison, traditional retailers may markup their diamonds over 100% due to significantly higher operating expenses.

FINANCING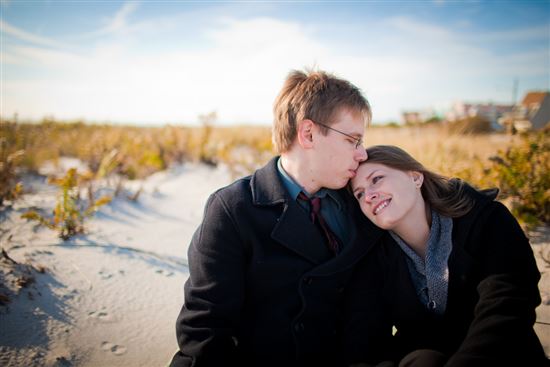 Kim and Dan's Engagement © ChrisGampat (CC BY 2.0) via Flickr
We usually don't recommend borrowing money to buy the ring, but we understand. You have other loans and bills, and it may not be reasonable to wait until you're debt-free to pop the question.
In this case, you can choose between 2 Blue Nile financing options. The exclusive Blue Nile credit card has no annual fee and provides special financing offers. Your options are:
No interest plan: The 0% financing option charges no interest for a certain promo period.

0% APR for 6 months for purchases $500 to $1,499

0% APR for 12 months for purchases of $1,500 and over

0% APR for 18 months for purchases $2,000 and over during promotional periods

The APR is a steep 29.99% after the promotional period (interest rate information as of November 2019).

IMPORTANT

: Make sure you are able to pay off your entire balance within that timeframe, or you'll be subjected to a very high APR, PLUS deferred interest from the

day of purchase

.

A lot of Blue Nile reviews from customers who took the financing plan were unpleasantly surprised when they got charged a huge amount of interest for just missing the deadline by a couple of days. A $6,000 ring could end up costing thousands in deferred interest if the entire balance isn't paid by the end of the 0% promo period.


Equal payment plan:This financing option is a bit more complicated: you get a 9.99% APR and you'll make equal payments over a pre-set period of time - but you'll have to charge at least $2,000 to be eligible. For balances of $2,000-$2,999, you'll have 24 months to pay; $3,000-$3,999, you'll get 36 months, and anything $4,000 and over gives you 48 months to pay off your balance. If you still carry a balance at the end of your term, your APR will be increased to 29.99% (interest rate information as of November 2019).
Here is our expert tip: get a low interest credit card instead. Many cards on the market today have 0% APR introductory offers that last longer than Blue Nile's, and the APR after the intro period ends is generally lower. This is one of our top recommended tips if you're buying a large ticket item and will need breathing room to pay.
BLUE NILE SHOWROOMS
Though it's an online retailer, Blue Nile have several physical showrooms for people who want to visit in person. Blue Nile promises you can browse on your terms with no high-pressure sales.
Here are some of the showroom locations:
Washington:
Bellevue Square (just outside of Seattle)
177 Bellevue Square
Bellevue, WA 98004
Oregon:
Washington Square
9364 SW Washington Square Rd
Portland, OR 97223
New York:
Roosevelt Field Mall
630 Old Country Rd #1101b
Garden City, NY 11530
New Hampshire:
The Mall at Rockingham Park
99 Rockingham Park Blvd, #W111A
Salem, NH 03079
Virginia:
Tysons Corner Center
7995 Tysons Corner Center
Tysons, VA 22102
What the Experts Say
As part of our series on engagement rings, CreditDonkey asked a panel of industry experts to answer readers' most pressing questions. Here's what they said:
BOTTOM LINE: DO WE RECOMMEND BLUE NILE?
Blue Nile is a great online retailer with an unbeatable selection and attractive prices. It's a good starting point to learn about diamonds and do shopping comparisons with other online jewelers.
It's a good company if you're looking to save money and want a lot of options. With competitive pricing, a large inventory, magnified videos, and generous return policy, Blue Nile provides a great shopping experience for buying engagement rings online.
We're happy to see that Blue Nile now has 360-degree videos for the diamonds on their site. This takes out most of the guesswork and lets you buy with confidence. This feature now puts them on an even footing with James Allen diamonds for online shoppers.
(Updated Writing by Anna)

Shop for diamonds at Brilliant Earth, a CreditDonkey recommended partner for socially-responsible diamonds.

Shop for diamonds at Whiteflash, a CreditDonkey recommended partner for super ideal cut diamonds.
Cynthia Cohen is a retail analyst at CreditDonkey, a diamond jeweler comparison and reviews website. Write to Cynthia Cohen at feedback@creditdonkey.com. Follow us on Twitter and Facebook for our latest posts.
Note: This website is made possible through financial relationships with some of the products and services mentioned on this site. We may receive compensation if you shop through links in our content. You do not have to use our links, but you help support CreditDonkey if you do.
Compare:
---