James Allen Review: Is It Good?
This article contains references to products from our partners. We may receive compensation if you apply or shop through links in our content. You help support CreditDonkey by reading our website and using our links.
(read more)
---
Thinking about buying an engagement ring from James Allen? Read this in-depth review to find out if it's the right retailer for you.
Overall Score

4.8

---

Price

5.0

Selection

5.0

Customer Service

4.5

Data

4.5
5-point scale (the higher, the better)
---
Pros and Cons
360 degree HD video for every diamond
Competitively priced with good selection of diamonds
Large selection of setting options
Limited selection of super ideal cut diamonds
---
Bottom Line
Good online diamond retailer with 360 degree HD videos
James Allen is the #1 place to buy a diamond online for 2020. Before you buy a ring, view this
diamond inspiration gallery
for examples of engagement rings you should not ignore.
James Allen Overview
We are huge advocates of shopping for an engagement ring online. You get a much bigger selection and cheaper prices. But at the same time, it can be scary to make such a huge purchase online.
James Allen knows that an engagement ring is a major purchase. It excels in providing an unmatched online diamond shopping experience.
James Allen is our top recommended online diamond retailer for several reasons:
They've been in the online diamond business for over 10 years.
They offer 360-degree HD videos of the actual diamond you'll be purchasing.
They have a wide selection of loose diamonds and settings so you can create the perfect customized ring.
They offer 30 day "no questions asked" free returns.
They offer 24/7 specialized customer service.
Read on to learn the pros and cons of shopping at James Allen.
Jump to a section below or scroll down to read the whole article.
Bottom Line: When you buy an engagement ring, you will have it forever. She'll wear it every day for the rest of her life.
If you're a newbie who knows nothing about diamonds, check out James Allen. They have close-up views of their inventory and every diamond is certified so you can expect quality for your budget. You can also chat 24/7 with jewelry experts for any questions.
Is James Allen good quality?
James Allen offers a large selection of high quality rings at prices
much cheaper than traditional jewelry stores
. Every diamond's quality is certified by GIA, AGS or IGI. The ring settings are also crafted with excellent attention to detail and come with a lifetime warranty.
What Makes James Allen Unique: Inventory and Quality
James Allen has a wide selection and fair prices so you can find your perfect ring for any budget.
It's hard to sell diamonds online. Retailers often have to sacrifice in one area or another. Large retailers may offer a huge selection, but may not provide actual photos of the diamonds. At the other end of the spectrum, small retailers stock their own diamonds and can provide exceptional data, but can only offer a much smaller selection.
But James Allen offers the best of both worlds. It offers a wide selection and detailed images of the actual diamonds.
Big Selection. James Allen has over 200,000 loose diamonds in 10 different shapes. It even has about 2,000 fancy-colored diamonds. Every single diamond is GIA, AGS, or IGI certified. Besides diamonds, it also has a decent selection of sapphires, rubies, and emeralds.

Are James Allen rings real diamonds?

James Allen offers both real, natural diamonds and

lab-created diamonds

. Lab-created diamonds are cheaper and identical in every way to mined diamonds; it's just that the creation process is sped up in a lab. All diamonds - whether mined or from the lab - come with a certification.

Inspected In-person. James Allen sends out staff members to take stunning HD videos of every diamond on the site. Their inventory is from nearby suppliers in the New York area and diamond hubs worldwide. They don't own their own diamonds, but each one is examined by in-house experts before it's shipped to you.
A Range of Options. James Allen offers diamonds at every price point and quality. Since you can "see" every diamond, you can find the most affordable stones that look virtually flawless.

They even have an exclusive line of diamonds called True Hearts. These are the most ideally cut diamonds with the best optical beauty and brilliance.

You can design your own engagement ring with this useful tool.

Diamond Price Match Guarantee. If you find a comparable diamond elsewhere for less, James Allen will match the price. This gives you confidence that you are purchasing a diamond for the best price.

The diamond can be eligible for price match if:

It has the same characteristics (carat, cut, color, clarity, fluorescence, table and depth percentage, symmetry, etc.);

The competitor diamond is available for purchase by the public;

It has a GIA grading report.

If James Allen decides to match the competitor's price, it will honor the new price for 48 hours.


Conflict-free Guarantee. Every diamond from James Allen is conflict-free and procured through legitimate means. It also has a selection of lab-created diamonds if you're looking for something more eco-friendly.
Shop for diamonds at James Allen, a CreditDonkey #1 recommended partner for the best online experience.
We'll get into our full in-depth James Allen review below. But first, let's highlight the current James Allen perks.
James Allen Benefits
Free Engraving

Free engraving on most engagement rings and wedding bands. If engraving is available for your selection, it will be presented as an option during checkout. Personal engravings can be any alpha-numeric combination up to 20 characters in length.
1 Year Free Resizing

All engagement rings and wedding bands, excluding eternity bands and alternative metals, may be resized once for free within the first year of your purchase
Lifetime Upgrade

Any loose diamond purchased from James Allen can be exchanged at 100% credit for any replacement diamond of at least 2X or greater value. The diamond that is being upgraded must be in original condition and accompanied by the original laboratory grading document.
Special Financing

Learn about payment options at James Allen, a CreditDonkey #1 recommended partner for the best online experience.
Who James Allen Is Best For
If you're nervous about buying blind. James Allen has a 360-degree HD video of every diamond in its collection. You can "see" the actual stones from all angles. This gives you more confidence when buying online. Consider visiting the Inspiration Gallery to see images of their rings.
If you're on a budget. James Allen has some of the lowest diamond prices among jewelry retailers that we've seen. This means you can find a larger stone on your budget.
If you're looking for a gemstone. James Allen has a huge collection of loose sapphires, emeralds, and rubies. You can design your own gemstone ring.
James Allen is great for couples on a budget. But don't just take our word for it. You can view past customers' experiences with the jeweler here. You can even get proposal ideas and check out the ring they ended up purchasing.
Is James Allen good? James Allen is a good online diamond retailer if you're looking for value. It offers a large selection of diamonds and settings at fair prices. All diamonds have 360-degree videos and are certified. You can also chat 24/7 with jewelry experts for any questions.

Product Offerings
James Allen offers:
Loose diamonds: All loose diamonds are conflict-free and come with a certification by GIA, AGS, or IGI.
Lab-created diamonds: Lab-created diamonds are eco-friendly, as well as being more budget-friendly. They're identical to mined diamonds, just that the creation process is sped up in a lab. All lab diamonds are IGI or GCAL certified.
Fancy-colored diamonds: James Allen also has a large selection of loose colored diamonds in all hues of the rainbow.
True Hearts™: This is a special collection of super ideal hearts & arrows diamonds. These diamonds are cut to the most precise angles and proportions for maximum brilliance.
Gemstones: James Allen offers loose sapphires, emeralds, and rubies if you're looking for an alternative stone.
Engagement ring settings: Choose from a wide variety of ring settings, as well as designer rings by Verragio, Danhov, and more. Almost all settings can be made in platinum, white gold, yellow gold, or rose gold.
Women's wedding bands: You can see their recommended matching wedding ring, or pick your own from a variety of classic and contemporary styles.
Men's wedding bands: Find men's wedding rings in classic metal designs or alternative materials, like titanium and cobalt.
Preset rings and other fine jewelry: Although the main concept is to design your own ring, James Allen does have a small selection of preset rings as well. You can also find earrings, necklaces, and bracelets.
Did you know: James Allen is owned by Signet Jewelers, the world's largest diamond jewelry retailer. Signet also owns brands such as Kay Jewelers, Zales and Jared. Signet acquired James Allen after buying its parent company, R2Net, in 2017.

James Allen Benefits & Features
Let's take a more detailed look at what makes James Allen such a standout.
360-Degree HD Videos of Each Diamond
Though you can't examine the diamonds in person, James Allen provides you with the next best thing. Their trademarked "Diamond Display Technology" provides true-to-life, 360-degree HD videos and images of every single diamond in their collection.
You can zoom in up to 20x to view the diamond in stunning detail. That's actually better than looking at diamonds at a local store. You'll be able to clearly see any flaws in the diamond.
Tip: If you create a free account, you can even access a "SuperZoom" feature. This allows you to examine the diamond as if you're using the tools of a professional jeweler. You get 5 free SuperZoom images.

Many other sites use just a stock photo. They only offer a description of the 4Cs (cut, clarity, color, and carat) and the price. You'll receive a diamond that matches the specs, but you won't know what it really looks like. That's taking a big risk. No two diamonds are exactly alike. One SI1 diamond may be eye-clean, while another has visible flaws. You won't know without photos.
Find Eye-Clean Diamonds for Less
When you can't see photos of the actual diamonds, you may feel like you must choose a higher-quality stone to play it safe. This means you end up spending more.
But when you're able to see clear pictures, you can look for cheaper diamonds that are eye-clean.
Let's take a look at this example:
The diamond on the left is 0.97 carat. It has a color of G, a clarity of VS2 (small imperfections), and an excellent cut. It costs over $6,000. But thanks to the HD video, you can see the black flaws scattered throughout. There's a good chance this diamond may not be eye-clean.
The diamond on the right costs $1,000 less and is slightly over 1 carat. The clarity grade is lower at SI1, but you can barely see any flaws even at 20x zoom. This diamond costs less and looks better. You would have never known that without the magnified videos.
You Can Pick Prettier Diamonds
Seeing the diamond is especially important for fancy-shape diamonds. Shapes such as oval, pear, and marquise have a bow tie effect. This is a dark shadow caused by light blockage. You can only see that through visual inspection.
For example:
The oval diamond on the left costs over $5,000 and has a large bow-tie effect. The diamond on the right costs almost $1,000 less and looks a lot better.
There would be no way to know this without being able to see the diamond from all angles.
Tip
: Emerald and
asscher
diamonds tend to have large black areas of light blockage too. You would also need to "see" the diamond to know that.
Also, fancy-shape diamonds aren't cut the same. For example:
These heart-shape diamonds all look different. The first two are unattractive-looking hearts (too thin and too fat). The third is a beautiful, pleasing heart shape. Again, you wouldn't know if you were ordering blind.
Customize Your Own Ring
James Allen offers tons of customization options to create your perfect diamond engagement ring.
It has over 600 settings in all styles. Most settings are available in platinum, white gold, yellow gold, and rose gold. Each setting also comes with a 360-degree HD video. You can also set a gemstone in any of its settings.
They also offer free engraving for most engagement rings. Adding a personal message is another way to make it more special.
Warning
: Thin settings could bend out of shape during normal wear. If she's very active or does a lot with her hands, it may be better to go with a sturdier band. Or consider getting a
platinum
band, which is more durable than gold. If platinum is out of your price range, then go for
14k gold
, as it's sturdier than 18k.
The idea of designing your own ring can seem daunting. But James Allen walks you through it, step by step.
If you choose your diamond first, James Allen will show you settings that fit that diamond. If you choose a setting first, the site will automatically show you diamonds that match it.
It will even tell you if there is a matching wedding band, so you can also plan ahead for the wedding band if you want.
Tip
: If you don't see a setting you like, James Allen can work with you on a custom design. Of course, you would have to purchase the diamond from them as well. Keep in mind that super-customized settings can take a few weeks to ship.
If you have a loose diamond from somewhere else, James Allen can set it for you in one of their settings.


Free Expert Consultation
If you don't feel confident about picking your own diamond, James Allen offers free Real-Time Diamond consultations. An expert gemologist will help you review the specs and compare diamonds. You will automatically screen-share with the rep, so they can see the same diamonds as you.
The reps are non-commissioned so there is never any pressure to buy. They're simply there to educate and help you make the best choice.
There is no scheduling needed. Anytime you need help, just launch the consultation right from the diamond details page - 24/7. This feature is the first of its kind in the online diamond industry.
For general customer service, James Allen's representatives are also available 24/7.
Financing
Sometimes, it's not possible to buy an engagement ring in cash. If this is your situation, James Allen offers two financing options:
No interest for 6 months. This is good if you have a solid plan to pay off the amount in 6 months. If you don't, you'll be charged a very steep interest rate (currently 28.99%). The interest is assessed from the purchase date, so it can really add up.
9.9% interest for 2 years. A more attractive offer might be the 9.9% interest rate on the 2-year payment plan. With this, you'll have a full 24 months to pay off the balance.
If you have the cash, you get a 1.5% discount if you pay via wire transfer. This could save you quite a bit, but you also have to factor in what your bank charges for wire transfers.
After Your Purchase Protection
How long does it take to get a ring from James Allen?
Jewelry and engagement rings are usually shipped in 1-3 weeks as each ring is crafted to order. All orders over $500 are shipped overnight through FedEx Priority. However, there have been some customer reports of shipping delays, so we suggest ordering your ring a little ahead of time (about 1 month out).

James Allen Packaging & Unboxing
To see what the packaging looks like, we ordered a ring from James Allen. We designed a ring with this 0.91 carat round diamond and this beautiful knife edge pave setting in white gold.
James Allen scores major points for their packaging. It's classy and doesn't scream "I bought the ring from the internet!"
Now let's unbox and see what's included:
(Click Image to Enlarge)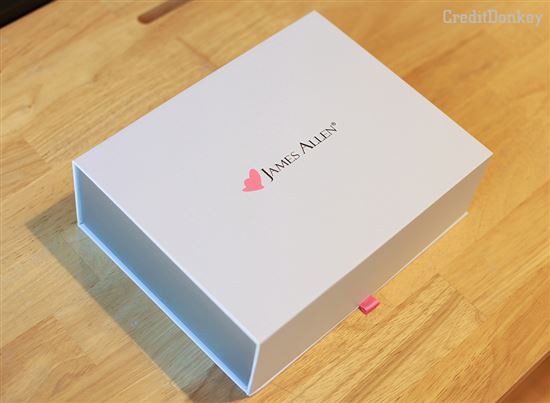 © CreditDonkey
First, the ring box itself is packaged inside an elegant white and silver keepsake box. It's made out of cardboard, but is sturdy and feels nice. This is a wonderful touch. Some other online jewelry retailers ship the ring box in just a cardboard cutout. It's nice that James Allen goes the extra mile to make the entire package presentable.
Inside the box, the top has an insert that the ring box sits in. The bottom has a pull-out drawer that holds a cleaning cloth and a silver folder with the diamond's documents.
(Click Image to Enlarge)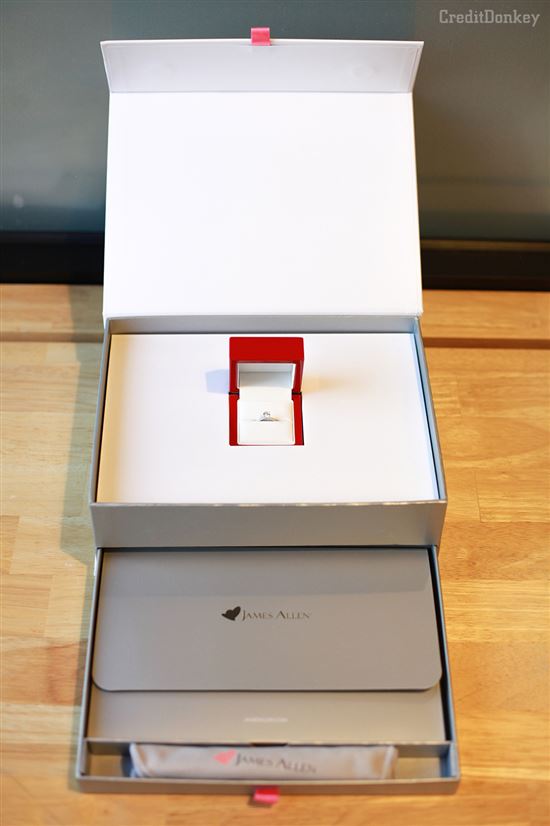 © CreditDonkey
Inside is the lab certification, appraisal certificate, lifetime warranty, and quality assurance guarantee signed by the professional who inspected your ring.
(Click Image to Enlarge)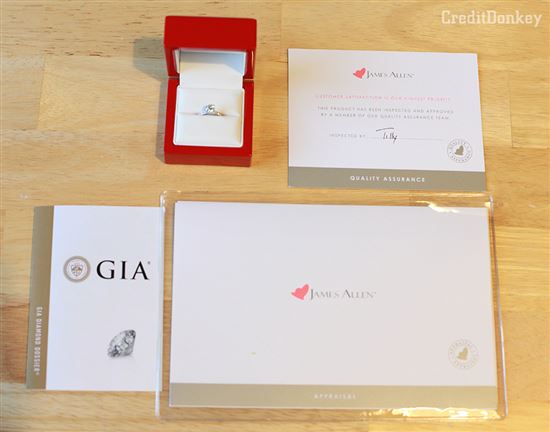 © CreditDonkey
The actual ring box is a glossy red plastic lacquered box (it used to be hardwood). Some people say they think the plastic looks cheap. But we think it'll still look classy when you pull it out of your pocket for the big moment.
(Click Image to Enlarge)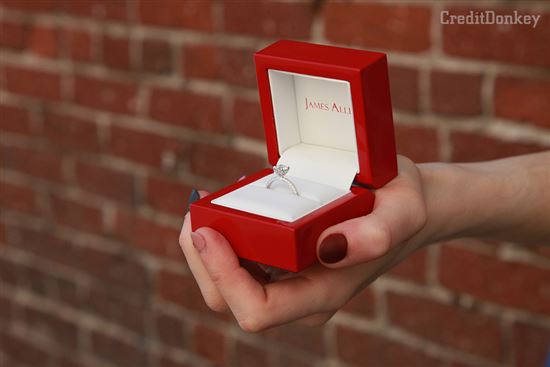 © CreditDonkey
(Click Image to Enlarge)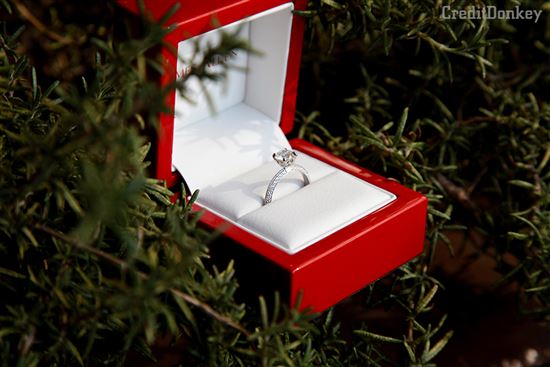 © CreditDonkey
The ring itself was absolutely stunning too. The diamond was eye-clean and appeared perfectly brilliant and white (despite it being an SI1 clarity and H color). The craftsmanship on all those tiny little diamonds on the pave band was excellent.
(Click Image to Enlarge)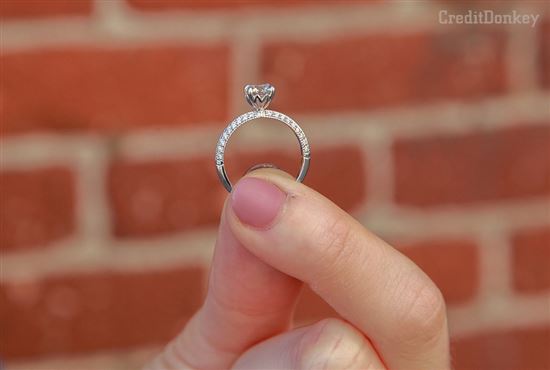 © CreditDonkey
(Click Image to Enlarge)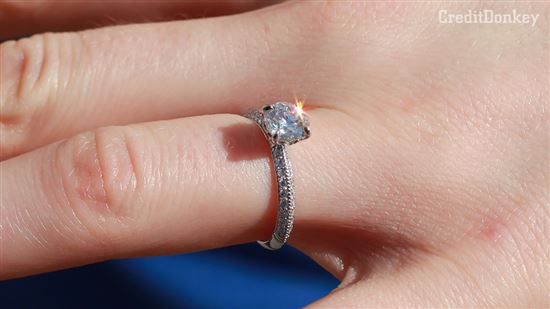 © CreditDonkey
(Click Image to Enlarge)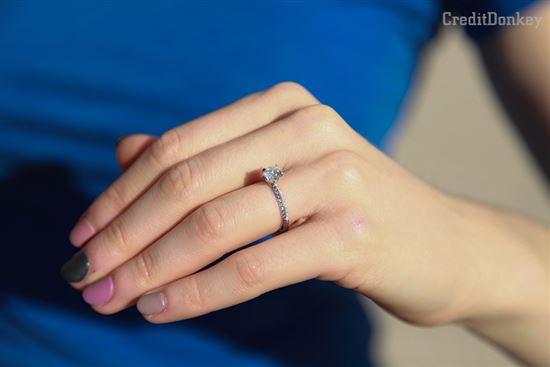 © CreditDonkey
Overall, the packaging is outstanding. James Allen really goes above and beyond what you'd expect from a jeweler, period. Even many physical jewelers won't present the entire package in such an elegant way.
Ring Cleaning: Cleaning your ring at home is easy. Just soak in warm water and soap and then scrub with a soft toothbrush. James Allen offers lifetime ring cleaning as well, but you'll have to part with your ring for a few weeks and pay for shipping costs.

Wedding Bands
It's smart to think about the wedding band at the same time as you shop for the engagement ring, especially if you want the rings to match. Matching rings will create a nice uniform look.
Finding matching bands. When you're looking at an engagement ring, if you scroll down all the way to the bottom, you'll see suggestions for matching wedding bands (if there is one). Sometimes a certain ring setting (such as a tension ring or some halo rings) need a specialized band that fits with its curves.

You don't need to decide right away if you want the matching wedding ring or not, but it's nice to know your options.

Men's wedding rings. Aside from the classic gold and platinum, James Allen also offers men's wedding bands in alternative metals. You can find more budget-friendly rings in titanium, cobalt, and ceramic.
How James Allen Compares

© CreditDonkey
Now let's take a look at how James Allen compares to other popular places to buy engagement rings. We'll go over some important factors to consider and why you may prefer one over the other.
James Allen Compared to Traditional Retailers
In our opinion, James Allen has the edge over traditional retailers. Here are some reasons why:
Wider Selection: James Allen has over 200,000 diamonds at every price, shape, and size. Your local jeweler will not have nearly as many options. If you're looking for something specific, you'll have limited choices. This means you may have to compromise on quality and/or budget.
Ability to see magnified videos: In many ways, this is even better than viewing diamonds at a store. If the jeweler isn't very trustworthy, he may not let you examine the diamonds under a magnifying glass. Also, James Allen's 360 SuperZoom feature allows you to view diamonds as if you're holding a jeweler's loupe.
Ability to request Ideal Scope images: You can request up to three Ideal Scope images for free on James Allen. It's a good idea to do this after you're down to your final three diamond choices. These images show the light performance of the diamond. Most jewelers at traditional stores do not have Ideal Scope images.
Cheaper prices: Since James Allen is an online store and does not stock their own diamonds, they save a lot on overhead cost. This allows them to offer better pricing to customers. In our research, we've found that James Allen's prices are as much as 40% cheaper than physical stores.
Browse in peace: Shopping from the comfort of your own home means you can spend hours browsing at your leisure. No pressure to buy, no pushy salespeople, no up-selling. This difference can help you find a ring you are happy with without the stress.

James Allen Compared to Blue Nile
James Allen and Blue Nile are at the top of the online engagement ring game. Let's compare the two so you can decide which one is better for you.
Benefits and Features

Selection

Inventory sourced from local diamond suppliers

Large selection of online diamonds, sourced from suppliers around the world

Customer Service

24/7 customer service

24/7 customer service

Data

Grading report, 360-degree HD video

Grading report

Return Policy
If you are not 100% satisfied with your purchase, you may return it in its original, unworn condition within 30 days for a full refund or exchange. Free return shipping only applies to U.S customers and is limited to three per customer.

30-day money back guarantee. Blue Nile will send you a fully insured free shipping label via email. Items must be in their original purchase condition, including all product documentation.

Warranty

James Allen warrant that all items will be free from any manufacturing defects at time of delivery. James Allen will repair and maintain your jewelry for a lifetime. Lifetime warranty offers free prong tightening, re-polishing, rhodium plating and cleaning services.

Lifetime manufacturer warranty. Terms and exclusions apply.

Buyback

Diamond buyback program through Mondiamo based on market value.

Resizing

All engagement rings and wedding bands, excluding eternity bands and alternative metals, may be resized once for free within the first year of purchase.

Blue Nile provides complimentary resizing for Build Your Own Rings®, and Diamond Bands when within the manufacturer's recommended sizing range, during the first year.

Upgrade Policy

Any loose diamond purchased from James Allen can be exchanged at 100% credit for any replacement diamond of at least 2X or greater value. The diamond that is being upgraded must be in original condition and accompanied by the original laboratory grading document.

Lifetime diamond upgrade program on all GIA and AGSL graded diamonds. You will receive credit equal to 100% of the original price toward the purchase of a new diamond. The price of your new diamond must be at least twice the price of your original diamond. Your diamond must be in its original condition with the original diamond grading report.

Price
Selection
Customer Service
Data
We zeroed in on specific areas that are most important to ring buyers:
Price: Both online retailers offer more competitive pricing than traditional brick-and-mortar stores. Sometimes, James Allen's pricing is lower than Blue Nile's for a comparable diamond.

For example, we searched for a 1-carat, Princess-cut diamond on both sites. We used Clarity: VS1, Color: G, and Cut: Very Good. With these specs, Blue Nile's diamonds started at around $4,500. On James Allen, comparable stones were priced between $500 and $700 less.


Both Blue Nile and James Allen offer a diamond price match guarantee, so you can be sure you get the best price. But the conditions are pretty strict.

Selection: Both James Allen and Blue Nile carry over 100,000 loose diamonds. But James Allen offers over 600 engagement ring setting choices, while Blue Nile has only about 400 settings. However, Blue Nile seems to have slightly more wedding ring styles.

Both retailers offer other fine jewelry as well, including pendants and earrings. James Allen has the edge when it comes to gemstones. But if it's pearls you're after, you'll find those at Blue Nile.

Diamond preview: James Allen used to the clear winner here, but Blue Nile has caught up now. James Allen provides an HD 360-degree view of every diamond in their collection. Blue Nile now has a video preview for most of their diamonds too, but some are still sold only by the specs.

One big advantage with James Allen is that you can request up to 3 IdealScope images for an even more detailed examination.

Inspection: This goes to James Allen too. James Allen's experts personally inspect every diamond before it's shipped to you. Blue Nile works on a drop-ship model with wholesalers all over the world. They ship the diamond blind.
Customization: We think James Allen has the edge here too. James Allen has more options when it comes to settings and metals. Blue Nile has very limited settings in yellow or rose gold. James Allen lets you create almost any ring in those metals.

James Allen is better for customized gemstone rings too. Blue Nile offers only preset gemstone engagement rings. James Allen has loose gemstones that you can set into a ring of your choice.

Service: Both companies have great reviews for their customer service. Both have reps available to answer questions and handle issues and problems by phone 24/7. You can even contact their team before you buy to ask questions.
In regard to policies, here's how the two compare:
Refunds: Both offer a 30-day guarantee for refunds or exchanges.
Warranty: Both offer a lifetime warranty. Blue Nile's warranty covers manufacturer defects and complimentary cleaning for diamond rings. James Allen's warranty covers cleaning, polishing, prong tightening, and rhodium plating for maintaining white gold.
Complimentary resizing: Both offer one complimentary resizing within the first year.
Why You Might Prefer Blue Nile
Still not sure? You may be better off shopping with Blue Nile if any of the following applies to you:
If you're looking for fine jewelry: Blue Nile has a much larger fine jewelry selection. It even has a nice selection of jewelry under $100.
You need some time to think it over: If you spot a diamond you like on James Allen, you'll have to act quickly to nab it - they go fast. Blue Nile, on the other hand, lets you reserve a specific diamond for up to 48 hours.
James Allen Compared to Tiffany
Tiffany is one of the world's top luxury jewelry brands. It is, of course, very expensive. But just how does it compare to James Allen?
Here are some important points to consider:
Price: We all know Tiffany will be more expensive, but just how much more so? Let's look at an example:

A 1.01-carat, I, VS2 round diamond in the classic platinum Tiffany setting costs $13,100. We designed the same ring on James Allen using this very similar setting and a diamond of the same specs. In total, it came out to $5,880. That's less than half the price of Tiffany.

Selection: James Allen, hands-down, wins in this department. If you're shopping in-person at a Tiffany store, it may only have a few options matching your specs or budget. This may mean that you'll have to make some compromises.

Even shopping online is severely limited. For example, we only see one option for a 1-carat H, VS2 round diamond in the Tiffany setting that's available for online purchase.

But James Allen's huge inventory means there are more choices. For example, there are currently over 120 1-carat H, VS2, Excellent cut round diamonds. You're bound to find one you like at the right price.

Quality: Tiffany's diamonds have already been pre-screened for quality. They don't go below color I and clarity VS2. And all diamonds are cut to Excellent standards. It's safe to assume that all Tiffany diamonds will be bright and eye-clean.

James Allen, on the other hand, sells diamonds of all qualities, including poor quality ones. You'll have to filter the search results yourself to look for the quality you want. James Allen does provide 360-degree videos of all diamonds so you can judge if it looks eye-clean.

Customization: Tiffany does not allow you to pick a loose diamond to place in a setting. You have to purchase the entire ring pre-set. So if you want the Tiffany setting, you're limited to what's available that's already mounted.

James Allen allows you to design your own ring by choosing your loose diamond and setting. It also has hundreds of setting designs, whereas Tiffany only offers a handful of iconic settings.

Certification: Tiffany uses its own in-house certification. Their diamonds are not graded by third-party labs like GIA. This is a point to consider if having proper certification is important to you.
Buying experience: Tiffany is unparalleled when it comes to in-person service. If you want to feel special and pampered, you'll enjoying shopping at Tiffany. And of course, you'll get to go home with that iconic little blue box.

James Allen has made the online shopping experience as good as can be. And many people like the ease of browsing at home with no pressure.
As for whether Tiffany is worth it, that's really up to personal preference. Some people want the brand and don't mind paying more for it. But understand that you can get a ring just as good quality (or even more so) for a lot less at places like James Allen.
Locations
James Allen does have a physical location in New York City. You can schedule an appointment to see their showroom on Fifth Avenue:
551 Fifth Avenue
6th Floor, Suite 601
New York, New York
You can enter by appointment only. Call customer service at 877-826-9866 or schedule it over live chat on the website.
Shop for diamonds at James Allen, a CreditDonkey #1 recommended partner for the best online experience.
Insurance
It's smart to insure your precious ring. After all, it's a huge financial loss if something happens. Insurance will provide protection if it's damaged, lost, or stolen.
James Allen is partnered with Jewelers Mutual Insurance Company. You have the option to insure your ring with Jeweler's Mutual. Some protections they offer include:
Protection against damage, loss, theft, and mysterious disappearance

You can choose your own jeweler for repair (to the same quality as original)

For lost rings, you can get it replaced with another one in the same brand and style
Virtual Ring Sizer
Finding her ring size is a tricky part of the process. If you get the size wrong, it's not the end of the world as most rings can be resized. But it ruins the magic of a romantic proposal followed by slipping on a perfectly fitted ring.
We do have some tips on secretly finding out her ring size. But if you're unable to do any of these, James Allen offers some help. You can either request a free ring sizer to be mailed to you, or use their virtual ring sizers.
There are two virtual ring sizers:
If you have a ring that fits: First, the sizer will calibrate your screen by measuring a credit card against your screen. Then hold up the ring over one of the circles to find the one that matches.
If you don't have a ring: Get a strip of paper or a string and wrap it around the ring finger. Mark the length of the circle. Then after calibrating your screen, hold the strip of paper up to the virtual ruler to find the ring size.
While this helps to get an idea, it may not be 100% accurate. If you do get the ring size wrong, James Allen offers one free resizing within 60 days of purchasing an eligible ring.
Order Status
Unfortunately, one of the most common customer complaints is the wait time.
When you place your order, James Allen will give you an estimated ship date (which is usually about 2 weeks out). But there are quite a number of reviews saying that their order was delayed. Some people already made proposal plans but the ring didn't come in time.
To avoid this stress, we suggest that you order the ring way ahead of time. Give yourself about a month before your planned proposal date. That way, you can receive it before your proposal and have enough time to return it if you need to.
Frequently Asked Questions
Why is James Allen cheaper?
James Allen doesn't stock their own diamonds. Instead, they get them from local suppliers around New York. This means they don't have expensive retail stores to pay for. And they aren't paying interest on the diamonds sitting on shelves. This allows them to cut overhead costs and offer better pricing.
Is James Allen reputable?
All James Allen diamonds are 100% natural and untreated. The diamonds are certified by either the Gemological Institute of America (GIA), American Gem Society (AGS), or International Gemological Institute (IGI).
Does James Allen charge sales tax?
James Allen collects sales tax on orders that are shipped to the following states: Alabama, Arizona, Arkansas, California, Colorado, District of Columbia, Connecticut, Hawaii, Idaho, Illinois, Indiana, Kansas, Kentucky, Maine, Maryland, Massachusetts, Michigan, Minnesota, Mississippi, New Jersey, New Mexico, New York, Nevada, North Carolina, North Dakota, Ohio, Oklahoma, Pennsylvania, Rhode Island, South Carolina, South Dakota, Tennessee, Texas, Vermont, Washington, Wisconsin, Wyoming, Georgia, Iowa, Nebraska, Utah, Virginia, and West Virginia.
Are James Allen diamonds conflict-free?
Yes, every diamond on James Allen's website is certified conflict-free. James Allen only works with vendors who are members of the professional diamond trade and procure their diamonds through legal sources.
Does James Allen have a store?
Yes, you can stop by the showroom to try on rings if you're in New York. The showroom is located in the heart of the NYC diamond district at 551 Fifth Avenue, 6th Floor, Suite 601. You can only enter by appointment.
Are the diamonds inspected?
Every diamond is inspected by James Allen's in-house experts before being shipped to you. This ensures that you are getting the exact diamond and quality you ordered.
Does James Allen offer discounts?
If you pay by wire transfer, you will receive a 1.5% discount on your entire order.
What if I order the wrong size ring?
James Allen offers one free ring resizing within 60 days of purchase. But please note that not all rings can be resized, such as eternity bands and tension settings.
Where does James Allen ship and what are the shipping costs?
James Allen ships worldwide for free, no matter the order amount. However, international customers will be responsible for any duties, VAT, or taxes charged by their country.
Bottom Line
Shop for diamonds at James Allen, a CreditDonkey #1 recommended partner for the best online experience.
James Allen understands that buying a diamond online is tricky. They really go the extra mile to make you comfortable. Their 360-degree HD videos have revolutionized the way people shop for diamonds. Add in their great pricing, liberal 30-day return policy, and lifetime guarantee, shopping at James Allen can be a real joy.
Most importantly, buying an engagement ring online through James Allen can give you confidence about what you'll get with the final product. Hopefully, that will trickle over into a happily-ever-after proposal.

Rebecca Lake is a journalist at CreditDonkey, a diamond jeweler comparison and reviews website. Write to Rebecca Lake at rebecca@creditdonkey.com
Note: This website is made possible through financial relationships with some of the products and services mentioned on this site. We may receive compensation if you shop through links in our content. You do not have to use our links, but you help support CreditDonkey if you do.
More from CreditDonkey:
Compare: