Gift Giving Statistics: What Is Underneath Your Christmas Tree?
---
Part of what makes a living room look so festive around the holidays is all the neatly wrapped gifts beneath the tree. Shiny wrapping paper, frilly bows, and decorative Christmas stockings make your imagination work double-time to fantasize about what's inside them all. The anticipation is sometimes more fun than actually opening the presents.
In that spirit, a survey by CreditDonkey.com asked people what gifts are they giving this year. The findings could make your guesses about what's underneath your Christmas tree more accurate.
What's Inside Those Packages?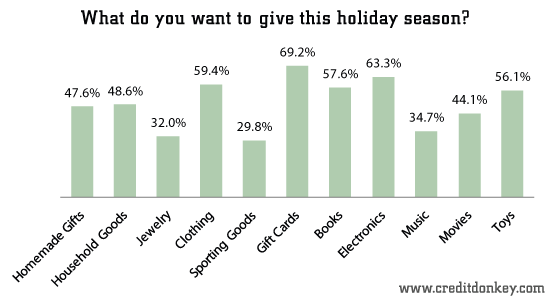 What do you want to give this holiday season?

© CreditDonkey
Gift cards: Seven in 10 people (69%) plan to give gift cards for Christmas. Still fairly new as acceptable presents, gift cards may seem like the easy way out of shopping, but they're actually what most people (82%) say they want. And, when chosen carefully, gift cards can be fun to give, as long as the giver takes the recipient's likes and preferences into account.
Electronics: Despite the high cost of electronics, 63% of people are going to give them this year. So, based solely on our survey, there is a good chance there will be a wrapped new phone, computer or tablet with your name on it. The number of respondents who want electronics (76%), outnumbers those who will give electronics.
Clothing: The majority of us (59%) plan to give someone clothes this year. It can be fun picking out outfits for others, and most people will be happy to get them, as 68% say they want clothes for Christmas.
Books: Whether a publication is in digital or print, many people are reading something these days, and 58% of people are going to add to someone else's reading collection this holiday. If you know the types of books a person likes, this is a great gift choice since 62% say they'd love to receive books.
Toys: Whether or not we have children of our own, the majority of us (56%) plan to give toys for Christmas. It's such a nice feeling seeing the look of excitement on kids' faces when they unwrap presents on Christmas. Parents, as you can imagine, will be giving even more, as 79% said they would be shopping the toy aisles this holiday season.
Who's Getting All the Gifts?
Of course, not all the present under the tree will be for you. If you have children, most likely you have wrapped up the majority of those presents yourself. But if you don't, then very likely you have devoted a significant amount of gift-giving to your spouse. Exactly half of our respondents who don't have children said their presents to their partner will take up the larger part of their holiday-shopping budget. In addition, 40% of people without children say they will put the majority of their money into gifts for their parents.
For people with children, it's a very different scenario. While 80% of parents plan to designate most of their spending on gifts on their children, 17% said they'll spend most of their gift budget on their significant other, and only 3% plan to do so for their own parents.
In addition to buying gifts for others, people also like to treat themselves for the holidays. For our survey, 43% of respondents admitted they will get a gift for themselves this year.
Do People Actually Keep Their Gifts?
Part of the anticipation of getting gifts is worrying about whether you will react appropriately. If you get something you don't like, it can be hard to pretend appreciation. Take solace in knowing you may be able to re-gift the present without regret. Seven in 10 people believe it's OK to re-gift a present that was given to them, and eight in 10 said they have no problem receiving a re-gifted gift. As long as such a gift is not personalized or sentimental, passing it along is considered acceptable.
As it is, the majority of people don't hold on to presents – 54% of people return their gifts to the store. They'd rather shop for their own things (hence the 82% who want gift cards for Christmas).
(From October 7, 2013 to October 11, 2013, CreditDonkey polled 1,076 Americans, age 18 and over, for their opinions and plans regarding the Halloween, Thanksgiving, and Christmas holidays.)
Jasmine Williams is a contributing writer at CreditDonkey, a credit card comparison and reviews website. Write to Jasmine Williams at jasmine@creditdonkey.com. Follow us on Twitter and Facebook for our latest posts.
Read Next: