Survey: Regifting Statistics
Half Suspect They've Been Regifted
---
If you've ever received an absolutely hideous or completely random gift, did you wonder if it had been "regifted"? According to a recent CreditDonkey.com holiday shopping survey, 49.7% of respondents have suspected they have been the second intended recipient of a gift. Regifting is when someone tries to pass off an item they have received to someone else as a present.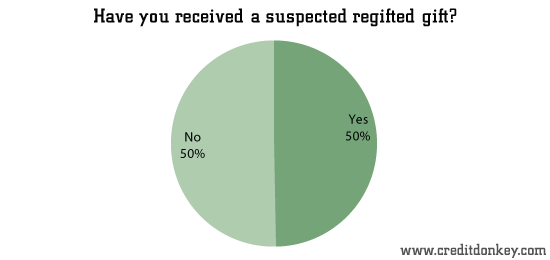 Have you received a suspected regifted gift?

© CreditDonkey
But people, tell the truth. Only 34.3% of respondents answered that they had ever actually given a regifted gift, which doesn't jive with the amount of people who think they have received a regift. Were gift-givers truthful in our survey, or are gift recipients unduly suspicious? Either way, the majority of gift-givers and receivers think it's just fine to receive a regift – 82.8% of the survey respondents gave their approval to the practice.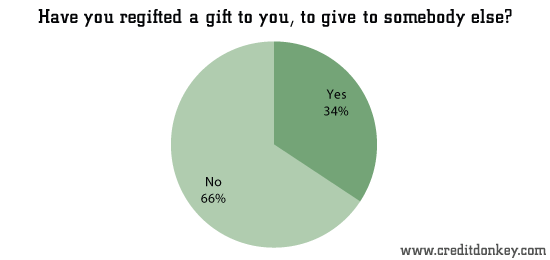 Have you regifted a gift to you, to give to somebody else?

© CreditDonkey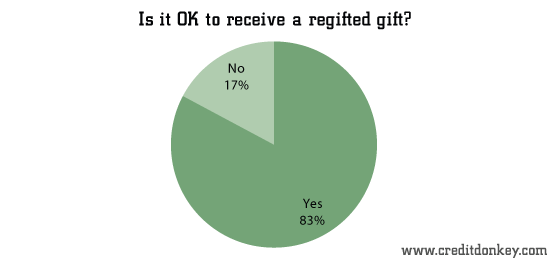 Is it OK to receive a regifted gift?

© CreditDonkey
Maybe this acceptance stems from the poor economy, as many are doing more with less. When asked if they plan to spend more or less on holiday shopping than last year, 50.7% of respondents said less, while 31.5% said more, and 17.8% are unsure what they will spend this year.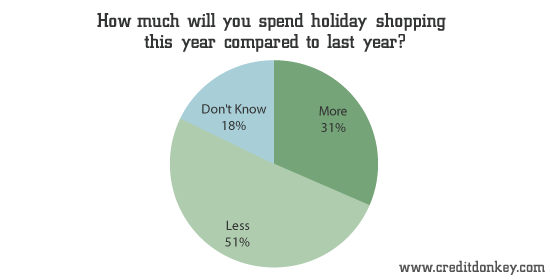 How much will you spend holiday shopping this year compared to last year?

© CreditDonkey
So, what are the rules for regifting? According to the Emily Post Institute, the etiquette experts, regifting is considered acceptable as long as you follow some ground rules.
Yes, it's OK: when you are re-gifting something that is brand-new and truly more useful and more desired by someone else (and that person is not the one who gave it to you). Be sure to remove all traces that it has once been gifted (old tape, bits of wrapping, etc.)
No, don't do it: when the present is so hideous and so awful that you're embarrassed to even give it to Goodwill. Then you just have to keep it, unless you want someone spreading rumors all over Facebook that you're a regifter.
Emily Post says to think through each regifting situation carefully and if in doubt, don't do it.
From October 9 to October 23, 2012, CreditDonkey.com polled 1,125 Americans, age 18 and over, about their holiday shopping plans using multiple choice questions and short-answer questionnaires.
Naomi Mannino is a contributing writer at CreditDonkey, a credit card comparison and reviews website. Write to Naomi Mannino at naomi@creditdonkey.com. Follow us on Twitter and Facebook for our latest posts.