How to Close a Bank Account
---
Closing a bank account doesn't need to be complicated. Find out how to handle the process easily and the best ways to avoid any fees below.
Many people put off closing a bank account because they expect a hassle. Others worry about losing money to fees or hidden charges. And some fear what may happen once they lose access to their account.
You can avoid any banking-related stress by following a few simple steps before closing your account. The most important thing is to remove any link between your account and external sources that would withdraw or deposit money into it.
These might be recurring or one-time bills or direct deposits that may be able to access your account. Typically, you can "disconnect" your account online with minimal work.
Read on to learn where to start.
How To Close Your Bank Account
Follow these simple steps to close your bank account as quickly and smoothly as possible.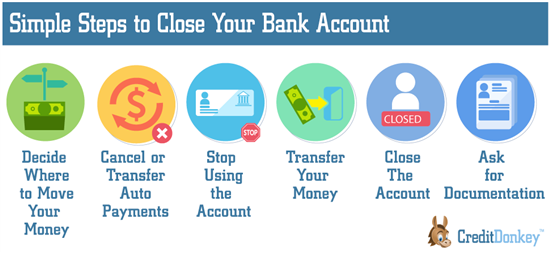 © CreditDonkey
Can you close a bank account online?
Some banks, especially online-only ones, allow you to close your account from your computer or mobile device. Typically, this entails filling out and submitting an account closure form.
Many traditional banks, including Chase and Bank of America, don't allow for online account closures. In those cases, you can download the required form by accessing your account through the online portal or app. Fill it out at home then visit a local branch. Or just call customer service and speak with a banking specialist to close your account.

Decide where to move your money
Unless you're planning to simply cash out the account, you'll need to transfer your money somewhere else. You can choose an account you already have or open one at a new bank.
How long does it take to close a bank account?
The actual act of closing your bank account should only take a few minutes. You'll need to contact your bank (either in-person, over the phone or online) and request a closure. But depending on the type of account, the steps you need to take beforehand can take anywhere from a couple of days to about a month.

Cancel or Transfer Auto-Payments
Autopayments let you pay bills without thinking about it. While that sort of effortless banking is convenient, it can cause issues when you try to close out an account.
If you forget to switch a bill to a new payment method, the bank may re-open your closed (and empty) account to pay the bill. These so-called "zombie accounts" can result in overdraft fees, monthly maintenance charges, and, in some cases, damage to your credit score.
The good news is, this problem is easy to avoid. Before you close your account, be sure to switch the payment method for any monthly or recurring bills including car payments; rent or mortgage bills; student loans, gym memberships and subscription services like Netflix or Hulu.
You can usually do this online. Start by logging into your account to access your previous monthly banking statement or online transaction history. These can help remind you of any auto-payments associated with your account.
But remember, not all payments are monthly—some accounts, like car insurance, generate bills only every six months or even yearly. It's worth taking a few minutes to review the last several statements, not just the most recent one.
Once you have a list of all your auto payments, you'll need to visit each account to add a new payment method, perhaps another bank account or credit card. Simply log in to access the account and input the new information.
Switch your Direct Deposit
If you have set-up direct deposit payments through work or other sources like Social Security, be sure to switch them to a different account. You don't want your money going to an account that you can no longer access.
Changing your direct deposit account can often be done online. Otherwise, your Human Resources representative or government caseworker can assist you. Be sure to have your preferred bank account AND routing number handy to save time.

Stop Using the Account
Allow 2-4 weeks to ensure all automatic payments have transferred successfully. If you are closing a checking account, this should also allow for any one-time payments or outstanding checks to clear.
If possible, you should avoid doing any banking activity through this account during that time—even debit card charges. You can still withdraw money as needed from an ATM but be sure to stay above any monthly minimum balance requirement.
Is there a fee for closing a bank account?
You shouldn't pay any money to close a bank account—provided your account was in good standing. However, if your account is less than six months old, your bank may charge a small fee, usually around $25.

Transfer your money
While you can settle your account at closing, it's usually easier to move your money to a new account beforehand. This can be done through an online ACH transfer to a different account (or bank).
This option is free, though some banks limit individual transfer amounts. Simply log in to access your account then complete the external transfer.
It may take 2-3 days for the money to clear. As soon as the funds appear in the new account, proceed to the next step to avoid incurring any minimum balance penalties connected to your account.
Can I access a closed bank account?
Once your account is closed, you can no longer access information or paperwork associated with it using your online banking dashboard or mobile app as closed. If you need something from that account, like a monthly statement, you'll need to contact the bank directly in-person, by phone or sometimes through their Message Center.

Close The Account
Once you've taken the appropriate steps, closing your account is simply a matter of contacting your bank. You can do this in several ways, depending on the financial institution.
Visit a branch: If you do your banking the old fashioned way, you can always visit a physical branch to close your account. Be sure to have the account number and a valid form of photo identification, like a driver's license, state I.D. or passport, to complete the short form they provide.

This form can be found on the bank's website. Log in to your account to access the document then print it out and take it with you.

Call customer service: Many banks allow you to close your account by calling their customer service line and speaking to a banking representative who will assist you through the process.
Use the website/mobile app: Some banks allow you to close your account directly from their online portal or mobile app. Sometimes it's as simply as accessing your account and emailing a request using their secure message center. In other cases, you'll need to fill out a form or click a dedicated link.
Mail a form: You can mail the appropriate account closure document directly to the bank's headquarters.
Once your account is closed, destroy any debit or ATM card, checks, and deposit/withdrawal slips associated with that account.

Ask for documentation
You'll want to request written proof that your account has been officially closed. You should receive a form letter within 10-14 business days along with your final account statement.
Review that statement carefully for any discrepancies or unexpected fees. You may also want to keep a digital or physical copy for your records.
What Happens When You Close A Bank Account?
If you have no money in your account upon closing AND you've successfully unlinked all auto-payments, then the bank will simply deactivate the account. Depending on the institution, that account may show up as closed in the online portal or mobile app for some time afterward.
However, you will not be able to access old banking statements related to that account. That doesn't mean they've disappeared—banks are required to keep records for a minimum of five years. For access to a statement from an old account, you'll need to contact the bank directly.
If any money remains in your account when you close it, you may receive those funds in a couple of different ways. For in-person closures, the bank will offer a certified check, wire transfer (usually for a fee) or free ACH transfer for the remaining balance, minus any relevant fees.
For closures over the phone or online, you can usually choose an ACH transfer, wire transfer or even a check mailed to your address.
Make sure your bank has your current, updated address and contact information before closing any account. You don't want your money getting mailed to an address or P.O. box that you no longer have access to.

Is It Bad to Close a Bank Account?

© CreditDonkey
As long as your bank account is in good standing, you shouldn't face any negative consequences by closing it. Your credit score, for example, should not be impacted, since normal banking activities like withdrawing or depositing funds don't affect your credit.
In fact, even bouncing a check or overdrawing your bank account through an online payment won't necessarily hurt your credit. Sure, you'll probably have to pay an overdraft charge. But as long as you successfully pay the bill before the due date, your mistake won't be reported to the credit bureaus.
There are a couple of ways that closing a bank account can be bad, however. Keep reading to find out what they are and how to avoid them.
Failing to Transfer An Auto-Pay Bill
Say you forget to provide a new payment account for your monthly car payment before closing your bank account. The car company may try to access your old account to withdraw money even though it's closed.
That means your bank may re-open this "zombie" account to pay the bill. The only problem is, the account won't have any money in it. Once the due date expires, the car company may report your lack of payment to the credit bureaus or send the bill to collections. Both of these actions will harm your credit.
To make matters worse, you'll also face overdraft charges and other penalties for a negative balance through the bank itself—for an account you thought was closed.
If your account has a negative balance
Generally, your bank won't let you close your account if it's in the red. You'll have to pay any balance, as well as the related fees and penalties. In some cases, banks could deactivate your account and even send it to collections if you don't settle up in time.
In the case of a checking account, this behavior can hurt your chances of opening another account later. Many banks access a potential customer's banking history through ChexSystem.
CheckSystem is a reporting agency that operates similar to the credit bureaus. It allows banks to see if you have a history of overdrawing your accounts or negative balances—and can even reject some applicants who wish to open accounts.
Online banking means higher interest rates and 24-7 access to your accounts. But
is it safe?
Reasons to Close Your Bank Account
Better rates or features: Consumers have plenty of options when it comes to banking. Many online banks offer higher interest rates, while traditional ones provide the convenience of local branches.
Wider ATM networks: You want to be to access your money whenever you need it and you don't want to waste it on fees for using an out-of-network ATM. Some banks offer huge nationwide ATM networks, which is a big plus for many consumers.
Too many accounts: As with credit cards, some consumers may find the number of bank accounts they have overwhelming. Many choose to consolidate their money in a smaller number of accounts.
BOTTOM LINE
Closing your bank account may require some extra planning, but it doesn't need to be a hassle. Take the proper steps to streamline the process and avoid any fees. And be sure you've decided where you plan to do your banking moving forward before making the switch.
Write to Kevin L at feedback@creditdonkey.com. Follow us on Twitter and Facebook for our latest posts.
Subscribe to CreditDonkey
Get updates on the latest deals and keep up with the best money moves.