Diamond Quality Chart: What to Know Before You Buy
This article contains references to products from our partners. We may receive compensation if you apply or shop through links in our content. You help support CreditDonkey by reading our website and using our links.
(read more)
---
Diamond are graded by their quality (the 4Cs). This chart helps you get up to speed on diamonds fast. Learn how to get the best value for your budget.
Diamond Clarity Grade Chart
:
FL (Flawless). Only about 2% of the world's diamonds fall into this category.

IF (Internally Flawless). Tiny surface blemishes that are only visible under 10x magnification.

VVS1 & VVS2 (Very Very Slightly Included). Very, very small inclusions that are hard to find under 10x magnification. They are only visible to trained professionals after intense searching.

I1 (Included 1st Degree). Flaws are visible even to the casual observer.
Most of you are probably shopping for diamond for the very first time. The whole process may seem very stressful, but it really doesn't have to be.
This comprehensive page is designed to help start your diamond education. We want to teach you about diamonds in an easy-to-understand, but thorough, way. Everyone has different preferences when it comes to such a personal item, and it's important to understand how to pick the best ring for you.
We will always give our honest opinions so you can make the best choice. Our goal is help you get the best value for your money, no matter how small or large your budget is.
Prices
Start here to learn about what characteristics to consider when shopping for the perfect engagement ring. Learn about what factors affects diamond prices and how to make the best choice for your buck.
Carat

Round Diamond Carat Size Chart © CreditDonkey
Carat is most important to most people. We get it that you may not want to compromise on size. But be careful because a lot of diamonds are cut poorly just to hit a certain carat weight. Take your time first to learn how carat affects price and how to get the best value.
Cut

Diamond Cut Scale © CreditDonkey
This is the most important of the 4C's. Cut affects the appearance and light performance of the diamond. This is the factor that makes the largest impact on a diamond's beauty. We always recommend that you focus on getting the best cut possible, and save on other areas if needed.
Color

Diamond Color Scale © CreditDonkey
This refers to the slight yellow tint that occurs in most diamonds. Learn the difference between the color grades and where to get the best bang for your buck.
Clarity

Diamond Clarity Scale © CreditDonkey
Almost all diamonds have flaws, however, most are too small to be seen with the naked eye. This is why clarity is the least important factor for us. Learn where the sweet spot is to save some serious money in this area.
Budgeting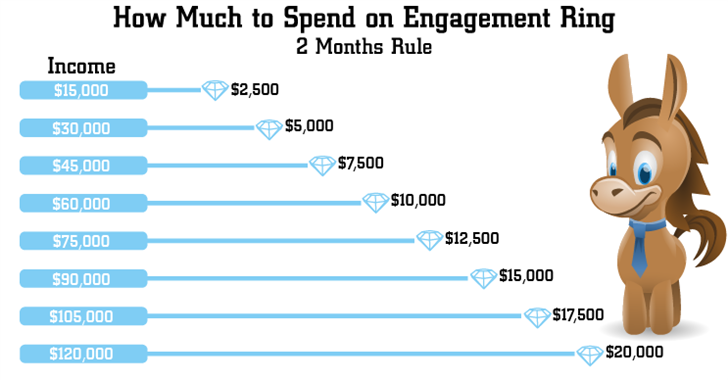 © CreditDonkey
Buying an engagement ring is no small matter. No matter how large or small your budget, this is one of the most important life purchases you will make. Learn how much to spend and how to choose the best ring at every budget.
Reviews
We are big proponents of buying an engagement ring online. Online retailers can offer pricing as much as 40% less than traditional brick-and-mortar jewelers. You'll also get a wider selection, so you have more to choose from within your budget.
Read detailed reviews of our favorite diamond retailers. All are reputable with their individual strong points.
Disclaimer: Opinions expressed here are those of the author's alone. Please support CreditDonkey on our mission to help you make savvy financial decisions. Our free online service is made possible through financial relationships with some of the products and services mentioned on this site. We may receive compensation if you shop through links in our content.
More from CreditDonkey: