Best in Crowdfunding: Top Business Experts
---
Looking to give your business a boost? Or are you searching for an alternative way to invest your hard-earned dollars? We've sifted through tons of crowdfunding platforms and resources to present you with the very best in this space.

Best in Crowdfunding © CreditDonkey
The Greatest Crowdfunding Options
Whether your small business is part of a niche industry or you're looking to put some cash toward a promising company, a crowdfunding platform is out there that'll fit your exact needs. In fact, as we looked around for crowdfunding resources to feature, we were overwhelmed by the sheer number that exists. So, we decided to pick only the very best for you to compare and contrast.
At CreditDonkey, we give you the info you need to make smart financial decisions, from how you raise the funds to keep your startup going to where you put your personal money when you have some to spare (keep in mind, very new companies do come with risks—and potential rewards).

Take a look at this list to see which crowdfunding company catches your attention.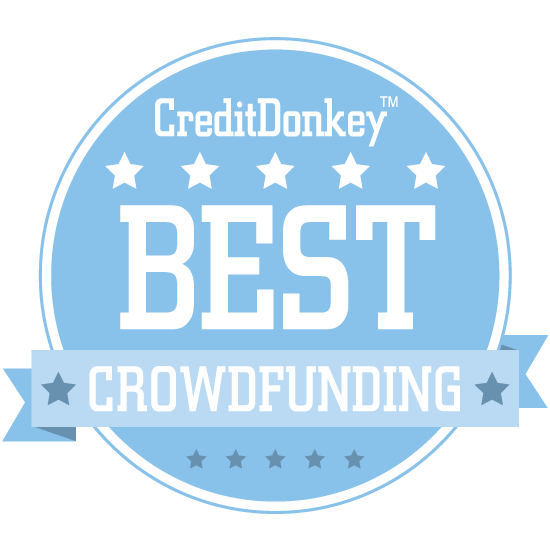 © CreditDonkey
CrowdFund Beat Media Group
CrowdFund Beat Media Group is a site for news and information for those in the crowdfunding business.

Why CrowdFund Beat Media Group is a Top Crowdfunding Resource: Crowdfunding professionals can use it to read up on new rules and regulations, news, opinion, and more. Of course, you can also find some great tips for running a successful crowdfunding campaign here.

Newchip


Newchip is a unique crowdfunding site that allows users to invest in, rather than donate to, startups.

Why Newchip is a Top Crowdfunding Resource: From B2B to clean energy to media, this site has a huge range of startups to choose from. You can search by the most popular investments, view pitches from each company, throw your support to the ones that interest you the most, and then manage and track your portfolio right from the site.

Read: Invest in Startups
Follow @newchipco

Rabble


Rabble works to connect investors with the environmental and social projects that will shape our future. Founder and CEO Umbar Bawa previously led project finance and strategic initiatives at the cleantech firm Spirae.

Why Rabble is a Top Crowdfunding Resource: It's a one-stop shop for passionate investors who want to invest in companies that do good for the world. Users just have to sign up, view the latest projects looking for investors, and pick the companies and causes they want to support; once a company starts making revenue, you'll profit too.

Read: 3D Ocean Farm
Follow @wetherabble

Bountysource


Bountysource is a funding platform dedicated to supporting open-source software.

Why Bountysource is a Top Crowdfunding Resource: Here's how it works: users can fund "bounties" on specific issues or features they want to see in software, and developers create solutions and claim the bounty. This results in free software everyone can use to resolve these issues, while developers are still paid a fair price for their work.

In addition to bounties (which are issue/feature specific), open source development teams can crowdfund their projects through monthly donations (SALT campaigns).

Read: Support Hangprinter: Print big at low cost
Follow @Bountysource

AgFunder


AgFunder is aiming to make investing in AgriFood technology easier than ever before. CEO and co-founder Rob Leclerc brings over 15 years of qualitative and quantitative experience to AgFunder, while co-founder and CIO Michael Lim has 20 years of legal, business management and project development experience.

Why AgFunder is a Top Crowdfunding Resource: Using their platform, you can access vetted investment opportunities from around the world on a deal-by-deal basis or through their managed funds. Their users also gain access to valuable research reports, news, and analysis that will help them make wiser investments.

Patch of Land


Patch of Land is a peer real estate lending platform that matches investors with borrowers seeking funding for rehabbing properties all across America. Co-founder Josh Fritton is a successful e-commerce entrepreneur who started Patch of Land with the goal of helping to rebuild communities that were shattered by the real estate crash and to democratize investing in an asset class that has historically been difficult to access for ordinary Americans.

Why Patch of Land is a Top Crowdfunding Resource: They use technology and data-driven processes to create transparency, allowing borrowers to get financing for projects that are often passed over by banks and other traditional lenders. The result is a streamlined process for getting real estate projects financed that will truly help grow communities.

Read: Patch of Land Expands Debt Facility With SF Capital to $30 Million
Follow @PatchOfLand

Kickfurther


Kickfurther allows buyers to purchase a brands' inventory, participating in online consignment and earning a profit. CEO Sean De Clerq has years of experience in the supply chain industry, and built the idea for Kickfurther on his own experiences searching for funding for his merchandising company.

Why Kickfurther is a Top Crowdfunding Resource: Buyers just pick a brand and purchase the inventory, helping to fund the company; once the inventory is sold, they get to share in the profits. This is a great way for brands to gain more funding, too, rather than going to banks for a loan.

Read: Exciting Kickfurther Update for 2017
Follow @kickfurther

FlashFunders


FlashFunders works to connect companies to global investors through an equity crowdfunding platform. President and co-founder Brian Park is a finance and venture investing professional, while co-founder Vincent Bradley is a serial entrepreneur who previously founded a virtual sports betting startup.

Why FlashFunders is a Top Crowdfunding Resource: They allow anyone to own a little piece of a company they believe in, for as little as $50. This provides investors with access to a new asset class and opens the door for more investors to help fund promising companies.

Read: HC Government Realty Trust
Follow @flashfunders

FundedByMe


FundedByMe works to create successful companies with great growth potential by matching them with passionate investors.

Why FundedByMe is a Top Crowdfunding Resource: This platform helps businesses of various sizes, from tiny startups to growing companies that need a cash infusion to achieve their goals. It's a great opportunity for investors to support and become involved with promising companies that they believe in.

Read: Falun Whitewater Park
Follow @fundedbyme

MedStartr


MedStartr is a crowdfunding platform that empowers doctors, patients, institutions, and investors to fund the best ideas in healthcare and make them a reality. Co-founder and CEO Alex Fair is a serial health tech entrepreneur who sold his first company while still working on his PhD, while co-founder and CTO Mike Pence worked with Alex at FairCareMD after leaving the Kickstarter team.

Why MedStartr is a Top Crowdfunding Resource: Medical professionals with a great idea or new product can use MedStartr to get the funding they need to get off the ground. They also work to connect companies with innovators in the medical field from around the world to generate more medical solutions for the world. They also run MedStartr.vc and grew out of MedStartr.nyc. They do events around the US, looking for the best startups to invest in and accelerate culminating at their year end conference MedStartr Momentum.

Read: Project Details
Follow @MedStartr

121Giving


121Giving allows charities to post their supply wishlists and show donors exactly where their money is going.

Why 121Giving is a Top Crowdfunding Resource: Charities can also use the site's crowdfunding platform to gain more supplies for their mission and partner with brands to help their money go further. They also have flexibility in how they use raised funds from 121Giving; they can use them to complete funds for big ticket items, buy supplies as needed, and more.

Follow @121giving

FanAngel


FanAngel is a crowdfunding platform specifically for school and club sports.

Why FanAngel is a Top Crowdfunding Resource: If your team is raising money for a trip, new uniforms, or new supplies, this is the platform that's built specifically for your needs. Schools keep over 90% of the funds they raise, and FanAngel's platform supports campaign customization that will help boost donations in a way a generic profile page never could. Plus, personalized per student pages and goals, along with automated reminders boost donations by as much as 100% over single campaign pages.

Read: How It Works
Follow @FanAngelSports

RealtyReturns


RealtyReturns is a real estate crowdfunding platform built to allow non-accredited investors to participate in the market. Co-founder and CEO Rexford R. Hibbs previously co-founded the first Title III equity crowdfunding platform in San Francisco, DreamFunded, while co-founder and CTO Alexandr Larionov built two successful crowdfunding platforms from the ground up prior to his work with RealityReturns.

Why RealtyReturns is a Top Crowdfunding Resource: If you want to start investing in real estate, you can start with them for as little as $1,000. All you have to do is sign up for a free account to start browsing, then make your investments, track your portfolio, and earn with ease.

Read: Blog
Follow @RealtyReturns

Publishizer


Publishizer is a crowdfunding platform for writers, allowing them to raise funds for the publication of their books.

Why Publishizer is a Top Crowdfunding Resource: Authors simply create a book proposal, then raise funds by selling pre-orders before their own software pitches publishers on your project. This isn't self-publishing; the pre-orders serve as proof-of-concept for publishers to sign you to a real book deal.

After the campaigns, Publishizer uses algorithms to match authors with relevant and interested publishers. This increased efficiency, coupled with validation from the pre-orders campaigns increase their rate of securing publishing deals for authors.

Read: Rough Diamond by Nicole Yershon
Follow @publishizer

Republic


Republic allows users to invest in early-stage startups, getting in on the ground floor with as little as $10. CEO Kendrick Nguyen was a founding advisor of CoinList and previously worked at Permal Group and Goodwin Procter.

Why Republic is a Top Crowdfunding Resource: This opens to door for anyone to become an angel investor and reap returns should their investments pay off. The startups they offer for investment are carefully screened to ensure they're impactful, disruptful, and run by a great team.

Read: Whim
Follow @joinrepublic

CrowdsUnite


CrowdsUnite is an educational service that guides its clients through the crowdfunding process from start to finish. CEO Alex Feldman previously worked for investment banks such as Lehman Brothers and Barclays Capital, and currently educates government agencies on the subject of crowdfunding.

Why CrowdsUnite is a Top Crowdfunding Resource: If you're planning a crowdfunding campaign, CrowdsUnite's education platform will give you the tools you need to spread the message and raise your funds. They'll help you find the best crowdfunding site for your project, and help you connect directly with crowdfunding experts for further guidance.

Read: CrowdFund Buzz Review
Follow @CrowdsUnite

Citizinvestor


Citizinvestor is a crowdfunding and civic engagement platform built to kickstart local government projects.

Why Citizinvestor is a Top Crowdfunding Resource: Government entities and their official partners can post an underfunded public project on the site, and citizens can make tax-deductible donations to it to support their community. The result is stronger, more beautiful communities and more engaged citizens.

Read: Lansdowne Plaza Pilot Project
Follow @Citizinvestor

SprinkleBit


SprinkleBit is a social investing platform that uses the power of the crowd to help all of its members make smarter investment decisions.

Why SprinkleBit is a Top Crowdfunding Resource: With SprinkleBit, you can join a community of investors of all skill levels and ask questions, take part in discussions, and glean valuable investment advice. They even offer interactive investment courses and a stock market simulator to help you practice your investment strategy before trying it out in the real world.

Read: Leaderboard
Follow @SprinkleBit
Note: This website is made possible through financial relationships with some of the products and services mentioned on this site. We may receive compensation if you shop through links in our content. You do not have to use our links, but you help support CreditDonkey if you do.
More from CreditDonkey: