Survey: Regifting
Finally, You Have Permission to Regift; Majority Don't Mind
---
If you've ever wondered what everybody really thinks about regifting and homemade gifts but were too afraid to ask, we did it for you. Our recent CreditDonkey.com survey says that both are widely acceptable gifts. Of course, a lot depends on the gift itself and the recipient.
The majority (82.8%) of respondents believe regifting is fine, even though regifting has gotten a bad rap in the past. Regifting is when people pass off a gift they received from someone else as a new present. Regifting can be a great thing to do if you received something you know someone else would love or if you can't afford to give a gift yourself. (Hint: When regifting, always remember who gave the original gift and don't try to pass off truly undesirable items on others…that's just tacky.)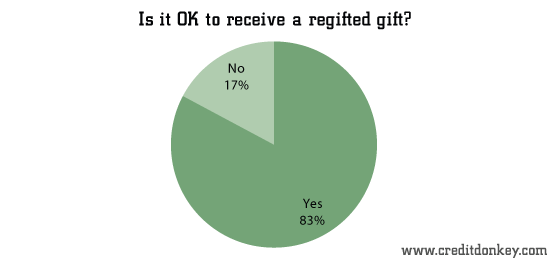 Is it OK to receive a regifted gift?

© CreditDonkey
Still, not many people have done it (or will admit to doing it). Just over one-third of respondents told us they have regifted. These regifters were overwhelmingly female – 41.3% women have actually regifted versus only 28.1% of men. Only about half of all the respondents said they had ever received a regifted item (that they know about).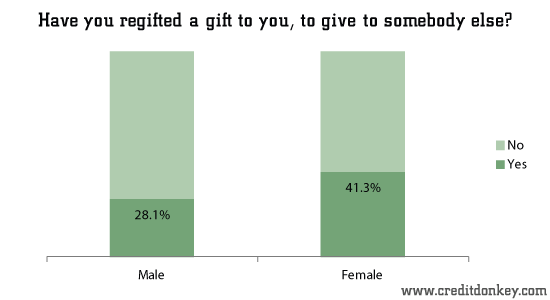 Have you regifted a gift to you, to give to somebody else?

© CreditDonkey
And what about homemade gifts? It turns out that more than half overall (52.2%) do want to receive homemade gifts. A homemade gift can qualify as anything handmade by the gift-giver, such as crafts or artwork, holiday decorations, music recordings, or baked goods. They work best if you know the receiver will truly appreciate the efforts taken to make the gift.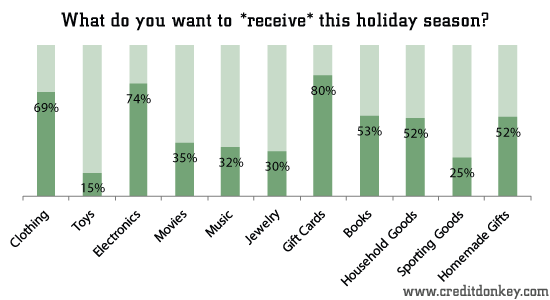 What do you want to receive this holiday season?

© CreditDonkey
As you might expect, the homemade gift givers are overwhelmingly women. Our survey found that 61.5% of women want to give a homemade gift while 63.6 percent of men do not want to give a homemade gift.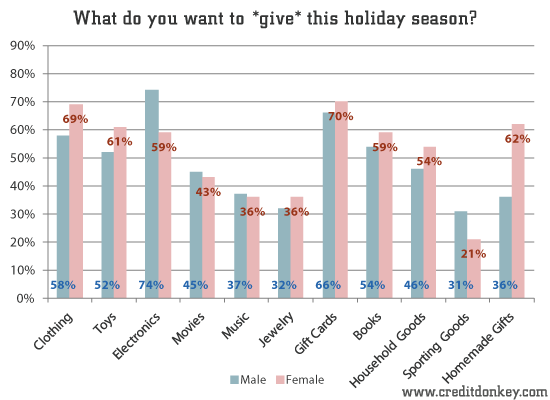 What do you want to give this holiday season?

© CreditDonkey
It depends on the woman of course, but our survey found that a higher percentage, 63.9% of women, answered that they wanted to receive homemade gifts. Only 42.4% of men agreed.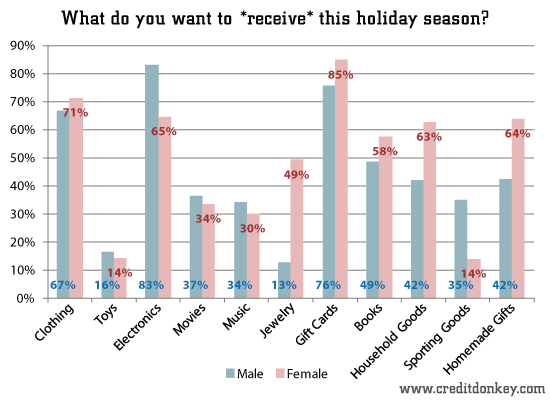 What do you want to receive this holiday season?

© CreditDonkey
From October 9 to October 23, 2012, CreditDonkey.com polled 1,125 Americans, age 18 and over, about their holiday shopping plans using multiple choice questions and short-answer questionnaires.
Naomi Mannino is a contributing writer at CreditDonkey, a credit card comparison and reviews website. Write to Naomi Mannino at naomi@creditdonkey.com. Follow us on Twitter and Facebook for our latest posts.