23 Scary-but-Exciting Startup Failure Rate Statistics
---
Want to become an entrepreneur? Understand why many startups fail to increase your chances for success. Read on for 23 eye-opening statistics.
Owning your own company comes with a lot of perks, and more people than ever are jumping on the startup bandwagon. Approximately 543,000 new businesses launch every single month, and many of them face some major hurdles as they struggle to get their footing in the marketplace.
If you have designs on becoming an entrepreneur, it's not something you can afford to take lightly. Making your startup a success takes more than just a great idea and fat bankroll; it also means understanding the competition, developing clear goals and a plan for achieving them, and identifying the biggest obstacles that can hinder your success.
CreditDonkey previously examined what determines whether your business idea will sink or swim, and now we turn our focus to startup success. Using data from several different sources, we've put together a breakdown of how often startups fail and why. Before you start applying for business loans or kick off your marketing campaign, you'll want to give these eye-opening facts and figures a closer look.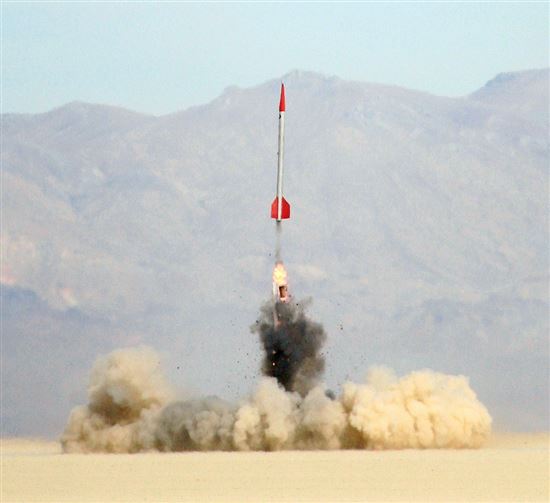 Rapid Unscheduled Disassembly © Steve Jurvetson (CC BY 2.0) via Flickr
FAILURE RATES: THE FIRST TEN YEARS
While making it past the first year is what most startups tend to focus on, you've got to keep an eye on the bigger picture. The more time passes, the tougher it becomes for new businesses to maintain their longevity. Here's the scoop on the percentage of startups that failed during the 10-year period between 2005 and 2015.
1st Year - Approximately 19.9% of startups that opened in 2000 failed within the first year of doing business.
2nd Year - By the end of year two, the overall failure rate increased to roughly 31.3%.
3rd Year - In the third year, the number of startups still in businesses dropped another 12%, bringing the total failure rate to 39.8%.
4th Year - Year four brought a slight dip of just 7.6%, with around 52.6% of startups still treading water.
5th Year - The five-year mark is a danger zone for many startups; just 46.8% of the businesses that were founded in 2005 made it this far.
6th Year - Beginning in the sixth year on, the failure rate slows down dramatically to about 3.6% each year. By now, about 56.8% of startups have disappeared.
7th Year - Seven may be a lucky number for some but for startups, it signifies the point at which the success rate drops to 40.5% .
8th Year - Once year eight rolls around, the failure rate tops 61.8% for the first time, with just 38.2% of startups still in business.
9th Year - The decline continues in the ninth year, with approximately 35.9% of startups continuing to forge ahead.
10th Year - Reaching the 10-year anniversary is a major accomplishment for small business owners, especially considering that only 33.8% of startups are able to say they've done it.
TOP REASONS WHY STARTUPS FAIL
There are so many things that can contribute to a startup's failure; most of the time, there's more than one factor at work. Poor marketing, a lack of a strong business model and a shabby product definitely play a role but there are some things that have a stronger influence than others.
Poor management - A strong leadership core is essential when you're trying to build a small business, but choosing the right people is often challenging. Approximately 23% of failed ventures cite issues among the support team as a barrier to success.
No demand - No matter how great your business idea is, it's virtually worthless if there's no one lined up to buy. An estimated 42% of new businesses fall flat due to a lack of demand in the market for the products or services it provides.
Lack of funding - Money issues also come into play; 29% of businesses run out of cash before they're able to get fully established. As a result, about 75% of startups that are funded by venture capital are never able to show investors a return on their money.
Inability to compete - Scoping out the competition is a must for any startup, especially considering that nearly 19% of new businesses tank because they can't keep up with the major players in their industry.
Pricing issues - Customers are always on the hunt for value. For 18% of failed businesses, issues with pricing their products and services was a factor in their demise.
Related: Why Small Businesses Fail
HIGHEST FAILURE RATES BY INDUSTRY
The industry you enter has a significant influence when it comes to determining whether your startup is able to stay put for the long haul. Here's a look at the industries that have the worst failure rates for new businesses within the first five years.
Construction - Construction-based businesses have the hardest time succeeding; only around 36% are still going strong at the five-year mark.
Communications/Utilities - Tech-based startups are a hot commodity but they're also among the most volatile, with just over 39% managing to stay afloat after five years.
Transportation - Transportation is another area where businesses tend to come up short. Only about 39.4% are able to say they're successful after five years.
Finance, Insurance, and Real Estate - If you're thinking of starting a business in the financial sector , keep in mind that less than 40% make it to their fifth anniversary.
Retail - Retail businesses manage to succeed after five years approximately 41% of the time.
Related: Industries with Low Barriers to Entry
FAILURE RATES VS. EXPERIENCE
When it comes to turning your startup dreams into a reality, it's all about trying and trying again. Statistically, your success rate increases with each time you're willing to walk down the entrepreneurial path. Persistence and perseverance can go a long way towards helping you reach your goals.
First-time entrepreneurs - The success rate among first-time entrepreneurs is a low 18%, but that doesn't mean you should give up right away.
Second-timers - Even if your first attempt fails, there's a silver lining to keep in mind. The odds of succeeding increases to 20% for entrepreneurs who give launching a startup a second try.
Seasoned pros - Once you've got at least one win under your belt, the chances of making your next attempt stick goes up to 30% if you've got a venture capitalist backing you up.
Related: Are You an Entrepreneur?
THE BOTTOM LINE
While some of these statistics aren't exactly encouraging, you shouldn't let them deter you from pursuing your entrepreneurial dreams. Sure, we can't all be Mark Zuckerberg, but with some careful planning, a healthy dose of patience, and a lot of determination, it's possible to join the ranks of successful startups.
Sources and References
Rebecca Lake is a journalist at CreditDonkey, a credit card comparison and reviews website. Write to Rebecca Lake at rebecca@creditdonkey.com. Follow us on Twitter and Facebook for our latest posts.
Note: This website is made possible through financial relationships with some of the products and services mentioned on this site. We may receive compensation if you shop through links in our content. You do not have to use our links, but you help support CreditDonkey if you do.
Read Next: