How to Start a Business from Home
---
Ever thought about starting your own business? What if you could start one from your own home? Whether you're just looking to make a little extra income from a hobby, want to be your own boss and live on your business' income, or are hoping to found the next billion dollar tech company, here are some basic steps to get your home-based business up and running.

Infographic: Home Business Startup

© CreditDonkey
Step 1: Make sure you're ready
Starting a business, even a home-based business, is a big commitment in terms of time and could be a financial risk. Before you decide to start a business, do some research to make sure you fully understand the elements that go into starting and running a successful business. The Small Business Association has some great resources available.
Step 2: Put a plan in place
Before you jump into starting a business, put together a plan for how you'll run it. It doesn't have to be extensive. Identify the costs, including labor, that will go into producing your product or service, and the amount you'll charge. This will give you some idea of your profit margin, which is the selling price minus your costs. Make sure you have a positive profit margin - otherwise, you'll actually be losing money every time you make a sale.
Step 3: Make a place for your business in your home
Having a spot that's "just for business" within your home will help you concentrate on getting tasks done and prevent you from getting caught up in household duties when you need to be focusing on work. Having office space in your home can also get you some tax deductions.
Also, let your family members know that when you're on the clock, you shouldn't be bothered except for emergencies. Since you'll be more visible around the house, it'll be easier for others to take advantage of you. At the same time, don't let the business take over your life - the line between business and home life gets blurry when you're living and working in the same place.
Step 4: Get your finances in order
You'll need to come up with a financial system for making and receiving payments. All record-keeping and finances should be kept separate from your personal accounts. To begin this process, register your business name at your county clerk's office and get a tax ID number through the IRS.
In addition, open a business checking account at your local bank and consider getting a business credit card. Both will help you build credit under your business' name and make it easier to pay for your supplies and other expenses. Business credit cards come with rewards and incentives, and they help you manage the ebbs and flows of your cash holdings.
Afraid your bad credit will keep you from getting business loans?
United Capital Source explains
how some flexible lenders are working with less-than-ideal credit.
Funding is another financial consideration in starting and running your business. Many people start businesses with their own personal savings or by borrowing small amounts of money from friends, relatives, or even investors. Another option is to see if your local bank makes small-business loans. Remember, success isn't guaranteed and if your business fails, you'll still have to pay back any money you borrow.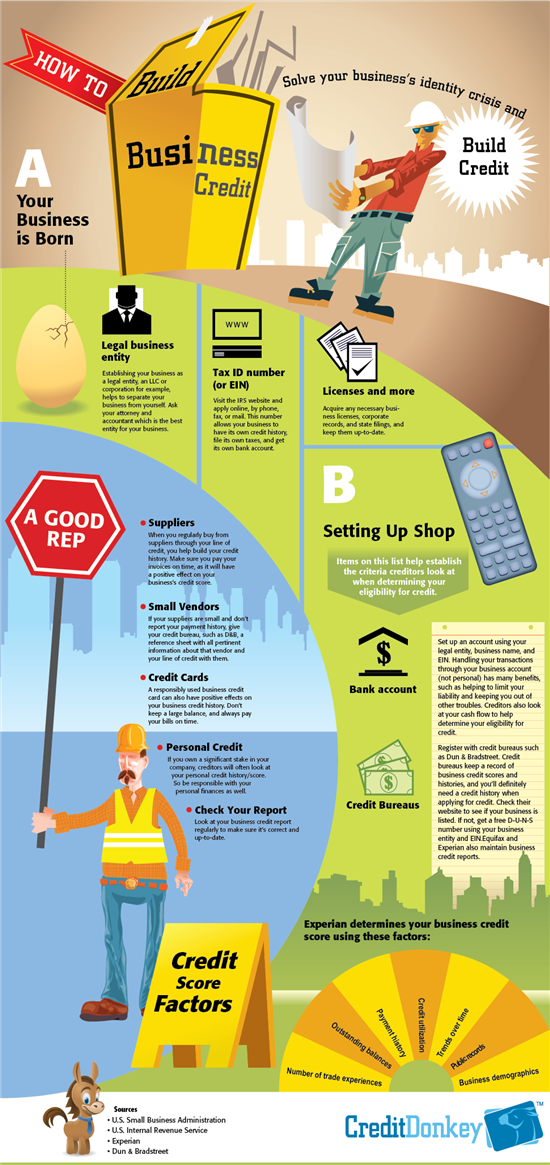 Infographics: How to Build Business Credit

© CreditDonkey
Step 5: Start small
If you've successfully completed the four previous steps, you're ready to actually begin operating your business. Start small and don't overextend your resources. If you're selling a product, don't keep too much inventory on hand in the beginning. If you're a service business, don't take on too many new customers at a time.
If possible, try to finance your operations through sales. When you start slow and calculate your profit margins correctly, most of your costs should be able to be covered by your revenue. As an example, let's say you're making small pieces of furniture out of wood. You'll need to pay for your initial wood supply out of pocket because you won't have any sales yet. But once you make and sell your first few pieces, use your revenue to purchase the materials for your next pieces. This will serve two purposes - it will keep your inventory at a manageable level, and it will minimize your financial risk. As you grow, this business model won't be so easy to maintain, but it's a good way to get started if you have little experience in running a business.
Infographic: What Makes Small Businesses Sink or Swim

© CreditDonkey
Step 6: Market yourself
Your marketing campaign doesn't have to be expensive or overly complex. If you're running a tutoring business, for example, it could be as simple as printing fliers and leaving them in strategic locations, like the library. Social media is also a great - and free - way to spread the word about your services. Put together a LinkedIn profile, create a Facebook profile for your business, and try to build a following on Twitter. If you're looking to put more money into marketing, contract with a graphic designer to design a logo and help you build a simple website.
Step 7: Grow your business
Keep in mind that the business only needs to get as large as you'd like it to be. There's nothing wrong with keeping your business small and easily manageable as either a hobby or a part-time commitment.
If you are interested in building a larger company, you'll need to understand the complexities that come along with it. Eventually, you'll probably need to hire some employees. You may begin to require the services of outside companies to help with operations like IT, accounting, and marketing. Much of this you'll learn about as your business progresses, but you may want to speak with other business owners in your area to learn from their experiences. Most entrepreneurs are happy to give advice to other entrepreneurs, and networking will get you out of the house.
A home-based business is far from an easy way to make money, but if it's based on something you're passionate about, it can be an enjoyable and satisfying way to make some extra cash - or even to make a living! If you do decide to take the plunge and start a business, knowing what you're getting into, planning ahead, and not overextending your resources will improve your chances of success while minimizing your financial risk.
(Graphic Writing by Kelly; Graphic Design by Estefan, Marcelo, Tina)
Leah Norris is a research analyst at CreditDonkey, a credit card comparison and reviews website. Write to Leah Norris at leah@creditdonkey.com. Follow us on Twitter and Facebook for our latest posts.
Note: This website is made possible through financial relationships with some of the products and services mentioned on this site. We may receive compensation if you shop through links in our content. You do not have to use our links, but you help support CreditDonkey if you do.
Read Next: