Study: Best Small Cities to Get Rich
---
What's the best place to get rich? The most obvious answer to this question is probably big-city settings: Wall Street, the technology company campuses of San Jose, or—if you're very lucky—the roulette tables of Las Vegas. But don't overlook the smaller cities. These locations may not have the cache of New York or San Francisco, but they have some of the same promise for go-getters ready to start a career or a business.
Study Methodology
Looking at U.S. metropolitan areas with populations between 250,000 and 850,000, we considered three factors:
Percentage of high-income households

Local economic growth

Patents granted
We started by considering the percentage of households in each area with incomes of $150,000 a year or more. This data, from the U.S. Census, gives a sense of whether high-salary jobs are common in a particular area. On average, of the smaller urban areas cities we considered, 7.1 percent of households make that much.
Next, we considered how quickly these urban areas are growing. For this, we used gross domestic product numbers from the U.S. Bureau of Economic Analysis, considering growth from 2008 to 2011. On average, the places we looked at grew by 6.2 percent over that time.
Last, since innovation is a big way many people get rich, we looked at the number of patents granted in each area in 2011, using data from the U.S. Patent and Trademark Office. The average number granted in these areas was 188.
10 Best Small Cities to Get Rich
1. Oxnard-Thousand Oaks-Ventura, CA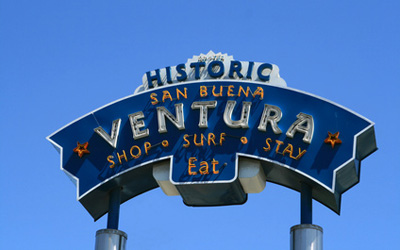 Ventura, California
High Income Percentage: 16.9%

GDP Growth: 12%

Patents: 535
The Ventura County area, west of Los Angeles, was hit hard by the housing crash and Great Recession in 2008. But it's bounced back with a vengeance, with GDP rising 12 percent between 2008 and 2011. The area has traditionally been known for its orange groves and lush fields of strawberries, but these days agriculture has largely given way to high tech companies, including major biotech and defense companies. The area won 535 patents in 2011, and more than three out of every 20 households are in a high income bracket.
2. Poughkeepsie-Newburgh-Middletown, NY
High Income Percentage: 13.5%

GDP Growth: 9.5%

Patents: 756
Close enough to New York City to schedule a lunch meeting with big-city venture capitalists but far enough to avoid the big-city stress, this part of upstate New York boasts 756 granted patents, putting it fourth on our list for that measurement. It also did well on local incomes, with 13.5 percent of households making $150,000 or more. In terms of GDP growth, the area is just below the double-digit threshold with a still-impressive 9.5 percent increase.
3. Durham-Chapel Hill, NC
High Income Percentage: 9.5%

GDP Growth: 14.1%

Patents: 522
Durham and Chapel Hill are two corners of North Carolina's Research Triangle, an area that has been famous since the 1950s for its top-tier universities and technology-based businesses. Durham, known as the City of Medicine, is a center for biotechnology, life science, and health care companies. Duke University is also located here, providing a ready supply of highly educated workers. Meanwhile, the University of North Carolina at Chapel Hill is also a major research institution and, with about 30,000 students, is almost a small city itself. This region's GDP growth of over 14 percent put it in the top 10 of the areas we reviewed. In addition, its 522 patents and 9.5 high-income percentage are also well above average.
4. Madison, WI
High Income Percentage: 9.3%

GDP Growth: 10.6%

Patents: 382
Madison is another college town, home to the large, research-focused University of Wisconsin flagship campus. This laidback Midwestern city also won 382 patents, well above average, and grew by more than 10 percent. Despite the large numbers of college students here, more than 9 percent of households make $150,000 or more.
5. Worcester, MA
High Income Percentage: 12.1%

GDP Growth: 8.8%

Patents: 536
Boston got the second-highest score on the CreditDonkey ranking of the best major cities to get rich. Its little sister to the west doesn't do too badly, either. Like Boston, the Worcester area is known for high-tech industry, particularly biotechnology and medical device companies. Worcester won 536 patents and grew by 8.8 percent. And, although the area has a far lower cost of living than Boston, more than 12 percent of households are in the high-income category.
6. Trenton-Ewing, NJ
High Income Percentage: 19.3%

GDP Growth: 7.5%

Patents: 383
Like many American cities, Trenton got a bad reputation decades ago as the manufacturing industry dried up and many middle-class people left. Yet this urban area, right outside of Philadelphia, is also a place where close to one in five households brings in an income of $150,000 or more. It won 383 patents in 2011, and its economy grew by 7.5 percent between 2008 and 2011.
7. Albany-Schenectady-Troy, NY
High Income Percentage: 8.5%

GDP Growth: 8.7%

Patents: 713
Albany's star may never shine as bright as New York City's, but the state capital has a lot to be proud of when it comes to the opportunities its residents enjoy. This area is the center of what local development cheerleaders call "Tech Valley," a cluster of academic research programs and growing companies that aim to develop new initiatives in fields like nanotechnology. In keeping with that technology focus, the area won 713 patents, and its economy has grown at an impressive 8.7 percent. In addition, just over 8 percent of households make $150,000 a year or more.
8. Des Moines-West Des Moines, IA
High Income Percentage: 8.3%

GDP Growth: 13.1%

Patents: 233
"Get rich" and "Iowa" are words that don't intuitively go together. However, between 2008 and 2011, the Des Moines-area economy grew by 13.1 percent. The generally high-pay financial services industry employs a big part of the local population, according to the Greater Des Moines Partnership. Growing industries like bioscience and data centers are strong here as well. The booming commodities market also supports the area's economy, given all the nearby farmland. Des Moines had a respectable 233 patents, and 8.3 percent of households fall into our high-earner category.
9. (tie) Bridgeport-Stamford-Norwalk, CT
High Income Percentage: 24.7%

GDP Growth: 6.1%

Patents: 682
This economically diverse area includes both affluent Greenwich and some tough neighborhoods in Bridgeport. Overall, though, it's an area where riches are very evident, with nearly a quarter of households making $150,000 or more, putting it number one on our list for that measure. A number of big corporations have their headquarters in Stamford, and the region scored high for innovation with 682 patents. Economic growth was respectable, at 6.1 percent.
9. (tie) Colorado Springs, CO
High Income Percentage: 8.9%

GDP Growth: 11.5%

Patents: 197
This area's economy centers on military institutions and the aerospace and electronics industries that have grown up around them. Military spending kept those industries relatively strong when some other high-tech sectors suffered from the effects of the Great Recession. The local economy grew an impressive 11.5 percent between 2008 and 2011. The percentage of households at high income levels is well above average at 8.9 percent, and the area won nearly 200 patents.
---
Of course, just because a city has a growing economy, high-wage jobs, and innovation doesn't mean it's the best place for every ambitious person. Particularly for small cities, it's important to look at local industry clusters. Hartford might be a great place to join an insurance firm but not so good if your field is biotechnology, while the reverse might be true in Durham-Chapel Hill. And of course, no matter where you live, riches are most likely to come to those who work ridiculously hard and get a few lucky breaks here and there.
Wherever you end up landing, and whatever business you're in, find some tips on how to make the most of your financial assets in the CreditDonkey financial tips for young adults.
Livia Gershon is a contributing writer at CreditDonkey, a credit card comparison and reviews website. Write to Livia Gershon at livia@creditdonkey.com. Follow us on Twitter and Facebook for our latest posts.
Note: This website is made possible through financial relationships with some of the products and services mentioned on this site. We may receive compensation if you shop through links in our content. You do not have to use our links, but you help support CreditDonkey if you do.