Best in Sales and Marketing: Top Business Tech
---
Accelerate your sales and marketing process. Winners of the CreditDonkey Best in Sales and Marketing Award have been announced.

Best Sales and Marketing

© CreditDonkey
The Latest Innovations for Finding and Keeping Customers
If you're like most small business owners, your resources for marketing and sales are tight. Perhaps you're trying to do most or all of the outreach for new customers yourself. If it gets neglected or doesn't get the attention it needs, your business will suffer.
Advances in software and innovative companies have combined to create solutions that take out a lot of the tough, time-consuming work involved in marketing and sales. With the right solution, pushing out messages, managing lists, testing messages, and segmenting your audience can be done with the push of a few buttons. Find the right solutions for your business, and you've freed up a big chunk of time for strategic thinking around your marketing and running the business.
But first you need to choose which solutions are right for your business needs. There are a ton of sales and marketing apps, software, and tools out there vying for your attention, but only the ones on this list are the cream of the crop.
CreditDonkey specializes in helping small business owners with their capital spending by reviewing and comparing service providers. This list is a starting point for finding the best fit for your company.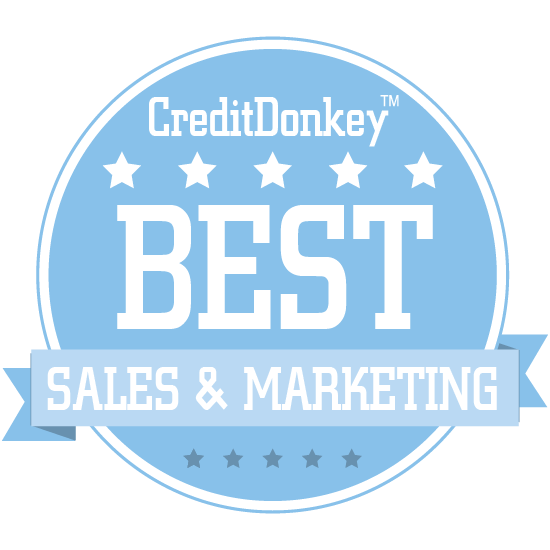 Best Sales and Marketing

© CreditDonkey
Note: This website is made possible through financial relationships with some of the products and services mentioned on this site. We may receive compensation if you shop through links in our content. You do not have to use our links, but you help support CreditDonkey if you do.
Read Next: