---
Round diamonds have unmatched brilliance, but it's important to know how to choose. Read on to learn how to buy the perfect round diamond for the best value.
Round diamonds are the classic beauties of the diamond world. They are timeless and look good with everything.
However, round diamonds are the most expensive. If you don't know what you're doing, you could be making a costly mistake.
This guide will show you how to shop for a round diamond so you get the biggest, best-looking stone for your budget.
What is a Round Cut Diamond
Round diamonds are the most popular diamond shape. 47% of brides choose a round center stone. The shape is timeless and looks great in just about every style ring.
Round diamonds are the most brilliant of all diamond shapes. A typical round cut diamond today has 58 facets. It's been perfectly engineered to reflect the maximum amount of light.
Because they're so sparkly, round diamonds can hide flaws and mask colored tints better than other shapes. This means you can get away with lower color and clarity grades.
Key Features of Round Cut Diamonds
To get the best sparkle, you should only choose an Excellent cut. As a guide, here are the proportions you can expect from an excellent, good, and fair cut diamond.
Note: The final cut grade is based on the stone's overall features. You can find this on the grading report.
| | Excellent | Good | Fair |
| --- | --- | --- | --- |
| Table % | 55-59% | 53-60% | 52-62% |
| Depth % | 61-62.5% | 60-63% | 59-64% |
| Crown Angle | 33-35% | 32-36% | 31-37% |
| Pavilion Angle | 40.6-41% | 40.2-41.4% | 39.6-41.8% |
| Girdle Thickness | Medium to Slightly Thick | Extremely Thin-Very Thick | Extremely Thick |
| Culet | None | Very Small | Small |
What is a Round Brilliant Cut Diamond?
Brilliant cut diamonds are cut in a particular way that maximizes sparkle. They have many facets, usually 57-58, made at precise proportions and angles to each other. Rounds are the most common, but they also come in fancy shapes.
There are other types of cuts aside from brilliant diamonds. This includes step, old European, and old mine cuts. While they don't give the best sparkle, they're still stunning in their own ways. Check them out to see if they suit your taste.
What is an Old European Cut Diamond?
Old European diamonds are predecessors of the brilliant cut. They have a smaller table and a higher crown, creating colorful flashes of light inside the stone. This antique cut was popular during Art Deco, so they're a great choice if you like something vintage.
Why are Round Diamonds Popular?
Two things make round diamonds so popular: they're the sparkliest cut and they never go out of style. Diamonds are loved for their brilliance, and you'll get the most sparkle with a round cut. Because it's classic, it pairs well no matter the ring setting and the wearer's personal style.
That's why a round diamond ring the safest choice if you don't know what your partner likes. As long as you pick the right quality, you can't go wrong with round cut engagement rings.
Pros and Cons
Is a round diamond for you? Here are some pros and cons to consider.
Pros:

Timeless and classic; will never go out of style

Most brilliant of all diamonds

Universally flattering for all hand types

Looks good with all engagement ring styles

Hides flaws and masks color

No corners; good for active lifestyles
Cons:

Most expensive of all diamond shapes

Looks a bit smaller compared to other diamond shapes

Most common shape; not unique
Pricing for Round Cut Diamonds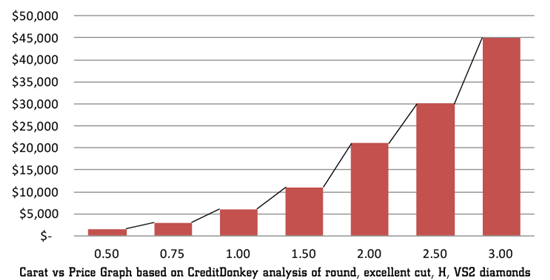 Diamond Price vs Carat

© CreditDonkey
Round diamonds are the most expensive, costing 20% - 40% more than other diamond shapes. This is mostly because of two reasons:
1. Round diamonds have the highest demand
Many things about round diamonds make them such a well-loved cut for many:
Brilliance
Diamonds today are judged for their brilliance, and you won't find a shape as brilliant as a round diamond. Gemcutters have been perfecting their cutting process for years. So the sparkle of round diamonds is unmatched.
Fire
Notice how light disperses into rainbow colors when it hits a diamond? That's the diamond's "fire." Among all shapes, round cuts also give the most exceptional fire. The colorful flashes of light make them the liveliest cut.
Versatility
Round diamonds pair so well with any ring setting and style. Want the classic solitaire look, or something more flashy like a halo setting? You can never go wrong with a round diamond ring.
Timelessness
Round diamonds have been around for centuries. And they will continue to be popular even in the years to come. With a round shape, you get a ring that will never go out of style.
Durability
Because it lacks corners, you don't have to worry about your round diamond getting chipped. That's unlike other fancy shapes, like princess and marquise cuts. Their pointed ends are prone to breaking when hit the right way.
Hides flaws
The intense sparkle of round diamonds is great at masking flaws. So even with a low color or clarity grade, you can still get a stone that looks eye-clean.
2. Round diamonds are expensive to cut
Around 60% of the raw material is lost when cutting a round diamond. This will be discarded, so it won't be used to make other diamonds. The cost of the wasted material is passed on to the buyer, resulting in higher prices.
Aside from lower yield, round diamonds also need lots of skill to cut. It takes highly-trained gem cutters to make a stunning diamond. This means higher labor costs for their expertise.
Here are the current 2022 diamond prices for round diamonds.
| Carat Weight | Diamond Price per Carat | Total Price | Recommended Price (Best Value) |
| --- | --- | --- | --- |
| 0.25 carat | $800 - $4,000 | $450 - $550 | $500 |
| 0.50 carat | $1,000 - $8,000 | $500 - $5,000 | $1,300 |
| 0.75 carat | $1,300 - $9,000 | $1,000 - $9,000 | $2,800 |
| 1.0 carat | $1,500 - $20,000 | $2,000 - $16,000 | $5,500 |
| 1.25 carat | $2,400 - $19,000 | $3,000 - $27,000 | $7,500 |
| 1.5 carat | $2,670 - $20,000 | $4,000 - $40,000 | $11,000 |
| 2.0 carat | $4,000 - $35,000 | $7,000 - $70,000 | $19,000 |
| 2.5 carat | $4,800 - $36,000 | $12,000 - $100,000 | $30,000 |
| 3.0 carat | $7,000 - $66,700 | $20,000 - $200,000 | $45,000 |
As you can see, there is a huge price range. Our recommended price is where you can get the best balance of price, quality, and beauty. The price is much lower, but the diamond will still look as good as a high-end stone.
What's the cheapest diamond cut?
In general, emerald and cushion cut diamonds are the cheapest diamond cuts. Princess and radiant cuts are also on the low end. These rectangular and square-shaped diamonds don't waste as much of the rough stone during cutting.
If you're ready to pick a round diamond, here's how you can find the best value.
How to Choose a Round Cut Diamond
Below, get an in-depth guide on how to choose the best round cut diamond for your budget.
1. Remember that Round Diamonds Look Smaller

© CreditDonkey
Here are the dimensions and surface areas of round diamonds of different carat weights.
| Diamond Size | Dimensions (mm) | Face-up area (mm2) |
| --- | --- | --- |
| 0.5 Carat | 5.1 x 5.1 | 20.43 |
| 0.75 Carat | 5.8 x 5.8 | 26.42 |
| 1 Carat | 6.4 x 6.4 | 32.17 |
| 1.5 Carat | 7.3 x 7.3 | 41.85 |
| 2 Carat | 8 x 8 | 50.27 |
| 3 Carat | 9.3 x 9.3 | 67.93 |
| 4 Carat | 10.2 x 10.2 | 81.71 |
| 5 Carat | 11 x 11 | 95.03 |
Compared to some other diamond shapes, round diamonds appear smaller. Elongated shapes like oval, pear, and emerald look bigger. This is something to consider if you want to get the largest diamond for your buck.
Here's how round diamonds compare against other shapes. This scale is for 1-carat diamonds.
But round diamonds aren't the smallest shape either!
Asscher
and cushion cuts look smaller than round.
2. Choose Ideal or Excellent Cut
A round diamond is all about brilliance. So you absolutely want to get one that sparkles.
Diamond cut is the most important of the 4Cs. This refers to the proportions and angles that affect how light is reflected back. It's what makes a diamond brilliant and beautiful. It's important to go for an Excellent/Ideal cut.

Diamond Cut Scale

© CreditDonkey
A well-cut diamond reflects almost all the light back. The diamond will be sparkly and bright, making it appear larger. On the other hand, a poorly cut diamond will "leak" light and appear dull.
The cut directly impacts the visual beauty of the diamond. Here are diamonds of different cut qualities. You can easily see that the better the cut, the more beautiful the diamond.
Here are the recommended cut specifications for maximum bling:
| | |
| --- | --- |
| Table Percentage | 53% - 58% |
| Depth Percentage | 59% - 62% |
| Crown Angle | 34 - 35.5 degrees |
| Pavilion Angle | 40.6 - 41 degrees |
| Pavilion Depth | 42.5% - 43.5% |
| Girdle Thickness | Thin - Slightly Thick |
| Culet | None |
| Symmetry | Very Good - Excellent |
| Polish | Very Good - Excellent |
Diamond Cut is one area that you don't want to compromise on. If your budget is tight, it's better to downgrade color and clarity, rather than choose a lesser cut.
3. Look for VS2 Clarity for Best Value

Diamond Clarity Scale

© CreditDonkey
Clarity refers to how many flaws are in the diamond. But the human eye can't see tiny flaws. As long as the diamond is eye-clean, it will look the same as a perfectly flawless stone. So don't pay for invisible features.
Plus, the extreme brilliance of round diamonds can hide flaws behind the sparkle.
VS2 clarity will give you the best value. At this clarity grade, the flaws are usually small enough that they can't be seen with the naked eye. If you can find eye-clean SI1 diamonds, that can help you save even more.
Here are the recommended clarity grades that will give you the best value.
| Carat weight | Eye-clean clarity grade | May have micro flaws visible |
| --- | --- | --- |
| 0.5 carat | SI2 | I1 |
| 1 carat | SI1-VS2 | I1 |
| 1.5 carat | VS2 | SI1-SI2 |
| 2 carat | VS2 | SI1 |
| 3 carat | VS1-VS2 | SI1 |
| 4+ carat | VS1 | VS2 |
Check out James Allen's
360 HD diamond preview technology
. The magnified videos allow you to clearly see any flaws. But remember that even if you can see some flaws at such magnification, the real diamond itself is much smaller. You probably can't see them with the naked eye.
4. Look for H or I Color
Color refers to how much of a yellow tint there is in a diamond. The GIA's color-grading scale begins with D (colorless) and runs through Z (light yellow or brown). Just like with clarity, the human eye can't differentiate color that well. You don't need a premium colorless diamond.
H color offers best value. H is in the near-colorless range so it's priced lower, but it'll still give you the icy-white look. If you're not very sensitive to color, I color diamonds offer even better value.
If you're setting the diamond in a yellow or rose gold band, you can downgrade to J or K color. These diamonds have a slightly warmer tone, which complements the color of the ring well.
Here are the recommended color grades that will give you the best value.
| Carat weight | Platinum or white gold ring | Yellow or rose gold ring |
| --- | --- | --- |
| 0.5 carat | J | K-L |
| 1 carat | I | J-K |
| 1.5 carat | H-I | J-K |
| 2 carat | H | J |
| 3 carat | H-G | J |
| 4+ carat | G | J-I |
Best Settings for a Round Cut Diamond
Round shapes look great in just about every style ring - from simple to vintage to modern designs.
Here are some settings that look especially great with round diamonds.
Solitaire
The solitaire is a timeless design. It looks especially good with a larger carat stone. This simple style will really let the diamond be the center of attention.
Pave
This style has small diamonds on the band, giving the ring some extra sparkle and a touch of elegance.
Halo
Only got the budget for a smaller diamond? The halo ring is our favorite setting to get the most bling for your buck. The ring of diamonds can make a smaller center stone appear huge. This setting is bold and glamorous.
Vintage
Vintage-inspired engagement rings are unique and show off personality. Round diamonds look great with geometric designs too, like in the example below.
Recommendations for Buying a Round Diamond
To summarize, here are our bottom-line recommendations to find a round diamond for the best value.
Cut: Excellent / Ideal
Fluorescence: None to medium
Certification: GIA or AGS
And here are the dos and don'ts you should remember:
DO
Buy only GIA- or AGS-certified diamonds. They have the highest and most reliable grading standards.

Save on color and clarity. You get the best value with an H color, VS2 diamond.

Look for diamonds just shy of whole carat sizes. For example, you can save hundreds when you choose this 0.99 carat over this 1.0 carat diamond.
DON'T
Never compromise on cut. Your round brilliant cut diamond shouldn't go below Excellent/Ideal cut.

Don't just look at the grading report. Inspect the diamond in person or via images or videos, too.

You don't need a Hearts & Arrows diamond. An Excellent/Ideal cut is enough to get a beautiful diamond.
Bottom Line
Round diamonds are a timeless choice. They're so brilliant that you don't need to worry about choosing a high clarity or color. Instead, it's super-important to focus on getting the best cut. You'll have a diamond that sparkles beautifully and stands out on the finger.

Anna G is a contributing writer at CreditDonkey, a diamond jeweler comparison and reviews website. Write to Anna G at feedback@creditdonkey.com. Follow us on Twitter and Facebook for our latest posts.