Ad Disclosure: This article contains references to products from our partners. We may receive compensation if you apply or shop through links in our content. You help support CreditDonkey by using our links.
(read more)
Shopping for a 1.5-carat diamond engagement ring? Learn how much it should cost. Read on for smart tips you need to know to get the best diamond for the money.
A 1.5-carat diamond is a good value choice if you're looking for a slightly larger stone. It looks almost as large as a 2-carat diamond, but at only half the price.
It's big enough to be eye-catching, but still not so big that you get crazy attention. Many girls think it's the perfect size.
Before you go out shopping for a 1.5-carat diamond, read this article. Learn how to get the best 1.5-carat diamond for your budget.
How Much Does a 1.5-Carat Diamond Cost?
The Price-Per-Carat Increases Exponentially
A 1.5-carat diamond is about twice the price of a 1-carat diamond.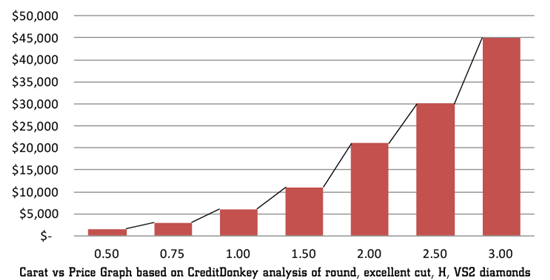 Diamond Price vs Carat

© CreditDonkey
A 1.5-carat stone can cost anywhere between $5,000 and $40,000. The price depends on the quality of the stone. Flawless and colorless 1.5-carat diamonds will cost many times more than diamonds with visible flaws and a yellow tint.
Let's look at a couple of real examples:
The colorless, flawless diamond on the left costs close over $20,000. But you don't need to spend anywhere near that to get a beautiful 1.5-carat diamond. The diamond on the right represents a good balance.
We recommend ideal cut, VS2 clarity, and color H for a sparkling, eye-clean, white-looking diamond.
Here are some prices to keep in mind for the most popular shapes:
1.5-Carat Diamond Price Charts
For a more detailed pricing list, we put together the following tables. These charts show the current average retail price of a 1.5-carat diamond. Click on the different tabs for the shape you want.
As you can see, fancy shaped diamonds cost as much as 40% less than a round diamond. Emerald and cushion cuts tend to be the least inexpensive. This may help you afford a 1.5-carat diamond on a smaller budget.
How Big is a 1.5-Carat Diamond?
A 1.5-carat diamond will definitely stand out. The size will look good on any hand. On smaller hands, it will look even larger.
The diameter of a round 1.5-carat diamond is 7.4 mm.
This is significantly larger than a 1-carat diamond (diameter 6.4 mm). And only 0.6 mm less than a 2-carat diamond (diameter 8 mm). The face-up surface area is 43mm2, which is just 18% smaller than a 2-carat diamond.
This makes the 1.5-carat diamond very good value. It looks a lot larger than a 1-carat diamond, and only a little bit smaller than a 2-carat diamond, but just half the price.
Here's an illustration to show how a 1.5-carat diamond looks on a finger compared to other carat weights: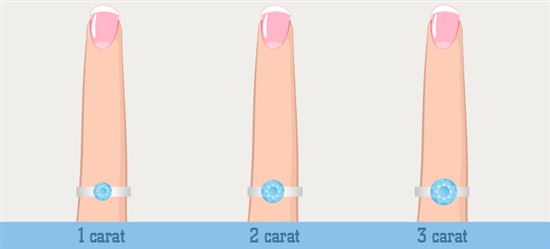 Diamond Ring on Hand

© CreditDonkey
The size also depends on the shape of the diamond. Some shapes appear larger even if they're the same carat weight. Here's how 1.5-carat diamonds of different shapes compare:

3 Carat Diamond - Size Illustrated

© CreditDonkey
Round and asscher cuts tend to look the smallest. Elongated shapes like oval, marquise, pear, and emerald cuts are known for appearing larger.
Here are the surface areas of 1.5-carat diamonds of different shapes:
| Shape | Size (mm) |
| --- | --- |
| Round | 7.4 x 7.4 |
| Princess | 6.3 x 6.3 |
| Cushion | 6.7 x 6.7 |
| Oval | 9.3 x 6.2 |
| Emerald | 7.6 x 5.7 |
| Asscher | 6.4 x 6.4 |
| Pear | 10.4 x 6.2 |
| Marquise | 11.9 x 6 |
| Radiant | 7.2 x 5.8 |
| Heart | 7.5 x 7.5 |
Recommendations for a 1.5-Carat Diamond Ring
Round, Princess, and Cushion
Go for a color of H and clarity of VS2 for an eye-clean diamond that appears white. If your budget is smaller, you can consider going down to SI1 clarity and color I.
Oval, Pear, and Marquise
These shapes have elongated ends, which trap more color. We recommend you don't go below H in color.
Emerald and Asscher
These step-cuts have a large window straight into the depth of the diamond. Any flaws or color are more easily seen. We recommend you go with clarity of VS1 and color H.
Yellow Gold or Rose Gold Band
You can afford to go for a warmer-toned diamond to complement the band. You can go down to a K in color.
Color for a 1.5-Carat Diamond
Larger diamonds reveal tints of color more easily. But it doesn't mean you need to splurge for a colorless diamond. If you prefer an icy white look to your jewelry, we recommend that you don't go below an H.
If you don't mind a warmer look or plan to set the diamond in a yellow gold band, then a J or K could look beautiful. Below is a H diamond set in white gold and a K diamond set in yellow gold. You can see that the warmer-toned diamond looks great in a yellow gold band (and costs a lot less).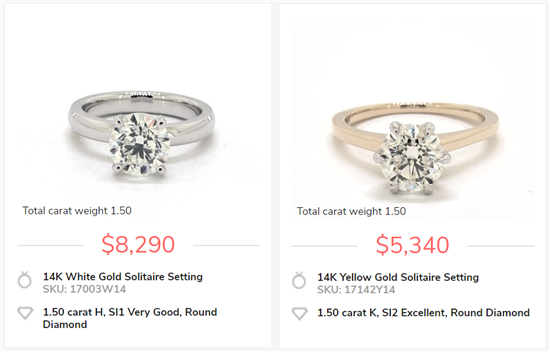 © CreditDonkey
Clarity for a 1.5-Carat Diamond
You don't need a flawless stone. All you need is to make sure that it's eye-clean. We recommend VS2 clarity for an eye-clean diamond at a good price. If you are able to see actual photos/videos of the diamond, you can go down to SI1 to save more money.
For emerald and asscher cut diamonds, we recommend upgrading the clarity to VS1. These step-cut diamonds have a large open table that reveals all flaws.
OTHER TIPS FOR SHOPPING FOR A 1.5-CARAT DIAMOND
Cut Is The Most Important.
Always put whatever money you have into the best cut possible. Cut is what makes a diamond brilliant and beautiful. We recommend no less than an Excellent/Ideal cut.
If you have a certain budget, go down in color and clarity as much as you can before you consider going down in cut. (Or consider a smaller diamond or a different shape that looks larger.)
Lab Certification
Make sure the diamond is GIA or AGS certified. Both laboratories have high consistent standards. While GIA- and AGS-certified diamonds are more expensive, this is an area you should not compromise on.
Shop Online for the Best Value and Selection
To truly get the best deal on a 1.5-carat diamond, we recommend that you shop online. Online stores have a much bigger selection and better prices. You'll have so many more options to choose from, so you can pick one with the specs you want.
For example, currently on James Allen, there are over 500 ideal cut 1.5-carat round diamonds with color H+ and clarity VS2+. Your local jewelry stores won't have so many options.
What If You Don't Have the Budget?
If a 1.5-carat diamond is slightly out of your budget, here are some tricks you can use:
Consider a Lab Created Diamond
Lab created diamonds are identical to the ones mined from the Earth—it's just that the diamond creation process is sped up in a controlled lab environment. Besides being more eco-friendly, lab diamonds can be up to 35% cheaper.
Use a Halo setting
The halo setting is best for making a splash with less money. It has a ring of small diamonds around the center stone, so from far away, it looks like one big diamond.
With a halo, a 0.70-carat diamond can look as large as a 1.5-carat diamond. Compared to the $8,000+ cost of a 1.5-carat diamond, a 0.7-carat diamond costs around $2,500.
Get a Thin Band
The thinner the band, the larger the center stone looks. A thin pavé band will make the center stone pop even more. A smaller stone will still stand out and look great.
Consider a Fancy-Shaped Diamond
Fancy-cut diamonds often appear larger than they are. So you can go for a slightly smaller stone. And they're cheaper too. Plus, they are more unique and will appeal to the girl who likes to stand out in a crowd.
Bottom Line
1.5-carat diamonds are great value for the size, since they look almost as large as a 2-carat diamond. We hope this guide gave you some good tips on shopping for a 1.5-carat diamond.
Before you start shopping, make sure you understand how diamonds are priced. This way, you don't overpay for features that you cannot even see. Our beginner's guide to best value explains more about what to look for and what you can "go cheap" on.
Write to Anna G at feedback@creditdonkey.com. Follow us on Twitter and Facebook for our latest posts.
Note: This website is made possible through financial relationships with some of the products and services mentioned on this site. We may receive compensation if you shop through links in our content. You do not have to use our links, but you help support CreditDonkey if you do.
Read Next: