Parents are way better at this one activity than their child-less peers
Overwhelmed is Just a State of Mind: Parents Have Longer Attention Spans Than Those Without Kids
---
Parents report having a laser-like focus across a wide range of activities, unlike their childless peers, according to a poll by CreditDonkey.com.
Although it may seem counterintuitive, people with children report having longer attention spans than those without children, according to a poll by CreditDonkey. Across a wide range of activities — from working and reading to driving and texting — parents said they're able to maintain their focus for longer periods.
CreditDonkey asked more than 1,200 participants to grade their attention spans on a scale from good to fair to poor. In response:
74.2 percent of parents said their attention spans are "good" while working, compared with 60.1 percent of non-parents who gave themselves the same assessment.
For reading, 69.6 percent of people with children reported having good attention spans versus 59.1 percent of those without children.
84.3 percent of parents said they have good attention spans while driving, compared with 75.4 percent of childless people.
While talking on the phone, parents' attention spans beat non-parents' by 45.5 percent to 40.2 percent.
Parents also reported better focus than non-parents while texting: 49.9 percent to 43.2 percent.
The biggest gap between attention spans occurs when spending time with the family. Here, 67.4 percent of parents said their attention spans are "good," compared with 52 percent of childless people.
The only activities for which non-parents reported better focus than parents are: exercising (50.6 percent to 48.5 percent) and playing sports (57.8 percent to 56.7 percent).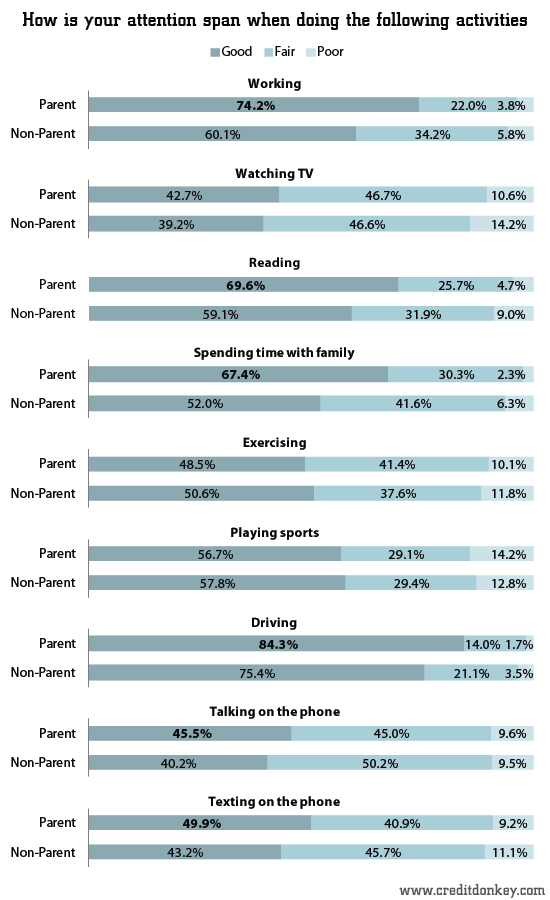 How is your attention span © CreditDonkey
"Initially, we were surprised by the results," said CreditDonkey founder Charles Tran. "You tend to think new parents are torn in many directions, from their demanding tots, demanding households, and the needs of their professional lives. But over time, these parents evolve or else they'd never get anything done. They develop ways of maintaining their focus and concentration in the midst of the near-continuous distractions caused by children. In my experience, it takes a while to do this, but eventually many parents develop such a laser-like focus that not even an earthquake would shatter their concentration."
Although most parents would win the attention span contest, the poll indicates that parents are more likely than non-parents to believe their memories aren't what they used to be. When asked if their short-term memories had declined over the past five years, 50.7 percent of parents said yes, compared with 40.7 percent of non-parents. When it comes to long-term memory, 39.7 percent of parents said their ability to recall information had declined, whereas only 30.7 percent of non-parents said the same.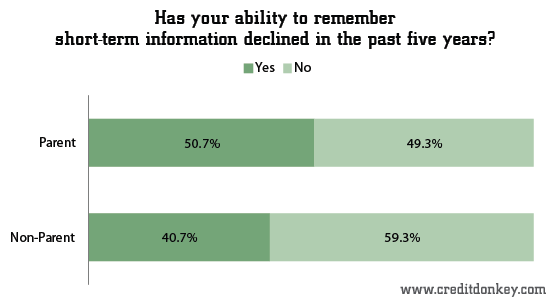 Has your ability to remember short-term information declined © CreditDonkey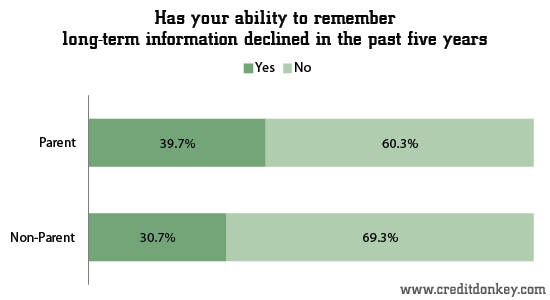 Has your ability to remember long-term information declined © CreditDonkey
"On the other hand, parents are less likely to forget birthdays," said Tran. "Among those who said they seldom or never forget the birthdays of friends and relatives, 53.4 percent were parents compared with 46.7 percent of non-parents."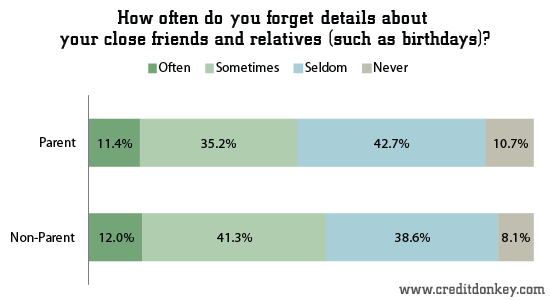 How often do you forget details about your close friends and relatives © CreditDonkey
(CreditDonkey conducted the online survey of 1,254 Americans, age 18 and over between August 8 and August 12, 2014.)
Sarah Johnson is the senior editor of CreditDonkey, a credit card comparison and reviews website. Write to Sarah Johnson at sarah@creditdonkey.com
More from CreditDonkey: