Survey: Charitable Giving Statistics
Nearly Half in a Charitable, Gift-Giving Mood
---
Results from a recent CreditDonkey.com survey shows that almost half of respondents to make charity donations this holiday season.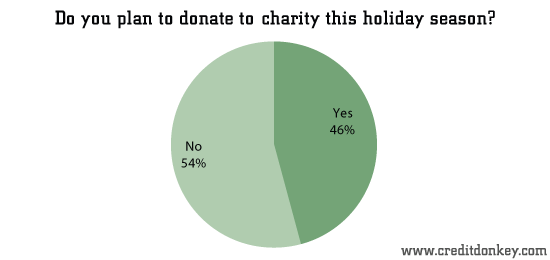 Do you plan to donate to charity this holiday season?

© CreditDonkey
Does donating have to do with having money? Presumably it does. When looking at the age group breakdown of the survey, 60.5% in the 35-44 age group will donate this year versus 39.5% who will not, and other age groups are less inclined to donate to charity. This "middle" age group is the most stable group of earners who might have some disposable income for donating to charity. Some other reasons they gave for donating:
I always donate during the holiday season.

'Tis the season for giving.

Other people need help.

It's the right thing to do.

It makes me feel good.
Among those who won't be giving this year, the most common reason they gave is "not enough money." Some other reasons were surprising. A sampling:
Charities tend to waste the money.

I'm donating my time instead of money.

I need charity myself.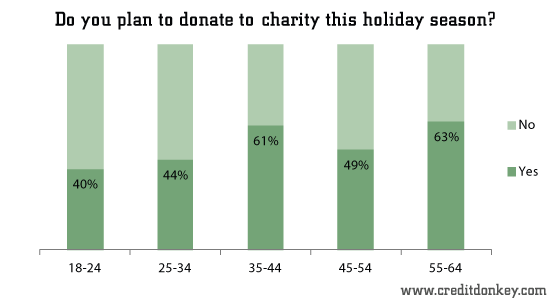 Do you plan to donate to charity this holiday season?

© CreditDonkey
In terms of life status, single people in the younger age groups are more likely to spend less than other groups on donations.
Of course, a willingness to donate is not about demographics. For many, it's a matter of coming across an opportunity to donate and easy access. The most popular methods for donating, according to the write-in responses to the survey, are through the Salvation Army bell ringers, Toys for Tots drop-off centers, collections through retail cashiers, and donations through local malls, such as an Angel Tree. A few were also substituting gifts with a donation to charity or supporting a local family.
From October 9 to October 23, 2012, CreditDonkey.com polled 1,125 Americans, age 18 and over, about their holiday shopping plans using multiple choice questions and short-answer questionnaires.
Naomi Mannino is a contributing writer at CreditDonkey, a credit card comparison and reviews website. Write to Naomi Mannino at naomi@creditdonkey.com. Follow us on Twitter and Facebook for our latest posts.