Best Finance Apps: Top Money Resources
Ad Disclosure: This article contains references to products from our partners. We may receive compensation if you apply or shop through links in our content. You help support CreditDonkey by using our links.
(read more)
Getting a hold of your financial situation is so much easier when you can keep your eye on it. Winners of the CreditDonkey Best Finance Apps award help you do just that. Check out this list to see which one is right for you.
Best Finance App

© CreditDonkey
Top Finance Apps
Feel like you don't know where your money goes? It's the number one issue people have when they struggle to pay their bills. Credit cards can help you manage your cash flow, but they can also mask how much money you truly have. Finance apps can give you a clearer picture of what's going on with your finances - a credit-focused app can help you keep track of your credit reputation no matter where you are you, while a budget app can let you know whether you can actually afford dessert when you're out at a restaurant.
Yes, keeping your spending in check has a lot to do with being frugal and sticking to a budget. But a lot of it has to do with visibility. It's about knowing how much money you have coming in and how much you have going out - sounds easy on the surface but it's tough to do the more complicated your life gets. The mortgage, car loans, kid expenses, and investments all add to the money tangle you're expected to make sense of month after month.
That's why we came up with this list. Don't waste time with just any app you find that claims to help you with your finances. Stick to this list of the very best finance apps, and you'll be clearing your path to financial freedom.

Best Finance App

© CreditDonkey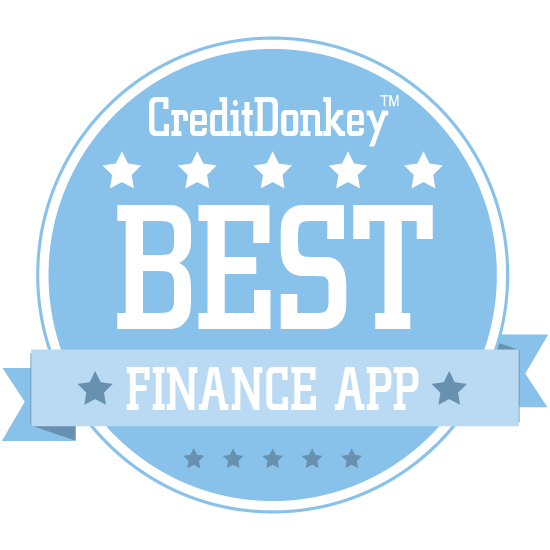 Best Finance App

© CreditDonkey
Note: This website is made possible through financial relationships with some of the products and services mentioned on this site. We may receive compensation if you shop through links in our content. You do not have to use our links, but you help support CreditDonkey if you do.