Survey: Valentine's Day Gifts: Do Men Know What Women Want?
---
Although some couples have gravitated toward a gift-swapping approach, February 14 still tends to be more for the ladies. The holiday has become quite commercialized, so for guys the pressure is on. CreditDonkey.com conducted a survey to see how guys measure up when it comes to getting their ladies the gifts they actually want.
Deviate from the Norm
While dinner, flowers, and chocolates unsurprisingly top the list of gifts guys plan to give, CreditDonkey.com found those gifts may be just a little overdone. There are presents worth considering that she may appreciate even more.
64.5% of guys plan to give dinner, but only 54.8% of women want dinner.

60.3% of guys plan to give flowers, but only 36.9% of women want flowers.

41.2% of guys plan to give chocolates, but only 34.5% of women want chocolate.
What Men Really Need to Give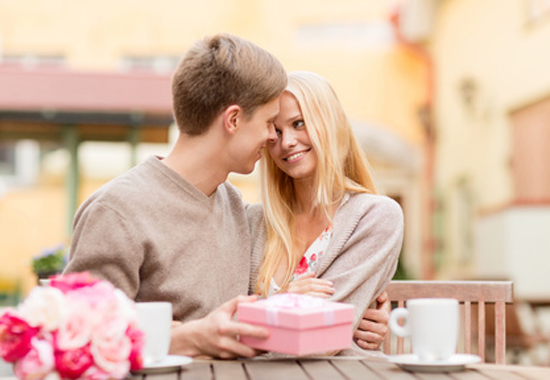 Try a nice piece of jewelry. 22.2% of our women respondents said they'd like something shiny for Valentine's Day. Guys weren't too far off the trail with this one, as 18.9% of them plan to give some bling as a gift this year.
Even though gift cards may seem a bit too impersonal for a holiday geared toward romance, 12.6% of ladies said they would like to receive one for Valentine's Day. Only 7.9% of men, however, said they're going with this gift choice. It's definitely worth considering if you know where she loves to shop, so don't be too hesitant here.
Weekend getaways and tropical vacations are way pricier than a simple heart-shaped box with candy inside, but 8.9% of women want to travel for Valentine's Day. A mere 5% of guys are planning to spend money on a romantic trip, but if you can swing it, this is a gift that she may especially love.
Some ladies want clothing for Valentine's Day, as 8.6% of our respondents do. If you have a sense of her fashion style, you could give this gift a try. Just 7.7% of guys said they plan to go shopping for clothes for their significant others.
Though electronics don't seem like a Valentine's Day gift, they made an appearance on 7.1% of women's wish lists. They're likely to be expensive, but it's hard to go wrong with a new tablet, cell phone, or computer. Unfortunately, for that group of women, only 3.7% of men are thinking of giving gadgets this year.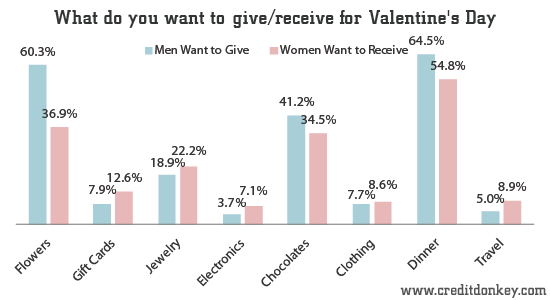 What men want to give and women want to receive for Valentine's Day

© CreditDonkey
What Men Want
Yes, we know, Valentine's Day is not just about what women want to get. Indeed, 56.5% of guys plan to celebrate Valentine's Day, and with all the expectations placed on them, they have it much tougher than the ladies do. CreditDonkey.com also asked men what they'd like to receive this year, and here's what they said:
Dinner: It's been said that the way to a man's heart is through his stomach. That may or may not be true, but food is a great gift, as 47.5% of guys said they'd like to receive dinner for Valentine's Day.
Electronics: Flowers and heart-shaped cookies might make you melt, but they aren't likely to woo a guy. Try a gadget instead. 26% of men want one of these.
Chocolate: Who doesn't like chocolate? It's at the front of every store right now, and even though it's wrapped in pretty pink hearts, we all know that what's inside isn't gender specific. It's a yummy variety of chocolate for anyone to enjoy, including 20.3% of men who said they'd like this candy for Valentine's Day.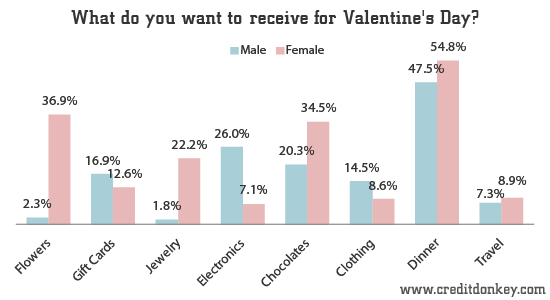 What do you want to receive for Valentine's Day

© CreditDonkey
Whether you're the type who is really into the flowers and teddy bears or someone who would rather treat February 14 like any other day, a token of appreciation can have a lasting effect. It doesn't have to be the type of gift that will put you in debt. Throw in a few personal touches and the classic box of chocolates, and you're bound to make your significant other smile.
(CreditDonkey.com surveyed 1,235 Americans, age 18 and over between January 10 and January 13, 2014. 59% plan to celebrate Valentine's Day. Results and analysis are based on the 733 Americans who plan to celebrate Valentine's Day.)
Jasmine Williams is a contributing writer at CreditDonkey, a diamond jeweler comparison and reviews website. Write to Jasmine Williams at jasmine@creditdonkey.com. Follow us on Twitter and Facebook for our latest posts.