Do Men and Women Use their Credit Cards Differently?
---
Men are more likely to use their credit cards to fill up the tank and eat out while women are more likely to buy clothes and make retail purchases, according to results from an online consumer survey we conducted.
Most Frequent Purchase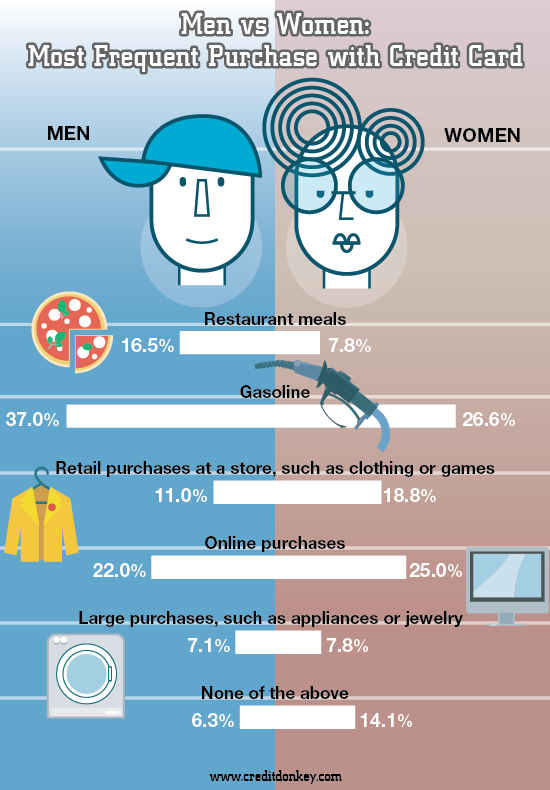 Infographics: Most Frequent Purchase with Credit Card

© CreditDonkey
"Conflicts between men and women about money and spending are probably due to disagreements about the importance of going out to lunch, buying new shoes, showering children with gifts, and other purchases," said Charles Tran, founder of CreditDonkey. "When the bills come due, basic gender differences about how each person uses the credit card and what each person views as foolish spending reveal themselves."
The survey included 368 consumers and was conducted in February 2012. The respondents represented a wide variety of credit card users and non-users from all income and educational backgrounds, including 52 percent women and 48 percent men.
Who Pays the Minimum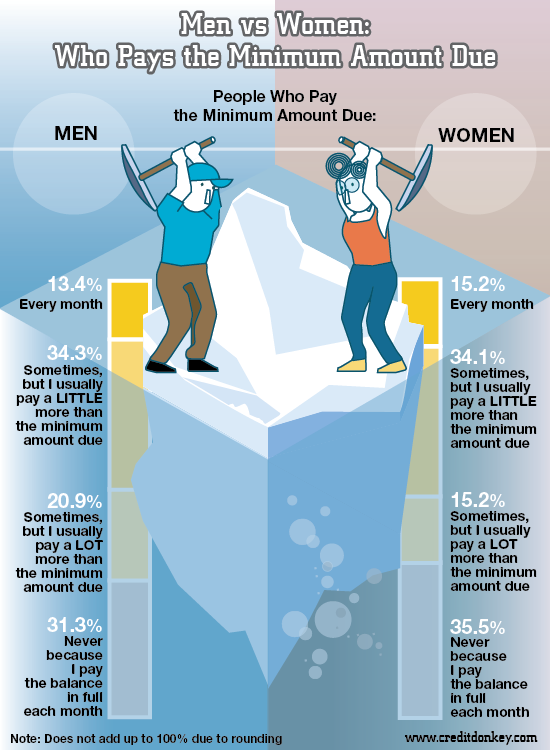 Infographics: Who Pays the Minimum Amount Due

© CreditDonkey
Women who were surveyed were slightly more likely than men to say they pay the minimum amount on their bills each month and were also slightly more likely to say they pay the balance in full, while men said they fell somewhere in the middle.
Paying anything less than the balance in full is a dangerous practice for anyone who uses a credit card primarily for consumable items (like food, gas, and retail items). People who do so risk accumulating debt and paying compounding interest for items with little to no long-term value. Earning monthly rewards points on these purchases will never offset interest costs.
How Frequently Men and Women Use their Credit Cards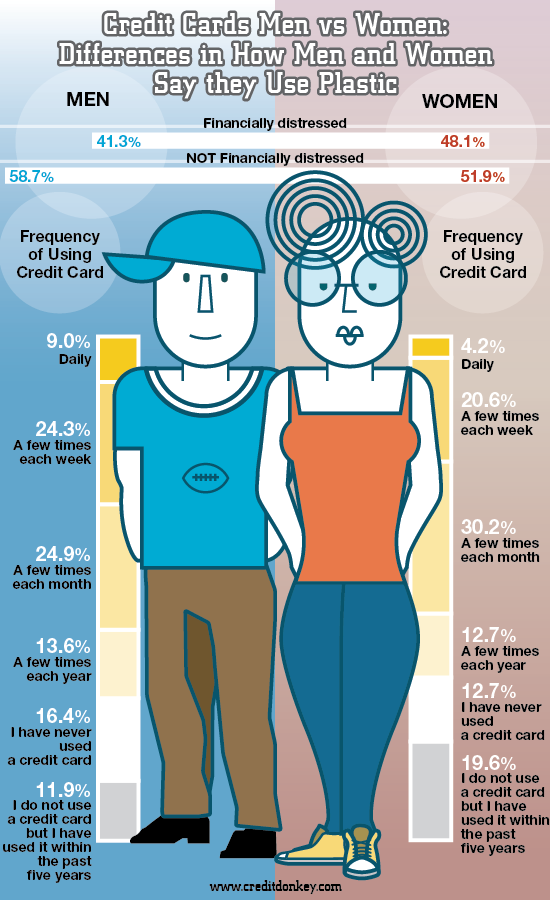 Infographics: How Men and Women Say They Use Plastic

© CreditDonkey
Women were more likely to report that they were "financially distressed," or that they "always" or "sometimes" have to choose which bills to pay and which bills to put off each month. Women were also more likely to say that they have stopped using their credit cards in the last five years.
Prior to conducting this online consumer survey, we analyzed:

(Analysis & Writing by Annette; Graphic Design by Marco; Editing by Erin)
Annette O'Connor is a contributing features writer at CreditDonkey, a credit card comparison and reviews website. Write to Annette O'Connor at annette@creditdonkey.com. Follow us on Twitter and Facebook for our latest posts.