Survey: Facebook Ads Statistics
Shoppers Don't Trust Facebook Ads
---
Facebook is one of the least trusted websites when it comes to shoppers' credit card data, according to a new survey by CreditDonkey.com.
When asked if they trusted Facebook ads enough to use their credit card for an online transaction, over 61% said they were "very unlikely" and a further 20.8% said they were "somewhat unlikely".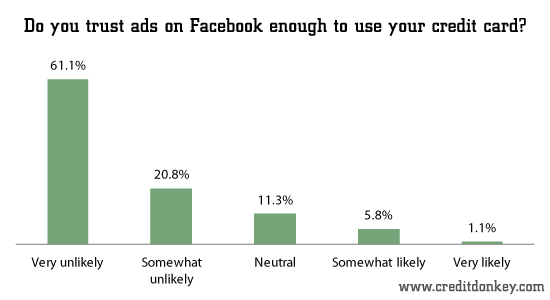 Do you trust ads on Facebook enough to use your credit card?

© CreditDonkey
Only 6.9% of respondents said they were likely to trust ads on Facebook enough to use their credit card with advertisers on the social media site. In comparison, 21.5% trusted ads on Google enough to use their credit card.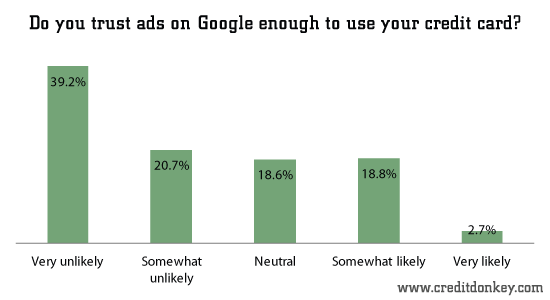 Do you trust ads on Google enough to use your credit card?

© CreditDonkey
Security Breaches Hinder Confidence in Facebook
Several high-profile breaches of Facebook's platform have lingered in shoppers' minds, according to Charles Tran of CreditDonkey.com. "Facebook still needs to prove itself with customer data. With all of the worries about user privacy around Facebook, it's no surprise users hesitate to share credit card data with the site or its advertisers," Tran said.
These security breaches have not always involved sophisticated hacking attacks of Facebook's servers. In March, spies were able to friend a number of colleagues of NATO Supreme Allied Commander James Stavridis. While the spies' origin was never uncovered, the UK's Telegraph reported that evidence pointed to "state-sponsored individuals in China."
Since that and other high-profile scamming incidents, Facebook has initiated a phone number verification system, which the site hopes will boost users' confidence in the site's safety.
Social Media Openness a Challenge to Shopping?
CreditDonkey.com survey of online shoppers suggests that such efforts have yet to make an impact. When asked which company do they trust more with their credit card information, Facebook scored dead last--less than 1% of respondents chose the social media site over more established sites like Google, PayPal, and Amazon.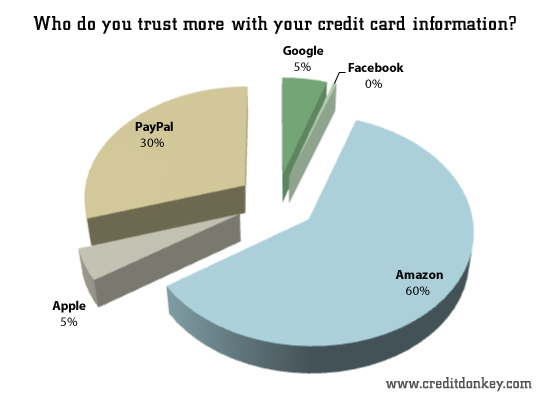 Who do you trust more with your credit card information?

© CreditDonkey
The open nature of platforms like Facebook, which encourage users to make friends and share information in an open network that can be seen by anyone might be incompatible with the thought of using a credit card online, according to Tran. "Facebook is a site where you share information with your friends and family. It's not easy to go from that to a site where you share your credit card with retailers," Tran said.
(CreditDonkey.com conducted the online survey of 1246 shoppers in the U.S., age 18 and over between August 20 and September 2, 2012.)
Mike Foster is a contributing writer at CreditDonkey, a credit card comparison and reviews website. Write to Mike Foster at mike@creditdonkey.com. Follow us on Twitter and Facebook for our latest posts.