How to Save Money with 3 Kids
---
How to cut back on spending and sock away savings as a large family can literally be a million-dollar dilemma. The U.S. Department of Agriculture estimates that raising a child born in 2012 will cost $241,080 (not including inflation) through age 18. Multiply that number by three, plus the cost of clothing and feeding kids' parents as well, and families have hefty bills to pay and an uphill battle in keeping their heads above water.
There is a big difference in buying school clothes and paying for extracurricular activities for one child versus three. Ditto for daycare. But even though basics like gas and food expenses continue to rise, financially-savvy families can find ways to cut costs for their kids' expenses, from their baby years to their teenage years. Consider the following methods we've successfully tried ourselves that resulted in freed-up money.
Always haggle for the sibling discount. When is the last time you tried to negotiate for a lower price? Only 24.2% of respondents to a CreditDonkey.com survey said they sometimes try to bargain. But those of us who don't do it are missing out. Over half of those who tried haggling were successful at getting a better price (averaging 10% less), according to the survey.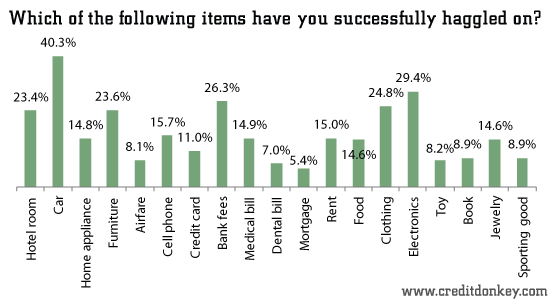 Which of the following items have you successfully haggled on?
So give haggling a go (it doesn't hurt to try) by asking the business owner for the sibling discount whenever you are paying for the same thing (such as piano lessons, tutoring, daycare, braces) for two or more of your children. Be reasonable in your request, and you could shave 10%-15% off the price for just one child.
Daycare: The U.S. Census Bureau reports that the average cost for one week of childcare for one child in the U.S. is $143 (the actual cost varies by location and age.) Savings: at least $57 per month each child.
Braces: Average cost of braces: $4,000. Savings: $400 each child.
Never buy new. We all know a new car loses a significant percentage of its value the minute it's driven off the lot (and continues to depreciate every year,) and the same holds true for the expensive items you buy for your family, such as bicycles, sports equipment, furniture, and clothing. But if you shop right, you can find "gently used" items that are just as good and high quality as the day they were bought. The difference is that you will place a high value on the item but you'll get a hefty discount. Check out Craigslist, eBay, and specialty kids consignment shops in your area for such deals and, again, be willing to haggle. Ideally try to meet the sellers in person with a lesser amount of cash in your pocket than the asking price. Show them how much money you have when you make your offer, and chances are they will settle for less.
Used high-end bicycle: Original price at bike shop, $400. Asking price, $275. Cash in pocket: $250. Saved: $150
Used Mackinaw canoe: Original price at Sports Authority $550. Asking price, $400. Cash in pocket, $350. Saved: $200.
Used girls bedroom set including hutch, bed frame, dresser, mirror and nightstand: Original price at Rooms to Go, $999. Asking price, $450. Cash in pocket $400. Saved: $499.
Barter your skills for services. When you're dealing with small businesses and nonprofits for your children's activities, try trading your skills for lessons or services for your children. In return, you could be helping an organization that has limited resources. While you always want to look for ways to make use of free tutoring or your community's offerings of sports and activities (which are always cheaper,) your kids may reach a level that calls for better or more individualized instruction.
Cost of team gymnastics (substitute your activity here): $275 per month for one of your children. Depending on your skills and financial position, offer the owner/director to trade the fee for monthly carpentry fixes, bookkeeping, marketing, or administrative duties, or whatever skills you can offer to clean the facility. Saved: $275 per month.
Never pay full price at a retail store: Learn how to coupon in multiples. BOGOs (buy one, get one) and two-fers (two for the price of one) are especially useful when you really need two or three of the same item.
Additionally, whether you are buying juice, school supplies, or T-shirts and jeans, always look for BOGO deals and then couple it with at least one coupon (if you have two coupons, make two transactions when possible.) Get two or more Sunday newspapers to clip duplicates of grocery and drug store item coupons for cashing in on "multiples" sales.
Apple juice: Regularly $3.29 each. BOGO sale $3.29, plus two $1 off coupons: New cost for two bottles, $1.29. Saved: $5.29
T-shirts: Regularly $10 each. BOGO $10 T-shirts plus a 30% off Friends & Family coupon. New price $7 for two T-shirts. Saved: $13.
There are so many more ways than ever before to snag savings coupons and deals from retailers aggressively grabbing for your dollars by offering discounts. Every time you shop for your family, go through the following checklist to make sure you are getting the best price possible.
Sign up for the email list of retailers and brands you frequent for emailed savings and percent-off printable coupons.
"Like" and "follow" each of your favorite retailers and brands on Facebook and Twitter for daily deals and sales only for followers.
Look on the back of ticket stubs for middle and high school sports events for savings at local fast food establishments.
Ask store personnel or online chat if there is a special coupon available you might have missed.
Look for blinky and peel-off coupons on shelves and products in the store. Check your receipts for paper coupons attached or savings surveys on the back.
Use smartphone apps to price check while you are standing in a store and even shopping on the Internet to be sure you are getting the best price possible using every discount available.
Don't forget to check out credit card deals for additional product discounts or savings.
When there are so many ways not to pay full price, why do it? When you're a parent of multiple children, you can't afford not to look - or not to ask - for a price break.

Naomi Mannino is a contributing writer at CreditDonkey, a credit card comparison and reviews website. Write to Naomi Mannino at naomi@creditdonkey.com. Follow us on Twitter and Facebook for our latest posts.