Survey: Online Shopping Addiction Statistics
Are We Becoming Online Shopping Addicts?
---
Almost half of consumers know the three-digit security code on the back (or 4 digit on the front) of their primary credit card, according to a new CreditDonkey survey. Over 41% of survey respondents said that they have memorized the code, as opposed to only 24.6% who know their driver's license number by heart.
Is this a sign that we're becoming a nation of online shopping addicts? CreditDonkey.com founder Charles Tran thinks so. "The only reason anyone would memorize the three-digit code is if they used their credit cards a lot to buy things online, since almost all merchants require it to conclude an online transaction," says Tran. "What's also interesting is that these survey results also suggest people are buying from a number of sites, since you can save your credit card details on Amazon, eBay, and several other large retailers and don't have to enter the numbers every time."
Still, not quite as many consumers have been so addicted to online shopping that they've memorized the entire number of their primary credit card. Only 1 in 5 survey respondents said they could give out the number on the spot.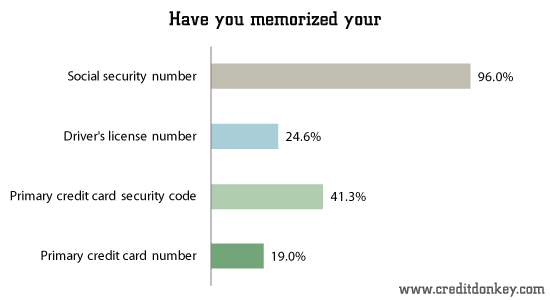 Have you memorized your ...

© CreditDonkey
The trend toward online shopping is nearly a decade old, but it was only in 2012 that online retailers began to truly make a significant impact on overall consumption habits. "In the past, Cyber Monday was the forgotten stepchild to Black Friday. But last year, more and more people were doing their Black Friday shopping online, and retailers were aware of this. Online shopping is definitely on the rise," notes Tran.
Another reason online shopping is so popular? Many shopping sites and apps now feature generous cash-back offers. Curious? Read more about
cashback apps here.
Tran also suggests that security concerns are quickly evaporating among consumers, who increasingly view online shopping as safer than local stores in some cases. "Since popular online shopping brands like Amazon are over a decade old, the public has a deep-seated trust in them that blends to other, smaller online retailers. It's no longer the Wild West," notes Tran. "So people are buying more and more stuff online.
"It's no surprise people are memorizing their credit card data - with all of the convenient shopping options on the web, who wouldn't start buying more online?" asks Tran.
Have you memorized your primary credit card security code? (usually, a 3 digit code printed on the back of the card or a 4 digit code printed on the front)
If you're guilty of knowing your card number like the back of your hand, consider checking out our guide on selling apps to put some of that money back in your pocket.
From January 4 to January 8, 2013, CreditDonkey polled 1,109 Americans, age 18 and over, for their views on credit cards, saving, retirement planning and other financial issues with 38 multiple-choice and yes/no questions.
Mike Foster is a contributing writer at CreditDonkey, a credit card comparison and reviews website. Write to Mike Foster at mike@creditdonkey.com. Follow us on Twitter and Facebook for our latest posts.