Study: Best Cities to Live in Delaware
---
If you're planning a move to Delaware for the first time or you're a local who's looking to switch things up, deciding where to live can be a challenge. To take some of the stress out of the process, CreditDonkey has prepared a roundup of the best cities to call home.
Roughly 100 miles long and 30 miles wide, Delaware is filled to the brim with history and natural beauty. Part of the Delmarva Peninsula, the state is bordered by the Delaware Bay to the east and Maryland's Eastern Shore to the west. Along the coast you'll find some of the top beaches in the country, including Dewey and Rehoboth, as well as scenic forest areas like the Bombay Hook National Wildlife Refuge.
Delaware's nickname, "The First State," is well deserved; the state was the first to sign the Constitution in 1787, and it was here that some of the first churches in the U.S. were built. Today, Delaware is an emerging leader in research and technology as well as an important center for commercial banking. Perks like zero sales tax and a close proximity to major cities such as Philadelphia tend to attract newcomers and encourage current residents to stick around.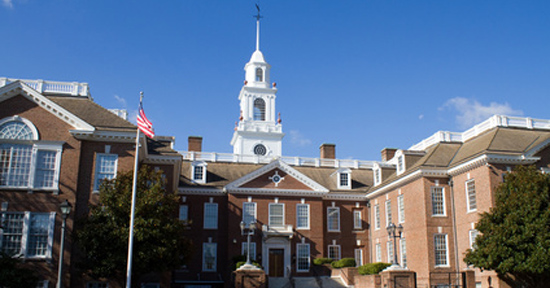 Dover, Delaware
Study Methodology
We ranked each city based on these five factors:
Crime Rate

Commute Time

Income

Education

Restaurants Per Capita
Safety is always a concern anytime you're planning a move, and it can play a significant part in where you end up. For our rankings, we looked at each city's overall safety level based on the odds of being the victim of a violent crime.
Living in a smaller state doesn't mean you won't face some of the challenges associated with life in the big city, and that includes fighting traffic on the daily drive to work. While public transportation can make getting there easier, it's not always an option for everyone. Fortunately, each of the cities we've profiled have an average commute of less than 25 minutes.
Tip: Driving to work? Consider using a gas credit card to save money on gas.
Like any other state, income levels across Delaware tend to vary substantially depending on where you live. We considered the median household income for each city as well as the percentage of residents who've earned a bachelor's degree or higher.
Delaware's regional cuisine is largely influenced by its neighbors, Maryland and Virginia, which means you can count on seafood featuring heavily on the menu. Knowing how many restaurants per capita each city has to offer gives you an idea of what you can expect in terms of your dining choices.
Best Cities to Live in Delaware
5. Milford
Odds of Being a Victim of a Violent Crime: 1 in 79

Commute Time: 22.5 minutes

Income: $48,669

Residents With a Bachelor's Degree or Higher: 17.6%

Restaurants: 1 per 223 inhabitants
Despite having a population of less than 10,000 residents, Milford ranks as the sixth largest city in Delaware. This charming riverfront town straddles the Mispillion River, a fact that served to fuel Milford's success in the shipbuilding industry from the late 1700s up until World War I. While the shipyards have since closed down, the historic waterfront downtown continues to be a major draw for businesses, residents and visitors alike.
Milford is popular among families as well as retirees, and workers here enjoy an average commute of less than 23 minutes. Out-of-towners frequently stop here on the way to Lewes and Rehoboth Beach, which are both less than 30 miles away. When it comes to dining out, there are several major chain restaurants that have locations in and around the Milford area. If you're looking for seafood with a local flavor, head to Meding's on Bay Road for some fresh fried oysters and steamed snow crab.
Did You Know: Seven of Delaware's governors have hailed from Milford.
4. Wilmington
Odds of Being a Victim of a Violent Crime: 1 in 59

Commute Time: 21 minutes

Income: $39,761

Residents With a Bachelor's Degree or Higher: 26.3%

Restaurants: 1 per 349 inhabitants
Located along the banks of the Delaware River, Wilmington is the state's largest city with nearly 72,000 residents. What originally began as a small British colony has become one of the busiest urban areas on the East Coast. Manufacturing is a major component of the local economy, with Dupont and Siemens ranking among the top employers. The city is also known as a financial hub, thanks to corporations like Citibank and Bank of America, which are headquartered here.
The cost of living in Wilmington is slightly lower than the national average, and home prices are significantly below those in the Philadelphia metro area, which is less than 35 miles away. Workers take an average of 21 minutes to get to work and median incomes approach $40,000 annually. If you're in the mood for dinner, you'll find more than 200 restaurant choices, ranging from low-key burger joints to upscale Italian cafes.
Did You Know: The Wilmington area is home to three of the oldest churches in the country, including the Old Swedes Church that dates back to 1698.
3. Dover
Odds of Being a Victim of a Violent Crime: 1 in 132

Commute Time: 20.9 minutes

Income: $48,117

Residents With a Bachelor's Degree or Higher: 27%

Restaurants: 1 per 360 inhabitants
Second in size only to Wilmington, Dover is centrally located in the heart of Delaware.
What began as a small community in the 1600s has blossomed into a thriving commercial and industrial center, with the Dover Air Force Base and the state government two of the city's largest employers. The abundance of jobs, highly rated schools and overall cost of living are just some of the reasons why families, professionals and retirees choose to settle down here.
Dover's also an excellent choice if you prefer a city with a virtually limitless number of things to do. Among the most popular attractions are the Dover Downs Casino, the Dover International Speedway and the Killens Pond Water Park. If you're looking for a slower pace, you can check out the handcrafted wares for sale in Kent County's Amish countryside.
Did You Know: In 2001, Dover Air Force Base became the military's sole location for dignified transfers of U.S. soldiers killed in action.
2. New Castle
Odds of Being a Victim of a Violent Crime: 1 in 316

Commute Time: 23 minutes

Income: $54,236

Residents With a Bachelor's Degree or Higher: 28.6%

Restaurants: 1 per 215 inhabitants
The smallest city on our list, New Castle is considered a part of the Wilmington metro area. Compared to the other cities on our list, New Castle boasts the best crime rate, with the odds of being the victim of a violent crime 1 in 316. The average commute takes approximately 23 minutes, although you may need to plan for a longer drive if you work in the downtown area. Home prices are slightly higher compared to Wilmington, but median incomes are also higher, at just over $54,000.
The Olde New Castle district showcases the city's colonial roots, and residents have the opportunity to tour several historic buildings, including the Old Library and the George Read II House and Garden. You can also check out the local shops and restaurants, including Jessop's Tavern, which has twice been voted the Best Restaurant in New Castle.
Did You Know: New Castle served as the capital of the Delaware Colony until 1777, when the capital was moved to Dover.
Tip: Is the average 23 minute costing you a fortune in gas? Consider using a gas rewards credit card the next time you are at the pump.
1. Newark
Odds of Being a Victim of a Violent Crime: 1 in 246

Commute Time: 20.1 minutes

Income: $51,184

Residents With a Bachelor's Degree or Higher: 53.9%

Restaurants: 1 per 277 inhabitants
Less than 15 miles southwest of Wilmington, Newark's biggest claim to fame is the University of Delaware, which enrolls roughly 22,000 students each year. This lively college town of more than 32,000 residents is also an important commercial and industrial center, with companies like Dow and AstraZeneca located in the Greater Newark area.
The city's residents are highly educated, with more than half holding a college degree, and the median household income hovers just over the $51,000 mark. Newark is also the second safest city on our list after New Castle. Restaurants are plentiful and there's something to suit every taste, whether you prefer authentic Indian delicacies or a good old-fashioned steak.
Did You Know: It's believed that the original Star and Stripes flag sewn by Betsy Ross was first flown during the Battle of Cooch's Bridge, which was fought near Newark in 1777.
---
Delaware may be the second smallest state, but new and old residents alike know that its size doesn't diminish its charm. The five cities we've studied are as different as can be but we feel confident that one of them is sure to be your perfect fit. With our rankings as a guide, you'll find it that much easier to narrow down your choices.
Data Sources:

U.S. Census Bureau, Population Estimates

FBI, Uniform Crime Reports

U.S. Census Bureau, American Community Survey

U.S. Census Bureau, Economic Census
Rebecca Lake is a journalist at CreditDonkey, a credit card comparison and reviews website. Write to Rebecca Lake at rebecca@creditdonkey.com
More from CreditDonkey: