Study: Best Big Cities to Live and Work
---
Small town or big city? Even if you're a diehard fan of the bright lights, you know big-city life can have its disadvantages, including high crime rates, high unemployment, and wages that don't cover the cost of living. But not all big cities are the same. Why not choose one that offers the best of both worlds, including less crime and a bigger average paycheck? CreditDonkey did the research to find major metro areas that combine some of the benefits of a small town, without sacrificing the vibrancy of urban living.
Study Methodology
To find the 10 best big cities to live and work in the United States, we started by narrowing down our list to metro areas that have at least one million residents. Then we considered these factors:
Violent Crime Rate

Unemployment Rate

Employee Wages

Restaurants Per Capita
We first looked at data from the FBI concerning violent crimes for every 100,000 inhabitants. If crime is rampant in a city, it is most likely not going to be the best place to live or work. Well, unless you are a super-villain. If that's the case, we've heard Gotham is beautiful this time of year.
We then looked at unemployment rates and annual mean wages. It's nice to have a job and it's even nicer to have a good paying job.
Last, what's the number-one benefit of city life? Dining out! Using figures from the U.S. Census Bureau, we compared the number of restaurants in each city to its number of citizens. Presumably, with a good paying job, you'll want in indulge in some well-cooked meals.
A city that ranks high in all these areas typically has an easier time attracting the individuals who will help the city thrive and prosper.
10 Best Big Cities to Live and Work
10. Austin, TX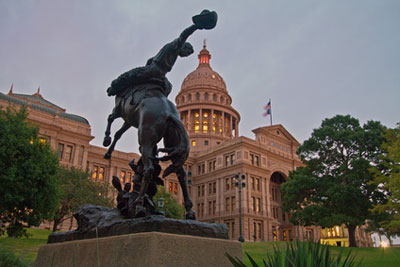 Austin, Texas
Violent Crime: 297.7 per 100,000 inhabitants

Unemployment Rate: 5.2%

Employee Wages: $47,080

Restaurants Per Capita: 1 per 1,458 inhabitants
Austin might be one of the hippest places to live in the United States. It might not have ranked number one in all of our categories, but that hasn't stopped this city from becoming a contemporary cultural melting pot. The emergence of South by Southwest (SXSW) has put this town on the map as far as live music goes, and now even tech lovers have gotten in on the fun. Also, a seriously low unemployment rate means that while you are still trying to make it big with the band, you can probably get a pretty decent job to pay the bills until the record executives call.
Did you know: The capitol building in Austin is taller than the nation's capitol building. Apparently, it's true that everything is bigger in Texas.
9. Hartford, CT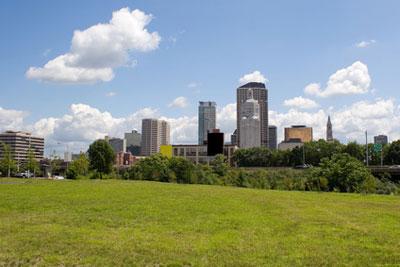 Hartford, Connecticut
Violent Crime: 258.8 per 100,000 inhabitants

Unemployment Rate: 7.9%

Employee Wages: $54,290

Restaurants Per Capita: 1 per 1,117 inhabitants
An interesting thing about Hartford is its proximity to some other very big cities. Boston, New York, and Providence are all 125 miles or less from this capital city. This means you can enjoy all the luxuries of living and working in this little-big city and only drive a few hours if you need to see a Sox or Yankees game. Connecticut's capital ranked seventh in wages, has a very low crime rate. This makes anyone living there sleep a little easier at night.
Did you know: The first two-sided building, home to Phoenix Mutual Insurance Co., was built in Hartford. How this was done is still a mystery to very few people.
8. Denver, CO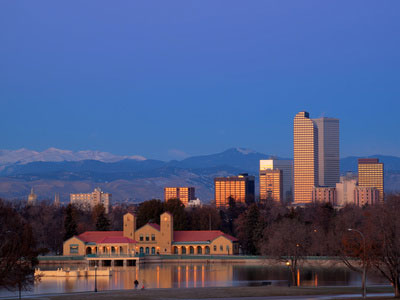 Denver, Colorado
Violent Crime: 337.5 per 100,000 inhabitants

Unemployment Rate: 6.7%

Employee Wages: $50,960

Restaurants Per Capita: 1 per 1,319 inhabitants
It seems like things are going pretty good for Denver. The city landed Peyton Manning, enabling the Broncos to go on a tear this year, and it's squeezed onto our top 10 list. Although Denver didn't rank number one in any of our categories, it offers a nice balance in each category. The LoDo Historic District offers more than one would expect as far as bars and restaurants go, or you can head out to the Red Rocks Amphitheatre to catch any number of national touring acts. If those types of places aren't really your speed, the Rocky Mountain National Park is only about an hour away.
Did you know: The first permanent structure in the Denver was a saloon.
7. Portland, OR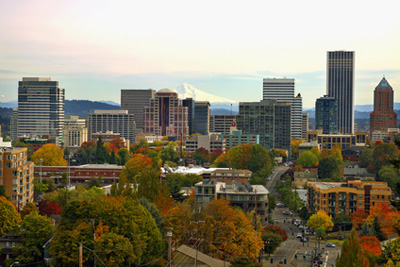 Portland, Oregon
Violent Crime: 266.5 per 100,000 inhabitants

Unemployment Rate: 7.3%

Employee Wages: $48,750

Restaurants Per Capita: 1 per 1,104 inhabitants
Portland is well known for its progressive politics. It has also been recognized for its quirkiness by the television show Portlandia. Whatever you may think of Portland, there is no denying the numbers. The city ranked third in restaurants per capita as well as third in crime. With Portland's well-known embrace of bicycle culture, you should feel very safe while riding your bike to get dinner.
Did you know: The plane that a hijacker dubbed "D.B. Cooper" boarded and took hostage originally took off from Portland. Cooper ended up getting away with demands of $200,000 and parachutes for his escape. He then jumped from the plane into a storm, never to be caught.
6. Richmond, VA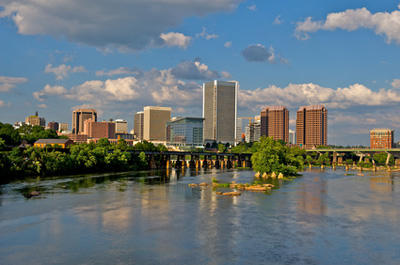 Richmond, Virginia
Violent Crime: 243.4 per 100,000 inhabitants

Unemployment Rate: 6.0%

Employee Wages: $45,720

Restaurants Per Capita: 1 per 1,329 inhabitants
About two hours south of Washington, DC, is the city of Richmond. While Richmond might not be on the radar as much as some of the other cities mentioned on this list, by no means does that make it second rate. Richmond has the lowest violent crime rate out of all of the cities we researched. It ranked 9th in unemployment and 15th in restaurants per capita. If that isn't enough to get you interested in this city, then head out to the Richmond International Raceway, where you can see top rate NASCAR drivers soaring at top speeds.
Did you know: The first canned beer was delivered to Richmond beer drinkers on January 24, 1935 by the Gottfried Krueger Brewing Co. With a 91% approval rating, the company gave the go ahead to continue production.
5. San Francisco, CA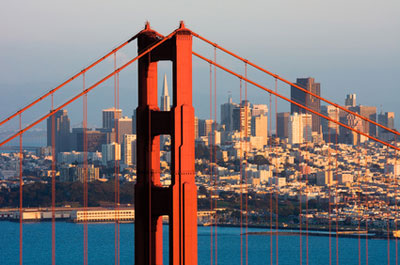 San Francisco, California
Violent Crime: 550.8 per 100,000 inhabitants

Unemployment Rate: 6.3%

Employee Wages: $62,680

Restaurants Per Capita: 1 per 910 inhabitants
"If you're going to San Francisco, be sure to wear some flowers in your hair." So goes the song. If you decide to take up this habit, no one will mind if you do. Yes, the city by the bay is quite enchanting, and it is not surprising to see it on a list of the best cities to live and work. San Francisco is home to over 220 parks, Alcatraz, the Golden Gate Bridge, and countless other marvels. Like the other cities on the list, its unemployment rate is a full percentage point below the national average, and it sports a high employee wage as well. But it stands apart for ranking number one in restaurants per capita. If you live here, there is no doubt that you will be able to find your own San Francisco Treat!
Did you know: 9% of San Francisco's working population consists of self-employed non-incorporated business workers. Compare this to the U.S. average of just over 6%, and you can confirm that San Francisco is fertile ground for entrepreneurs.
4. Washington, DC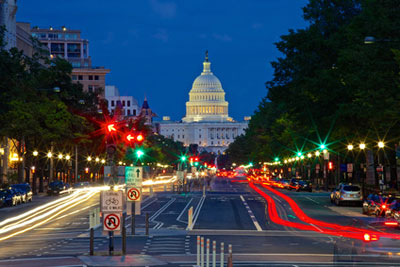 Washington, DC
Violent Crime: 332.7 per 100,000 inhabitants

Unemployment Rate: 5.5%

Employee Wages: $63,750

Restaurants Per Capita: 1 per 1,488 inhabitants
A huge employer awaits in the capital - we're talking about the U.S. government, of course. In addition to employment opportunities, Washington, DC is filled with enough museums and history to keep you occupied for months. The city may have once been known for heavy crime and violence, but those days are gone, and it has found itself with one of the lowest crime rates when compared to other cities of its size. Not only does this make it an attractive city to live and work, but so does the fact that it has an incredibly low unemployment rate. It also has a mean employee wage that is second only to San Jose.
Did you know: Every year for three weeks in March and April, Washington DC hosts the National Cherry Blossom Festival. This festival celebrates celebration the 3,000 trees gifted by Tokyo's mayor in 1912. Food, music, and the start of spring make this celebration a grand event.
3. Boston, MA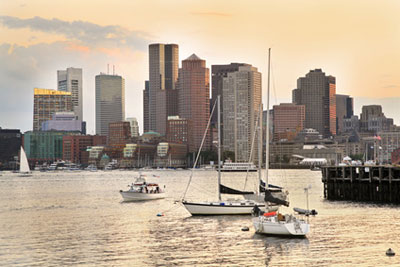 Boston, Massachusetts
Violent Crime: 355.2 per 100,000 inhabitants

Unemployment Rate: 6.3%

Employee Wages: $58,350

Restaurants Per Capita: 1 per 1,158 inhabitants
When you think of Boston, it's hard not to think of the city's "wickedly awesome" sports teams. Each professional football, basketball, baseball, and hockey team has won at least one championship since 2004. Although things might get a little crazy when the city brings home a trophy, Boston is a pretty safe city, ranking number 16 out of 52 on the full list of cities we reviewed. When it's not bringing home a championship, the city is enjoying high wages and plenty of American history.
Did you know: The Union Oyster House, right near Boston's Faneuil Hall, is the oldest restaurant in America that operates under its original name. The building is a registered National Historic Landmark.
2. San Jose, CA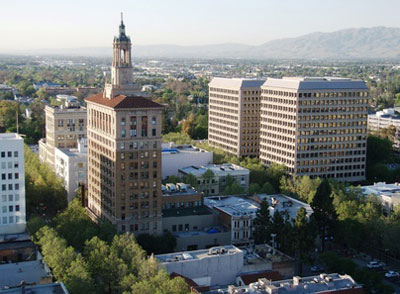 San Jose, California
Violent Crime: 274 per 100,000 inhabitants

Unemployment Rate: 6.6%

Employee Wages: $69,670

Restaurants Per Capita: 1 per 1,197 inhabitants
When most folks think of San Jose, they think of Silicon Valley, Google, and the dotcom bubble. This area has seen its share of financial ups and downs as a result of that downfall and the most recent recession. The technological innovation wheel keeps churning, though, keeping the area's unemployment rate below average and its employee wages the highest in the nation. Couple those facts with an historically low crime rate and tons of entertainment options, and you have one of the best big cities in the United States to live and work.
Did you know: San Jose is home to an enormous open-air flea market that rivals the size of others in the country. Starting in 1960, the flea market, visited by over 4 million people each year, has grown to encompass over 120 acres. With more than 600 vendors and over 90 places to eat, you'll stay nourished as you search for hidden gems.
1. Seattle, WA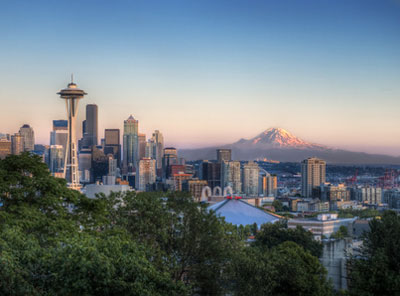 Seattle, Washington
Violent Crime: 336.8 per 100,000 inhabitants

Unemployment Rate: 5.8%

Employee Wages: $55,890

Restaurants Per Capita: 1 per 1,126 inhabitants
With high employee wages and an unemployment rate that is almost well below the national average of 7.3%, it is easy to see why Seattle is a great place to work, but it is also a great place to live. The area has plenty of awesome landmarks, such as the world-renowned Space Needle, a hefty amount of restaurants so you won't go hungry, and don't forget the music. Seattle may have been the birthplace of grunge music, but it didn't stop there. The music scene in Seattle is still as vibrant and fresh as ever and promises not to disappoint any music lover.
Did you know: Seattle had a huge fire in 1889, and most of the downtown was burnt to the ground. The city was put back together right over the ruins of its previous structures.
---
While our data could help someone decide which city to live, the right place for anyone depends on a variety of factors particular to them. They may not be able to earn the high wages along the lines of the mean of each area. In addition, the FBI violent crime statistics we relied on for this study do not include some cities, such as Minneapolis and Cleveland, so they were not part of our review.
Ian K is a contributing writer at CreditDonkey, a credit card comparison and reviews website. Write to Ian K at ian@creditdonkey.com. Follow us on Twitter and Facebook for our latest posts.
Note: This website is made possible through financial relationships with some of the products and services mentioned on this site. We may receive compensation if you shop through links in our content. You do not have to use our links, but you help support CreditDonkey if you do.
Read Next: