How to Regift: 3 Tips for Successful Regifting
---
Surprisingly many holiday shoppers think regifting is an acceptable practice, according to a CreditDonkey.com survey. The act of handing off a gift that you have received to someone else has been considered tacky in the past, as in the infamous Seinfeld episode when Elaine incredulously notes that a character "regifted" a label maker she had given him. That episode also introduced the verb "regift" into the modern vernacular as a derisive and possibly dishonest act.
Times have changed, both culturally and economically, and more and more consumers seem to accept the idea that sometimes it makes sense to regift a gift. When asked if it is okay to receive a regifted gift, an overwhelming 83% of survey respondents said yes.
Although more tolerant of the practice, few respondents have actually tried to pass off an old gift as a new one – or were willing to admit it. Only 34.3% said "yes" when asked if they have regifted something they have received in the past. At the same time, roughly half (49.7%) of respondents said that they suspected that they had been given a regifted gift.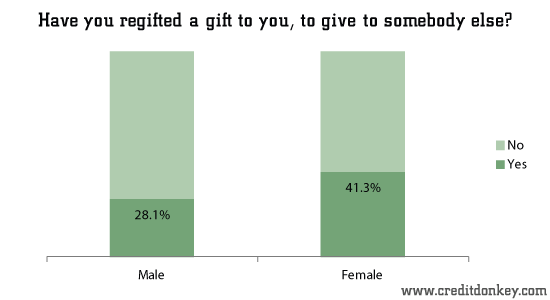 Have you regifted a gift to you, to give to somebody else?

© CreditDonkey
Tips on How to Regift
If more people are willing to give regifting a pass, maybe we will see present exchanges in the future. Until then, regifting is still a controversial practice, and any attempt to regift could quickly transform into an embarrassing faux pas. Here are some easy tips to help you regift successfully this holiday season and post-holiday season:
1. Know your network – If you're going to regift, make sure the person you're regifting to doesn't show off the gift to the person who originally gave it to you in the first place. This was the mistake that sparked the hilarious tension in that old Seinfeld episode – if Elaine had never found out, there'd be no harm done. If you're going to regift, make sure the first giver and the recipient don't know each other. That's easier said than done in today's social media world, so this may be the hardest aspect of regifting.
2. Be a good matchmaker – Regifting should be done as carefully as shopping itself. If you get a gift that just doesn't fit you for whatever reason, are you sure it's going to fit the person you pass it on to? And if that person gets the gift, will she or he be happy enough to keep it instead of regifting it on again? Whether you paid for the gift or not, some careful thought and planning should make it easy to match the right gift with the right person, and make everyone happy in the end.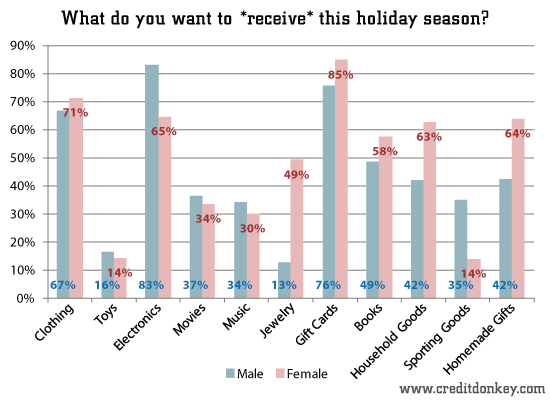 What do you want to receive this holiday season?

© CreditDonkey
3. Take it in stride – Perhaps the biggest danger in regifting is the potential for shock. If someone finds out you regifted, that could be embarrassing, but it could also be quite shocking to discover that the lovely present you got this season was actually a hand-me-down from someone else. Either way, learn to take it all in stride – whether your regifting is discovered or you found out you've been given a gift that someone else didn't want. 'Tis the season for kindness and (for)giving, after all.
Mike Foster is a contributing writer at CreditDonkey, a credit card comparison and reviews website. Write to Mike Foster at mike@creditdonkey.com. Follow us on Twitter and Facebook for our latest posts.