How to Start a Conversation with a Girl Online
Ad Disclosure: This article contains references to products from our partners. We may receive compensation if you apply or shop through links in our content. You help support CreditDonkey by using our links.
(read more)
Starting a conversation with that cute girl could seem so scary. But it doesn't have to be. Here are 5 simple steps to get her attention.
So you've set up an online dating profile. You've been browsing around. You see some girls you like. Now it's time to talk to them.
We get it. Putting yourself out there is scary. You don't want to seem boring, stupid, or worse, creepy. You start to overthink and all of a sudden, your fingers lock up and you end up saying nothing.
Guess what? It's time to get over it.
Yes, it can feel terrifying. But how are they supposed to know you exist if you don't initiate contact? You're passing up the possibility of a meaningful relationship. You will continue to never get over your fears and stay exactly where you are.
However, if you do decide to take the leap, you never know where it could go. In a worst-case scenario, she won't reply and you may feel a bit disappointed. But you'll get over it. In a best-case scenario, you may meet someone really cool.
So how do you go about starting a conversation that may actually lead somewhere? Here are some good tips.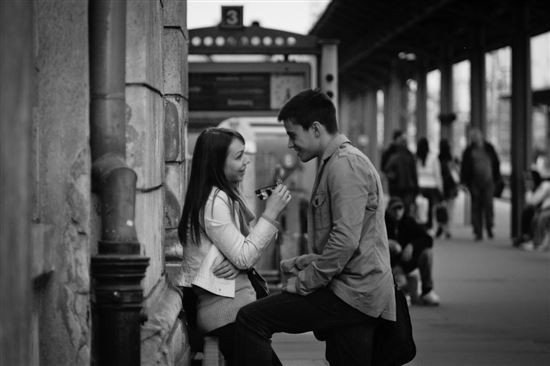 Untitled © Attila Schmidt (CC BY-SA 2.0) via Flickr
Advantages of Meeting Online
Online dating could actually be in your favor if you feel like you're not the smoothest guy.
For one, you can make your profile so compelling that girls will be making the first move to talk to you (but don't lie either, which we'll get into next!). But on a more serious note, here are some major advantages of meeting online.
Online profiles already tell you about a girl's interests. You can use that as conversation starters.
You already know the girl is single and (hopefully) the profile also says what kind of relationship she's looking to find.
You have time to craft a unique opener. And chatting online gives you time to type interesting responses.
If you say something dumb, the embarrassment isn't as much as chatting in person. Worst case scenario: she doesn't reply.
If it leads to a date, you already know you have a lot in common.
Step One: Have a Great Profile
The first thing to do is to have the strongest profile possible. It doesn't matter how compelling your message might be, the first thing she'll want to see are your pictures, interests, who you are, and what you're looking for in a relationship.
Think about the kind of hobbies and activities that you want to share with another person. Explain why you're looking for a meaningful relationship in a genuine way. Don't just say you have a sense of humor - demonstrate that you do by using a funny reference, quote or comment.
Have a strong opening profile statement about yourself that sums up who you are in a sentence. "I'm a mountain biking animal rights activist," "I'm a globe-trotting philosophy grad student," "I'm a children's author who moonlights in an a cappella group."
Be honest about what you're looking for in a relationship and what kind of women you like. "I like women who are intelligent, creative, and spontaneous. You enjoy a night out sampling tapas just as much as a night in watching movies with wine. Bonus points if you love pit bulls."
Don't say that you're funny and smart. Say things that are funny and smart that show who you are. "I am a certified white water rafting instructor but this does not mean that I live in a van down by the river. I live in a lovely, two-bedroom apartment down by the river."
Pick photos that show your hobbies, pets, family and friends. Essentially, your photos should give someone a snapshot of your life. Do you scuba dive or like hiking with your dog? Show that!

Tip: OkCupid has done studies about which kind of profile pictures get the most response. They found that for men, the most effective photos (by a long shot) are when they're looking away from the camera and not smiling. And photos with animals are the most successful. Surprisingly, that is followed by ab photos (though this is only recommended for young men under 31 with abs to show), followed by photos of doing something interesting.

Step Two: Be Original
Do pick-up lines even work? Girls have heard every line in the book. You may think starting a conversation with "Hi" or "Hello" is nice and friendly, but that's quite possibly the most boring opener ever.
Tip: OkCupid found that "Hi," "Hey," and "Hello" do the worst. Even more slangy greetings like "Hola," "Howdy," and "What's up" do much better. The best? "How's it going?"

Look, girls get a lot of messages. So unfortunately for you, that means you're going to have to be unique. Be original and make her feel like you "get" her:
Talk about common interests on her profile page. "Wow, rock climbing, Indian food, and video games. Are you sure you didn't steal my profile?"
If you don't have any common interests (but still like her), ask a question unique to her expertise or interest, whether the question is serious or not. "I saw that you're a dog lover and was curious if you think poodles are smarter than pugs. This is a matter of national security so you'll need to provide a compelling argument."
Is she wearing a shirt with a picture of a band or does she have a favorite movie or show on her profile? Use a line or lyric as a reference that can make her laugh. "I am the Knight they call Nee."
If you can't think of anything to say, own it. Just say, "Sorry, this is really awkward. I wanted to get to know you but I couldn't think of something clever to say, so can we just pretend that I did and go from there?"
Write with correct grammar and spelling. Don't sound uneducated and lazy. In other words, no net-speak! U shud nvr write like this lol... aight?

Tip: OKCupid has found that short messages at around 200 characters (around 40 words) get the best response rate. Remember, the goal of the first message is to start a conversation with her. That's it. You don't have to write your whole life story or talk about every interest you share.

Step Three: Stay in the Moment and Ask Thoughtful Questions
This goes back to avoiding pick-up lines and copying and pasting icebreakers at all costs. A relationship is only going to be meaningful if you make it mean something.
And guess what? The conversation isn't about you. So don't just talk about yourself. It's about her and why she is unique. You can only discover that by listening.
Don't use the same lines for every girl. Tailor each message specifically to each girl. Trust me, girls know when they've been sent a generic message.
Listen and respond to what she talks about based on her interests. Ask thoughtful follow-up questions.
Write in a way that matches her personality. If she's funny and likes to joke around, tease her back. If she's smart, have an intelligent chat. If she's honest and straightforward, be honest too and tell her what you're looking for.
Ask an open-ended question that speaks to her personality. Write something unique that will get her attention. "I noticed that you're a civil engineer. If you were building a fortress for a zombie apocalypse, where would you build it and why?"
Avoid yes or no questions. Those are real conversation killers. Instead of asking "Do you like watching shows?", ask "Which shows are you ashamed to admit you love? Come on, everyone has guilty pleasures. I'll go first: I admit I keep up with the Kardashians."

Tip: OKCupid did another study about what works best in first messages. They found that words like "You mention," "good taste," "I noticed that," and "curious that" engage the most interest. It shows that you've read her profile.

Step Four: Highlight Your Strengths
Know your strengths and play them up. And let's cool your ego for a moment: recognize that you're not perfect at everything. You may be funnier than other guys, better looking, smarter or wittier, and it's important to play into your strengths.
Only be self-deprecating up to a point. And only if it's funny, never for pity. "I saw you play softball, so even though you're out of my league I have to ask you: Yankees or Mets?"
Use humor or wit if you're a funny guy.
Be thoughtful and deeper if you consider yourself a romantic. "I see you're at the beach a lot. This may sound so cliché, but I usually end my Sundays with a sunset walk along the beach, followed by dinner at this really cool pub I recently discovered. It's kind of an end-of-the-week tradition I made. Want to join me someday?"
Be witty and clever if brains are your greatest strength. Did something jump out about her profile that you always wanted to learn more about? Curiosity can show your intelligence.
Step Five: Be Complimentary
This does not mean commenting on her looks. No cat calling has ever worked in history. Girls don't walk down the street and hear "sexy mama!" and magically their interest is piqued. Be genuine and offer compliments that actually mean something.
Are there any logos, bands, movies or shows on her clothing or profile that you have in common? If so, this is a good opportunity to compliment her good taste.
Don't talk about her looks or figure ("You're hot" means nothing), but genuine compliments about a smile, eyes, or hair are acceptable. "This is may be super corny, but there's just something about your smile that made me want to learn more about you."
Compliment on her talents and activities, like if she's crafty or adventurous, or volunteers. "I just spent like an hour reading your blog. You're a really good writer. I couldn't stop reading." That's guaranteed to be the best compliment ever to someone who likes to write.
Make teasing jokes that are actually compliments after you've learned more about her. "You're awesome! I never imagined someone as cute as you would be into Mortal Kombat!" If it's an obscure interest, you can even throw yourself some back-hand and say that you thought you were the only one.

Tip: OkCupid found that words like "sexy," "beautiful," "hot," "cutie," and "pretty" (when used to describe her looks) have the worst success rates. On the other hand, compliments like "awesome" "fascinating," "it's nice that," and "cool" work the best.

Step Six: Avoid Common Mistakes
Girls have heard every line in the book. They put up with creepy dudes every day. And not to mention all the inappropriate messages and pictures they didn't ask for. You can instantly put yourself above the rest by avoiding common pitfalls.
So to sum it up, here are the main things NOT to do:
Don't use pick-up lines.
Don't open with a remark about her looks.
Don't use a misleading picture.
Don't copy and paste the same line to everyone you meet.
Don't start a conversation with Hi or Hello.
Don't start talking to a girl and then only blab about yourself.
Don't talk about the weather or bland, generic topics.
Don't post mirror selfies for a profile picture. Don't look narcissistic.
Use correct grammar. It goes a long way!
Avoid yes or no questions.
Conclusion
Remember, the goal of that first message is to start a conversation. You only want to pique her interest enough so that she responds and a conservation will flow. Hopefully this leads to a real-life date.
Online dating gives you the advantage to craft a unique opener. Once you're past that, simply have a natural and real chat. Let it be organic and friendly, like you are talking to a person you already know.
If you have things in common, then the conversation will flow. If it's not a good match, then be appreciative for the chat and move on. If it's clear that you're hitting it off online, then it's time to suggest moving the conversation to over coffee or dinner.
Good luck!
Write to Max Lance at feedback@creditdonkey.com. Follow us on Twitter and Facebook for our latest posts.
Note: This website is made possible through financial relationships with some of the products and services mentioned on this site. We may receive compensation if you shop through links in our content. You do not have to use our links, but you help support CreditDonkey if you do.
Read Next: