Survey: Halloween Statistics 2013
CreditDonkey survey suggests Americans will spend less this Halloween and Thanksgiving
---
When it comes to celebrating the fall holidays, consumers will be conservative with their wallets, according to a survey by CreditDonkey.com.
Although 78.7 percent of the more than 1,000 respondents to the online survey plan to take part in Halloween celebrations, 82.5 percent said they'll spend the same amount or less than they did in 2012 on costumes, candy, and decorations. These predictions go against the year-over-year rise in spending Halloween retailers have experienced in recent years.
Consumers' reduced spending will also carry over to Thanksgiving. Most respondents – almost 92 percent – said they will spend the same or less this November on everything from turkey and stuffing to decorations and transportation.
Among the other findings of CreditDonkey's 2013 Holiday Spending Survey:
33.7 percent of the respondents said they plan to trick-or-treat this Halloween, 64.9 percent said they will carve a pumpkin, and 66.7 percent said they will decorate their houses.
Just 17.8 percent said they will attend a kids' Halloween party, but 61 percent said they plan to attend a Halloween party for adults.
51 percent are planning to buy pre-made Halloween costumes, while 49 percent said they'll make their own.
77.4 percent plan to dispense the same amount of Halloween candy this year as last year, with just 12.9 percent planning to hand out more candy.
22.2 percent of respondents plan to dress their pets in costumes.
88.8 percent consider their neighborhood safe; 83.5 percent feel comfortable walking alone in their neighborhood at night.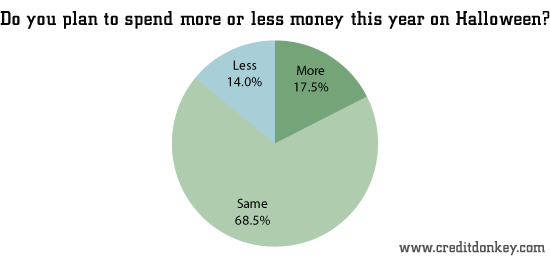 Halloween 2013 Spending Outlook

© CreditDonkey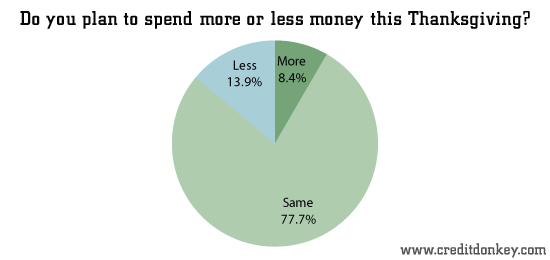 Thanksgiving 2013 Spending Outlook

© CreditDonkey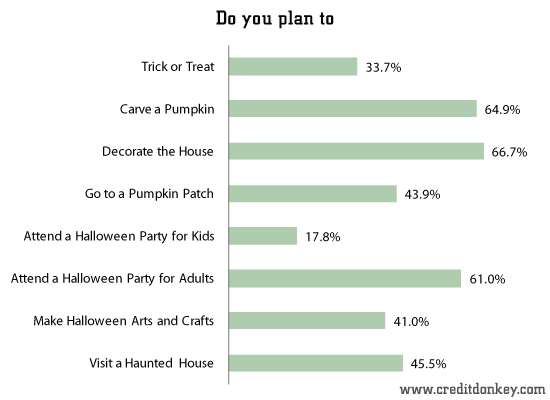 Halloween Plans 2013

© CreditDonkey
Over the past several years, Halloween spending has continued to jump every year, but we can't maintain that pace forever. Most retailers have no cause for alarm, however. Sales are still expected to be strong, although retailers should be prepared to not move their items as quickly this season as they may have originally predicted.
(From October 7, 2013 to October 11, 2013, CreditDonkey surveyed 1,076 Americans, age 18 and over for their opinions and plans regarding the Halloween, Thanksgiving, and Christmas holidays. 78.7 percent plan to celebrate Halloween. Results and analysis for Halloween 2013 are based on the Americans who plan to celebrate Halloween. 90.1 percent plan to celebrate Thanksgiving. Results and analysis for Thanksgiving 2013 are based on the Americans who plan to celebrate Thanksgiving.)
Charles Tran is the founder of CreditDonkey, a credit card comparison and reviews website. Write to Charles Tran at charles@creditdonkey.com. Follow us on Twitter and Facebook for our latest posts.