How Much Does It Cost to Form an LLC?
---
Forming an LLC can be the next step for your business. But how much will it cost? Read on to learn about the different LLC formation fees.
Forming an LLC for your business won't be free. And some businesses could pay high costs, depending on their location.
But doing so will give you the liability protection of corporations. Yet, you'll have the flexibility of a sole proprietor or partnership.
Fortunately, for most businesses, it doesn't cost too much to form an LLC.
What are the costs for your business?
Let's find out.
Costs to Start an LLC
The initial costs that come with forming an LLC depend on where you're creating yours. Here are the usual fees to consider:
State Filing Fee
To form an LLC, you'll need to file your Articles of Organization with your Secretary of State's office. You'll also need to pay the one-time state filing fee when you submit the documents to start the formation process.
The exact amount you pay will vary from state to state. It costs around $50 to $150 in most states. But some areas charge as high as $500.
Of course, this only applies if you're filing the documents yourself.
You may have to pay additional fees if you're going to hire a lawyer or a third-party service. They may also charge you extra if you want to shorten the turnaround time (expedited processing).
Here's how much the LLC filing fee costs in each state:
LLC filing fees by state:
| State | Cost |
| --- | --- |
| Alabama | $200 |
| Alaska | $250 |
| Arizona | $50 |
| Arkansas | $45 (online) $50 (paper) |
| California | $70 (waived until June 30, 2023) |
| Colorado | $50 (only $1 until June 30,2023) |
| Connecticut | $120 |
| Delaware | $90 |
| Florida | $100 |
| Georgia | $100 (online) $110 (paper) |
| Hawaii | $50 |
| Idaho | $100 (+$20 for manual processing) |
| Illinois | $150 |
| Indiana | $100 |
| Iowa | $50 |
| Kansas | $165 |
| Kentucky | $40 |
| Louisiana | $100 |
| Maine | $175 |
| Maryland | $100 |
| Massachusetts | $500 |
| Michigan | $50 |
| Minnesota | $135 (mail) $155 (online/in person) |
| Mississippi | $50 |
| Missouri | $105 |
| Montana | $35 |
| Nebraska | $100 (online) $110 (in person) |
| Nevada | $75 |
| New Hampshire | $100 (+$2 online handling charge) |
| New Jersey | $125 |
| New Mexico | $50 |
| New York | $200 |
| North Carolina | $125 |
| North Dakota | $135 |
| Ohio | $99 |
| Oklahoma | $100 |
| Oregon | $100 |
| Pennsylvania | $125 |
| Rhode Island | $150 |
| South Carolina | $110 |
| South Dakota | $150 (online) $165 (paper) |
| Tennessee | $300 - $3,000; $50 per existing member |
| Texas | $300 |
| Utah | $54 |
| Vermont | $125 |
| Virginia | $100 |
| Washington | $180 (paper) $200 (online) |
| West Virginia | $100 |
| Wisconsin | $130 (online) $170 (paper) |
| Wyoming | $100 |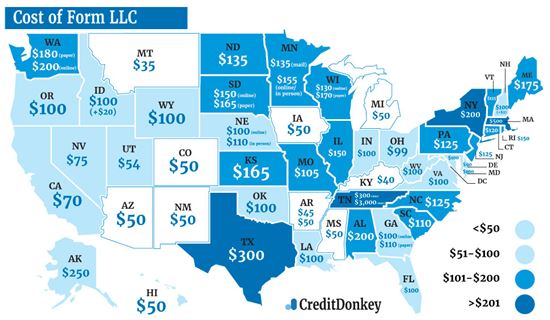 Is it possible to set up an LLC for free?
Unfortunately, there's no way to set up an LLC for free. Whether you do it yourself or hire a service, you still have to pay the filing fee and other costs to form your LLC.

Operating Agreement Fee
An operating agreement is a document that details how your company will be run, including its decision-making process and the members' specific roles.
Not all states require LLCs to have one, but it can come in handy, especially when resolving internal conflicts.
States don't charge a separate fee for operating agreements (it's part of what you pay for in the state filing fee). But if you're unsure how to create one, hiring a lawyer or third-party services can be a good idea.
They can help you draft an operating agreement for an extra fee. An LLC formation service, like Zenbusiness, typically charges around $50 to $200,[1] while a lawyer could cost more than $600.
Publication Fee
Some states also require newly formed LLCs to announce their company's existence in a local publication. But you have to make sure that your chosen publication is part of the state's pre-approved list.
Right now, only 3 states have this requirement: Arizona, Nebraska, and New York.[2][3][4]
| Formation State | How Long It Should Run | When to Publish |
| --- | --- | --- |
| Arizona | 3 consecutive weeks | Within 60 days after approval |
| Nebraska | 3 consecutive weeks | No specified deadline |
| New York | 6 consecutive weeks | Within 120 days after approval |
The exact publishing cost varies from company to company. Depending on the location and requirements (e.g., frequency and run length), it can cost anywhere from $40 to $1,000+.
Aside from the publication costs, you must also pay a separate $50 filing fee in New York to get a Certificate of Publication.
Are LLC fees tax deductible?
Yes, they are. But the IRS only allows you to deduct a maximum of
$5,000 for startup costs
not exceeding $50,000. But you can amortize the rest as long as your expenses meet their
established criteria
.
Annual Ongoing Fees for LLCs
You also have to consider the various annual costs when forming an LLC. Unlike startup fees, which you only pay once, maintenance fees are recurring costs.
Here are the ones you have to remember:
Annual Taxes
Like any individual or separate legal entity, LLCs have to pay taxes. But they're unique because they can choose how their income is taxed.
They can choose to file their taxes as sole proprietorships, partnerships, C-corporations, or S-corporations.
Single-member LLCs are taxed as sole proprietorships by default.
[5]
Aside from income taxes, LLCs also have to pay the following:

Payroll taxes (if they have employees)

Self-employment taxes

Sales taxes (if they sell any taxable goods or services)
Most states also charge LLCs a separate state income tax. The exceptions are Alaska, Florida, New Hampshire, Nevada, South Dakota, Texas, Tennessee, Wyoming, and Washington.
Some areas, like California and Delaware, also require all LLCs formed in the state to pay a fixed annual franchise tax. This costs $800/yr in California, while it's only $300/yr in Delaware.
Annual Report Fee
Most states also require LLCs to file a detailed report of their company's activities with their Secretary of State's office every one to two years.
This is to keep the state's record updated and inform the public of what's happening in the company. It can also give shareholders and interested investors a clearer picture of a company's financial performance in the last year or so.
Depending on where you formed your LLC, the annual report fee can range from $10 to $150 per year. But some areas charge as high as $300 per year.
Note: You might have to pay extra if you want a third party to handle your company's annual report filing.
Filing an annual report with your LLC's formation state is critical to keeping its good standing with the government. Missing the deadline or forgetting to file it can result in penalties for your company. It can also lose its good reputation, affecting your ability to do business in that state.
How much does it cost per year to have an LLC?
The exact amount will depend on where you formed your LLC. Annual and renewal fees usually vary from state to state. Most states charge between $50 and $200. New York's annual fees range as high as $4,500, and Tennessee charges as high as $3000. Other states like Texas and Ohio have $0 recurring fees.

Registered Agent Fee
All LLCs must have a registered agent on file when they submit their Articles of Organization to their Secretary of State's office.
In fact, you can only proceed with your LLC's formation if you have one.
Registered agents serve as a company's primary point of contact. They're responsible for receiving legal documents like lawsuits and tax notices and forwarding them to the appropriate person in the company.
There are several options available regarding who can be your registered agent. You can act as your own registered agent, assign the role to someone else, or hire a third-party service.
If you are your own registered agent, then you won't be charged a fee.
Third-party companies, like Incfile or Northwest Registered Agent, usually charge an annual fee for registered agent services. Generally, you can expect to pay $100 to $300 per year for a registered agent from them.
You can learn more about their responsibilities, the requirements, and more in this article.
Business Licenses and Permits
You don't need a license to form an LLC. But depending on your type of business, you may need a license or permit (or both) to operate within the state.
Depending on your industry, you may need federal, state, city, and/or county licenses. It's best to check with your state and local offices about what licenses you need.[6]
For example, a wine shop or a moving company will need a federal license. Restaurants, salons, and house painters typically need state and local licenses.
Applying for a business license or permit can cost anywhere from $25 to $1,000+, depending on your specific industry and location.
You also need to consider the renewal fees, which can cost $20 to $100+ per year.
Which comes first, forming an LLC or getting a business license?
It makes more sense to form your LLC first because you need to provide your business name and other information when applying for a business license.

Other Fees
When forming an LLC, you mostly only have to worry about the startup and maintenance fees. But there are other expenses you will want to consider, namely:
Business Name Reservation Fee
Part of the requirements of forming an LLC includes having a unique business name. While you don't have to pay anything to register your business name, you need to pay a small fee if you want to reserve it beforehand.
Like the other fees, the exact amount will vary from state to state. But it generally costs around $10 to $50 to reserve a business name.
Note that your reservation will only last a few weeks, typically around 30 to 60 days. Some states allow reservations for up to 180 days, so check beforehand.
You must form your LLC and register your business name before the reservation expires or extend the reservation by paying the fee again.
DBA Name Filing Fee
Getting a DBA can be the best alternative if you can't use your preferred business name or simply want a different name.
A DBA will allow your LLC to operate legally under another business name. It also offers several other benefits, which you can read more about in this article.
Like forming an LLC, you also need to register your DBA name with the state. The filing fees can cost around $5 to $150, depending on your location.
Note that DBA registrations also expire after several years (around five years). After this, you must pay the renewal fee to keep using your DBA name. The exact price will vary from state to state.
Form an LLC: Do It Yourself or Hire Someone?
If you want to form an LLC, you typically can do it in one of two ways: do it yourself or hire a formation service. Both options have their advantages and disadvantages.
Let's take a look at them.
Doing It Yourself
If you choose to do it yourself, the main advantage is you won't have to pay additional costs. You only have to worry about paying the necessary fees (e.g., state filing fee, business license/permit, taxes, etc.).
That's why this option is best if you have a tight budget or want to cut down on unnecessary expenses.
But the main downside is that you have to do everything yourself. Forming an LLC can be a tedious and time-consuming process. This leaves you with little time for other aspects of your business until the process is over.
Aside from that, you also have to keep track of the annual requirements, like:

Filing your annual reports

Paying taxes

Renewing your business licenses/permits
Failure to comply with the annual LLC requirements can result in penalties and legal problems for your business.
You also must pay close attention to what you include in the documents. All details must be accurate and correct. Even a tiny mistake can cost your business thousands of dollars later to fix.
Hiring a LLC Formation Service
On the other hand, the main upside of hiring a third-party formation service is convenience.
An LLC formation company will handle all aspects of the process, often including filing annual reports and complying with other requirements (e.g., getting an EIN).
Many also offer in-house registered agent services (usually free for the first year). You no longer have to look for or hire a separate service provider.
They also typically have in-house experts who can go over your documents. They can spot and correct any errors before you submit them. Not only will this save you the time and effort needed to understand complex legal terms, but it will also save you money by avoiding penalty fees.
Of course, the main drawback is the cost. You have to pay for their services on top of the filing fees and other expenses related to forming an LLC.
What is the cheapest way to start an LLC?
Handling the formation process yourself is the cheapest way to start an LLC. You only have to worry about paying the fees and complying with the requirements. States like Kentucky only charge $40 for the initial fees to start your LLC.
[7]
On the other hand, states like Massachusetts will charge $500 per LLC.
[8]
Which option do you prefer to form your LLC?
How to Form an LLC
If you want to form an LLC, you usually just need to follow these 5 steps:

Select a business name
Your business name should be unique and follow your formation state's naming guidelines. For example, it shouldn't contain obscene words or promote illegal activities.

You can check your state's online business name database to see if it's available. Reserving it is also possible if you aren't ready to register it yet.

Assign a registered agent
Again, you can only form an LLC if you have a registered agent. Make sure you have one listed before you file your Articles of Organization with the state.
Draft your operating agreement
Not all states require businesses to include this when filing their formation documents. But creating one is still a good idea, especially for potential internal conflicts.
File your Articles of Organization
Filing these with your Secretary of State's office will start the formation process. Make sure all the listed information is correct and accurate. During this step, you also have to pay the state filing fees.
Comply with the other requirements
Once your LLC registration has been approved, you must comply with the other requirements before doing business. Some examples include getting your business license/permit and EIN (employer identification number).
Bottom Line
Forming an LLC can be the next best step for your growing business. It'll give you liability protection without sacrificing flexibility and simplicity.
But even though it's not as expensive as forming a corporation, turning your business into an LLC will still cost you money.
If you've come this far, though, you're now aware of the various fees involved before you take this next step for your business. This should help make the entire process as smooth and seamless as possible, so you can get back to focusing on your customers.
References
Write to Alyssa Supetran at feedback@creditdonkey.com. Follow us on Twitter and Facebook for our latest posts.